First Team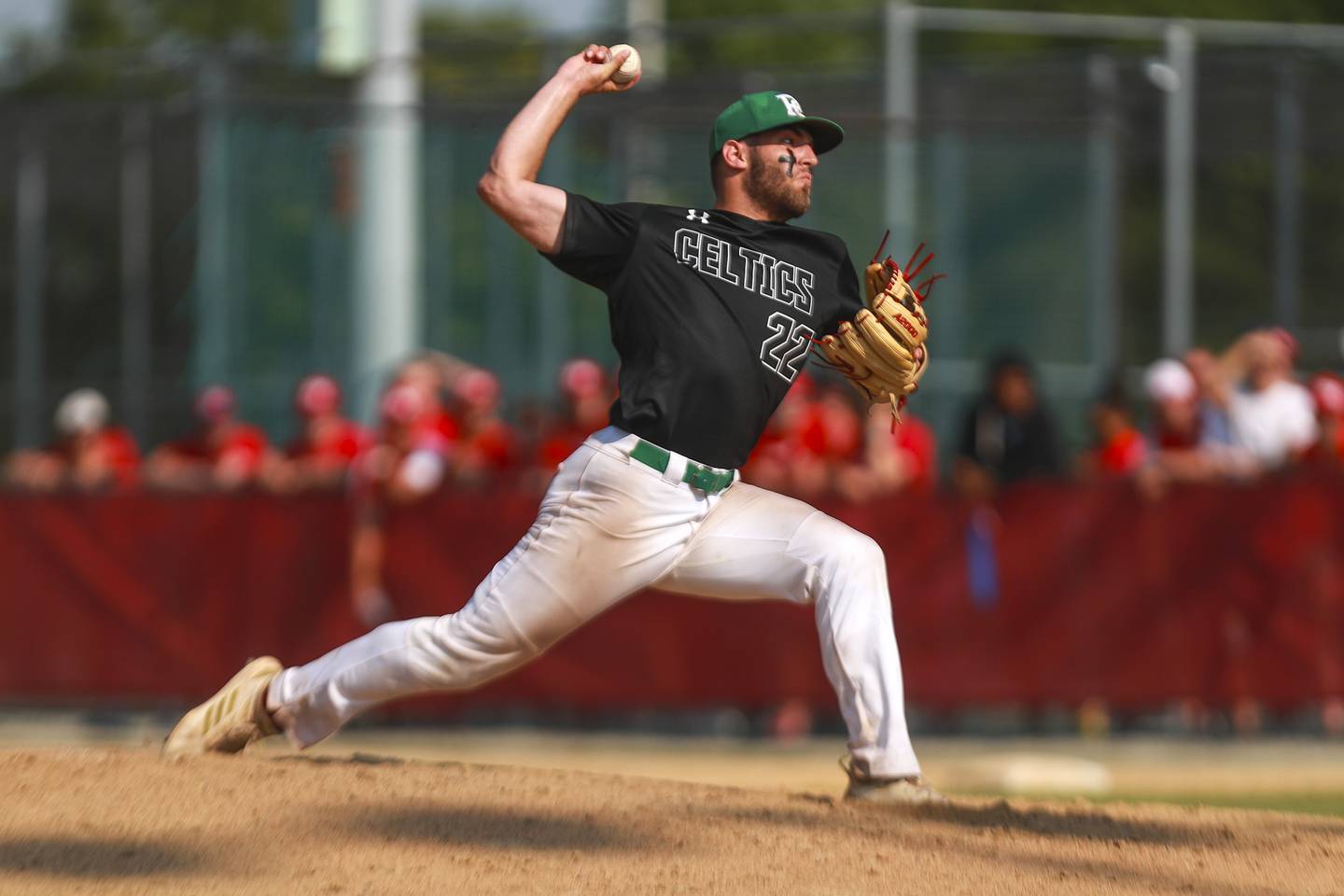 Alex Alberico, pitcher, Providence: The flame throwing Alberico was a big part of the Celtics run to the final eight in the Class 4A State Tournament. He finished with five wins and a 2.19 ERA while routinely playing high quality opponents in the Chicago Catholic League. Alberico also had 64 strikeouts in only 42 innings.
Ty Batusich, catcher, Joliet West: Opposing pitchers often didn't pitch to Batusich as witnessed by his .669 on-base percentage and 37 walks in 127 plate appearances. When pitchers did pitch to him, he had 42 hits, including 23 for extra bases, and 10 home runs. He scored 40 runs and had 38 RBIs.
Joey Boland, pitcher, Lincoln-Way East: The Griffins had an embarrassment of riches on its pitching staff and Boland was a huge part of that as he was sent to the mound often and delivered about every time out. Boland finished 11-1 on the season with a scant 1.11 ERA.
Turner Doran, second base, Lincoln-Way Central: Doran was the table setter that every team loves to have. He got on base at a high clip, compiling a .554 on-base percentage by drawing a number of walks to go along with a .411 batting average. He also anchored a very good defensive infield for the Knights.
Victor Izquerdo, first base, Lockport: Izquerdo was part of an extremely productive heart of the lineup for Lockport. The MVP of the Don Ladas Memorial Tournament to start the season because of his hitting, he never really stopped the rest of the year. Izquerdo belted 13 home runs, drove in 46 runs and had a .434 batting average.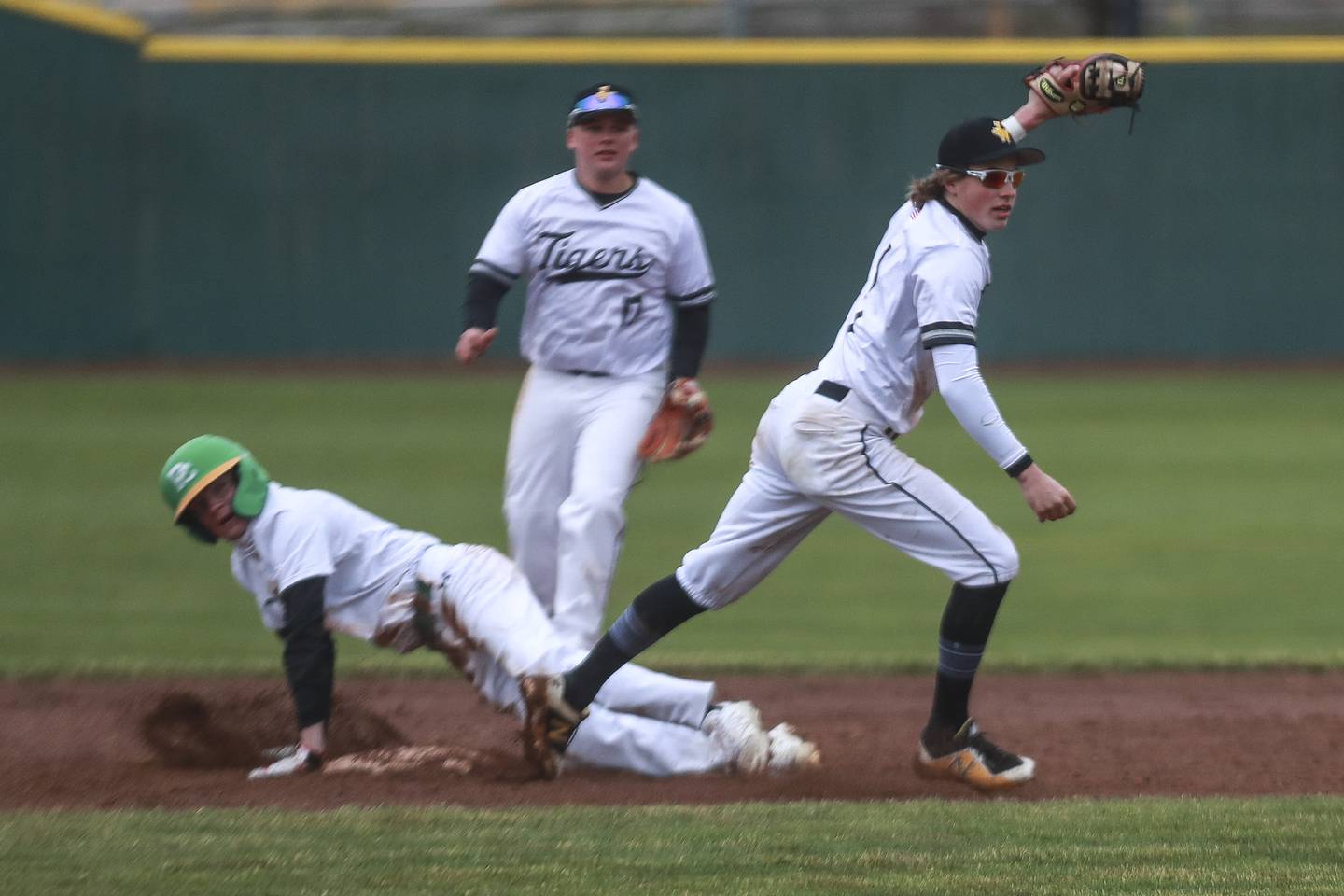 Camden Karczewski, shortstop, Joliet West: Karczewski was an outstanding two-way player for the Tigers, providing stellar defense from the middle infield while being an offensive catalyst from the top of the Joliet West lineup. He repeatedly engineered run-scoring innings, hit a .477 clip and had 17 extra base hits.
Ryan Kraft, pitcher/first base, Lincoln-Way Central: Kraft contributed as a slugger and a lights-out reliever for the Knights. Hitting in the heart of Lincoln-Way Central's order, Kraft hit seven home runs with 15 extra base hits. An Indiana University commit, Kraft displayed a powerful fastball in closing out Knight victories as well.
Landen Looper, pitcher, Lincoln-Way East: Looper, a Louisville commit, very infrequently allowed earned runs. Looper's 0.47 ERA was the best in the area, and he also managed to post 60 strikeouts in just more than 40 innings, giving him more than a strikeout an inning.
Brady Louck, pitcher/outfield, Plainfield East: Only a sophomore, Louck played with a poise and ability you would expect of a player his senior. Louck was solid in the postseason, throwing gems in a supersectional win over Brother Rice and in the state semifinal against Hononegah, as the Bengals went on to win the Class 4A State title.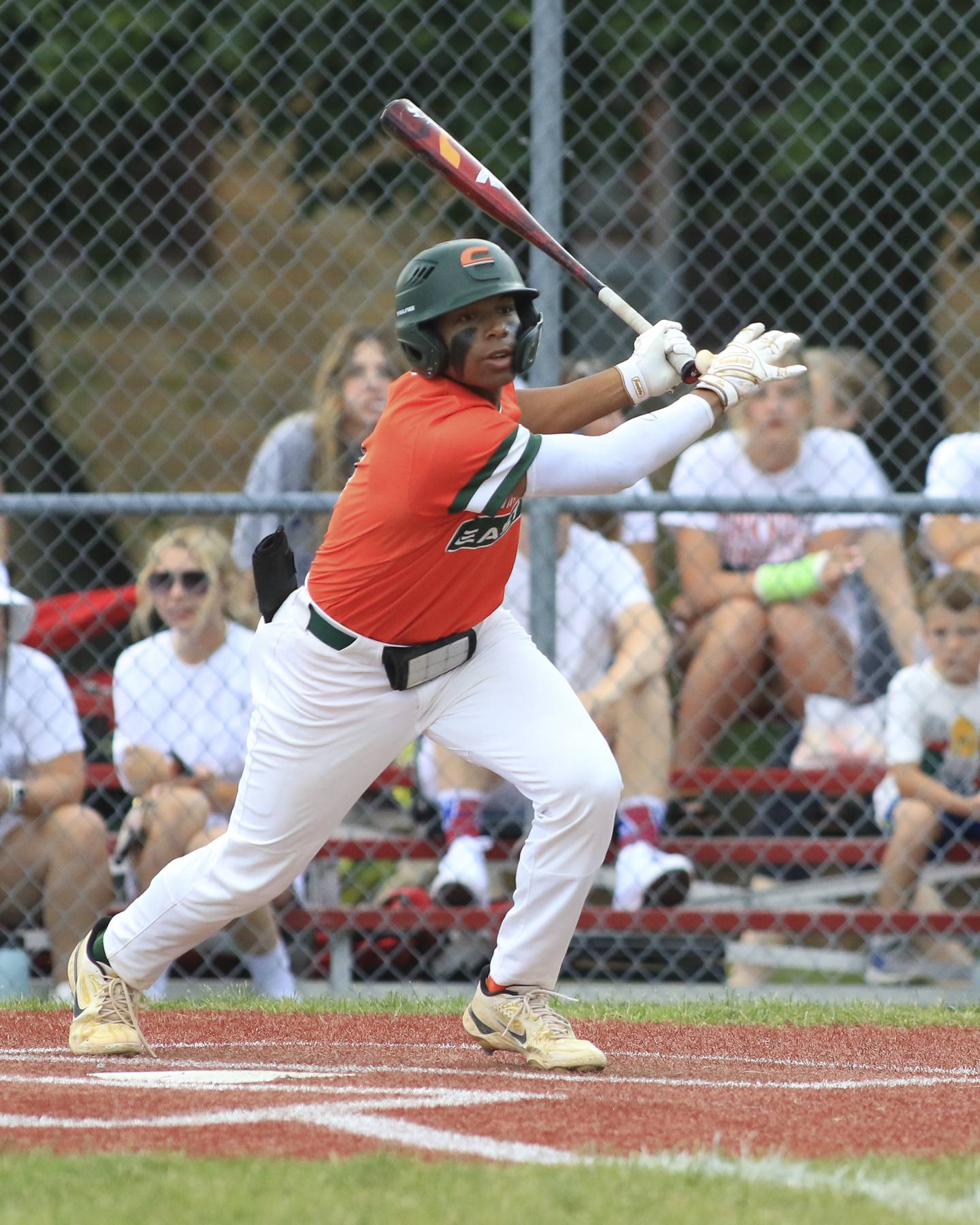 Christian Mitchelle, Shortstop, Plainfield East: Mitchelle emerged as somewhat of a all-around player for the Bengals. Most of the time he anchored the infield at shortstop, but routinely was called upon to close out games, including several during Plainfield East's run to the state championship game.
Ryan Moerman, shortstop, Lockport: In a program that has produced a lot of incredible offensive players, Moerman may have had the best single-season ever by a Porter. The Herald News Player of the Year hit .450 with 26 extra base hits, including 15 home runs, 40 runs batted in and a whopping 52 runs scored.
Tylor Phommachanhom, shortstop, Plainfield South: Phommachanhom was a spark plug for Plainfield South, providing plenty of stability and production from the top of the Cougars order. He was a solid defensive player wherever he was put in, and the Dayton University commit also contributed on the mound.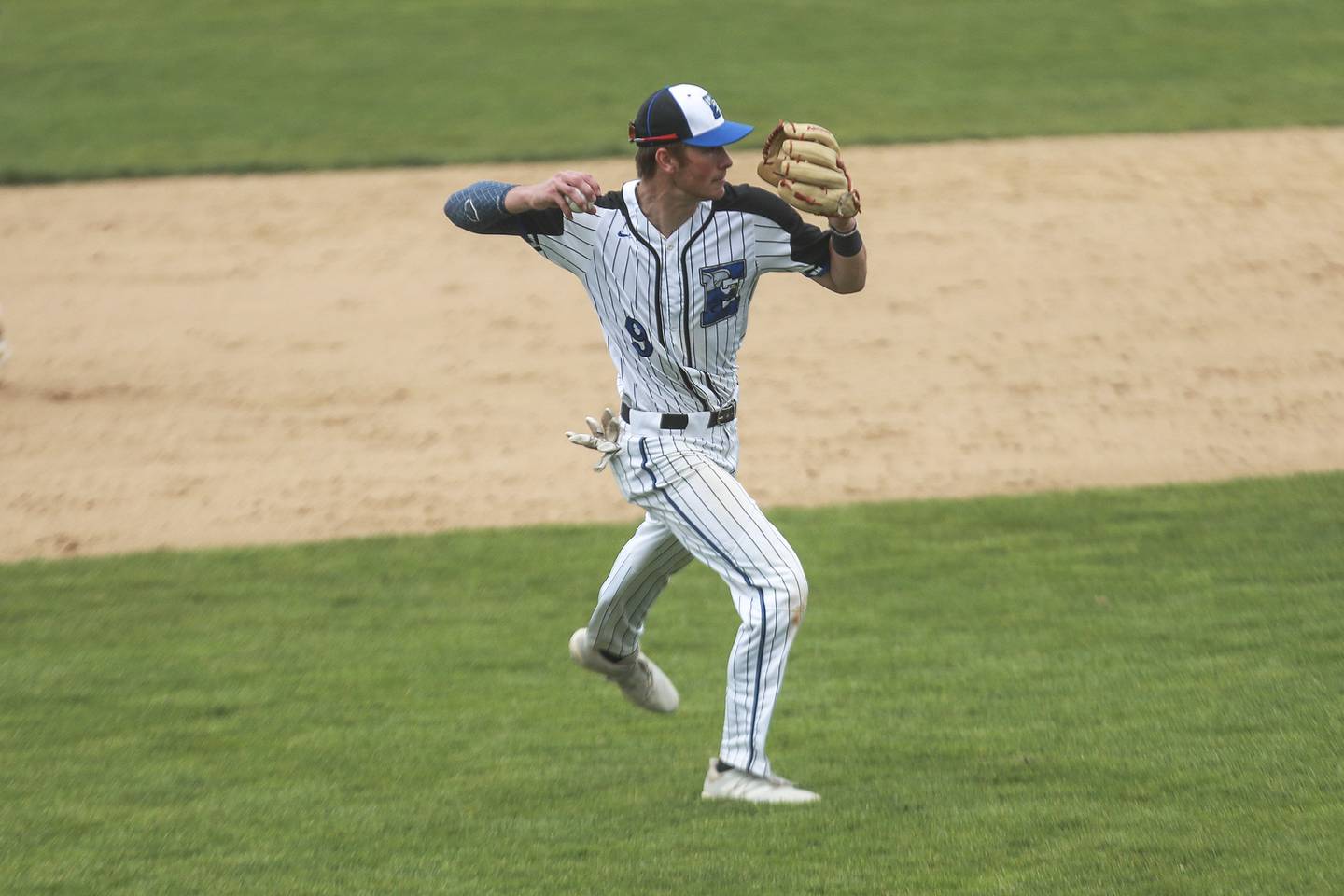 Max Polad, Third Base, Lincoln-Way East: Polad hit with power and often had multi-homer games. Polad finished with 11 home runs and 34 RBIs and was always a threat to go deep. He also scored 45 runs and drew his fair share of walks, finishing with a .550 on-base percentage.
Owen Wolcott, Outfield, Lincoln-Way West: Wolcott was an extremely dynamic hitter for the Warriors. Wolcott finished with a .494 batting average and a .609 on-base percentage and seemed to always be making something happen on the basepaths. Wolcott's hits were timely, as he drove in 37 runs.
Second Team
Michael Bailey, C, Plainfield East; Brandon Bak, P/OF, Plainfield North; Sebastian Biggs, OF, Providence; Luke Gunther, P, Lemont; Conner Hogan, P, Joliet West; Nick Kolze, P/1B, Romeoville; Luka Radicevich, OF, Joliet Catholic; Matt Santarelli, 2B, Lockport; Gavin Schmitt, P, Plainfield East; Randy Seymour, SS, Lincoln-Way East; T.J. Slazyk, 3B, Lincoln-Way West; Alex Stanwich, OF, Lincoln-Way East; Ben Stoner, SS, Joliet Catholic; Mitch Thomas, 2B, Minooka.
Honorable Mention
Jimmy Anderson, P, Joliet West; Nolan Berger, 2B/3B, Coal City; Keagan Bobbitt, P, Lincoln-Way West; Marty Boland, IF, Bolingbrook; Corey Boyette, OF, Romeoville; Nate Buchan, 3B, Plainfield Central; Corey Burch, OF, Reed-Custer; Jake Cook, P, Minooka; Cole Crafton, SS, Lincoln-Way West; Carson Crouch, OF, Dwight; Gage Cryder, IF/OF, Seneca; Ivan Dahlberg, 3B, Minooka; Julian Jiminez, OF, Romeoville; Nolan Larson, P, Lincoln-Way West; Jeremy McGuigan, OF, Plainfield South; Matt Merk, C/OF, Lockport; Brody Munch, 3B, Joliet Catholic; Ulysses Munoz, P/3B, Romeoville; Austin Murray, SS, Lemont; Caleb Parker, SS, Minooka; Brennan Phillips, C, Plainfield South; Manny Rincon, IF, Joliet West; Hunter Ryan, C, Minooka; Jake Rybka, C, Providence; Brady Small, 1B/OF, Lemont; Matt Stariha, OF Joliet West; Brandon States, C/IF, Gardner-South Wilmington; Jack Stellano, P/1B, Reed-Custer; David Underdonk, IF/OF, Bolingbrook.