Don Cook is used to squeezing games onto his calendar.
After all, the Forreston resident has been an Illinois High School Association official for 51 years in football, baseball, softball and basketball. At 82, he is still planning to work some football games this March and April, and some softball games after that.
Cook spends the bulk of his time, however, finding officials to work at various events. He has been assignment chairman for the White Pines Officials Association, which covers a good chunk of northern Illinois, for the past 35 years. In addition to that, he is the assignment chairman in football and boys and girls basketball for eight Big Northern Conference schools (Byron, Dixon, Mendota, Oregon, Rock Falls, Rockford Lutheran, Stillman Valley and Winnebago), as well as his hometown of Forreston.
A few years ago, Cook gave up assigning officials to NUIC events, with the exception of Forreston, as it was getting to be too much on his plate.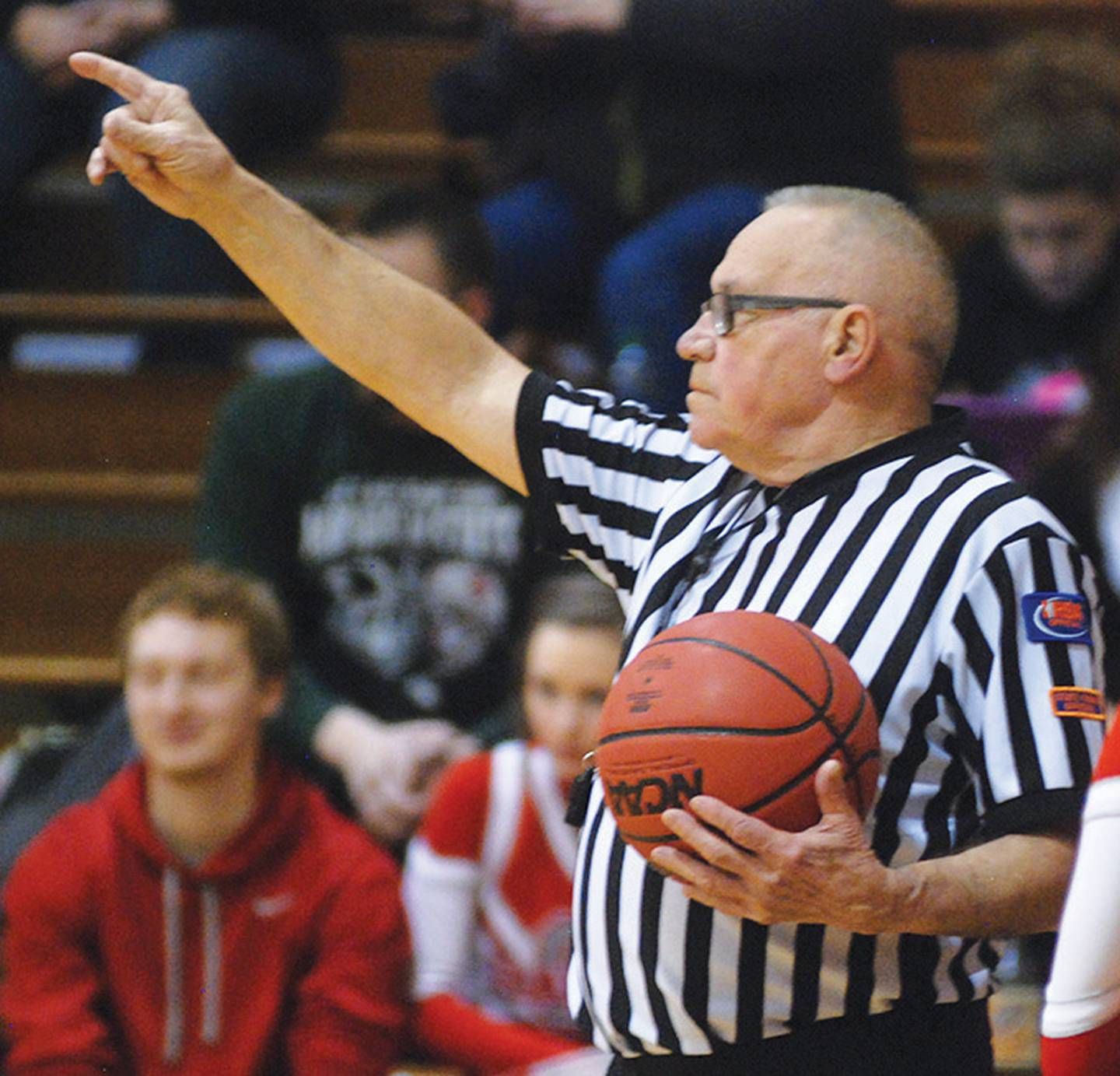 This current COVID-shortened season, however, has been particularly tough to deal with. Basketball teams began playing games last week, and most are playing three games a week in an attempt to get in as many contests as possible before this truncated winter sports season ends on March 13.
When asked what it's been like to line up an appropriate amount of basketball officials night after night, Cook didn't mince words.
"It's been hell," he said.
There are long-term and short-term problems when it comes to officiating, Cook noted.
A long-term issue that has been building for a number of years is with the officiating workforce itself. Many officials are getting up there in age and are not being replaced by younger officials. Cook noted he has four new, younger officials on board for this season – hardly enough to make up for those who have left.
"This is a great time to get into officiating," Cook said. "You will get to be teamed with and learn from veteran officials, and you will get to work some better games."
Normal protocol for a new basketball official is to work some junior high games, then some freshman or JV contests before tackling a varsity assignment. Officials now are getting thrown right into the fire, so to speak.
COVID-19 has also had a big impact on officiating, and it started last spring. Officials are required to pay a licensing fee to the IHSA to work games. According to the IHSA's Official Licensing Center, fees are $70 for one sport, $20 for a second sport and $15 for each sport after that. Licenses expire each June 30, regardless of when they were issued.
Cook noted baseball and softball officials who paid last spring were not reimbursed, even though no games were played due to the pandemic that wiped out all spring sports in 2020. He lost 12 to 15 officials because of that.
"A lot of guys found something else to do," Cook said. "They found out there's more to life than sports. A lot of guys got part-time jobs."
COVID-19 itself resulted in the White Pines Officials Association having 20 officials decide they weren't going to work basketball games this season, according to Cook.
"A lot of them are getting up there in years and they didn't want to take the chance of maybe getting [COVID-19]," Cook said.
A late curveball thrown into the mix was an IHSA decision that required all officials to wear masks during games, just like players are required to. That decision came a few days before games were to start, and Cook lost another 12 to 15 officials.
"It made my job very tough because they just said, 'That's enough. We're not officiating,' " Cook said. "They were good officials and they already had games. They just dropped them. They said no, we're not going to officiate."
It has left Cook with a pool of about 75 basketball officials to draw from, which may seem like a lot, but they are snapped up quickly.
This season, the 11 Big Northern Conference boys and girls basketball teams are playing most Mondays, Wednesdays and Fridays, with non-conference games on tap for Saturdays. The result is around 20 games to find officials for – 10 fresh-soph and varsity for the boys and 10 fresh-soph and varsity for the girls – though occasionally some schools may have difficulty fielding fresh-soph teams.
Cook generally assigns one three-person crew to handle girls doubleheaders. Two officials can handle a fresh-soph boys contest. Varsity boys games always get a three-person crew.
There are also non-Big Northern games Cook is scrambling to find officials for. He is fielding calls on a nightly basis from other assignment chairmen to see if White Pines officials are available to work games a bit out of the area. He also makes calls to those same assignment chairmen to see if they can spare an official or two – or five.
The result is a crew of officials stretched thin.
"We haven't canceled any games yet, but it's getting to that point," Cook said.
Pay for officials varies from conference to conference. Cook noted working a girls doubleheader in the Big Northern will net a paycheck of $114, while in the NUIC it would be $98. A varsity-only boys game in the Big Northern is worth $75. No officials are paid mileage for regular-season games.
Money is not the issue, according to Cook.
"I don't think raising the pay would bring any more officials into it," Cook said.
What Cook does have is a small but dedicated association of officials to work games throughout the region. He's asked some to take a Saturday afternoon game in one town, then drive an hour to work another game in another town at night. It's rare assignments get turned down.
"Officiating is a tough job, and I understand it's not for everybody," Cook said. "But it's very rewarding in a lot of ways. We just need more people to get into it."