AMBOY – Flanagan-Cornell/Woodland opened Saturday afternoon's Illinois 8-Man Football Association quarterfinal playoff game at the Harbor in Amboy with a nine-play, 66-yard, seven-point punch.
Then Amboy-LaMoille-Ohio counterpunched.
Hard and repeatedly.
The Clippers answered FCW's game-opening touchdown drive with an 80-yard touchdown pass from quarterback Eddie Jones to tight end Brennan Blaine on their first offensive snap, the start of a 62-point run in the Amboy co-op's 62-7 overwhelming of the visiting Falcons.
"They come out and punch you in the mouth, I mean, scoring 62 unanswered after? I don't think there's more of a punch back than that."

—  Quinn Leffelman, Amboy-LaMoille-Ohio junior
"With our team, nothing really catches you off guard," Amboy RB/DE Quinn Leffelman said of FCW's quick start, "because you know you have your boys behind you, and you feel like you can come back from anything. You just have to put it behind you when things happen like that.
"They come out and punch you in the mouth, I mean, scoring 62 unanswered after? I don't think there's more of a punch back than that."
[ Amboy vs. FCW photo gallery ]
Amboy – now 11-0 – advances to visit Polo, a 28-6 winner Saturday over Milledgeville, next Saturday at 1 p.m. in the I8FA semifinals.
Flanagan-Cornell/Woodland's season ends with a mark of 8-3.
"We wanted the ball first if we won the toss, and knew we had to go down and score if we wanted a chance against these guys," FCW coach Todd Reed said. "Very talented football team ... and I knew we wouldn't want a track meet with these guys.
"I thought if we could score first, own the clock, grind it out, it was going to be our best shot at winning the game. It didn't work out ... but I'm definitely proud of what we've done this season."
While the first 4 1/2 minutes belonged to FCW thanks to a sustained drive that included a 33-yard pass from RB/Wildcat QB Payton Quaintance to WR Conner Reed and RB Kesler Collin's 4-yard touchdown run, the rest of the game was all Big Red.
After Jones' 80-yard touchdown connection with Blaine and the first of six successful A-L-O two-point conversions, the Clippers went on to score touchdowns their next seven times with the football – most with lightning-quick efficiency.
"They scored on the first drive, we faced a little adversity," Amboy co-op coach Scott Payne said, "and our kids stepped up and responded to it really well. I'm happy and proud of them that they did it that way. ...
"We told the kids all week we'd be going tempo right off the bat. The kids like going tempo, going no-huddle, and they do a great job running it. We wanted (FCW) playing at our pace, not us playing at their pace."
Jones finished 3-for-4 passing for 138 yards and three TDs, adding a 12-yard rushing score. Featured RB Landon Whelchel ran for 176 yards and touchdowns from 41 and 31 yards out; Blaine finished with two catches for 119 yards, one from 80 and the other from 39; Vincent Zembrzuski added a 19-yard TD reception; and Leffelman ran for 64 yards and a 4-yard TD in addition to recording a safety on one of his two quarterback sacks, dragging down FCW QB Seth Jones in the end zone in the second quarter.
"After I made the play, I got up, and everyone was cheering and going crazy," Leffelman said. "That's what it's like to play at the Harbor. There's nothing like it."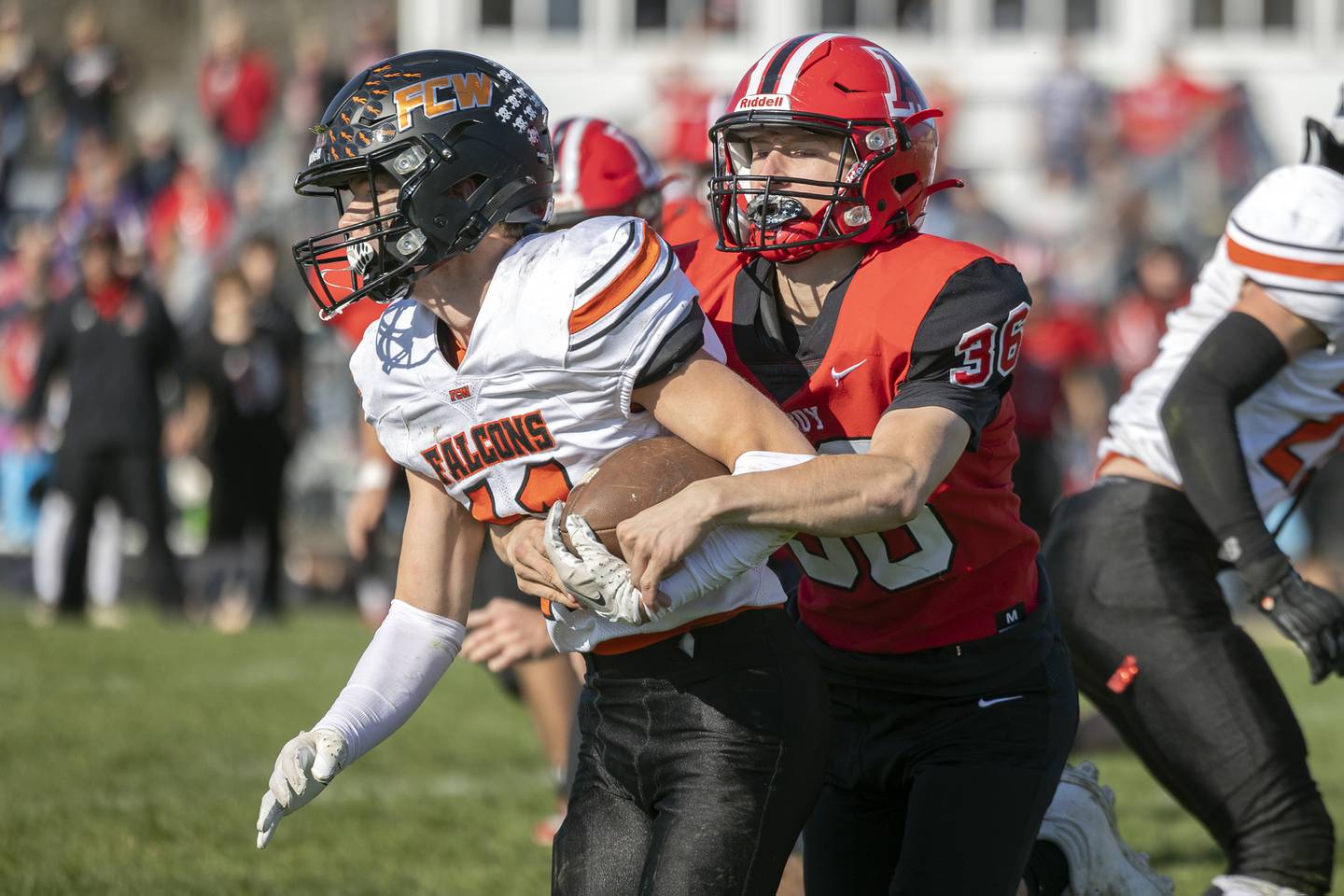 Cody Winn added an interception, Caleb Yanos a fumble recovery and Landon Montavon a sack and a tackle for a loss for the Clippers defense.
FCW, meanwhile, managed just four first downs after its opening drive and were outgained 462-129 in yards from scrimmage. Collins (66 yards rushing, 16 receiving), FB Brennan Edens (28 yards rushing) and Quaintance (13 yards rushing, 33 passing) were the top offensive performers, while Toby Hansen (punt block), Jonathan Moore (pass defensed) and Collins (tackle for loss) provided standout plays for the Falcons defense.
The Clippers led 56-7 by halftime with the entirety of the second half played with a running clock.
Amboy-LaMoille-Ohio defeated Polo 52-6 in the regular-season finale.