OTTAWA – Luke Connell knew he'd just made a big play.
It took a minute, however, for Ottawa's senior reserve linebacker to realize just how big.
Connell burst across the line of scrimmage and sacked Woodstock North's Landan Creighton before the Thunder quarterback had a chance to do anything on a potential game-winning, two-point conversion try, and the Pirates held on to get back to .500 and keep their playoff hopes alive with a thrilling 28-27, Kishwaukee River/Interstate 8 White homecoming win.
"I messed [that play] up the one time when they were coming down the field," Connell said. "Fortunately, I was able to get it back, played the motion, ran through the pulling guard and made the play the way I was supposed to. Just see the ball, go get the ball, tackle the guy with the ball.
"I didn't really feel the magnitude of it until I got to the sideline. It was just another tackle when I made it, but it really set in when I got back to the sideline with all my teammates."
"I didn't really feel the magnitude of it until I got to the sideline. It was just another tackle when I made it, but it really set in when I got back to the sideline with all my teammates."

—  Luke Connell, Ottawa senior linebacker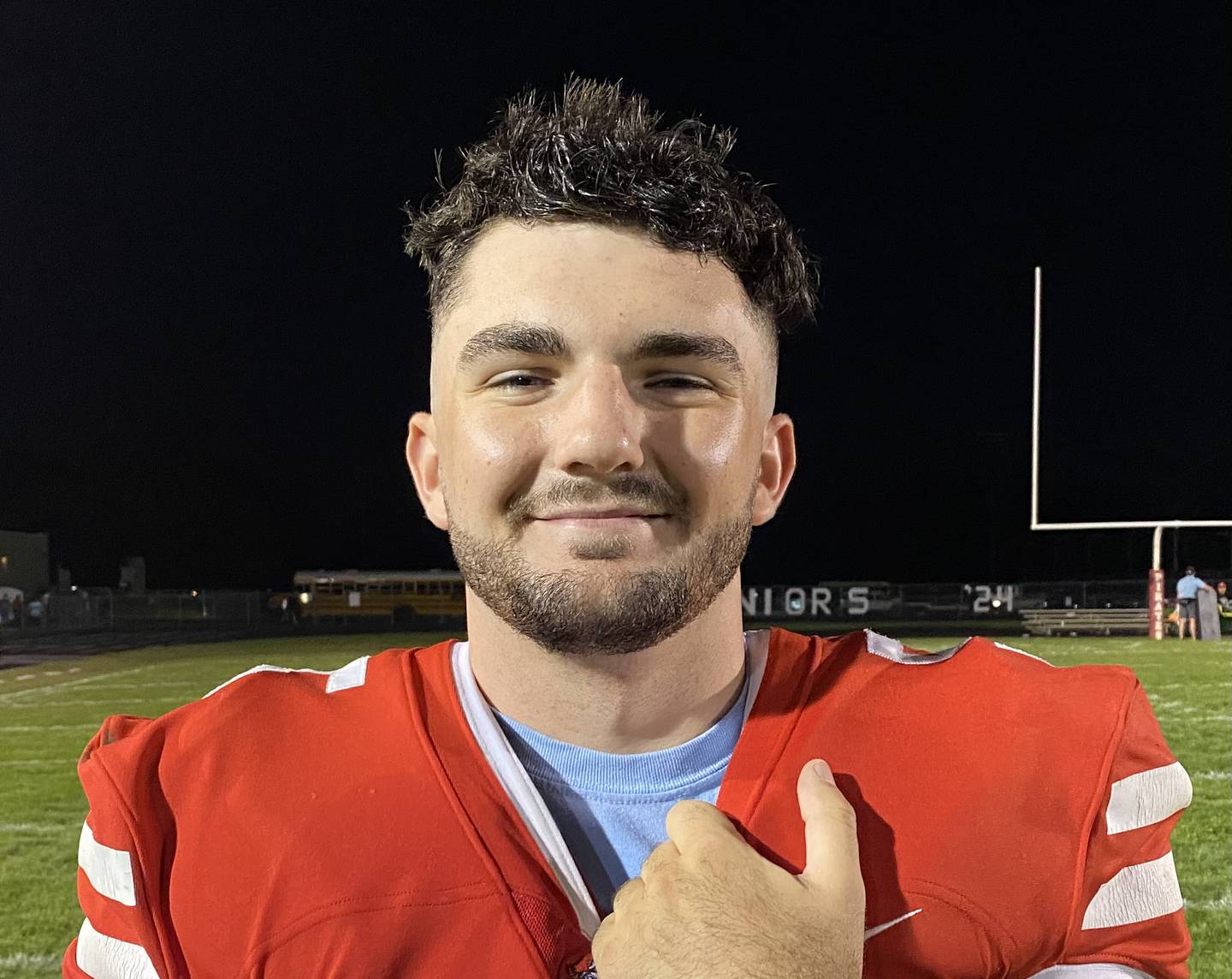 Connell was in the game in the crucial spot due to a couple of injuries in the Pirates' linebacking corps. Coach Chad Gross was glad he was.
"Woodstock North took it to us in the second half. ... and they had all the momentum in the world," Gross said. "I would have [gone for two] in that same situation, but I'm very proud of our kids. Game's on the line, you've got to make a play, and Coach [Glenn] Weatherford called up a nice little blitz there, Luke Connell hopped right through and got the kid."
Ottawa (3-3, 1-2) had dominated the first half, building a 21-0 advantage before Woodstock North (2-4, 0-3) stunned the Pirates in the final seconds of the first half with a two-play, 80-yard touchdown drive made up of two long Creighton-to-Maxwell Dennison passes, including a 26-yard score as time expired.
It even caught the Ottawa band off guard, as the Marching Pirates began taking the field during Creighton's extra-point kick.
The Thunder got the ball to start the second half and drove for another score – Dennison again on a 19-yard option run – to cut the deficit to 21-14.
Led by bellcow back Ryder Miller (24 carries, 79 yards, two TDs rushing; five receptions, 39 yards, one TD receiving), Ottawa answered right back with a 9-yard Miller run to get the lead back up to 14 points.
Woodstock North answered with a drive that ended with another option pitch to Dennison and sprint to the end zone, making it 28-21 Ottawa with 11:46 remaining.
Hunter Menzel's second interception of the game with 2:29 remaining allowed the Thunder one last chance. After a 28-yard pass and a 37-yard Kaden Combs run, they had a decision to make.
"The kids wanted to go for two, I asked them," Thunder coach Matt Polnow said. "And we're on the road, going for two with the comeback, I wouldn't second-guess that. The playcall, same thing, got feedback from the kids, but [Ottawa's] play-side linebacker just came through the A gap, and we didn't pick him up. It was a great play. ...
"At halftime, I had the feeling we would come back and be in the game. If you give us another quarter, we'd be fine. I think we would've been fine if you'd have given us three more minutes."
Connell read the conversion and recorded the sack, Ottawa ran most of the remaining time off the clock, and the game ended on a punt.
Ottawa's Colby Mortenson was 14-of-19 passing with two touchdowns and an interception, his top targets Miller and Weston Averkamp (six receptions, 57 yards, one TD). Ethan Poutre recovered a fumble and recorded a tackle for loss for the Pirates defense, with Garrett Cupples and Luke Boaz notching quarterback sacks.
Combs finished with 98 yards and one TD rushing for the Thunder, who outgained Ottawa in yards from scrimmage 306-264. Creighton finished 4 of 7 for 115 yards and a TD, with Dennison hauling in two of those completions for 80 yards and a touchdown while rushing for 57 yards and two more scores.
Woodstock North hosts undefeated Sycamore in Week 7.
Ottawa visits archrival La Salle-Peru.