OTTAWA – Sycamore head coach Joe Ryan said he and his staff stressed to their players the importance of starting Friday night's Kishwaukee River/Interstate 8 Conference White contest against host Ottawa strong.
The Spartans, ranked No. 2 in this week's Associated Press Class 5A poll, did just that and improved to 4-0 overall, 2-0 in league play on the season.
[ Photos: Sycamore vs Ottawa in Week 4 football ]
Sycamore found the end zone on all four of its first-half offensive possessions. The Spartans also got a 40-yard interception return TD from Kyle Prebil in the first quarter and a 42-yard punt return score from Tyler Curtis in the second in a 48-0 triumph over the Pirates (2-2, 0-1 KRC/I-8 White).
"Our coaches work hard all week to give us a game plan to follow, and so far (the players) have been able to execute it on Friday's what we work on the rest of the week," said Curtis, who also rushed for 97 yards on seven carries and finished Sycamore's opening possession with a 29-yard scamper around left end. "Tonight, I felt like we got after it right away and didn't underestimate or start out slow like we did last week against Woodstock. We put our foot on the gas and never let it up."
"Another key for us was scoring in all three phases like we did, getting big plays from other than your offense is huge for grabbing or keeping the momentum."

—  Joe Ryan, Sycamore head football coach
The Spartans forced a three-and-out on Ottawa's first possession, then scored four plays later on a TD dash around right end by Dylan Hodges. The visitors made it 21-0 when Prebil corralled a pass by Pirates QB Colby Mortenson and rumbled in for the score.
"We had a key third-down-(and-8) pickup that [QB] Burke [Gautcher] ran for on that opening drive and a couple plays later a big run from Tyler to get us on the board," Ryan said. "I thought we played extremely fast tonight in every phase, and we have to continue to do that.
"Ottawa on film looked pretty good the last two weeks, and we knew we were going to get their best shot. We talked to the kids about having to get things going early, and they responded. Another key for us was scoring in all three phases like we did, getting big plays from other than your offense is huge for grabbing or keeping the momentum."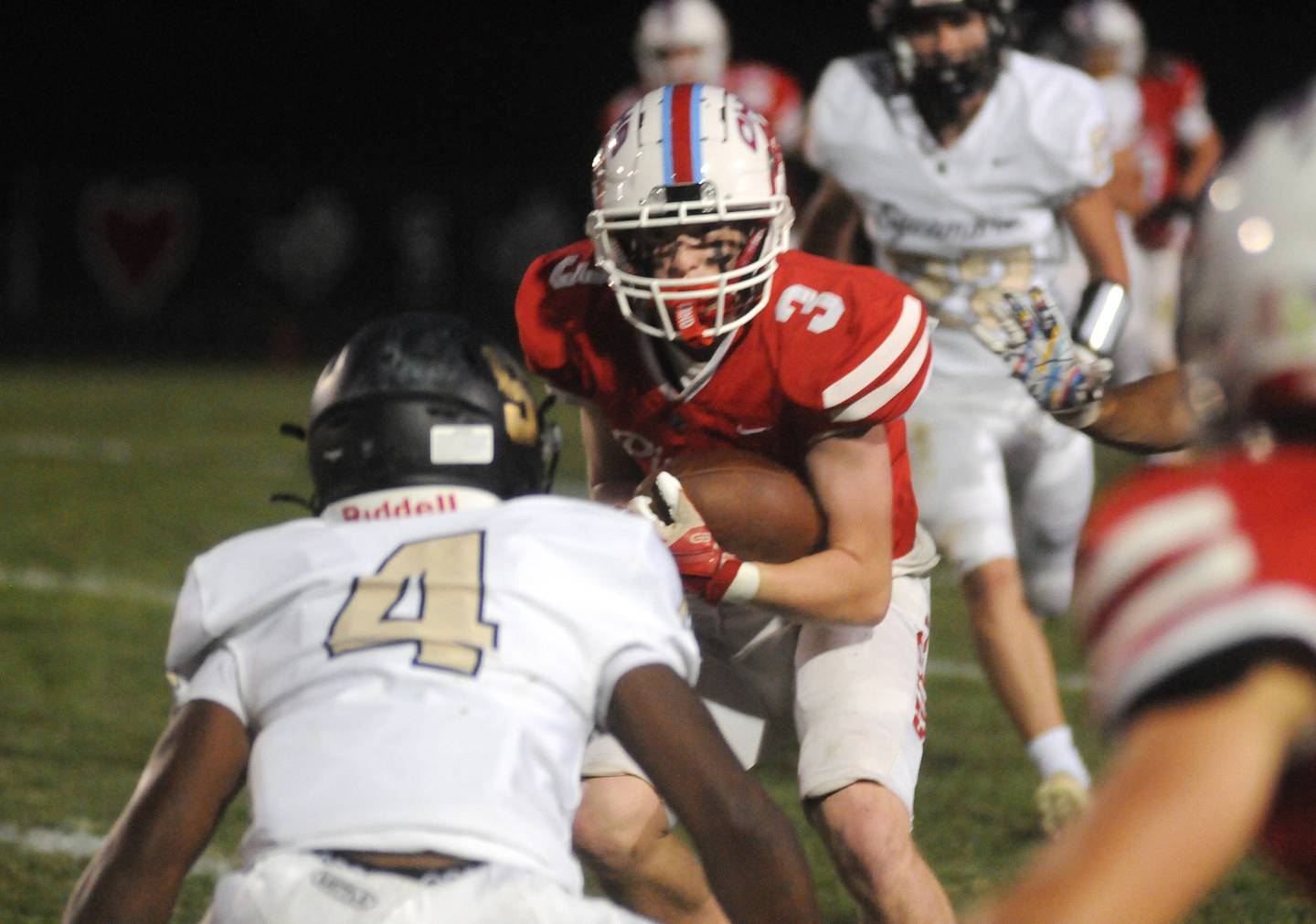 After forcing another punt, Sycamore's Diego Garcia capped a 11-play, 57-yard drive with a 1-yard dive. The next Pirates drive stalled, and after taking over on downs, the Spartans made it 35-0 on a Gautcher-to-Teague Hallahan 10-yard pass.
A Pirates 3-and-out then led to Curtis' punt return TD to make it 42-0 and secure a running-clock second half.
"When I caught the ball and looked upfield, all of my blockers were where they should be," Curtis said. "Then as I started upfield, I saw a couple of pancake blocks by my teammates, a huge open lane to run through, and I thought, 'This is it.' The credit on that one was my blockers; all I really did was catch the punt and run."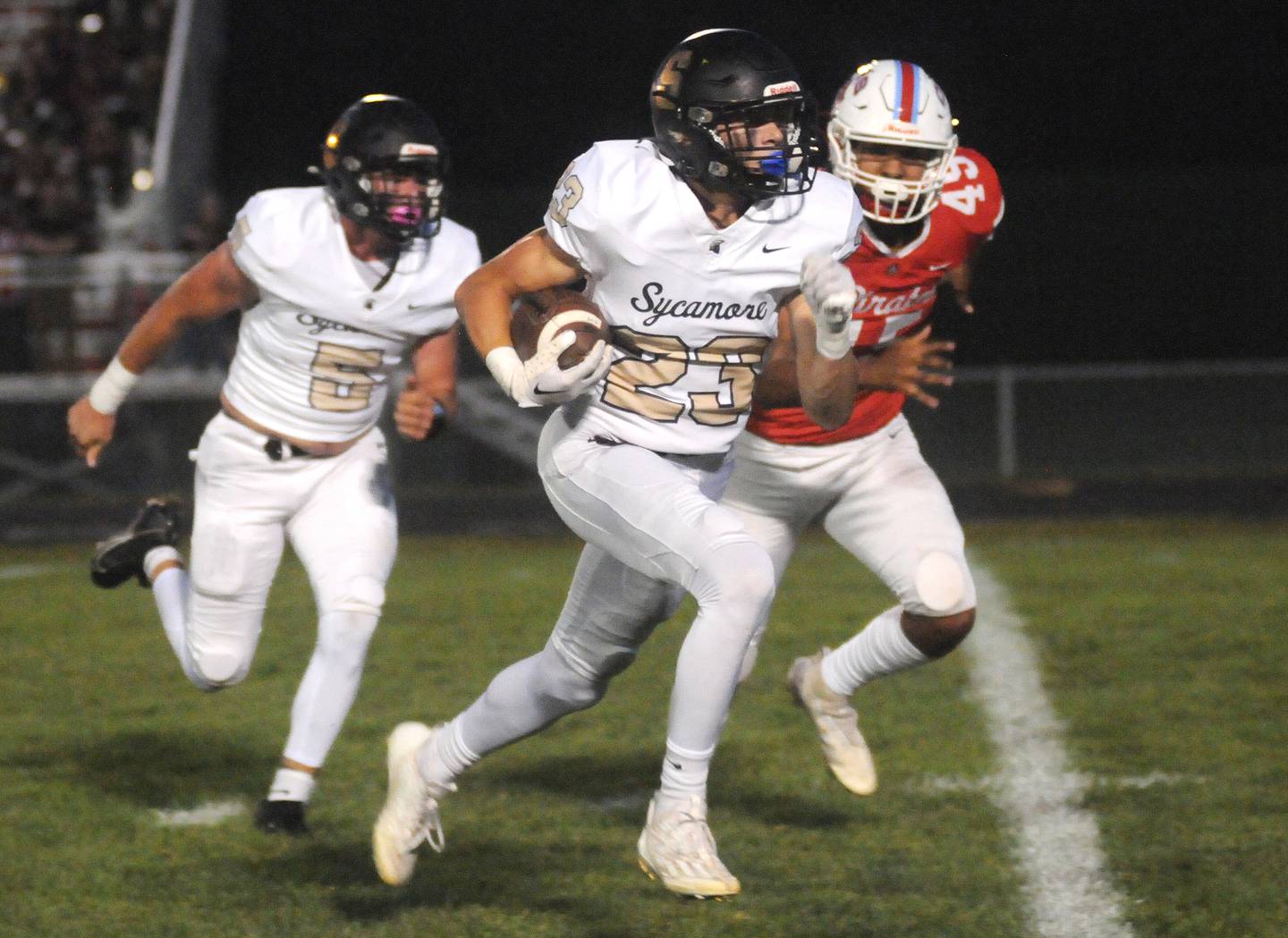 Sycamore, which ended the games scoring on a 7-yard TD pass from Isaiah Feuerbach to Luke Howieson, held the advantage in first downs (17-5), rushing yards (250-41) and total yards (289-125).
Archer Cechowicz led Ottawa with 18 yards on the ground, while Mortenson finished 11-of-21 passing for 84 yards.
"We were playing one of the top teams in the state tonight, and it gave us a chance to see what that looks like," Ottawa head coach Chad Gross said. "At times I thought we executed what we wanted to do pretty well, but Sycamore is very good at all levels on both sides of the ball. They played a very solid game in every aspect and executed at a very high level.
"We had good effort, I can't fault our kids in that area, but sometimes you just run into a very good opponent that is clicking. Sycamore looked every bit the team that has now won its first four games putting up a ton of points and only allowed 13."
Next week Sycamore hosts Rochelle, while Ottawa travels to Kaneland.
—
BOXSCORE
King Field, Ottawa
Sycamore 48, Ottawa 0
Sycamore (4-0, 2-0) 21 21 0 6 — 48
Ottawa (2-2, 0-1) 0 0 0 0 — 0
Scoring by quarter
First quarter
S — Tyler Curtis 29 run (Thatcher Friedrichs kick), 9:47, 7-0
S — Dylan Hodges 28 run (Thatcher Friedrichs kick), 5:58, 14-0
S — Kyle Prebil 40 interception return (Thatcher Friedrichs kick), 2:32, 21-0
Second quarter
S — Diego Garcia 1 run (Thatcher Friedrichs kick), 7:27, 28-0
S — Teague Hallahan 10 pass from Burke Gautcher (Thatcher Friedrichs kick), 2:35, 35-0
S — Tyler Curtis 42 punt return (Thatcher Friedrichs kick), 1:16, 42-0
Fourth quarter
S — Luke Howieson 7 pass from Isaiah Feuerbach (pass failed), 5:56, 48-0
Sycamore Ottawa
Total plays: 38 42
First downs: 17 5
Rushes-Yards: 28-250 18-41
Passing yards: 39 84
Total offense: 289 125
Comp-Att-Int.: 6-10-0 11-24-1
Third downs: 4-of-6 2-of-11
Fourth downs: 1-of-1 0-of-4
Fumbles-Lost: 0-0 1-0
Penalties-Yards: 4-25 4-25
Punts-Avg.: 1-22.0 4-31.3
Time of possession: 19:27 28:33
Individual statistics
RUSHING – Sycamore: Tyler Curtis 7-97 (TD), Diego Garcia 5-39 (TD), Luke Howieson 8-34, Dylan Hodges 2-32 (TD), Burke Gautcher 3-30, Kevin Lee 3-18. Ottawa: Archer Cechowicz 6-18, Colby Mortenson 5-13, Ryder Miller 4-7, Mark Munson 1-4, Jack Pongracz 2-(minus 2).
PASSING (C-A-TD-INT-YD) – Sycamore: Burke Gautcher 4-7-1-0-27, Isaiah Feuerbach 2-3-1-0-12. Ottawa: Colby Mortenson 11-21-0-1-84, Mark Munson 0-3-0-0-0.
RECEIVING – Sycamore: Teague Hallahan 2-20 (TD), Luke Howieson 1-7 (TD), Carter York 1-6, Jakob Shipley 1-5, Aidan Wyzard 1-1. Ottawa: Hayden Swett 3-34, Packston Miller 3-26, Archer Cechowicz 3-25, Ryder Miller 1-0, Weston Averkamp 1-(-1).
INTERCEPTIONS — Sycamore: Kyle Prebil. Ottawa: none.