SPRING VALLEY – Mac Resetich wanted to play Division I baseball.
Recognized as one of the top 500 prospects nationally, Resetich had committed to play baseball for Black Hawk Junior College with dreams of following the same path his brother, Chance, took to Division I.
Then he was thrown a curveball by football.
Resetich had a breakout, record-setting senior season playing football for Hall, which led to a change of plans.
He gained the attention of University of Illinois football coach Bret Bielema and his staff and on Sunday received a full-ride offer from the Fighting Illini after making his official visit. He signed his national letter of intent Wednesday and is the 23rd member of the Illini's recruiting class.
"You never know what can happen. Anything can happen at any given moment. I had no idea. I'm just shocked as everybody else, I guess," he said about making the switch from baseball to football. "I'm definitely excited. I couldn't wait. I couldn't sleep the other night. It's a big deal. Makes me super happy."
Resetich's dad, Kim, also was super excited. He said he went to the store and bought out all their Illinois shirts and gear.
Illinois head coach Bret Bielema was equally as excited. He spent the first nine minutes of Wednesday's press conference on National Signing Day talking about Resetich and breaking down his video highlights.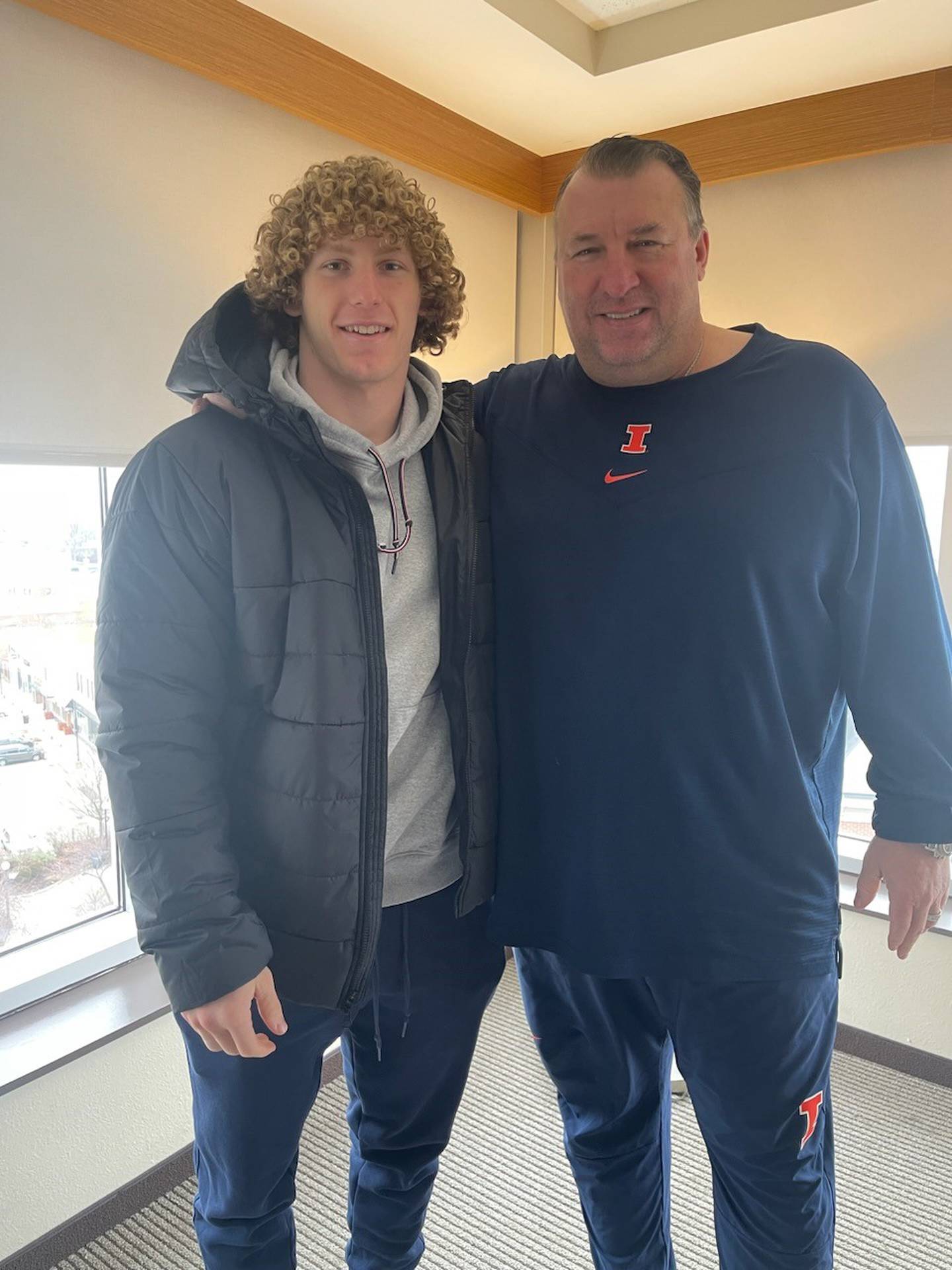 He said while Resetich may have been low on the radar for others, he was "high for us and we kept it to ourselves."
Bielema described Resetich as a "really good athlete" with "good vision."
Putting Resetich's picture on the screen, Bielema joked that he's on the "All-Hair Team."
Resetich is Hall's first football player to sign to play Division I since the duo of Nick Sterling (Vanderbilt) and Joey Reed (Northern Illinois) from the Class of 1998. He follows the footsteps of former Red Devil Mike Suarez ('89), a member of the Hall-DePue co-op, who played for the Illini.
The Hall senior said he had a great visit to tour the Illinois facilities and meet with the staff and players.
"It was awesome. The whole facilities and everything I saw. The whole crew, the coaching staff. I liked everything," he said.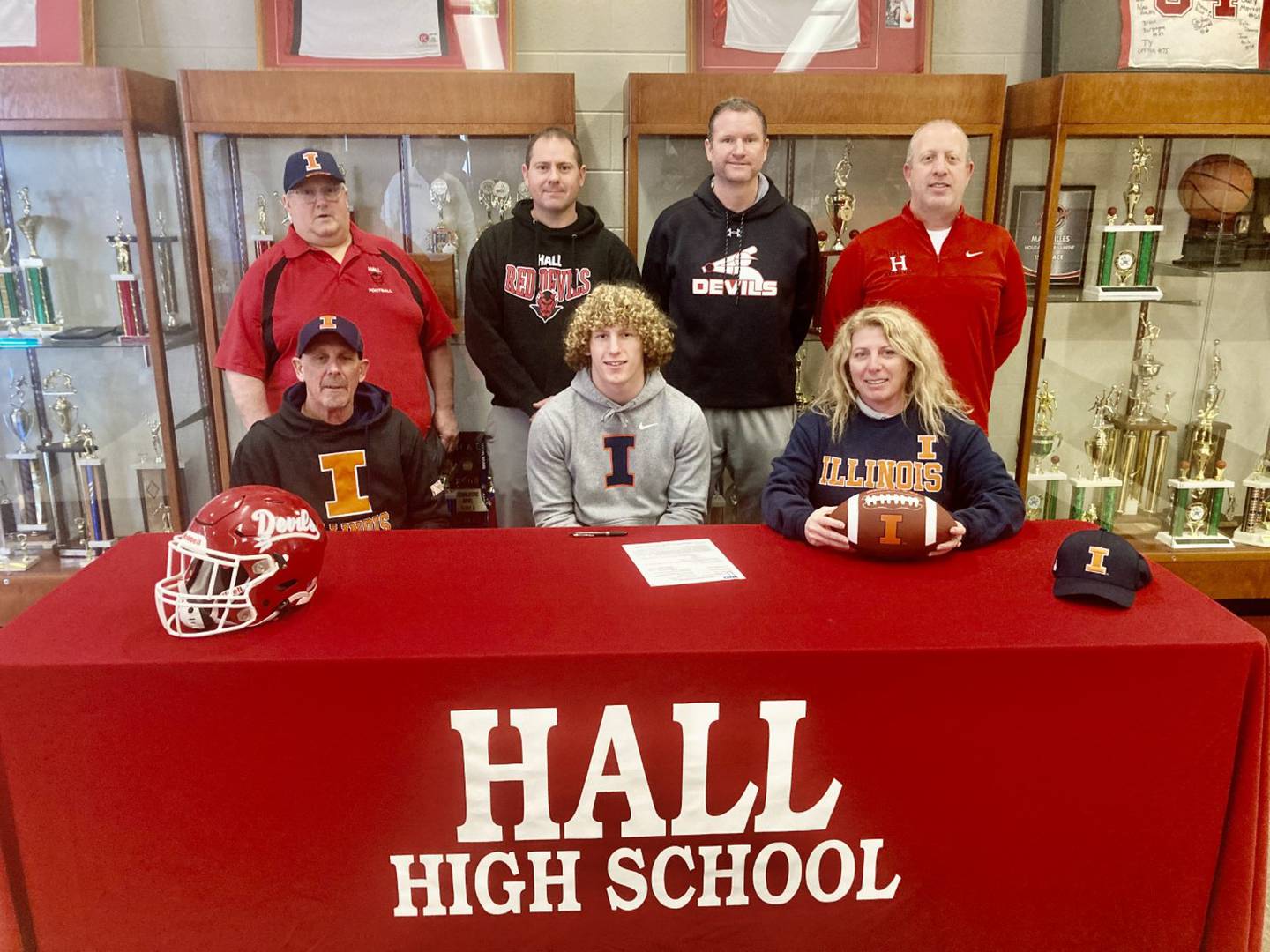 The Illini are looking to use Resetich's talents at free safety and special teams with an eye on getting on the field next year.
"U of I is a like a freshman-play school, so I'm looking forward to some playing time next year," Resetich said.
When he returned as Hall's head coach last fall, Randy Tieman moved Resetich to quarterback from running back to better utilize his talents. Resetich flourished, setting Hall's single-season rushing records for both yards (2,227) and touchdowns (30) and overall touchdowns (34), including returns.
He rushed for 429 yards and seven touchdowns in a win over Mendota and became Hall's all-time career leader with 3,290 yards rushing and 50 touchdowns.
"[Tieman] played a big role. Definitely helped a lot," Resetich said. "Kind of had a feeling [moving to quarterback] was going to happen. Kind of wanted to. Me and him were kind of both on the same page."
Tieman joked it was a pretty easy coaching decision to move Resetich to quarterback.
"You just want to put the ball into the hands of your best player," he said.
The Red Devils coach said the Fighting Illini are getting a special talent.
"He works hard. He's a good kid. He's good with his teammates and looks after them a lot," he said. "He is getting everything he deserves. It was as a good opportunity for him, and I'm glad he jumped on it.
"I'm sure there's still more to come."
Resetich is the second Bureau County player to sign with a Big Ten school in a little more than a month, following Princeton's Teegan Davis, who signed with Iowa just before Christmas. Their teams will meet Nov. 18 in Iowa City.
"That's crazy isn't it, two Big Ten players from Bureau County. Some suburban counties don't have that," Hall head basketball/assistant football coach Mike Filippini said.
A big Fighting Illini fan, rival Bureau Valley coach Mat Pistole congratulated Resetich on Twitter and said, "I finally get to cheer for you when you make plays."
Resetich is keeping his baseball career on the back burner and would love to do a double play with the Illini on the ball diamond and team up with fellow Hall products Cam McDonald and Ty Rybarczyk.
"I would love to play both. I don't know if it's really going to happen. I'm going to try to do it, and whatever happens, happens," he said.
Other notable Hall college football players from the past are LeRoy Lunn (Army), Bill McAdams (Iowa), Leon Mativy (LPO/Colorado), Cliff Peart (Northwestern), Dale Pienta (Northwestern), Jack Podowicz (Iowa) and Jim Troglio (Northwestern).