PRINCETON – The crowd following Princeton's No. 1-ranked basketball team is growing each night.
On Tuesday, they picked up a new follower of note: Iowa Hawkeyes head football coach Kirk Ferentz. He was in town to watch his recruit, Teegan Davis, play for the Tigers.
Ferentz said he enjoys being able to see his signed or potential recruits play other sports during the offseason.
"I thoroughly enjoy it. This is my second basketball game. Caught a wrestling meet and got another wrestling meet Thursday," he said. "It's a mixture of seeing underclassmen, and it's always fun to see guys who have signed with us."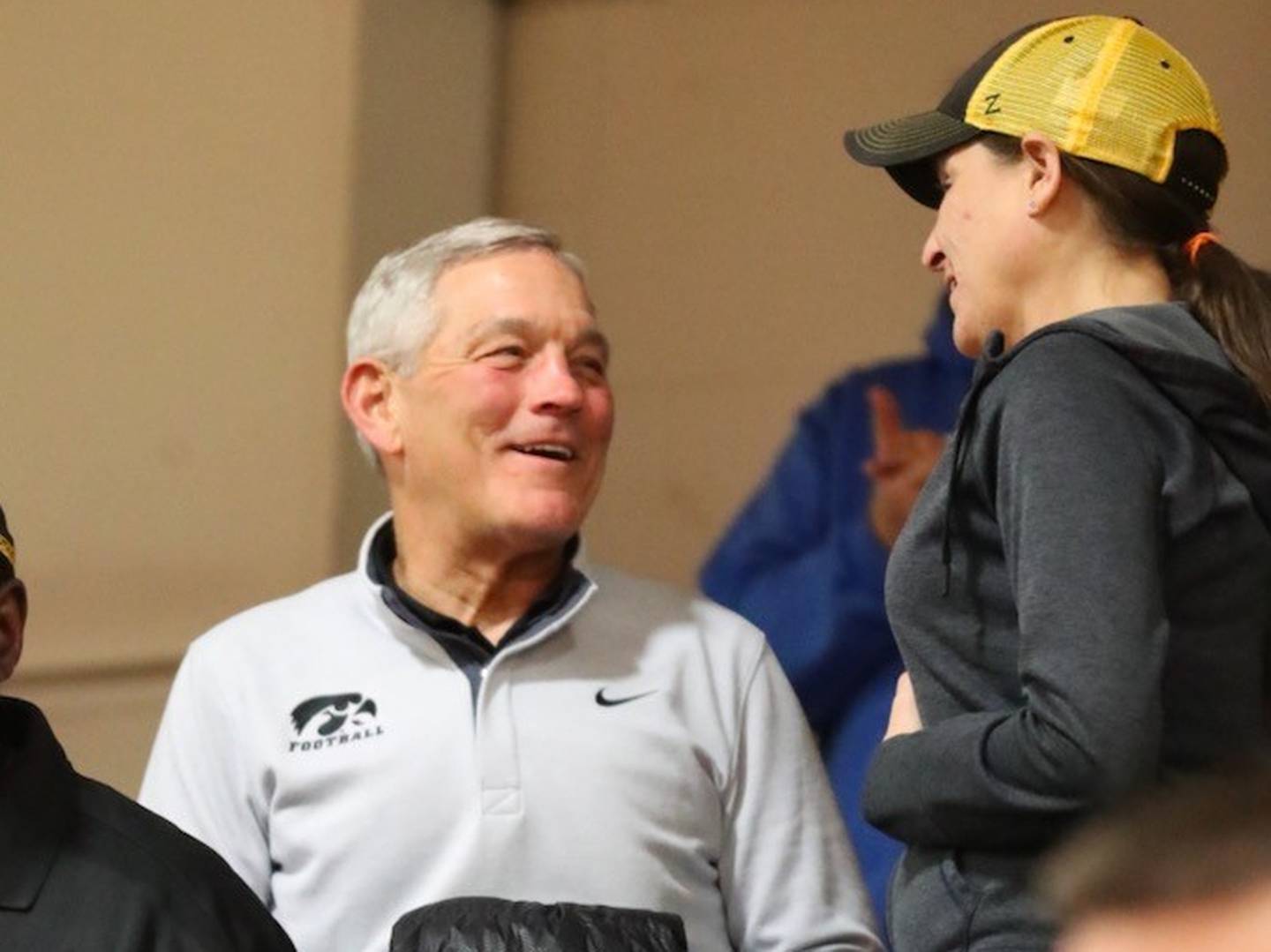 The Hawkeyes coach said he watches the athletes for more than their abilities on the court, looking more at their makeup.
"Kind of like when you watch them play football. It starts with the attitude," he said. "Obviously, there's a requisite of an amount of ability the guy's got to have. But to me, it's more about their attitude, their effort, their unselfishness. And watching their chemistry of how they work with other people is always fun too.
"I think that's what always separates athletes a lot of times. Because a lot of guys in college are good players, but they really arise above. So much of that is attitude driven."
Ferentz said he was impressed with the Tigers' undefeated basketball team, which is ranked No. 1 in Class 2A for the third straight week.
"What a nice team first of all," he said. "Nice to watch the team compete. Very unselfish group, play good defense and tough underneath in general. It's fun to watch Teegan. We're really excited about him."
Davis, who scored 15 points and displayed his athleticism with a trademark soaring dunk that drew the applause of Ferentz, was excited to have his new coach watch him play.
"He's just a phenomenal guy. Came down here taking pictures with all the fans and everything. Really happy everybody came out and got to see him," he said. "It's not every day you get to see Kirk Ferentz out here. It's something very cool. You always dream about a day like this, and it came true."
Tigers basketball coach Jason Smith said it's difficult to know what kind of emotions the low-key Davis had with the Iowa coach in the house.
"Hard to tell with Teegan. He's the same kid no matter what. I don't think it fazed him at all," he said. "I'm super excited for him, and to have that opportunity to see the head Iowa football coach there to watch him like that, he had to have some nerves, but he didn't show it."
Smith joked that Davis didn't like coming out of the game in the first quarter after picking up two early fouls, "but he made up for it in the third quarter."
PHS sophomore forward Noah LaPorte, who teamed with Davis for 12 touchdown passes last fall, said it was cool to have Ferentz at the game, but he was trying to keep focused on the basketball game.
Tigers football coach Ryan Pearson, who accompanied Ferentz at the game, had to make sure he didn't wear any of his Illinois gear and joked that Davis has told him he needs to get some new Iowa fan wear.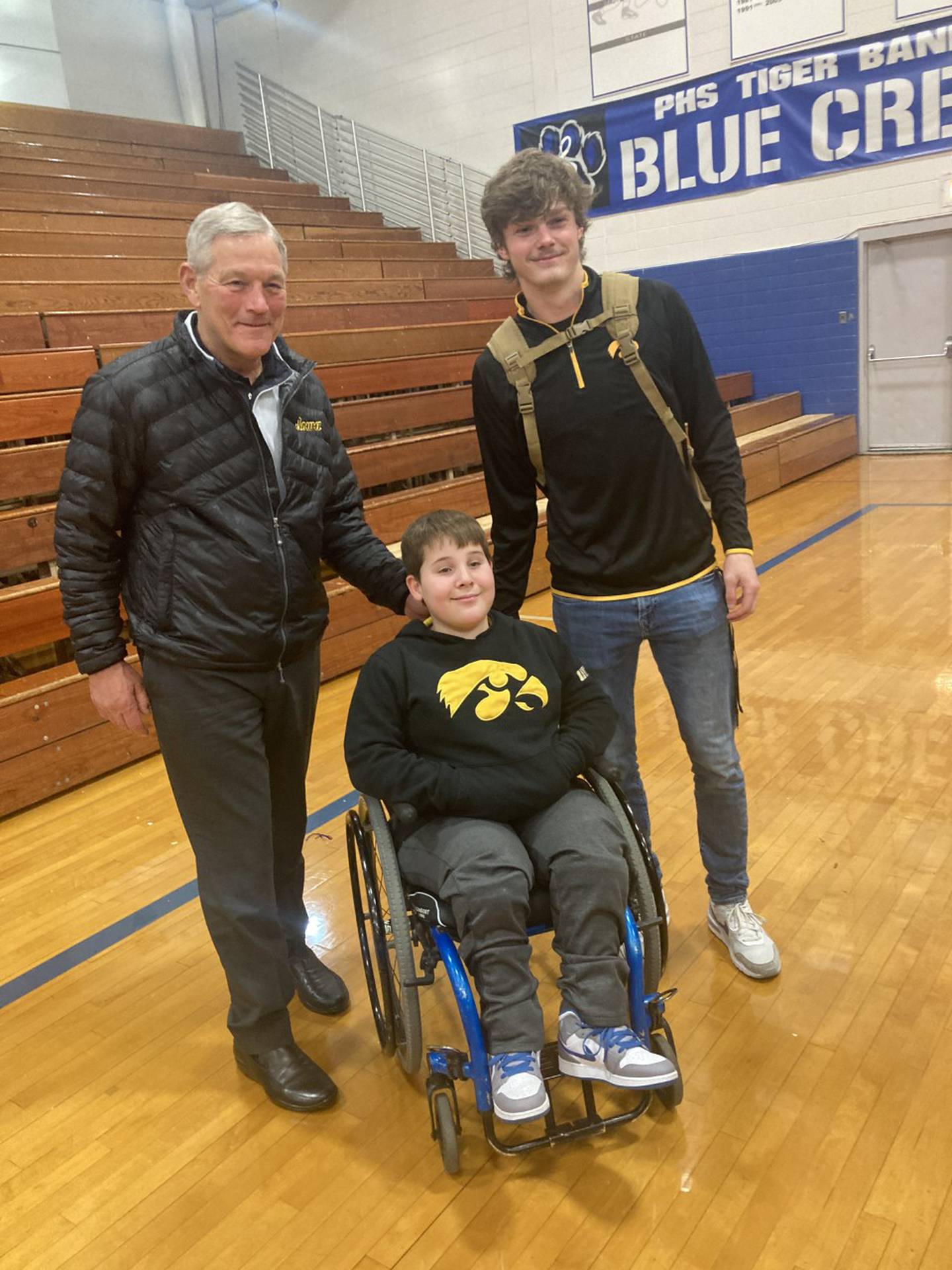 When the game was over, Ferentz gladly met and took photos with fans of any age, including youth football player/manager Zane Britton, who came decked out in Hawkeyes gear as the word of the Iowa coach's arrival spread throughout the day.
When told the Hawkeyes have gained a lot of new fans in Princeton with Davis coming to play, Ferentz said, "I hope so. Having Teegan come will hopefully help our season tickets a little bit. We're just thrilled to have him. He's an impressive young man."
Davis signed with the Hawkeyes on Dec. 21.