WOODSTOCK – Christian Bentancur had dreamed of this day since he was a youngster, the one where he sat behind a table, with college caps in front of him, and announced his college commitment to play football.
Bentancur didn't just dream about it, he worked to get there with every fiber of his being.
On Friday, in front of about 225 people in Marian Central's auditorium, the Hurricanes' junior sat on a stage with his family and soaked it all in. Bentancur had pared his list from 38 NCAA Division I offers to Clemson, Ohio State and Oregon.
Bentancur grinned, reached for the Oregon cap and announced, "The next few years, I will be spending at Clemson University."
No one outside the family knew which school Bentancur had picked. After his announcement, family members took off their jackets to reveal their Clemson apparel. Some went out to their cars to grab Clemson caps for pictures.
"Always as a kid, I saw recruits choosing their hat, and this is a dream come true," said Bentancur, a 6-foot-5, 235-pound four-star tight end recruit. "It was crazy. I was enjoying the moment and speaking from the heart.
"It was the family atmosphere [at Clemson]. They showed the most amount of love. They only offered a few tight ends. Getting that, you feel important. They show everything they like about you, and the opportunities are crazy."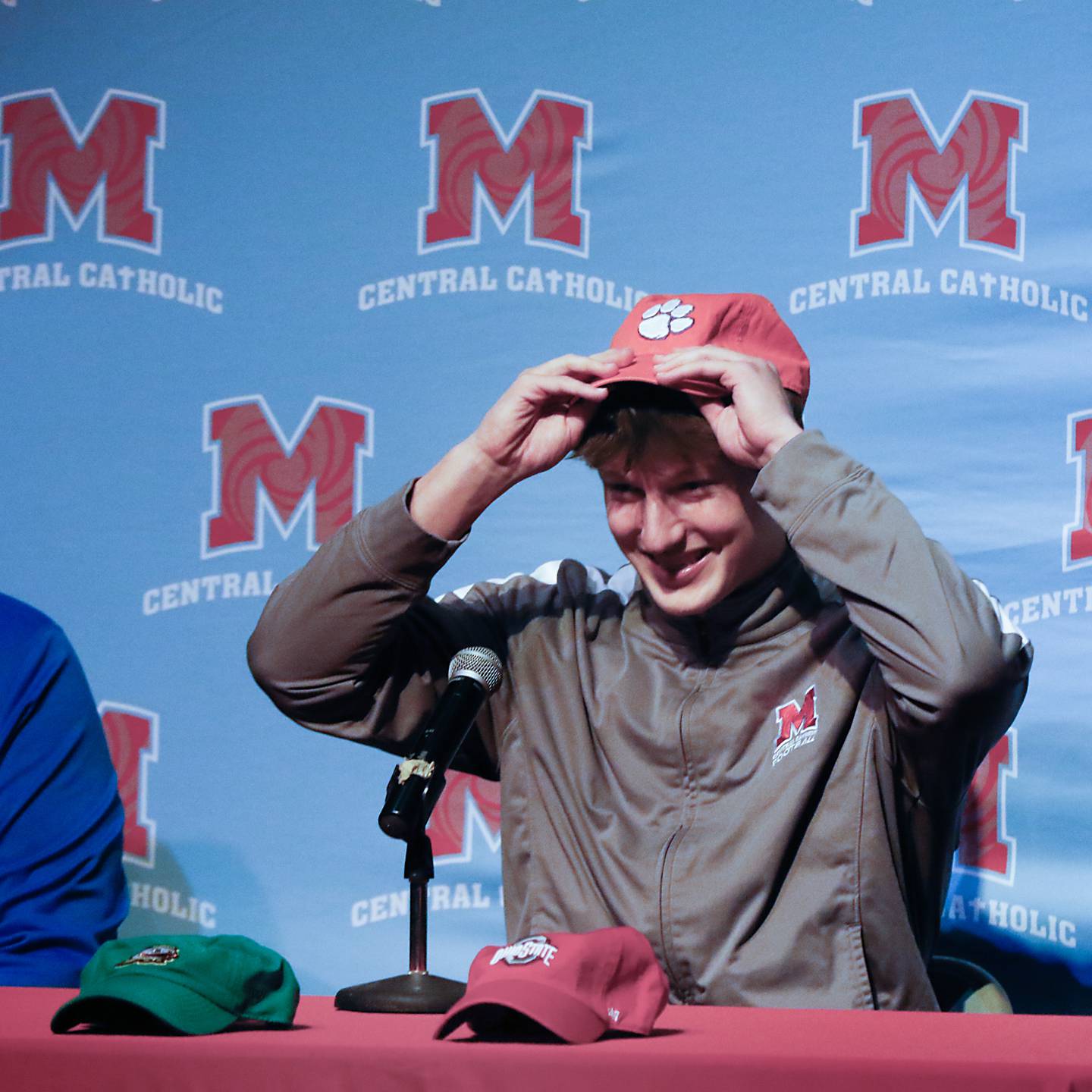 Bentancur actually visited Oregon a week after Clemson, but his mind already was made up. Tigers coach Dabo Swinney and his staff had won Bentancur over.
"I was in love with Clemson," Bentancur said.
Patrick Bentancur, Christian's father, knew at that point where his son was headed.
"Clemson was unbelievable," Patrick Bentancur said. "The staff, the players, everything. The love they showed him, he was like, 'I think this is it.' He just fell in love with it."
Bentancur always has been driven to be his best. He passed 1,000 career points early this basketball season and has 139 career receptions for 2,705 yards and 30 touchdowns in football.
"When he was a little guy, if you said 'No' to him, he was so determined to do it," Patrick Bentancur said. "My brother and I, he would do stuff on the football field or the basketball court and we'd be like, 'This isn't normal.' "
Patrick Bentancur remembers a man saying to him, around the time Christian was 7 years old and playing basketball, that he would not have to worry about paying for college. In football, Christian's coach in third grade said he would be playing on Saturdays.
"His goal was to come to Marian and be a four-year starter, both in football and basketball," Patrick Bentancur said. "That's pretty tough to do. When he was in seventh grade, we'd wake up at 5:30, 6 o'clock in the morning and we'd do some workouts, basic techniques. He's grown from there."
Christian Bentancur said he is driven by that dream.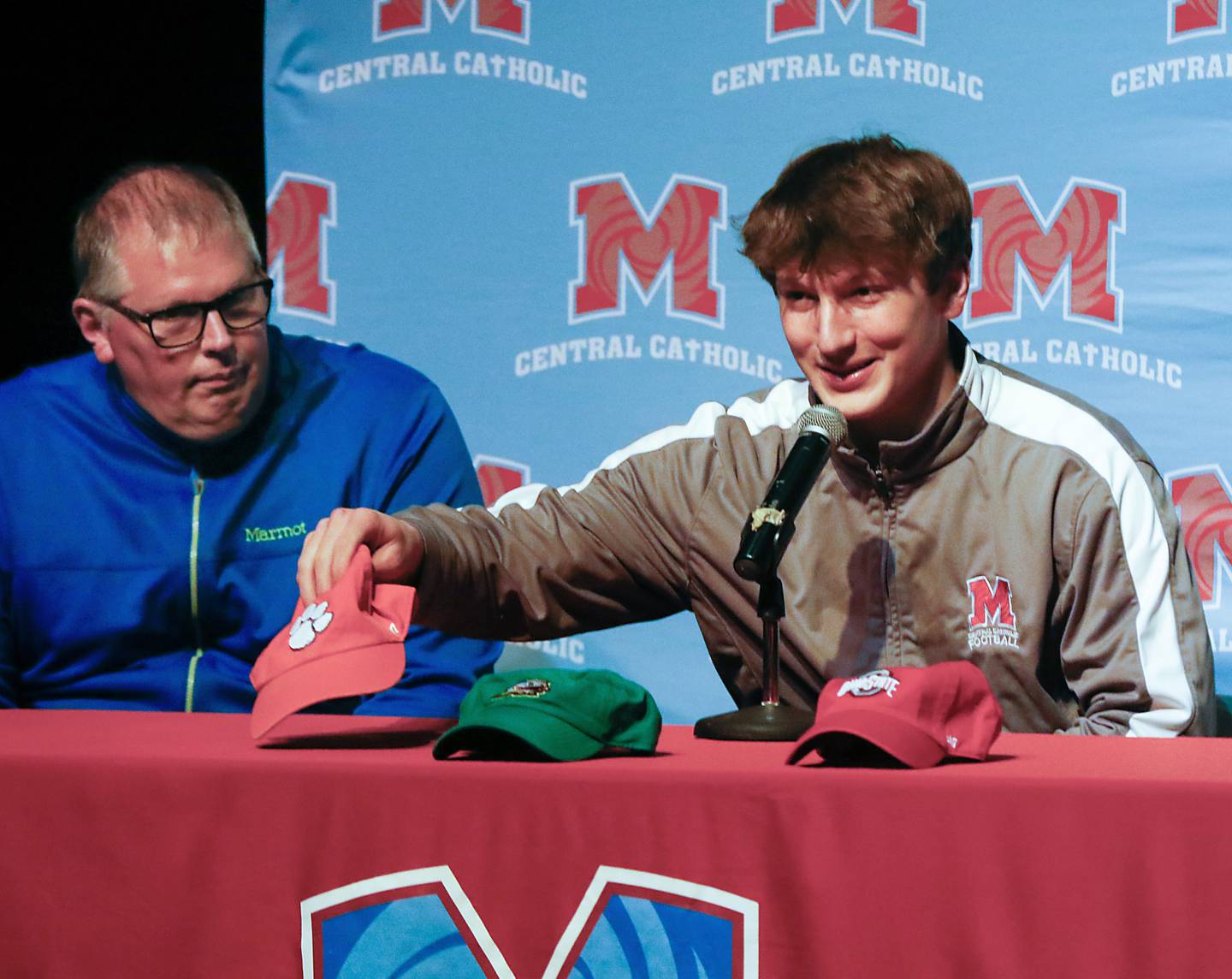 "I always had a dream as a kid," Christian Bentancur said. "I don't want to let that little kid's dream go to waste. I want to make the most out of my life. I try every day to do that. [The NFL] is the ultimate goal and to play the game I love for as long as I can."
Bentancur caught 54 passes for 1,058 yards and 11 touchdowns in the fall. His yards and touchdowns were the best in the area, and he was a Northwest Herald All-Area first-team selection for the second straight season. He is the highest-recruited player in Marian's rich history, which includes, now, 15 D-I players since 2006.
Hurricanes coach Liam Kirwan didn't know, but suspected Bentancur might pick Clemson.
"He hasn't given us an inkling," Kirwan said. "I knew the way the visits lined up, it was most likely Oregon or Clemson. I figured it had to be one of those two. I heard some things from other college coaches that made me think it was Clemson.
"For him, it's a good spot. Coach Swinney is all about family and culture. That's what he wanted. The No. 1 thing was an opportunity to be in a program that was a family. He wanted a family, an opportunity to play and make it to the next level. It makes sense."
Bentancur is blessed with size and speed, but Kirwan said he has the whole package. For all of Bentancur's offensive exploits, Kirwan was blown away by a defensive play this season against Providence.
"His instincts are the first thing I think of," Kirwan said. "He hadn't played outside backer before. He said, 'Coach, they have a quick game, can I jump and knock down a pass?' On fourth down-and-short we send man pressure, and he sees the quarterback, jumps, grabs it and houses it. I was like, 'Holy ... !' It was one of the best football plays I've ever seen in my life. Like T.J. Watt or something.
"You see him on the offensive side, and anytime the ball's near him, he has a chance to catch it. On top of it, great kid. He has the ability and the work ethic. When you have those two things, you can't complain as a coach."