CHAMPAIGN – Mount Carmel, historically, already knows the expectation for any incoming class.
The Caravan, dating to 1980, have won 14 state titles.
"Winning state at Carmel is a big deal," Caravan senior quarterback Blainey Dowling said after Mount Carmel's 44-20 victory over Batavia in the Class 7A state title game Nov. 26 in Champaign. "They were saying [during the week] 'The Club', you know? Now that you're in the club, it's a great feeling. When you come to Mount Carmel, [you] play in state championships. That was a deciding factor for us. Being able to compete in a state championship and winning it, it's a great feeling."
The road to perfection was one Mount Carmel was destined for. The Caravan last won a state title in 2019 and ended that season in perfect fashion. Saturday was no different.
The matchup was widely anticipated for both programs. Mount Carmel defeated Batavia in controversial fashion in last year's second round of the playoffs. This time, Mount Carmel didn't need overtime to finish the job.
The Caravan took a 28-0 lead on four Dowling touchdown passes, the first two to Jimmy Deacy for 11 and 27 yards, respectively. Damarion Arrington (6 catches, 68 yards) and Jaden Bossie (4 catches, 58 yards) added touchdown grabs as the Caravan seized control early.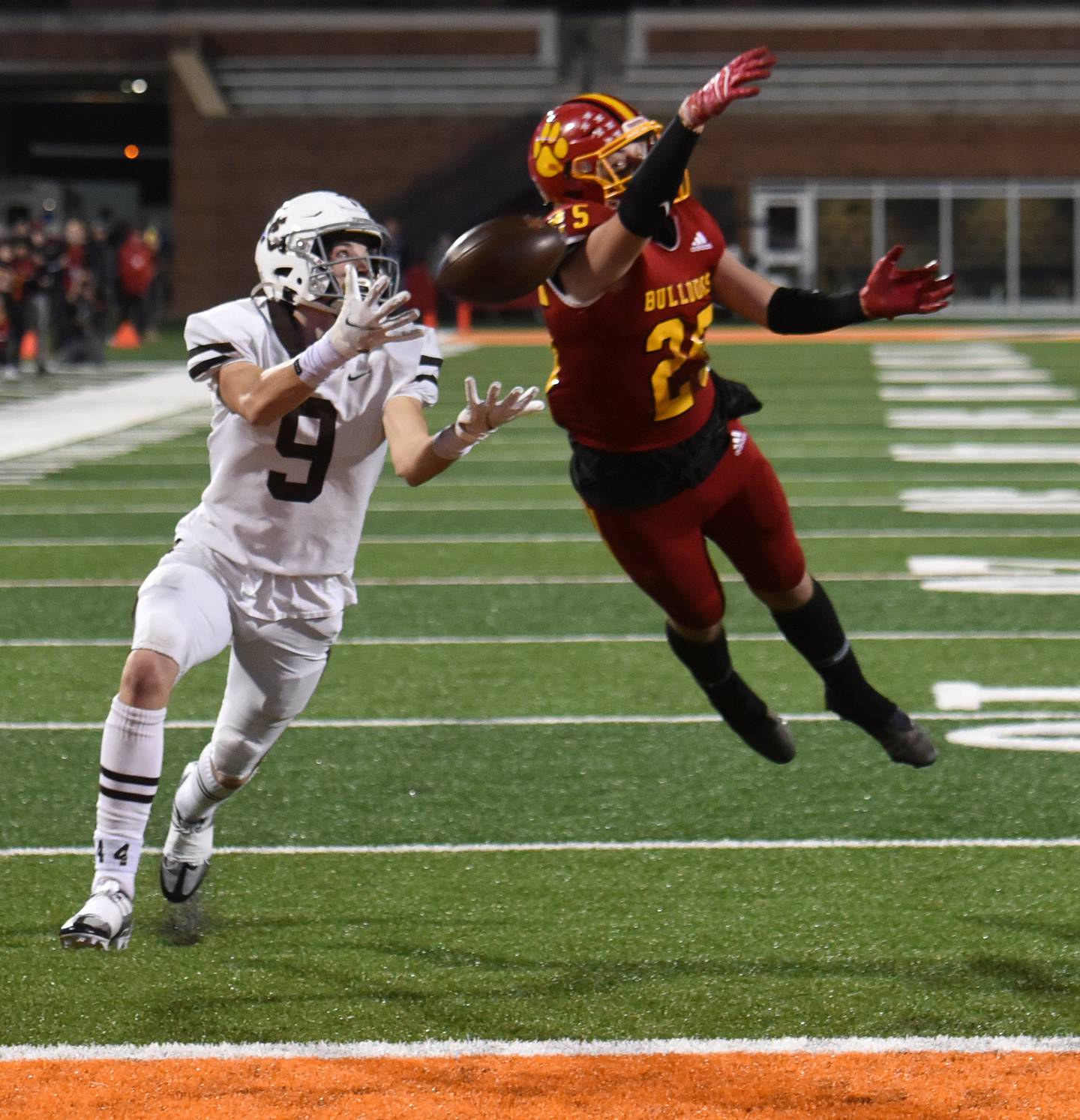 Dowling, who entered the game with 39 touchdowns and 2,719 passing yards, looked every bit the program record-breaking quarterback he demonstrated to be all season. Dowling finished 25 of 40 for 262 yards and four touchdowns. Saturday's contest featured the most passes combined for a Class 7A state final – 74 total.
"This is a special group," Mount Carmel coach Jordan Lynch said. "2018 was my first year I took over and these kids were in eighth grade. ... Obviously, 2019 was very special for me winning state – my first time – but these are my guys. This is the first class I had. It's a special group for me. It was a great performance."
Running back Ryan Whitwell (14 rushes, 57 yards) scored from 3 yards out to put Batavia (10-4) on the board with 4:31 left in the first half.
Caravan junior kicker Louie Chappetto hit a 24-yard field goal to make it 31-6 Caravan. Batavia countered with a 12-yard touchdown reception by CJ Valente from quarterback Ryan Boe. The two-point conversion failed and the Bulldogs trailed 31-12.
The Caravan (14-0) kept the heat on in the second half despite a spirited effort by Batavia to stay in contention.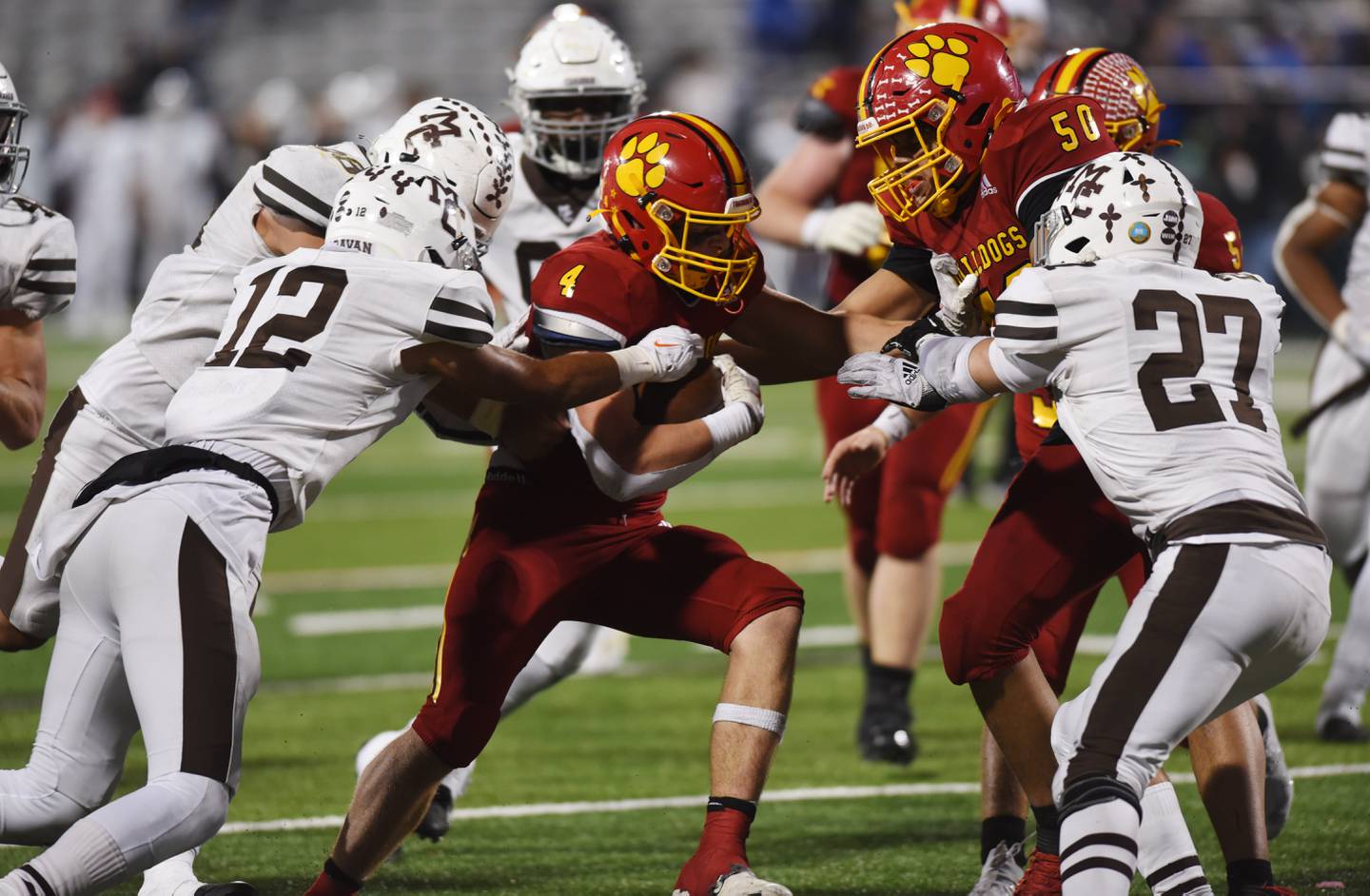 Out of the break, Batavia was driving into Mount Carmel territory, but Boe (16 of 31, 148 passing yards, one touchdown, one interception) was intercepted by Caravan senior Bobby Medina on a screen pass. Bossie cashed in on the turnover for a 12-yard rushing score and the Caravan led 37-12 with 6:36 left in the third quarter.
Batavia had a fourth-and-goal chance with 11:03 left in the fourth quarter, but Boe's pass attempt to Brady Ninowski was high and incomplete.
Mount Carmel put the finishing touch on the victory when Jack Elliott completed a 60-yard TD pass to Arrington on a fourth-down fake punt for a 44-12 lead with 9:42 left.
Charlie Whelpley (8 rushes, 35 yards) added one more Bulldogs score on a direct snap run from 15 yards out and converted the two-point try to make it 44-20 Caravan with 5:53 left. Whelpley was intercepted on a deep pass attempt to Boe with 4:32 left.
"It just shows we all got heart," Batavia senior linebacker and Wisconsin commit Tyler Jansey said of his team's character. "That's something that's just built in the offseason, grinding throughout the season. It's been obvious since the start: We don't quit. Against Lincoln-Way East [Week 2], we were down 31-0 and then second half, we shut them out on defense. ... It just shows we care about each other. We're going to go fighting for each other [until the end]."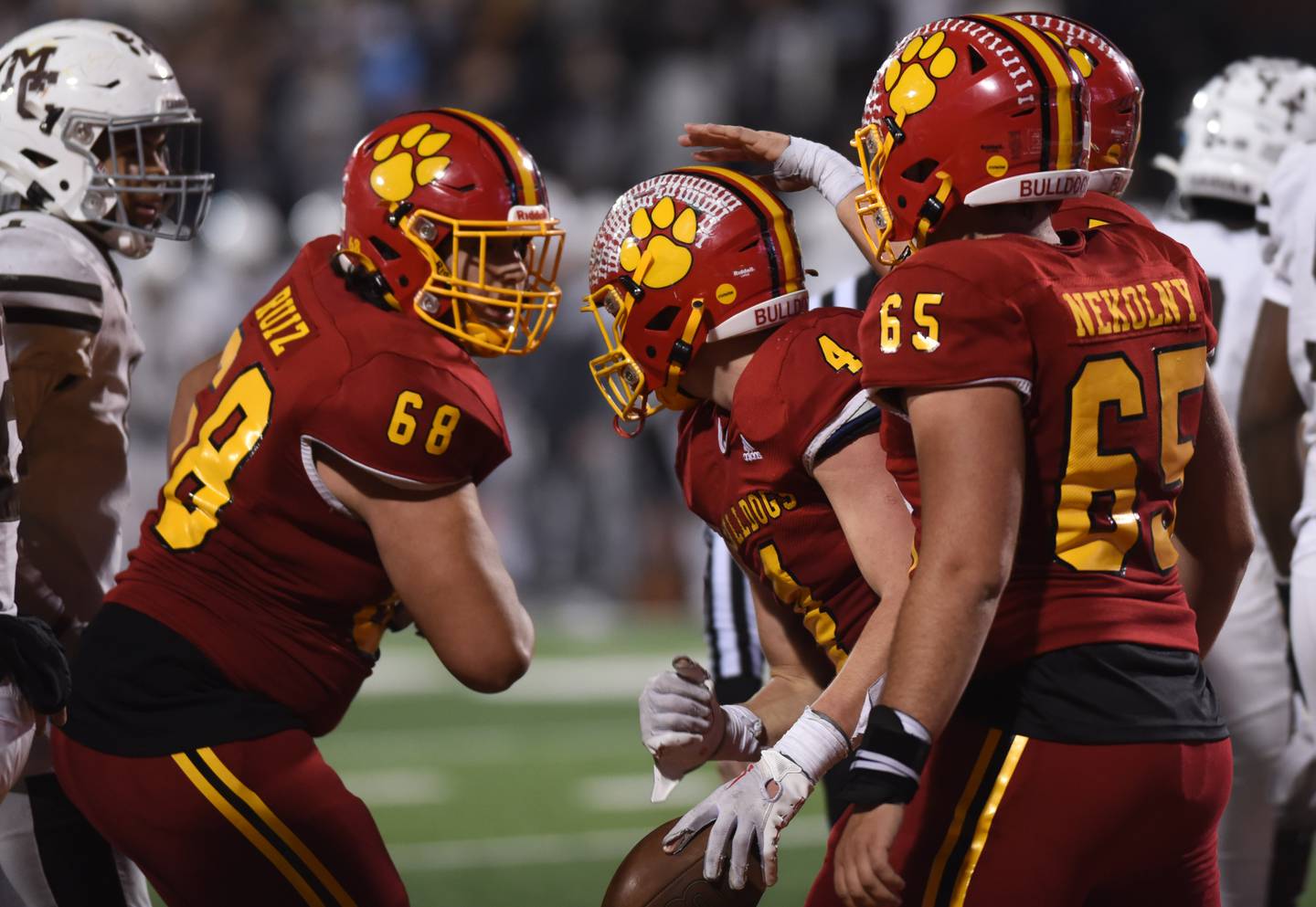 Batavia was vying for the program's third state championship. The Bulldogs won state titles in 2017 and 2013.
"[I've known] a lot of these boys in first grade, second grade," Batavia coach Dennis Piron said. "Kindergarten. Probably [Whitwell] within a couple days of his birth. I'm not kidding because I've known his father that long. ... It's a different sort of thing. This is the guys we get in Batavia. They grow up there and we build them into football teams as best as we can. They work their [butts] off together as a team.
"We're disappointed a little bit in how we played today. All of us will tell you that. That's not just me as their coach. They'll tell you that as players. We wanted to show better for our community and for each other. But in the end, the journey we took is something [we'll] remember for the rest of [our] lives. It was wonderful. The time we had these last couple weeks has just been a ball. Tons of fun. Wouldn't have it any other way to finish with these guys."