LAKE ZURICH – Tyler Jansey has one more game to achieve the "ultimate prize" of a high school football career.
"Going to state – winning state – is one of the things I've always dreamed about," Jansey said in the blustering cold after Batavia's 24-7 victory over Lake Zurich in a Class 7A state semifinal Nov. 19.
Jansey, a Batavia senior and Wisconsin recruit, watched his brother Michael achieve winning state when Batavia beat Lake Zurich in the Class 7A final five years ago.
Now, Tyler gets his moment.
"So many guys can talk about what college they go to or what awards they win," Jansey said. "But at the end of the day, what you want most is a state championship on your high school team, man. Those are your brothers you grew up with and going to state with your brothers is an experience that most people don't get. 99% of people don't get it, so it's unbelievable. All glory to God."
Batavia advances to face Mount Carmel, which beat St. Rita in the other semifinal. The state championship is 4 p.m. Saturday in Champaign. Batavia lost to Mount Carmel in stunning fashion last year in the second round of the postseason in a contest that had late-game penalties and an emotional finish.
"That's the team we wanted to play this year," Batavia running back Ryan Whitwell said of Mount Carmel. "So it's exactly what we wanted and we're ready for them."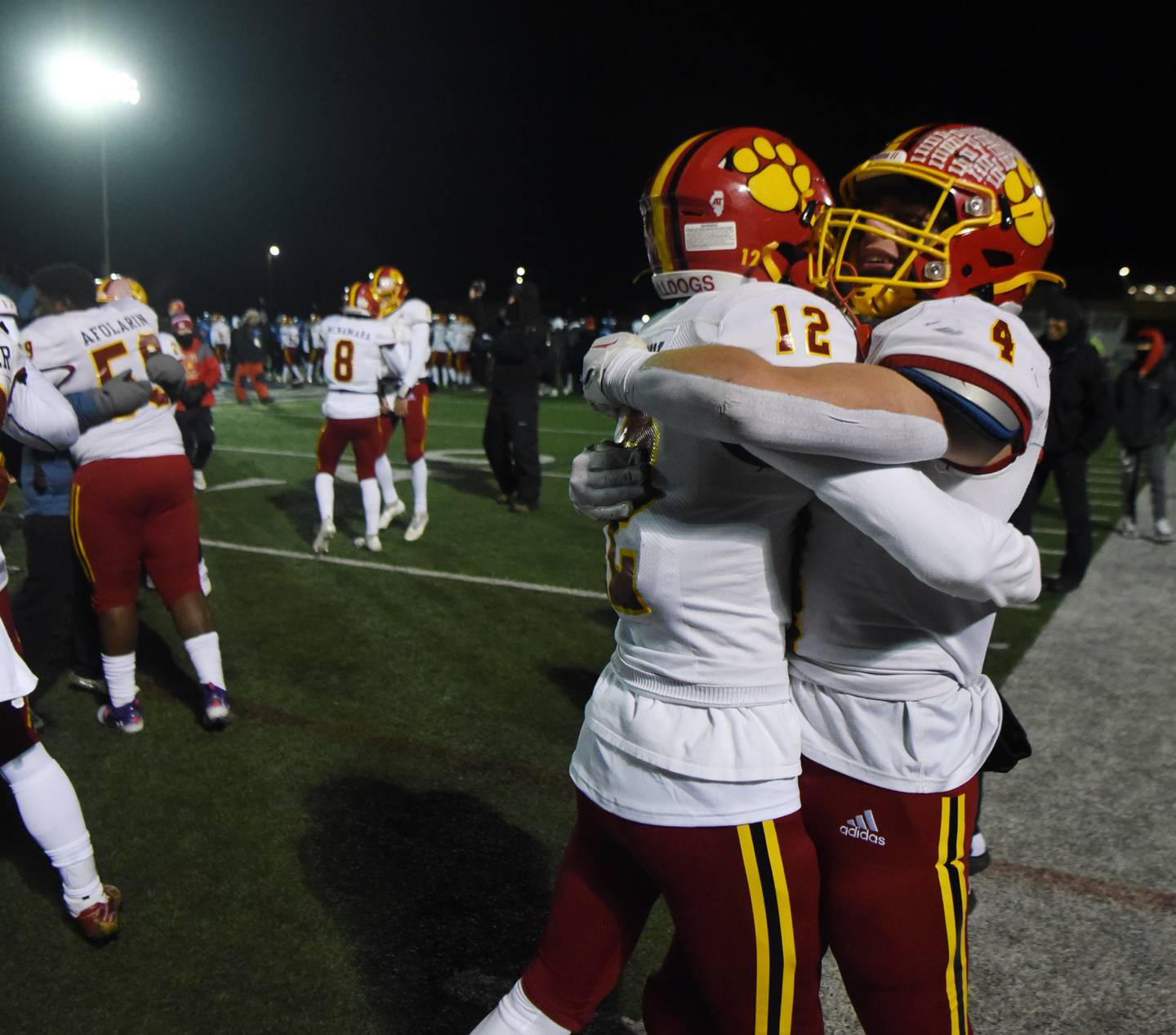 Batavia (10-3) led 10-7 against Lake Zurich at the half, but the Bears were the ones to strike first.
Ashton Gondeck connected with Jackson Piggott for a stunning 82-yard touchdown off a play-action fake that found Piggott all alone sprinting for daylight with 5:30 left in the first quarter.
The Bulldogs answered with Charlie Whelpley's 2-yard score with 7:37 left in the second quarter to make it 7-7.
Whitwell fumbled on Batavia's next possession, but the defense forced its third punt of the half. Alec Crum knocked in a 32-yard field goal to make it 10-7 Batavia at the half.
On the first play from scrimmage in the second half, Jansey (148 rushing yards) ran for a 71-yard touchdown to make it 17-7 Bulldogs just minutes into the third quarter.
Batavia had a botched snap on a Crum field-goal attempt with 5:50 left in the third quarter deep in Bears territory, but the defense produced another three-and-out.
Whitwell cashed in for a 29-yard touchdown to pad the lead, and Batavia celebrated another trip to Champaign.
As a seventh grader, Whitwell was a water boy on the Batavia sideline five years ago.
"At the beginning of the season, we were 1-2 and I think a lot of people even on the team were just having doubts and thinking 'what are we really made of,'" Whitwell said. "Ever since that moment … we always talked about going to the state championship when we were just working out together. It's just crazy that it's actually happening now. It's crazy to play another game. It's just awesome."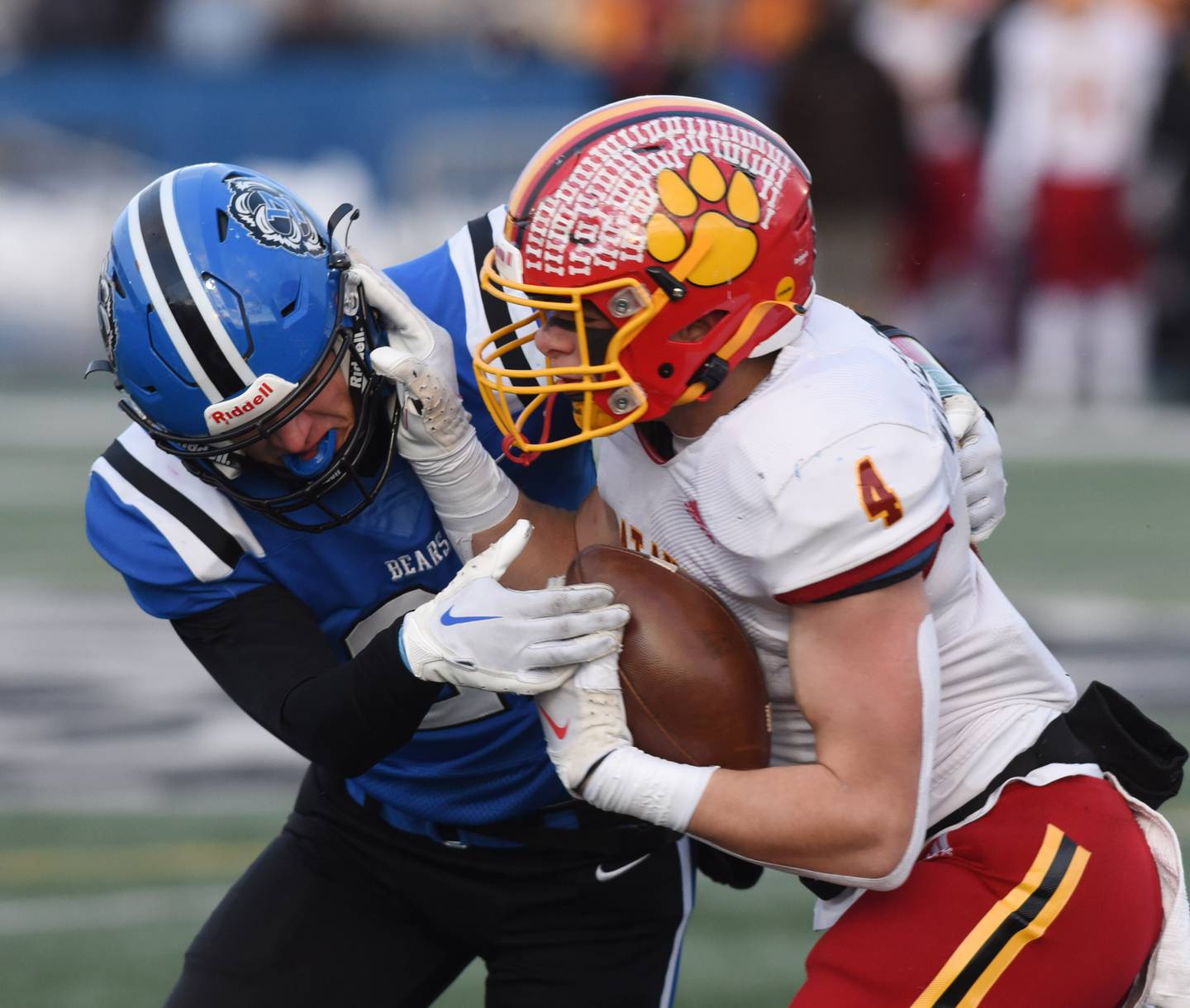 Whitwell finished with 70 rushing yards. Quarterback Ryan Boe had 90 passing yards.
"It doesn't seem so cold right now, I tell you," Batavia coach Dennis Piron said. "Shame that we had a couple fumbles. I mean, we really were running the ball well. But we have all year and that's been our bread and butter. … We took some [passing] shots and I think that let them know we're going to throw the ball, so because we did, you couldn't just pack in on us. … Jansey was a monster down the stretch. Charlie Whelpley has been so good in the playoffs. Our line, Jimmy Zitkus leading those young junior guys. … There's a lot of heroes here."
Lake Zurich (11-2) was paced by Gondeck's five completions and 100 passing yards. Chris Pirrone had 25 rushing yards for the Bears.
"These guys were freshmen my first year here," Bears coach Ron Planz said. "So I've watched them grow and mature. ... They're one of the best teams in program history and they deserve all the accolades and they deserve to walk off that field with their head high."