GENEVA – Streaks of black smudges blanketed Drew Surges' uniform.
Each of them were individual reminders of everything – and anything – he can do on a football field.
Surges, a St. Charles North senior, emerged from the North Stars' 35-20 win with four touchdowns on offense and a plethora of standout plays on defense, one of which was breaking up a pass intended for Geneva star wideout Talyn Taylor late in the fourth quarter to effectively ice the game.
St. Charles North (4-1, 3-0) handed Geneva (4-1, 2-1) its first loss and became the lone unbeaten team in DuKane Conference play going into the second half of the season.
"He bleeds. He's human. We checked that. I thought [underneath the bandage on his forearm] was synthetic oil," St. Charles North coach Robert Pomazak joked about Surges. "He's special. You want to know what an All-State player of the year looks like? That's exactly what it is. There's just not a better player right now that I've seen on film in our little area.
"And that's a tribute to Drew because he's just got a target on his back. He's an absolute man-child and just a great person."
Surges, who finished with 204 rushing yards, 43 receiving yards, numerous defensive tackles and an interception, credited teammates for helping him manage his stamina.
"[Geneva] is a great team, but we knew we could run the ball," Surges said. "We did. It was a big win for us. Another big week. We're leading the conference now, so now we have the target on our back and we can just keep moving."
Surges' No. 6 isn't a mystery to opposing defenses. And arguably he hasn't been a mystery to DuKane Conference teams for three seasons.
"He's one of the best two-way players in the state," Geneva coach Boone Thorgesen said. "He's a great football player. He takes over games and he took over this game a little bit. … Like I told our kids today, 'Don't hang your heads. Everything we want, we can get in the season. We've just got to get better in certain situations and when it's time to make plays, we've got to make plays.' I was proud of the way they fought."
The North Stars began with a blistering pace in the first half. A fake reverse on the opening kickoff set them up in Geneva territory and they cashed in on a seven-play drive with Surges' 3-yard rushing score for a 7-0 lead.
Geneva's first possession stalled, but a personal foul on the punt prolonged the drive. The possession, however, ended with another punt.
The North Stars then scored on a 12-play drive. John Vendl's 2-yard rushing score gave them a 14-0 lead with 10:35 left in the half.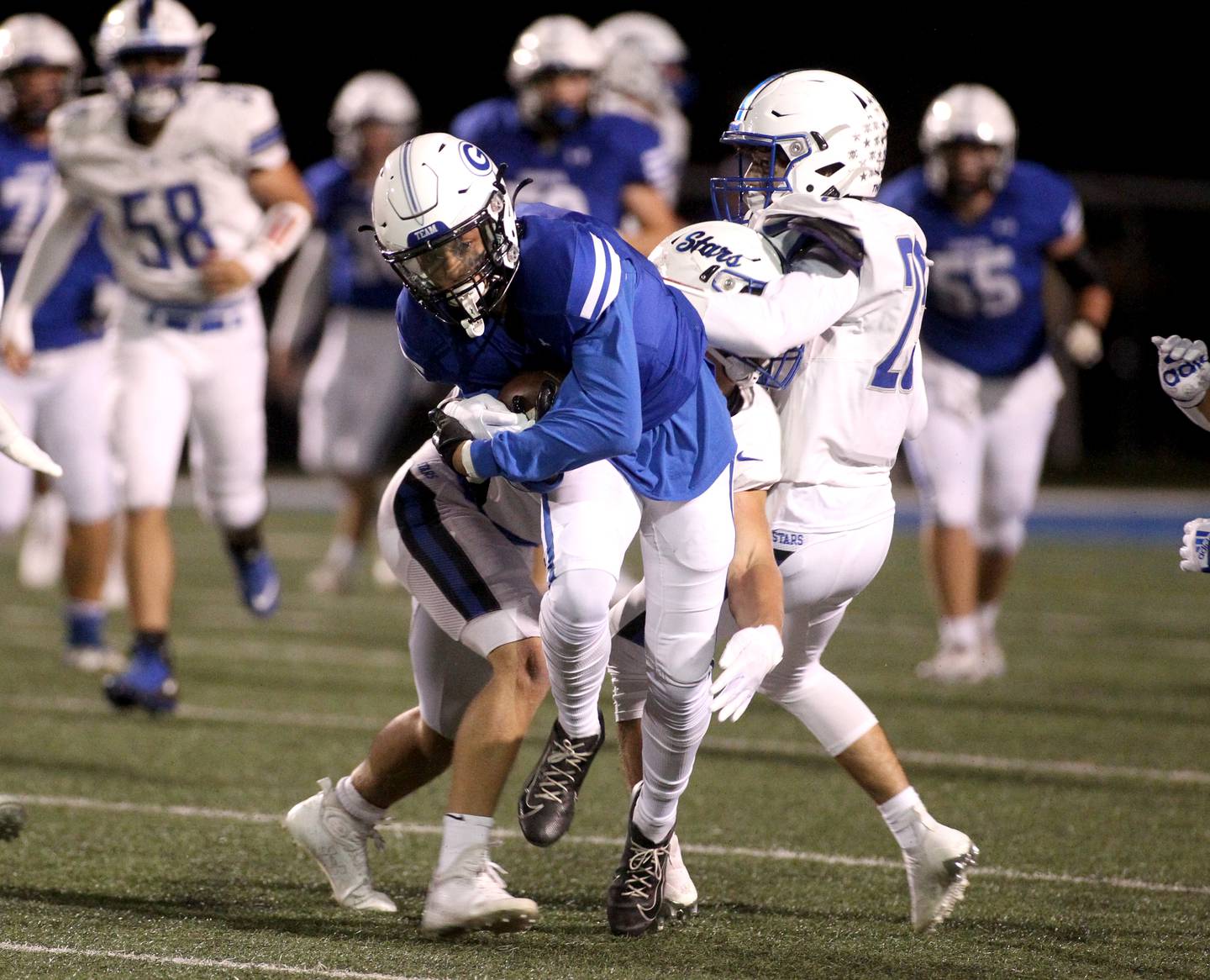 Geneva ripped off a touchdown drive, capped by a scrambling Nate Stempowski passing to Taylor for an 8-yard score. The extra-point attempt was blocked and the North Stars led 14-6 with 2:39 left.
On fourth-and-1 from the Geneva 22, Surges then rumbled in for his second touchdown of the half to make it 21-6 North Stars at halftime.
To open the third quarter, Surges cashed in with a 19-yard score.
It was answered by Geneva, which got a 1-yard rushing TD from Taylor. The two-point conversion attempt was thwarted by Aidan Zocher to keep it 28-12 North Stars with 4:06 left in the third quarter.
Ethan Plumb then found Surges for a 16-yard touchdown pass on the next drive for a 35-12 advantage to open the fourth quarter.
Geneva's Troy Velez had a 7-yard rushing score with 6:02 left and Stempowski completed the two-point conversion to Michael Loberg to make it 35-20 with 6:05 left.
Stempowski finished 13 for 25 for 134 passing yards. Velez had 51 rushing yards. Taylor had five catches for 63 yards and one touchdown.
Plumb was 12-for-15 passing for 129 yards and a TD.
"Great defensive game plan by Keith Snyder. Great offensive game plan by Brian Flynn and great special teams game plan by Joe Groff," Pomazak said. "The staff did an amazing job of preparing the kids and keeping our focus on track. And the boys, they're just a really special group who understands that they've got to go to work every day, got to practice hard and they want to go out and play hard."