STERLING – St. Bede got four touchdown passes from quarterback John Brady and a strong defensive effort, highlighted by two interceptions, to beat Newman 34-8 Friday night at Roscoe Eades Stadium.
On the game's opening drive, St. Bede marched 61 yards for a touchdown. A 19-yard pass from Brady to Ben Wallace converted a fourth-and-11. A few plays later, Callan Hueneburg punched in a 4-yard touchdown. After a Brady pass to Wallace for the two-point conversion, the Bruins took an 8-0 lead.
On the next St. Bede possession, Newman's Hunter Luyando intercepted Brady near the Bruin 45-yard line, returning it to the 11. But the Comets couldn't capitalize as Carter Rude's fourth-down conversion attempt was stuffed at the 13.
[ Photos from Newman vs. St. Bede ]
St. Bede extended its lead to 14-0 with 36.8 seconds left in the first quarter, capitalizing on a critical Newman defensive error. On the 64-yard passing touchdown from Brady to Connor Brown, the cornerback attempted to jump a hitch route, but misjudged the flight of the ball. After hauling the ball in about 5 yards from the line of scrimmage, Brown raced down the left sideline for the score.
"The corner made a good play coming down. I was a little worried," Brady said of the touchdown to Brown. "Just tried to sneak it in there, and he missed and Connor got the ball. And to be able to get a touchdown out of that was just lucky, I guess."
Newman had a promising drive going on the ensuing possession, sparked by a 35-yard Rude run, but a fumble at the St. Bede 6-yard line left points on the board.
Two possessions later, the Comets finally broke through, driving 72 yards for their first score of the game. A 3-yard Nolan Britt run was the scoring play. With 2:39 left in the first half, the Comets trailed 14-8.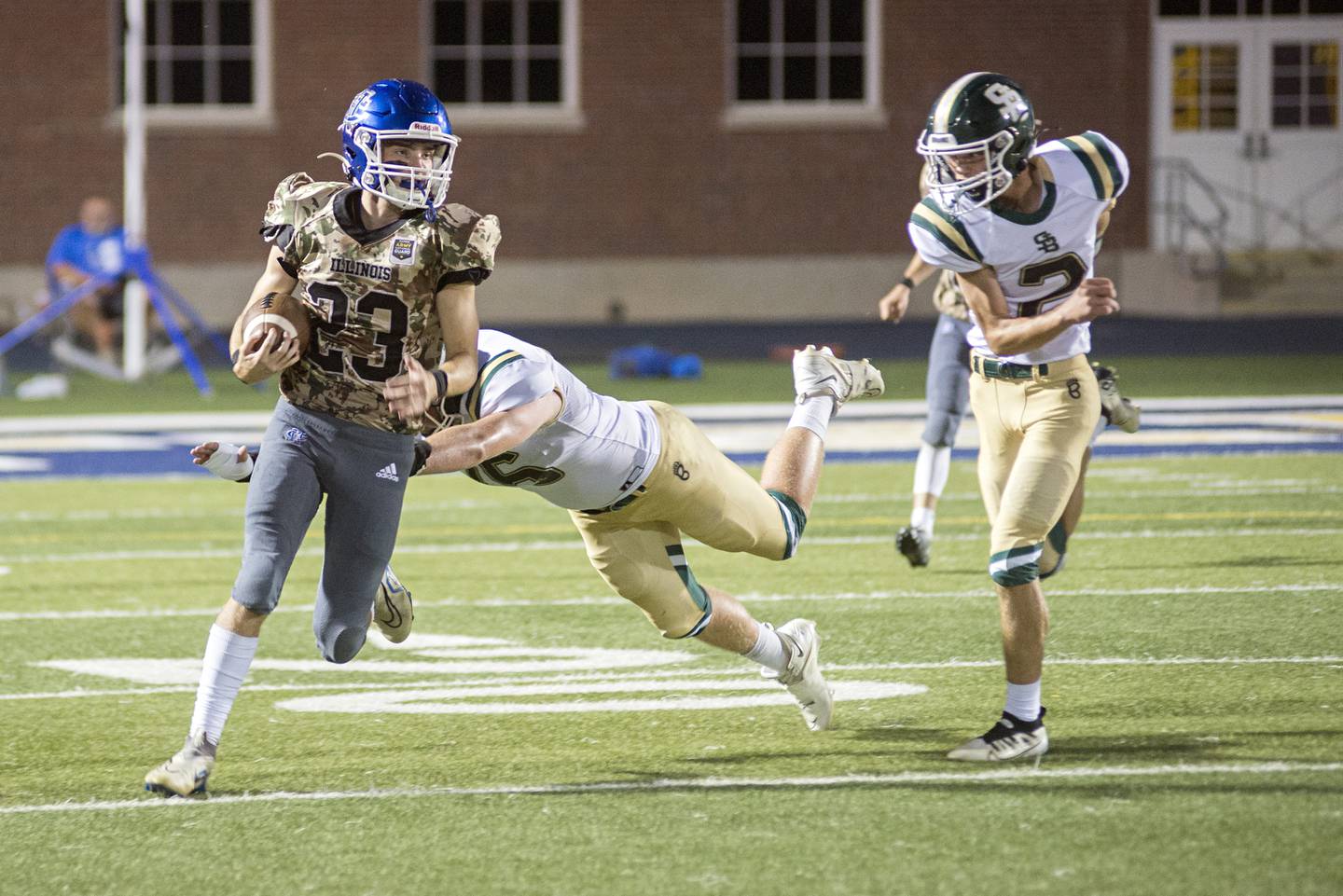 On the final drive of the first half, St. Bede drove 66 yards, converting two fourth-and-2 plays on its way to a 20-8 halftime lead. An offsides penalty gave the Bruins a first-and-10 from the 10 to keep the drive alive, then St. Bede converted another fourth-and-2 with a Brady touchdown pass to Wallace as the first half expired.
"Things are a bit shaky still because it's my first time out there, but I think we did well, we performed. It's just a few mistakes we've got to tighten up, and we'll come back ready to play next week," Rude said.
"Our line took huge leaps forward. They played really well. We found some plays that worked for us. Things just started to click for us."
Early in the second half, St. Bede struck again, this time with a 69-yard touchdown pass from Brady to Mason Hurst. Similar to the touchdown pass to Brown, the ball looked like it might be intercepted near the right sideline. But once again, the defender missed the jump and Hurst ran unimpeded to the end zone. The scoring play put the Bruins up 28-8 with 8:23 remaining in the third quarter.
"Not stopping, keeping the momentum going, can't take the foot off the gas," Brady said of St. Bede's mentality in the second half. "Trying to keep the pass and run intact, balanced, and keep moving, and we were able to keep that going."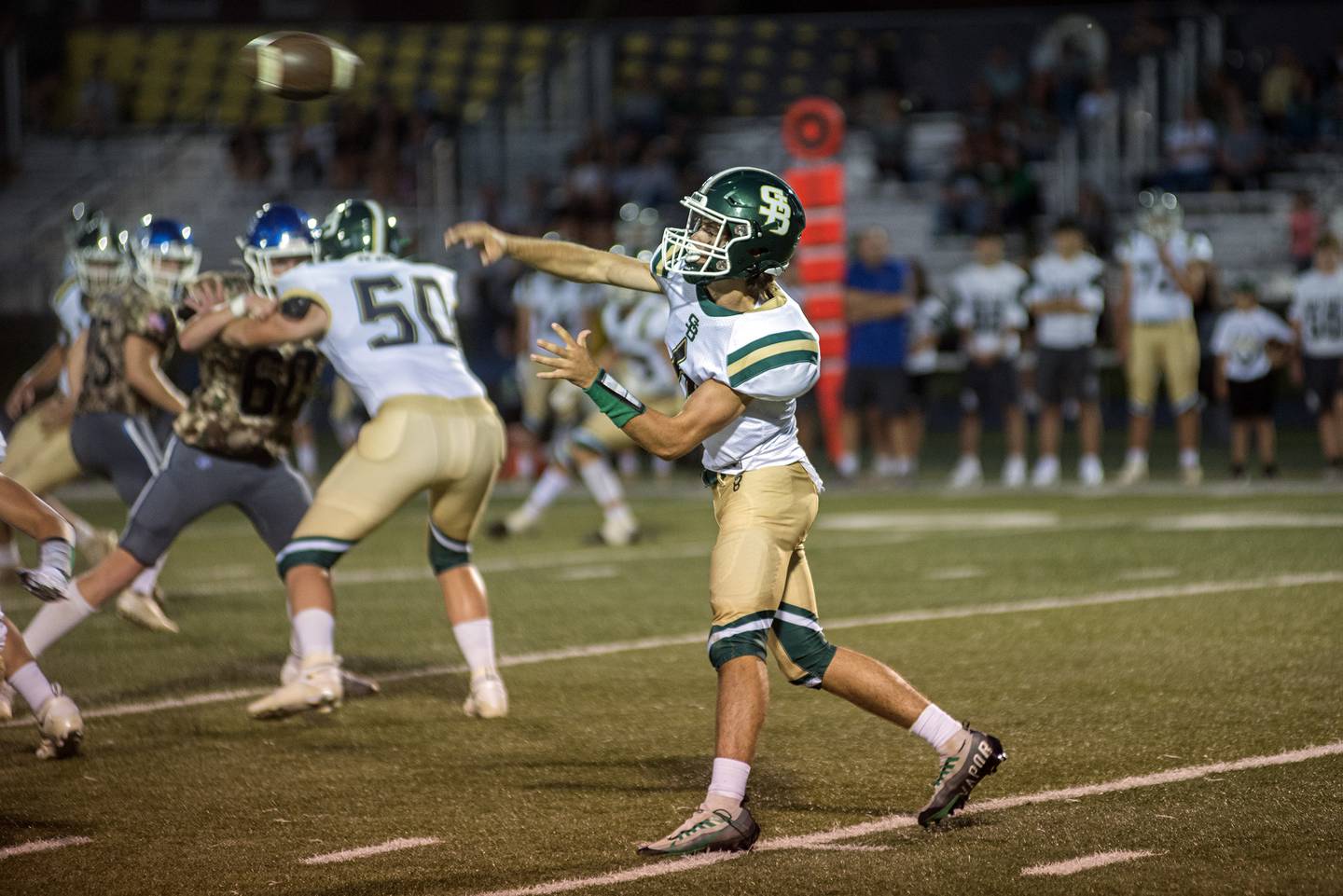 On the next Comets' drive, Ryan Brady picked off a pass, returning it to the Newman 41. Two plays later, John Brady found Thomas Makransky over the middle for a 23-yard touchdown. John Brady's fourth and final touchdown pass gave St. Bede a 34-8 lead with 6:52 to play in the third.
"It just says we've got a lot of great guys doing a lot of good things, and I'm confident and positive that anyone can make a play at any time," John Brady said of throwing four touchdown passes to four different receivers. "It's easy for me with that many receivers to throw to."
Rude rushed for 91 yards, and Britt ran for 88 as the leading Newman rushers.
John Brady finished the day with 230 passing yards and four touchdowns, and rushed for 78 yards. Brown hauled in two passes for 68 yards and a touchdown, and Wallace reeled in four catches for 65 yards and a touchdown as the leading St. Bede receivers.
"The big difference for us is that we finally played a little bit different as a team. I know the scoreboard doesn't show it, but I'm leaving here and our kids are leaving here knowing it's Week 4, and our heads are a little bit higher," Newman coach Mike LeMay said. "They converted on four fourth downs, and our guys are jumping pass routes and it's going through our hands. Didn't make the plays out in space. They're good, they're dynamic. And that's the difference, is we just didn't make the plays when it mattered."