Football coaches often speak of creating a family atmosphere in their program.
New Providence coach Tyler Plantz is no different, but the primary reason that the Providence graduate left a collegiate coaching career at Notre Dame to take over the Celtics program was quite literally for family reasons.
Plantz, who was most recently the Senior Special Teams and Offensive Analyst and Assistant Director of Football Operations at Notre Dame, wasn't exactly planning to return to Providence, but a family tragedy changed his perspective.
When his brother, Zac Plantz, died in an automobile accident in November 2020, the family was grieving and the Providence community reached out to honor Zac's memory in a way that the Plantz family did not expect, naming the school's weight room and performance center in his honor.
"The biggest reason I came, almost the whole reason, was that the school did something pretty cool this past year, they renovated the weight room and dedicated the performance center to my brother who passed away last year in a car accident," Plantz said. "When they came up with the initial idea of dedicating it to him, we were kind of blown away."
So when veteran coach Mark Coglianese stepped down after leading the Celtic program since 2005 at the conclusion of last fall's campaign, Plantz gave the thought of returning to Providence a lot more consideration.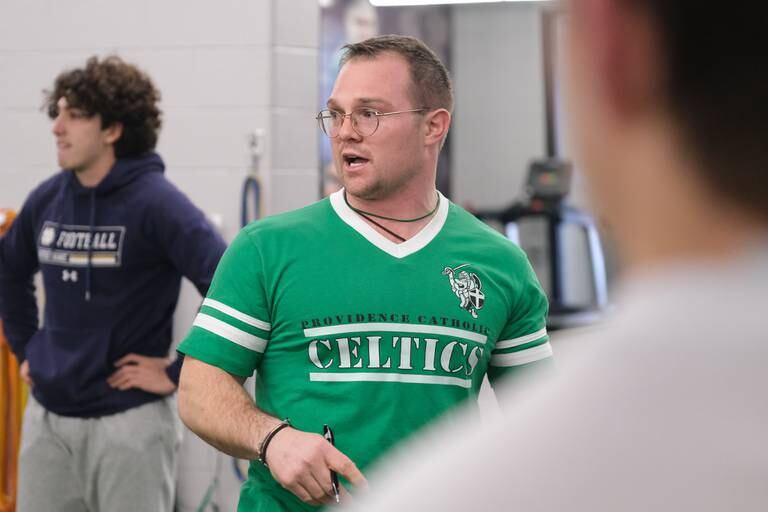 "Obviously I have strong ties to the school. I loved my time here, my two brothers went to school here, my youngest sister went to school. So this school is obviously something that is very close to my family," Plantz said. "My brother Zac would always joke that when he died they would spread his ashes on the football field. Obviously my mom wouldn't let that happen, but this was a place that really mattered to us. We both played linebacker here, we came up with[in] the ranks together. Bringing this all together was really kind of therapeutic for my family."
Without knowing that backstory, Plantz decision to return to Providence appears surprising. After climbing the ranks of the Notre Dame program to scholarship player after walking on to the team and appearing in the 2013 BCS Championship game, Plantz entered the coaching ranks at Notre Dame as a graduate assistant, eventually evolving into a number of roles with the Notre Dame staff from 2015-2021.
"Was it potentially a step backwards? Maybe." Plantz said. "But it was so much bigger than ball. It was carrying out my brother's legacy and getting an opportunity to get closer to my family in a pretty tough time for all of us."
As for the Providence football program, Plantz is eager to instill many of the things he learned during his time with Notre Dame. He admits while he'll miss some elements of the highest level of college football, he's also looking forward to the change.
"I do love working with the highest level of football. But the kids you are going to get around here are going to be good players and with a lot of the way that college football is trending, it's cool to get to the game in its purest form..." Plantz said. "Being able to take them from an eighth grader to a graduating senior is a pretty remarkable experience. Even at Notre Dame you develop relationships with people, but there's a business side to it, and here's there's a purity to it."
Providence finished 3-6 last season, but Plantz doesn't see this as an exercise in rebuilding a program. The Celtics played an absolute brutal schedule that featured nine opponents that had 57 regular season wins combined – the second strongest schedule by that metric in the state. The Celtics played three eventual state champions and one state runner-up.
"The only game that I saw last year, was them beating Fenwick and I'm pretty sure they went on to win a state championship," Plantz said. "What you have inside the program is guys that can compete.
"You could evaluate last year as a down year, or you could say numbers were tough, we had guys that worked hard and did everything they could, but the ball didn't roll our way a couple of times. If they had, maybe they get into the playoffs and you are talking about a whole different story.
"Talent and players inside the program definitely exists, and I've been trying to recruit guys since I got here that have been concentrating on just one sport. I think we've got a great base and absolutely getting out as many kids as possible is always the goal."
Providence will open the 2022 season with a home game against Lake Central, Indiana. Plantz expects to experience a range of emotions heading into and during that game.
"I think it will be really fun, and that's been a top priority for me," he said. "Sure, some of the stuff that we are doing right now is going to make us better, but it's not just about that, we're going to have a good time. We're going to walk into Game 1 prepared, but it will be a little surreal. Being a guy who played here and now being able to lead it.
"I always imagined that this was something I would do down the road. When I got into Notre Dame, I studied finance and initially was like, 'I should get into investment banking or venture capital, why should I come back be a grad assistant for 10K a year?'
"And the whole time I kept trying to justify to myself, 'I should be in finance,' and finally, I was like, 'I love football.' This is what I was supposed to be doing, growing young people and giving them the opportunity to succeed. I didn't see Providence as someplace I would be coming back to immediately, but am I happy I'm here? No doubt."