CARY – Cary-Grove, with its tradition and number of strong, experienced players returning at key positions, made the No. 1 spot in The Associated Press Class 6A rankings an easy choice for pollsters to start the season.
Then, a few weeks in, the announcement came that East St. Louis, loaded with speedy and talented skill players, as well as huge linemen, had petitioned to play in 6A.
Naturally, the Flyers were voted No. 1 the rest of the season.
"Everyone was a a little shocked at first," C-G linebacker Colin Desmet said. "Everyone knew who they had, how good they were. There also was a little bit of excitement that we would get a chance to face them and prove that we are the best team in the state."
[ Photos: Cary-Grove stops East St. Louis on final drive to win Class 6A state championship ]
Fullback Nick Hissong expressed similar thoughts.
"It was definitely mixed emotions," Hissong said. "We all knew who they were and how good of a team they were. When they got moved up, there was a lot of worry, sort of. As we kept going through the season, we were like, 'Even if we play them, we got this. We can win. We just have to believe in ourselves and we can do it.' "
On Saturday, in a game that many will consider one of the best state championship football games in Illinois history, the Trojans knocked off East St. Louis, 37-36, for the Class 6A state title at Northern Illinois University's Huskie Stadium in DeKalb.
So on Sunday, the Trojans and their fans celebrated their conquest, the third in school history and the most dramatic. Six state trophies, three first-place and three second-place, sat on tables in C-G's Elroy Fitzgerald Gymnasium.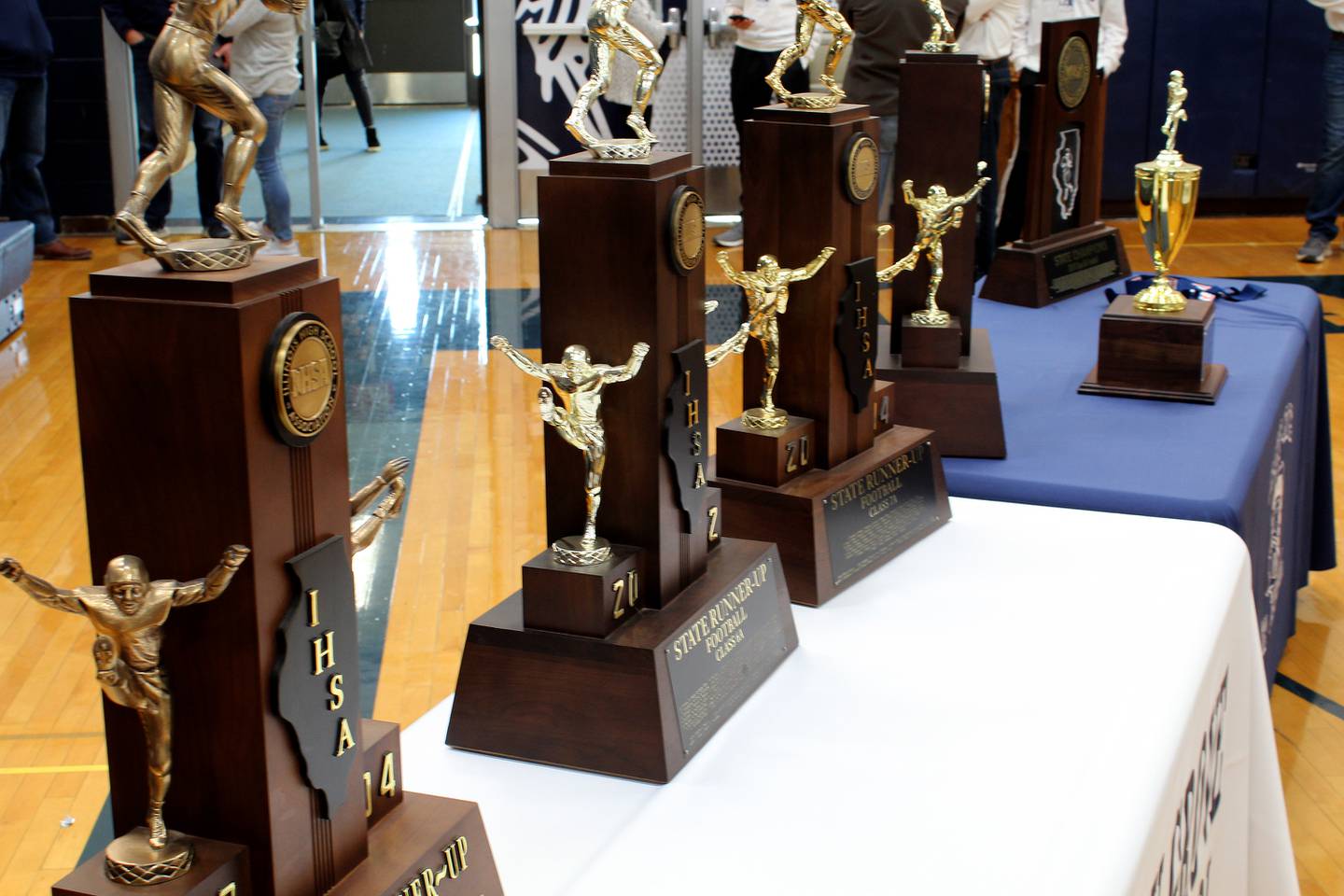 The players wore white T-shirts that read "Today's the day," a favorite phrase often used by former Trojans coach Bruce Kay, who took C-G to its first title in 2009, and their state medals around their necks. Administrators and fans wore the navy versions of the shirts.
C-G principal Neil Lesinski started the ceremony with introductions of Cary mayor Mark Kownick, Trout Valley mayor Bob Baker and Fox River Grove village president Marc McLaughlin.
"Boys, I'm here to tell you, today's the day," Lesinski said. "You are now the role models for others who will come through the program. Thank you for being young men of character and integrity."
Baker, whose son Hayden played center on the 2009 team and whose son Quinn played quarterback on the 2012 runner-up, has seen countless C-G games through the years.
"I have been to all the classic games, Morgan Park in 2004 [semifinal], Prairie Ridge overtime in 2011 [regular-season win], the 2018 title game," Baker said. "This one tops them all. It was a clash of the titans. You are all truly superheroes."
The Trojans' biggest challenge during the first 13 games was a, 36-22, win over Jacobs in Week 7. It was clear that once East St. Louis was in 6A, the Flyers and Trojans were going to be the 6A matchup.
C-G coach Brad Seaburg said his players had a state championship in mind after going 4-0 in the spring season. He made it clear that goal did not change when East St. Louis was placed in 6A.
"A lot of people around here, and the state, crowned East St. Louis state champion," Seaburg said. "Man, did they have some good players. It made sense to say they were unbeatable.
"Each one of these titles are like having kids, you love them all. This one felt like a mission and it was mission accomplished. Getting to DeKalb was not the goal, winning in DeKalb was the goal."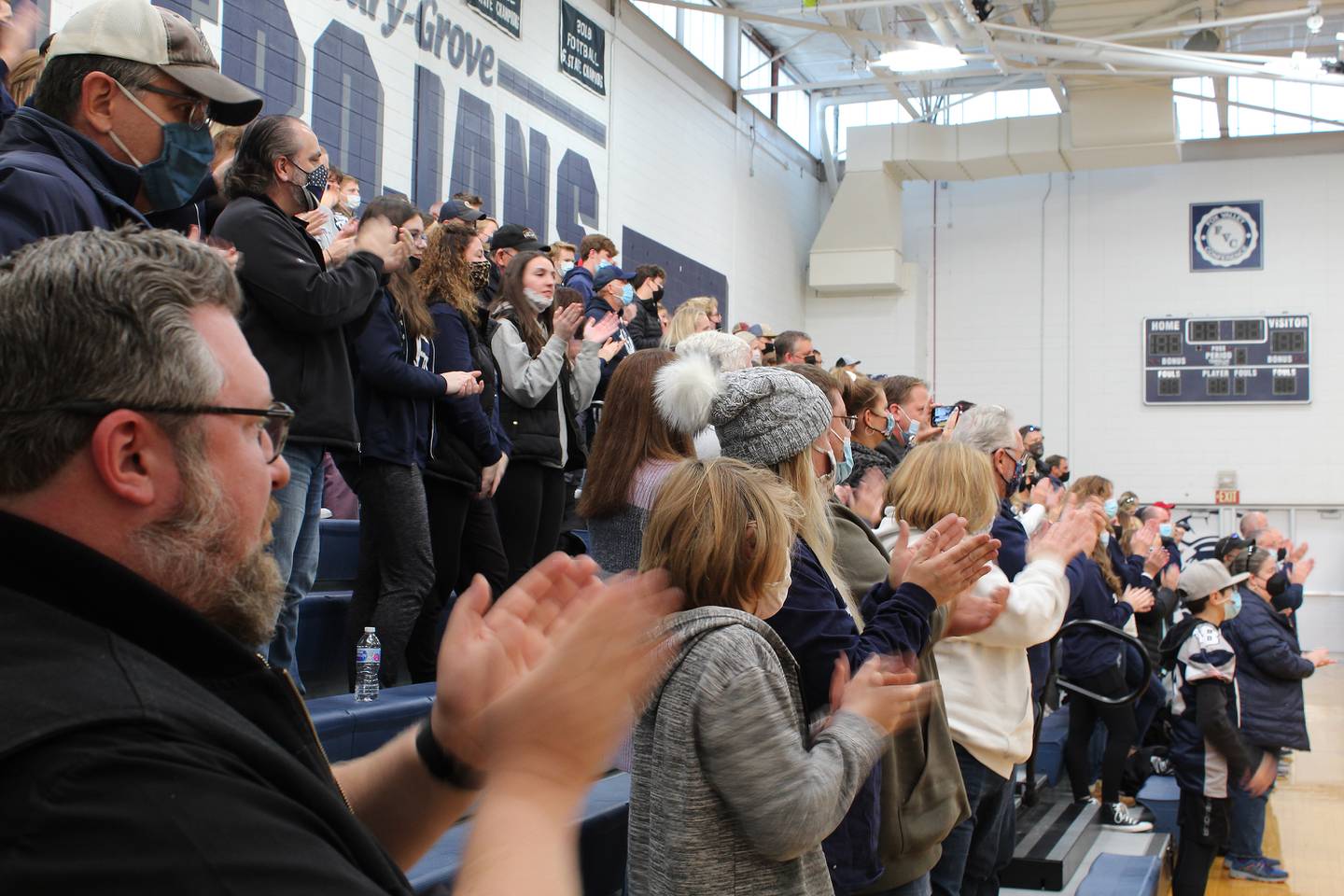 It took a monumental effort by everyone to get it done.
Hissong was a beast, rushing 32 times for 224 yards before tearing his right ACL on a non-contact play with 4:00 remaining.
Quarterback Jameson Sheehan made great reads while running the Trojans' triple-option, helping them get so many key third-down conversions to hold the ball and score.
Running back-linebacker Wade Abrams recovered a first-half fumble that kept a drive alive. Kicker-defensive back Toby Splitt executed a perfect onside kick that he recovered which allowed the Trojans to take a 30-20 halftime lead.
Tight end Noah Riley caught only two balls all day, but one was a 23-yard gain on fourth-and-17 that led to the decisive touchdown, and the other was an interception to stop the Flyers at midfield with a minute to go.
C-G also stopped two East St. Louis two-point conversions, either of which could have made the difference.
"We had some pretty lopsided scores and we went into this game and were looking at it as a challenge for us to prove that we're the best team in the state," Abrams said. "We did that."
C-G athletic director Jim Altendorf brought up some statistics from C-G's 17-year run of consecutive playoff appearances – 51 extra games, which amounts to 6 1/2 extra seasons. Altendorf had the coaches come to his house to watch the game Saturday night.
"It was just as nerve-racking watching it a second time," Altendorf said. "That team was fast. That team was large. You guys just made it happen."