DEKALB – Cary-Grove did everything it could Saturday to keep the ball out of East St. Louis' Luther Burden's hands.
The Flyers' score-waiting-to-happen had burned plenty of teams throughout the regular season and playoffs, including two punt returns for scores of more than 75 yards in a semifinal victory over Crete-Monee the week before.
Burden, a Missouri commit, went into the Class 6A state championship with 1,174 receiving yards, 32 total TDs and more than 800 yards on punt returns.
The Trojans were able to contain the explosive playmaker on kickoffs through the first three quarters, but made a mistake by letting Burden get hold of one at the start of the fourth.
The kick actually was sent away from Burden, who ran across the field, caught the ball at the 20, made a cut at the 30 and outran everybody for an 80-yard TD – cutting the Trojans' lead to 37-36 with 11:37 remaining in the fourth quarter.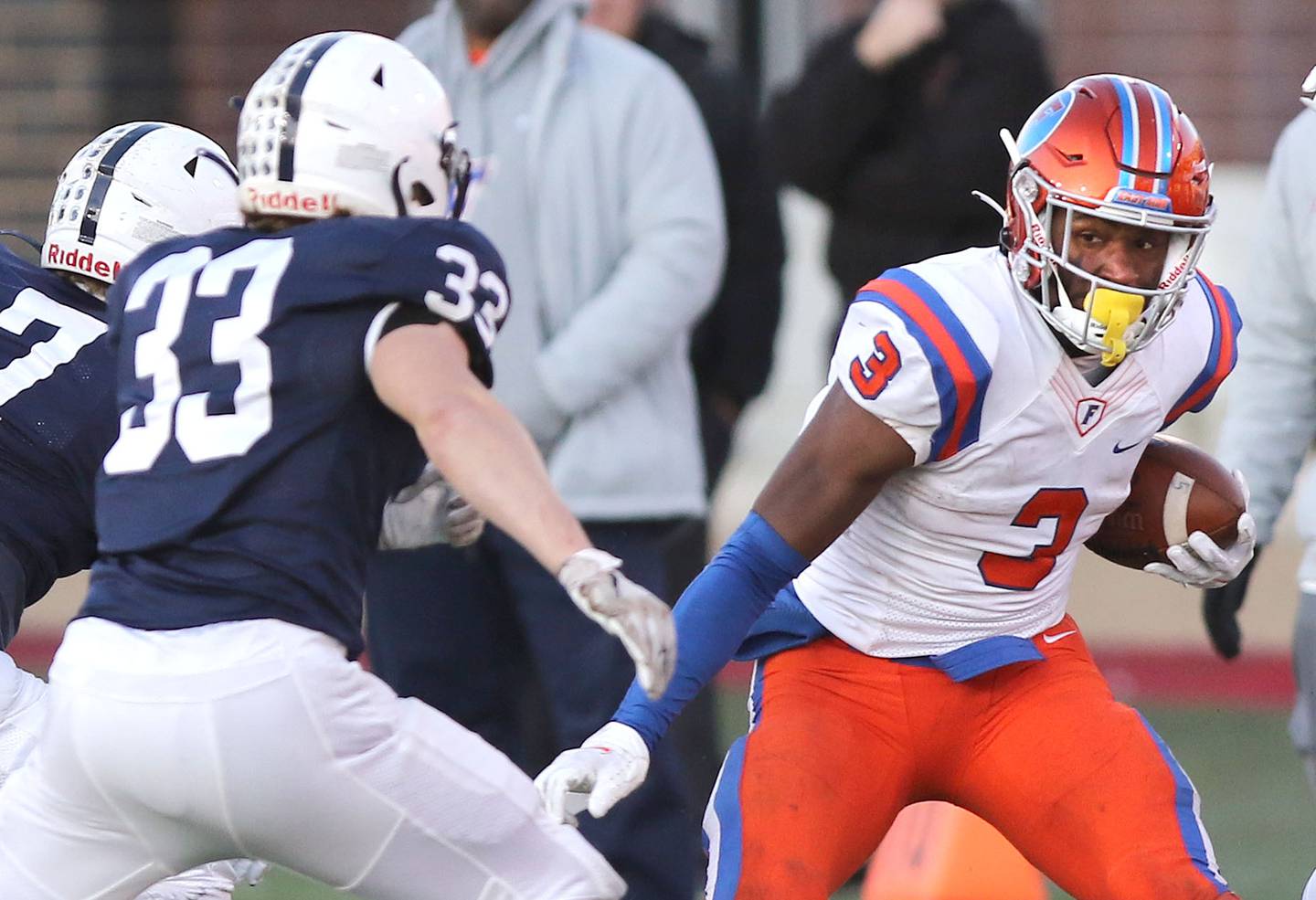 Burden only had one other return for 15 yards before that.
"I just tried to go get it," Burden said. "I knew I had to make a play for my team."
The Trojans (14-0) held off East St. Louis, 37-36, at Northern Illinois University's Huskie Stadium to win their third state championship in school history. But Burden, despite the Trojans' desire to play keep away, still got his.
Cary-Grove coach Brad Seaburg put it best.
"When we kicked to No. 3 [Burden], it didn't work well," Seaburg said. "When we didn't kick to him, it worked out really well for us."
Burden finished with 95 yards on two kick returns, including the 80-yard TD. He also recorded a game-high 106 receiving yards on six catches and two touchdowns. The first came on the second play of the game, a screen in which Burden ran free for 53 yards.
His second touchdown catch was an acrobatic grab in which the 6-foot-1, 200-pound Burden grabbed the ball at its highest point and fell to the ground with a Trojans' defender on his back, cutting C-G's lead to 30-28 with 4:48 left in the third.
A key play in which Burden was not allowed to touch the ball came on a kickoff after a Trojans' score. With C-G leading 23-20, kicker Toby Splitt executed a perfect onside kick, tapping the ball 10 yards and then jumping on it before the Flyers could get there.
The Trojans ended up scoring on the possession to take a 30-20 lead at the half.
Splitt said Burden was as good as advertised, and more.
"He exceeded every expectation I had of him," Splitt said. "He's very fast, physical. He moves very well on the field. We really haven't seen a guy like that with that much athleticism. I thought overall we had a good plan to stop him, try and force the ball into other people's hands."
East St. Louis coach Darren Sunkett has seen teams try to game plan around his big playmaker all season.
Despite all the added attention, Burden always left the opposing players and coaches shaking their heads.
"For anyone, it's going to be hard to prepare for Luther," Sunkett said. "He's a special talent. And I've said before, he's definitely the best I've seen. What we want to do is get the ball in his hands and let him make plays."