DEKALB – Fenwick coach Matt Battaglia passed over the state championship trophy to Kaden Cobb, and his senior quarterback sat and cradled it in his arms.
The hardware was in good hands.
Fenwick has enjoyed a proud athletic tradition in its 92-year history, some 24 state titles. It produced a Heisman trophy winner in football.
But never a state football title. It took a special senior class that walked through its doors three years ago, some nine or 10 up on varsity for three seasons, to bring home the school's first state football championship.
Cobb, one of those three-year starters, threw three touchdown passes, two of them to fellow three-year starter Max Reese, and ran for a score as Fenwick beat Kankakee 34-15 to bring the Class 5A state title back to Oak Park.
"It's just huge," said Cobb, a Ball State commit. "We started here as freshmen, [center] Jimmy [Liston] was playing varsity but our freshman team, we said we're going to win a state championship, we're going to be the first ones and I'm just so proud of these guys. It's huge for our school. Everybody did their job and now we're state champs."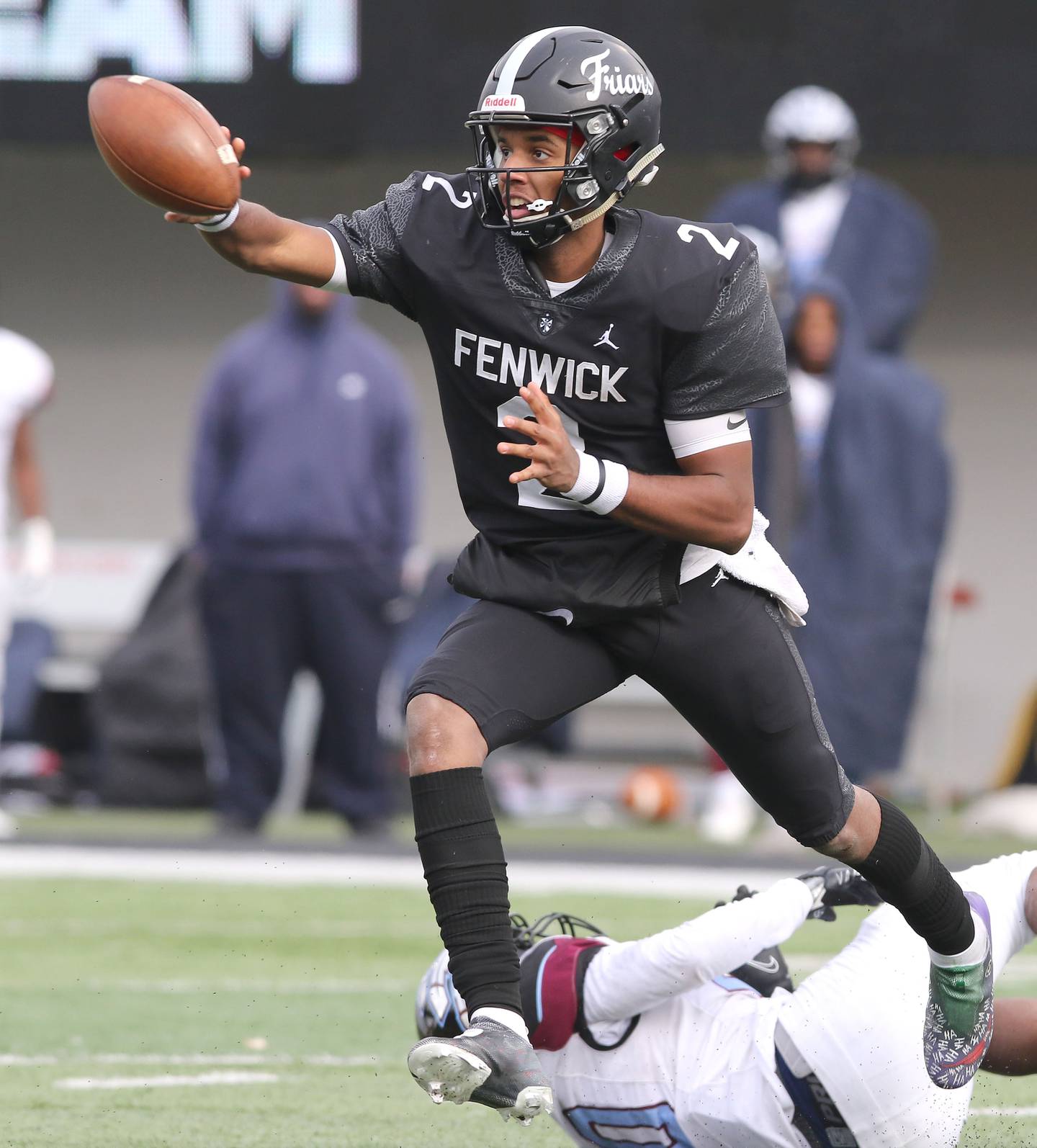 It's a championship with a Genesis in longtime friendships.
Cobb and Reese played basketball together since the second grade. Cobb knew Fenwick senior receiver Eian Pugh, an Illinois commit, since kindergarten from flag football.
A group of friends all got together before freshman year and made the decision to go to Fenwick. And promptly declared that they'd make history.
"Obviously the upperclassmen weren't too fond of us freshmen coming in and saying we were going to win a state title," Cobb said, "but we got the job done."
Cobb can look back and laugh on it now, but it took some convincing to bring Reese along for the ride. A physical 6-foot-3, 215-pound Eastern Michigan recruit, Reese played exclusively basketball up until sophomore year.
"He was 6-2, 210, playing basketball. I'm not going to hate on him but he wasn't the best," Cobb said with a wry smile. "I said let's go, let's play football. It worked out for him."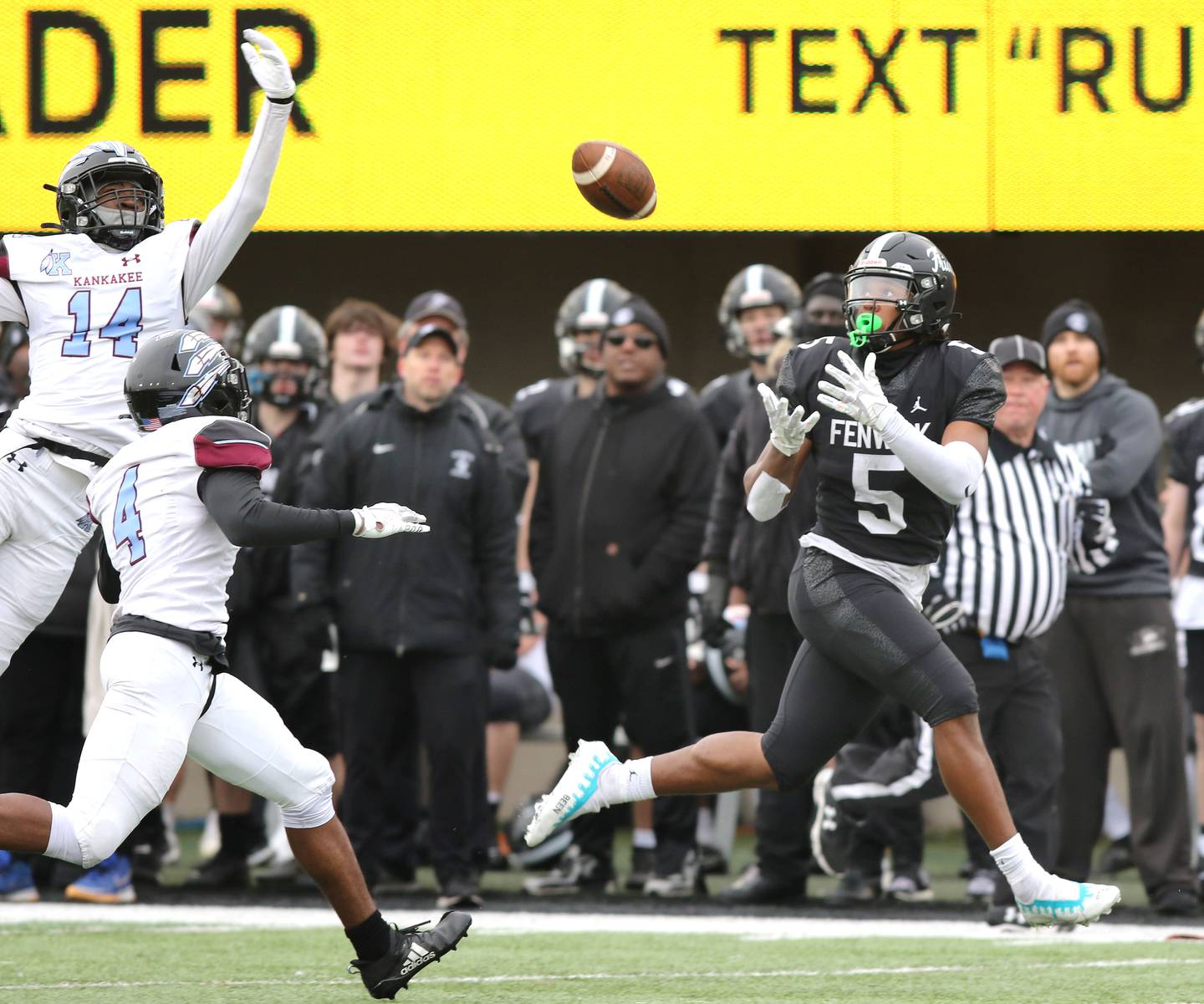 Reese finally came aboard after constant cajoling from former Fenwick coach Gene Nudo.
"I was so annoyed and I finally said I'll do it," Reese said. "The next thing you know I come home and my dad said 'I heard you're playing football' and I said 'I didn't really mean it.' My dad told me I had to be a man of my word and to go out there and play."
It was indeed not a journey without twists and turns.
Liston, a four-year starting center, lost his first three varsity games as a freshman in a 3-6 2018 season. Fenwick made a coaching change in November 2019, abruptly terminating Nudo a day before a first-round playoff game and eventually bringing in Marist graduate and former NIU lineman Battaglia. The senior class' junior year was abbreviated by the pandemic, a forgettable season for Cobb.
"I separated my AC joint in the spring season second game. It was a tough challenge," Cobb said. "You already feel like the weight of the world is on your shoulders – but all of this is gone now. All of that doesn't matter now. We got the job done."
Conor Paris, a twin terror with twin brother Martin Paris on Saturday for a Fenwick defense that didn't give up a first down until deep into the second quarter, recalled coming to Fenwick as a 5-foot-3, 100-pound freshman. And leaving a state champion.
"It means everything," said Conor Paris, now a 6-foot 205-pound linebacker, who had two sacks, an interception and nine tackles. "My whole life, I've been working toward this. We're not third, we're not second, we're first."
The Fenwick seniors never let their focus get distracted, even after everything that transpired the last few years. A group chat last year was named "2021 state champs."
After Saturday, they are.
"I'm still in shock," said senior defensive end Suleiman Abuaqel, who had six tackles and two sacks Saturday. "Since freshman year, all those summer days working out together, this was the dream our team had. We dreamed about this, we put in all the hard work and to be the first state champions in our school it's hard to grasp. I'm just glad that all of our hard work has paid off."
All of the experience showed in a matchup between two programs each making their first state title game appearance.
Fenwick hardly looked like newcomers to the stage, scoring the game's first 28 points. When Kankakee climbed within 28-15, threatening to make it a game, Cobb and the Fenwick offense met the challenge. Pugh made a diving catch for a first down on third and long and Cobb had a long scramble, setting up his 1-yard TD run. The Friars never looked back.
"It's so sweet," said Liston, who will play in college at Purdue. "It hasn't hit me yet but it's very cool. It would have meant a lot to play here anyway but getting the win cements it for me. I couldn't wait to play with these guys as freshmen and I'm so happy that it ended the way it did here today."