DEKALB – With a 38-25 win over Carrollton in the IHSA Class 1A football state final Friday, Lena-Winslow added a fifth state title to the trophy case, supplementing its championship legacy.
"It's definitely a dynasty," said Marey Robey, who ran for 203 yards and three touchdowns in the first half alone. "We even have [Bill] Belichick here."
That comment is in reference to coach Ric Arand, who engineered all five championships, to go with 220 wins in 25 years at the school. For the record, Le-Win has won 18 of its last 19 playoffs games, the best of any program in the state.
The only thing that stopped the Panthers from being more dominant were three turnovers in the first half and the play of Carrollton quarterback Grant Pohlman, who scorched Le-Win with a 63-yard touchdown run and a pair of scoring passes.
"Not to take anything away from the rest of their team, but the all-state quarterback single-handedly put his team on his shoulders," Arand said. "He was more than a handful, and gave us all we could handle."
Carrollton had so much confidence in Pohlman that it went for it on fourth-and-13 at midfield on its first possession. A pass went incomplete, but the Hawks got the ball back on a Le-Win fumble in the red zone.
The Panthers did take a 6-0 lead later in the first quarter on a 60-yard run by Jake Zeal. However, an interception in the end zone and fumbled punt return kept Le-Win from increasing its lead, as the Panthers ran at will against the Carrollton defense.
"I thought we won the battle up front," Arand said.
Carrollton took advantage of the fumbled punt to take a 7-6 lead on an 18-yard pass from Pohlman to Kyle Leonard.
That's when Roby took over the ball game.
First, it was a 43-yard score, and then a 45-yarder on an outside counter to make it 22-13 midway through the second quarter.
"The big difference was we had a hard time tackling Roby," Carrollton coach Nick Flowers said. "He could move laterally, as he could downhill. We couldn't tackle against the grain on him."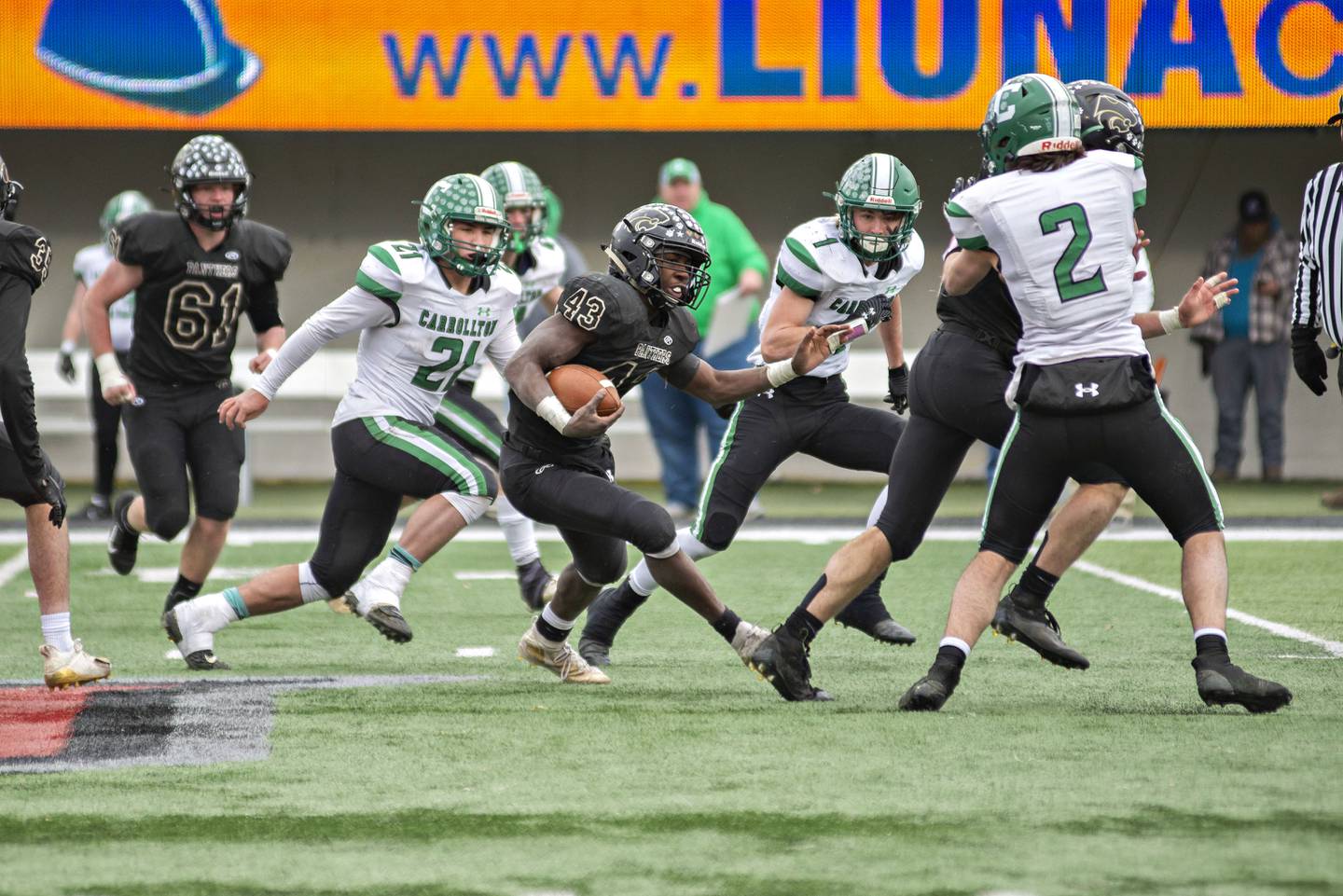 The Hawks continued to make the game interesting, though, with Pohlman finding a wide-open Gus Coonrod for a 47-yard scoring strike. That closed the gap to 22-19 with less the 2 minutes until halftime – a dangerous amount of time with Roby on the field.
On his 16th carry, the 5-foot-10, 175-pound senior got loose again and juked his way to a 47-yard TD run. He tacked on the 2-point conversion, and the Panthers had a 30-19 lead.
Then, for good measure, Roby had an interception to stymie a Hawk drive just before halftime.
Surprisingly, Carrollton tied the touchdown tally 4-4 early in the third quarter on a Pohlman QB sneak, making it 30-25. Three plays before, he escaped the Panther defense for a 20-yard run on fourth-and-9.
"It was a great game between two great teams," Flowers said.
Fittingly, it was classic NUIC football on the Panthers' final scoring drive. With three-year starting QB Luke Benson methodically marching his team 62 yards in 13 plays, Le-Win took a 38-25 lead, with Benson doing the honors with a 1-yard score.
"The experience was calmer this time around compared with two years ago," Benson said, sitting at the interview table with his father and assistant coach Kyle Benson next to him.
"The bond of coaching your son is different," the elder Benson said. "You want to see them do so well."
Pohlman drove his team to midfield, but back-to-back TFLs by Panther all-state linebacker Brody Mahon forced a punt with 4:46 left. Mahon led his team with eight tackles, followed by Gage Dunker, Jace Flynn, Ross Stabenow and Ethan Fye.
Carrollton was able to drive to the 10-yard line, but could not convert on four tries, as all-state receiver Kyle Leonard was hammered by three Panthers defenders on a desperation fourth-down pass in the end zone.
Le-Win (12-2) had 452 yard rushing, compared to 339 total yards for Carrollton (12-2). Roby finished with 241 yards, and Zeal ran for 115.
Pohlman had 156 yards on the ground and 111 through the air.