DeKALB – After two scintillating wins in the 3A playoffs, Byron's 35-7 conquest of Tolono Unity in the IHSA finals almost came too easily.
Jumping out to a 20-0 lead, the Tigers gained a sweet dose of redemption after two narrow losses in the championship games in 2018 and 2019.
"With the Reed-Custer and IC [Catholic] games, the whole postseason has been a storybook run," said Byron coach Jeff Boyer, who quarterbacked the program to its only other state title in 1999. "This isn't about me. It's about a lifetime of memories of the kids."
Known as a rushing team, Byron (14-0) used a pass to get the scoring going. Quarterback Braden Smith launched a perfectly thrown ball to Ethan Palzkill for a 33-yard touchdown.
"It's a shock when a team sees Braden throw like that," Palzkill said. "They saw me coming out of the backfield like I was blocking."
Calling it a "huge play," Boyer felt the passing game would be one way to keep the Rockets from loading up the box at the line of scrimmage.
After shutting Tolono down on a fourth-and-5, the Tigers relied on the ground game for a 14-0 advantage. It was Andrew Claunch capping a 15-play, 60-yard drive off with a 2-yard plunge early in the second quarter.
"They were very physical, and when it comes to tackling, it is more than making contact," Tolono linebacker Grant Albaugh said. "You need to keep driving your feet or those guys will run over you."
From his cornerback position, Smith recovered a Tolono fumble and Byron looked to score again, but a fourth-down try came up short on the 11-yard line. That drive was memorable in that Tolono fans and coach Scott Hamilton became enraged by a Palzkill 21-yard reception that was ruled a catch, though the video board showed he was clearly out of bounds.
Hamilton called a timeout and came onto the field to plead his case, but high schools do not allow video replay. To compound matters, Tolono was forced to punt after eventually making the fourth-down stop.
Keyed by a 31-yard reverse by Palzkill and 26-yard sweep by Chandler Binkley, the Tigers quickly moved to the 1-yard line. It was Smith sneaking the ball over for the 20-0 lead with 17 seconds left in the half.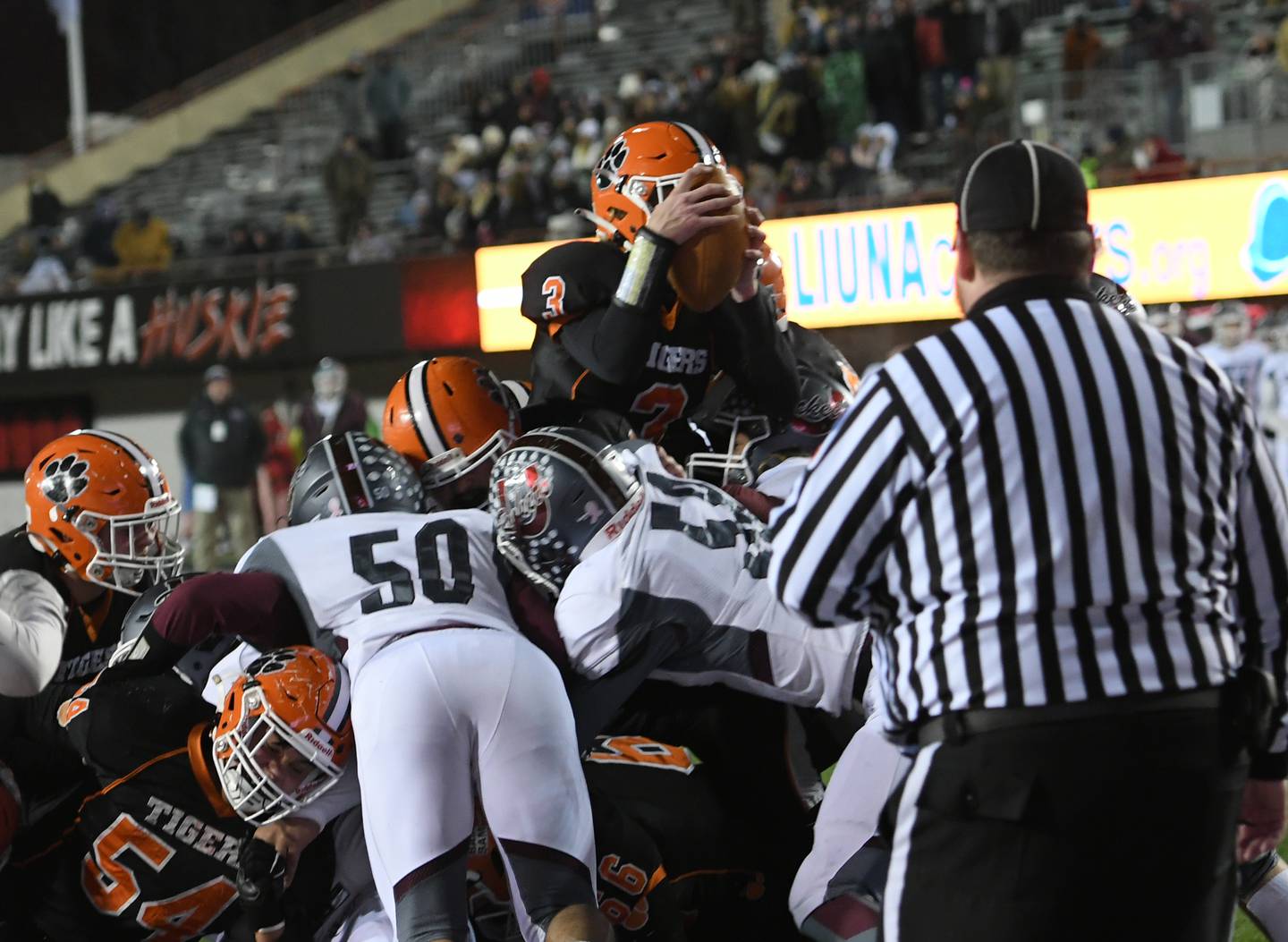 "We took over the game in the line," lineman Nick Brass said. "They didn't like what we were doing to them."
Added fellow lineman Jake Lenz: "In the second half, we knew we had them. They began to start cutting us."
Using a nifty hook-and-ladder pass for 23 yards and another pass for 13, the Rockets had just enough time for a Hail Mary try from 37 yards out. Dillon Rutledge broke free past the Tiger secondary and QB Blake Kimball hit him with a touchdown pass as time expired, narrowing the gap to 20-7.
"We gave up an easy one at the end of the half," Binkley said. "We had to come out [in the second half] and set the tone going our way – pounding the rock."
That's exactly what Byron did, with a 12-play scoring drive, highlighted by a pair of option plays with Smith. The first was crucial 8-yard run by Smith on third-and-8 with the Rockets beginning to exert defensive pressure.
On the next play, he went the opposite direction and pitched to Palzkill, who initially fumbled it, but alertly picked it up on the first hop and raced into the end zone for a 20-yard touchdown.
"People see us and we're not the biggest or strongest. We pride ourselves on heart," Palzkill said.
Palzkill and Binkley then made their presence felt on defense with tackles for losses after Kimball got his team into the red zone. A fourth-down pass went off the receiver's fingertips, and the Tigers took over on downs.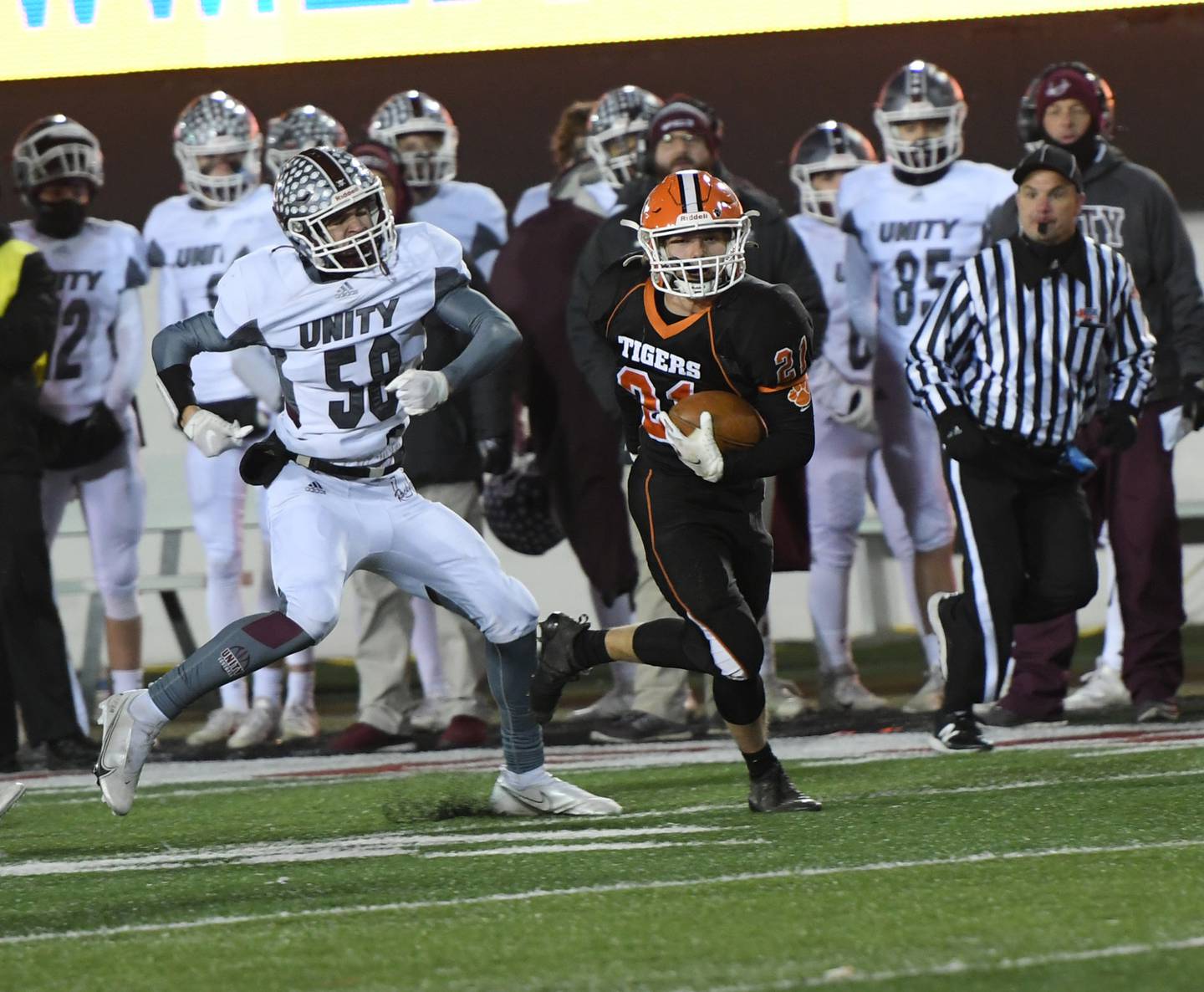 Deliberately milking the clock, Byron advanced 76 yards, with Binkley picking up 46 on one play. However, the Tigers failed to score, and Tolono had the ball at the 1-yard line with 6:30 left in the game, still trailing 28-7.
Like the TD before halftime, at least it was a moral victory for the Rockets.
They could only muster four yards, and faced a fourth down. With little or no chance to win the game, Tolono opted to go for it on his own 5-yard line, and the result was an incomplete pass.
"They do such a great job of keeping you off-balance, we just didn't get the plays we needed to move the sticks," said Hamilton, who fell to 0-6 in state championships games. "When you fall behind a team that grinds it out, it's hard to come back. Our defense was on the field a lot."
Palzkill made it 35-7 on another option pitch, his third score of the game, and the large contingent of Tiger fans at Huskie Stadium began the celebration.
In attendance was Everett Stine, who coached Boyer and defensive coordinator Sean Considine to the '99 title, along with another assistant, Chad Wilmarth.
"This means a lot to me because the type of stuff we taught them, they came back to teach it too," said Stine, celebrating a birthday the same way he did when the Tigers beat St. Joe-Ogden 41-8. "It's like my pupils are doing well. It's an incredible feeling."
Boyer moved to 87-23 in nine seasons of fall ball at Byron, and needs around 130 wins to go to catch his former mentor.
"Everett lit the torch, and we're honored to carry it," Boyer said. "It lets these kids have the same experience we did in high school."
Binkley had 164 yards on 19 carries, with Palzkill and Claunch adding 78 and 75. Smith was 3-for-5 passing for 64 yards, and Byron led 437-205 in total yards. Claunch (8) and Binkley (7) were the tackle leaders on defense.