Class 5A State Championship
Fenwick (11-2) vs. Kankakee (13-0)
When: 10 a.m. Saturday, Northern Illinois University's Huskie Stadium. The game can be seen in the Chicago area on WCIU Ch. 26 or WMEU Ch. 48. Look on ihsa.org for how you can stream the broadcast on your computer. Also, WRLR 98.3 FM will broadcast the game, starting with pregame at 12:30 p.m. It also can be heard on WRLR.FM on your computer.
About the Friars: Fenwick is playing in the program's first state championship game. The Friars beat Sycamore 17-6 in the semifinals to get to DeKalb. Fenwick's only losses were to Providence 21-20 in Week 3 and to Loyola 27-24 in Week 5 on a last-second field goal. Second-year Fenwick coach Matt Battaglia is returning to his roots at Huskie Stadium. He was an offensive lineman at Northern Illinois from 2010-2013. It's an experienced Fenwick group, with 10 players with at least three seasons of varsity experience. Fenwick center Jimmy Liston, a 6-foot-4, 305-pound Purdue recruit, is a four-year starter who will be making his 37th career start Saturday. The Fenwick offense revolves around senior QB Kaden Cobb, a Ball State recruit, who has thrown for 2,700 yards and 27 TDs and rushed for 465 yards and eight TDs as a dynamic dual threat. His top targets are physical 6-foot-3, 215-pound Eastern Michigan commit Max Reese, who has 65 catches for 1,021 yards and 11 TDs, and 6-foot-3, 170-pound Illinois recruit Eian Pugh, who has 59 catches for 648 yards and six TDs. The third receiver, Bryan Hunt, has 42 catches for 861 yards and six TDs and comes off a big game against Sycamore. Fenwick's leading rusher is Danny Kent, another third-year varsity player, with 821 yards rushing and 12 TDs.
Fenwick's defense is anchored by senior defensive end Suleiman Abuaqel, who has 70 tackles, six sacks, seven tackles for loss and had a big pick-six in the quarterfinal win over Nazareth. Senior linebacker Conor Paris leads the Friars in tackles with 111 and senior safety Martin Paris has 89. Denium Juette has six interceptions on the season. While the Friars are novices to the state championship game, it's an experienced group with plenty of big-game experience steeled by playing in the CCL/ESCC.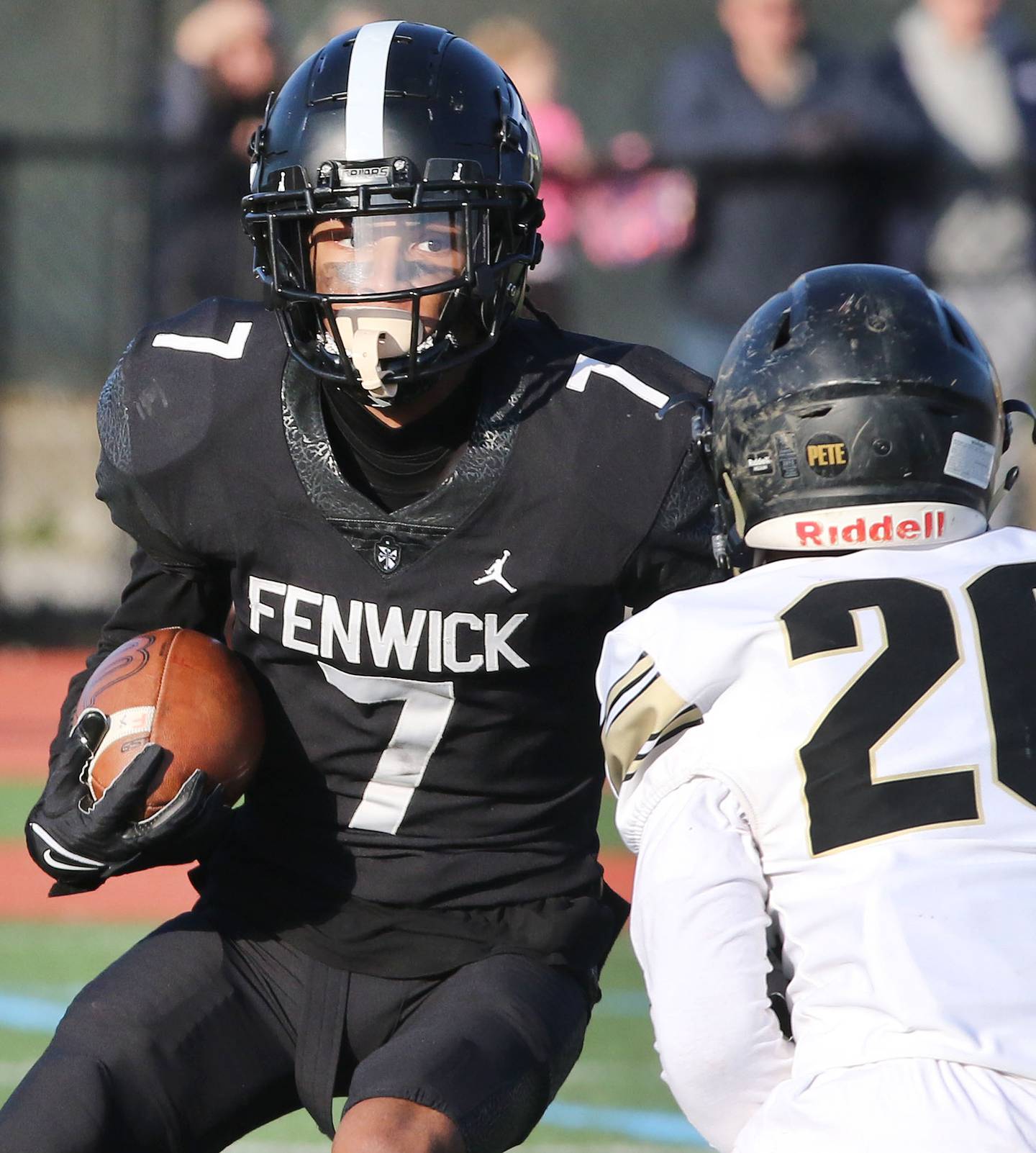 About the Kays: Like Fenwick, this is Kankakee's first state championship game appearance. The Kays beat Morton 41-14 in the semifinal to get here. Kankakee had last reached the state semifinals in 2008. The only playoff opponent to come within four TDs was Marion, who Kankakee beat 44-38 in the quarterfinal on QB Tomele Staples' TD run with a minute left. Head coach Derek Hart is 26-4 in three seasons. He is one of two brothers who will be coaching for state titles this weekend in separate states. Nick Hart will coach Gibson Southern for the IHSAA Class 3A state championship on Friday afternoon in Indianapolis. Nine members of this year's Kankakee team were on the varsity roster in Hart's first season, a 2019 season in which the Kays went 9-2 and saw their season end with a heartbreaking 22-18 loss at Mascoutah in the second round of the Class 5A playoffs. Kankakee's regular-season schedule was not as strong as Fenwick's, but the Kays do own an impressive 28-20 win over Class 6A semifinalist Crete-Monee in Week 9.
Kankakee's offense is led senior and third-year varsity QB Staples, who has completed nearly 70% of his passes for 1,976 yards and 29 TDs. His top target is Pierre Allen, who has 56 catches for 1,089 yards and 17 TDs. Karson King has 42 catches for 489 yards and six TDs. The Kays have a balanced rushing attack led by Nate (579 yards, 12 TDs), Demere Turner (527 yards, 10 TDs) and Jayire Hill (471 yards, eight TDs). Defensive end Marques Covington has 44 tackles, 13 sacks and 19 tackles for loss and junior defensive back Jyaire Hill, a Class 6A All-State selection, has eight interceptions.
Friday Night Drive pick: Fenwick