Ask anyone – former coach Bruce Kay, current coach Brad Seaburg, any former Cary-Grove players from the past 17 years – and they will tell you the 2004 Class 7A state championship game meant everything to the Trojans' program.
C-G lost that game to Libertyville, 13-3, on a cold, windy night at the University of Illinois' Memorial Stadium in Champaign. The Trojans could not muster much offense against the Wildcats' defense, and Libertyville's blocked punt recovered in the end zone in the first quarter was the game's pivotal play.
But something happened with that magical run to the state title game. It lit a fire with C-G's upcoming players. It started C-G's current 17-year playoff streak.
The Trojans will play in their sixth state title game in school history when they take on East St. Louis at 1 p.m. Saturday in the Class 6A final at Northern Illinois University's Huskie Stadium in DeKalb.
C-G is 2-3 in its previous state championship games, 2-1 in Class 6A and 0-2 in 7A. Here is a look at the Trojans' state title games history. This is the first time the Trojans will play for the title in DeKalb.
Saturday, Nov. 27, 2004, Illinois' Memorial Stadium
Class 7A – Libertyville 13, Cary-Grove 3
Fullback Will Yocius rushed 20 times for 82 yards, but the Trojans could not get anything else going. They finished with 116 total yards; Libertyville had 215.
The game marked only the third time a Fox Valley Conference team had made it to a title game. Woodstock's 1983 Class 4A and 1997 Class 5A state champion teams were the other two.
"We could not execute enough plays like we needed to, and you saw what happened," Kay said. "Our defense did a great job of containing them for most of the game.
"They took advantage of the wind, and we didn't. Their special teams' play was the big key for them. I can't fault our kids. They gave it all we had, and it just didn't work out for us."
Still, a tone had been set for the future. The bar had been raised. Future Trojans looked at the playoffs like, "If the 2004 team could do that, so can we."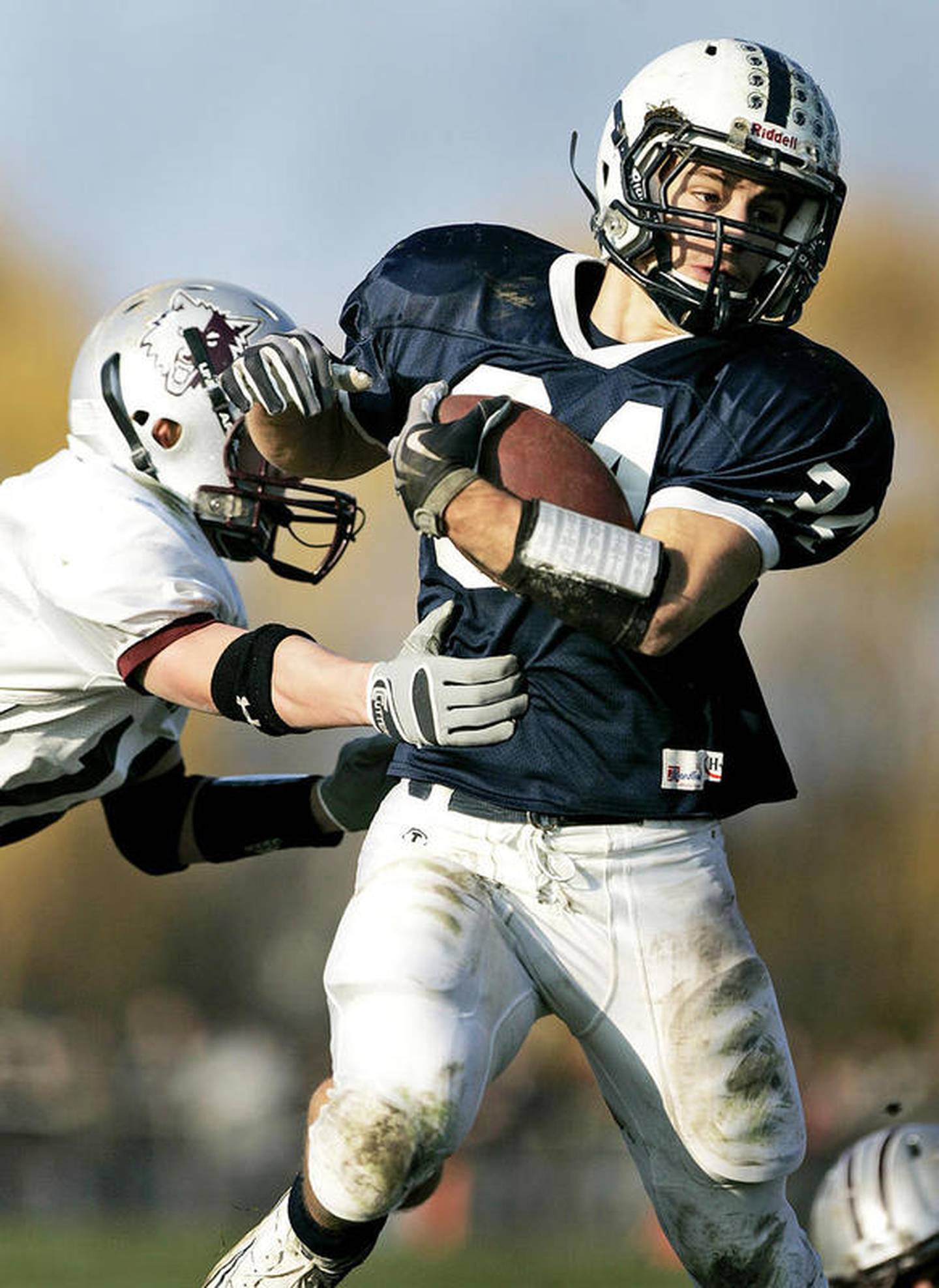 Nov. 28, 2009, Illinois' Memorial Stadium
Class 6A – Cary-Grove 34, Providence 17
Providence took the second-half kickoff and drove for a go-ahead touchdown to make it 17-14, then the teams exchanged punts before the Trojans came up with the game-changing play.
Kay called timeout while facing a fourth-and-1 from the C-G 36-yard line. He was confident the Trojans could get the yard they needed going wide around left end with running back Alex Hembrey.
Running back Steve Hapanovich sealed his defender to the outside, Hembrey cut in, back out and stayed inbounds, then took it all the way for a 64-yard touchdown.
Hembrey scored on a 45-yard run with 10:44 remaining in the fourth quarter, then added a 7-yard scoring run with 6:24 to go, and the Trojans had their first state title.
Hembrey finished with 18 carries for 187 yards, while quarterback Tyler Krebs ran for 77 and Hapanovich had 72. The Trojans finished 14-0.
The Northwest Herald had special front pages printed ahead of time for C-G fans if the Trojans won. Fittingly, Hembrey was the player pictured on that page.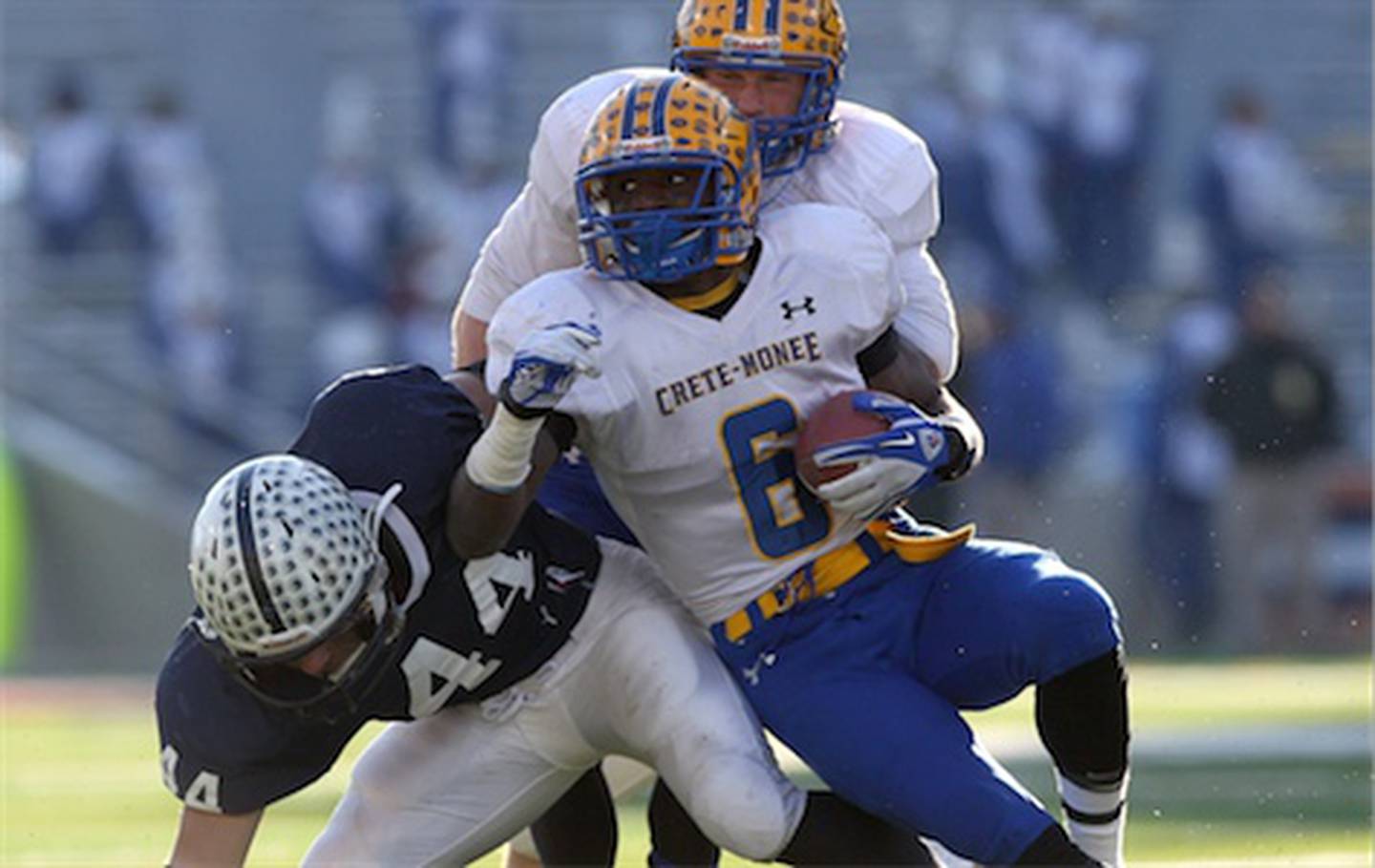 Nov. 24, 2012, Illinois' Memorial Stadium
Class 6A – Crete-Monee 33, Cary-Grove 26
Ole Miss-bound Laquon Treadwell, who eventually played in the NFL, took an early handoff on a reverse for an early 69-yard touchdown, and the Warriors never trailed.
C-M's 19-point third quarter was crucial, but the Trojans battled back in the fourth quarter with quarterback Quinn Baker's 2-yard TD run and Garrett Glueck's 30-yard field goal.
Fullback Kyle Norberg ran for 117 yards, and Baker ran for 85. Treadwell made a remarkable defensive play to pick off a pass that could have been a C-G touchdown in the second half.
Speedy running back Ryan Mahoney caught a 24-yard touchdown pass but suffered a bruised thigh on a punt return and was limited with what he could do after that.
Seaburg was in his second season as head coach at this point. He surpassed 100 career wins this season, his 11th as head coach.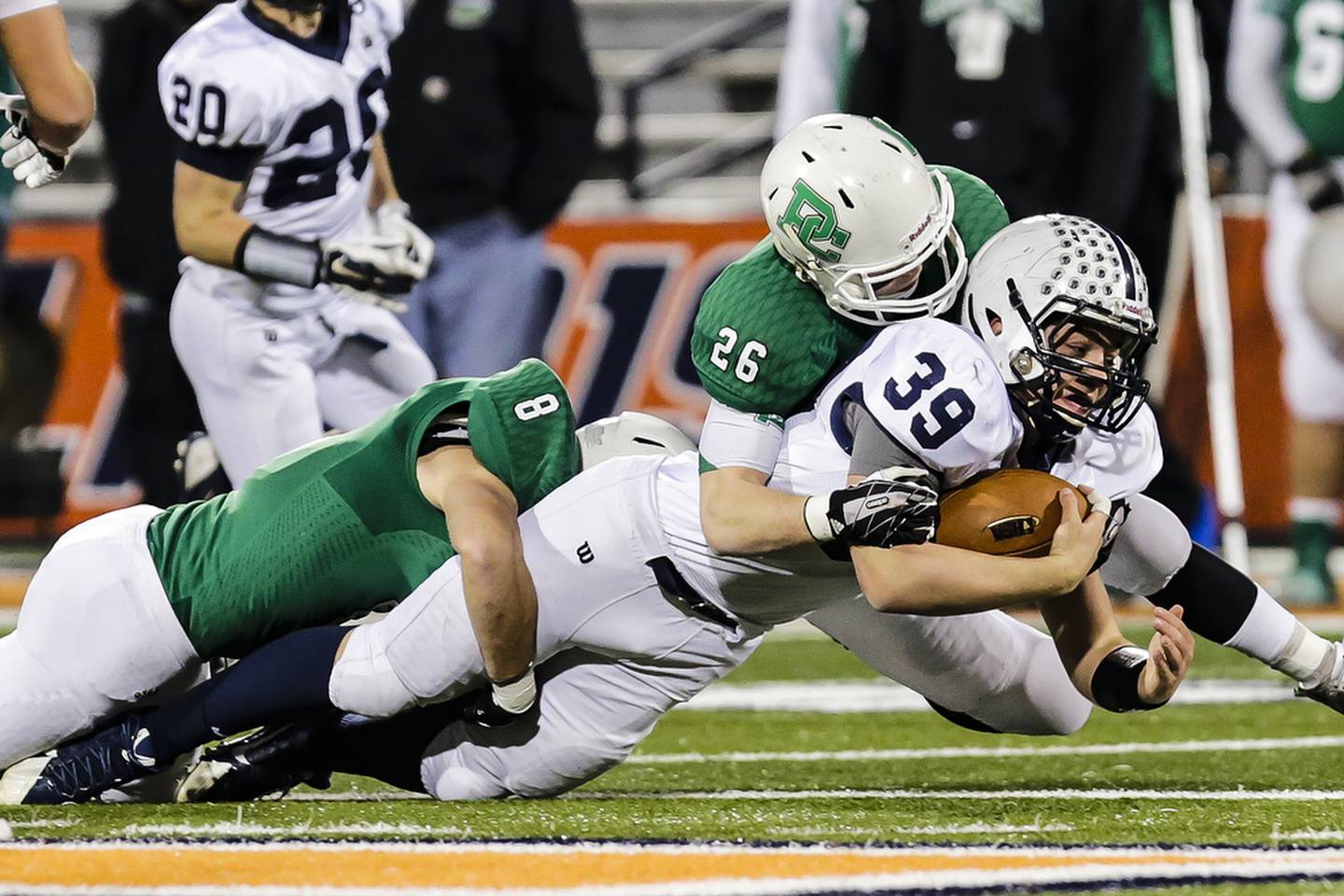 Nov. 29, 2014, Illinois' Memorial Stadium
Class 7A – Providence 31, Cary-Grove 28, Illinois' Memorial Stadium
The two teams seemed headed on a collision course for most of the season, and the matchup did not disappoint.
The Celtics scored two touchdowns in the third quarter to take a 24-14 lead, but C-G came back with fullback Tyler Pennington's touchdown run early in the fourth quarter. Providence scored again for a 31-21 lead, then Pennington closed out the scoring with 1:30 to go, but the Trojans ran out of time.
Pennington, a sophomore, carried 39 times for 180 yards and two TDs. Quarterback Jason Gregoire ran 10 times for 78 yards and two touchdowns.
C-G offensive tackle Trevor Ruhland and Providence wide receiver Miles Boykin later became teammates at Notre Dame.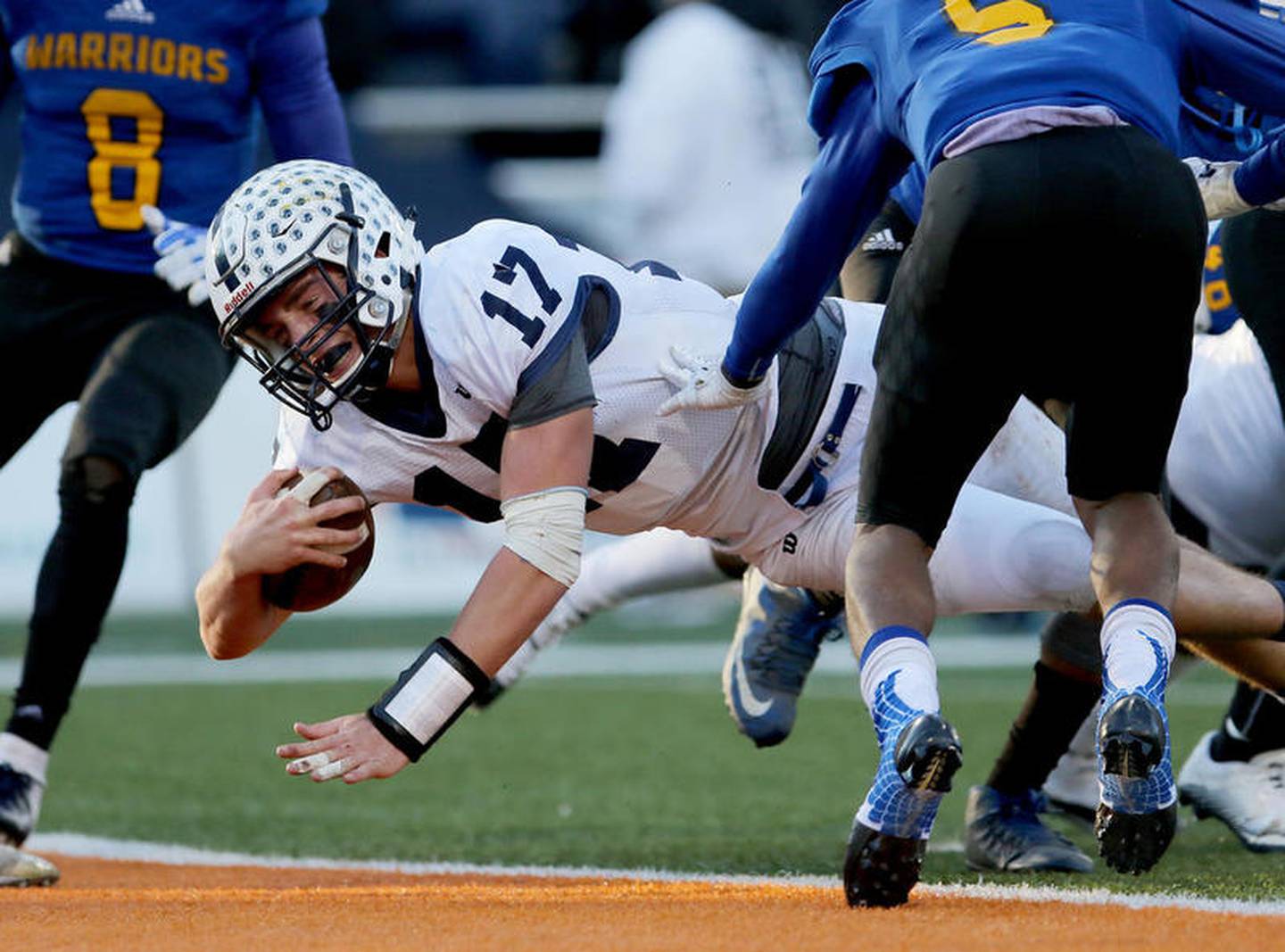 Nov. 24, 2018, Illinois' Memorial Stadium
Class 6A – Cary-Grove 35, Crete-Monee 13
C-G took the game by the throat and squeezed the life out of it in the third quarter with perhaps its most magnificent drive in school history.
The Trojans led, 22-13, when they stopped the Warriors on the C-G 10-yard line with 9:48 remaining in the third quarter. Running back Danny Daigle had runs of 14 and 8 yards, quarterback Ben McDonald had a run for 8 yards.
The rest of the drive consisted of 3-, 4- and 5-yard runs. The frustration from C-M's sideline was almost palpable. The Warriors could do nothing to get C-G off the field.
Finally, McDonald tossed a 4-yard touchdown pass to Quinn Priester to complete the 20-play, 90-yard drive that consumed 11:19 off the clock.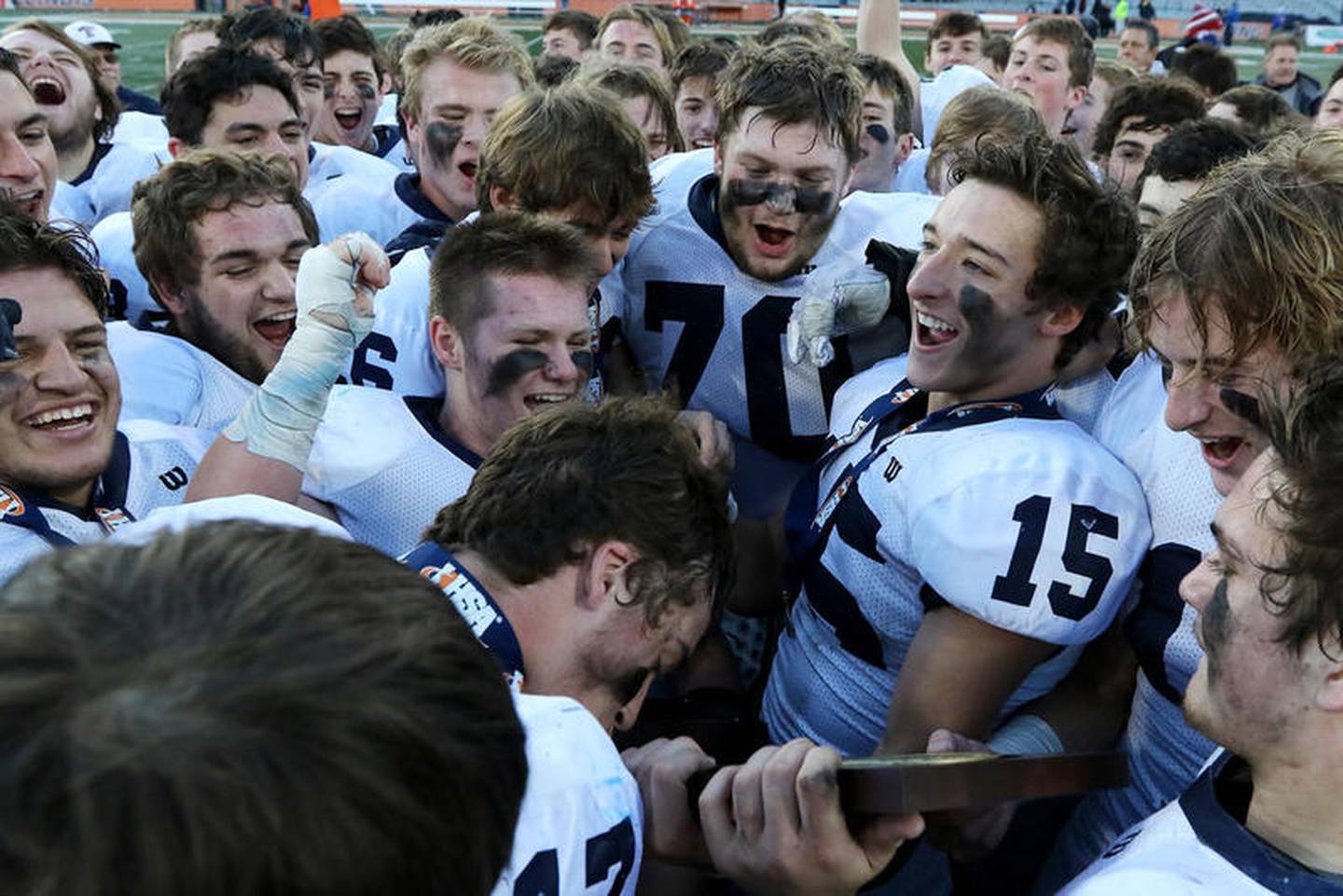 McDonald, who threw for two touchdowns and ran for two others, added a 4-yard run with 6:27 remaining.
Time of possession for the game was 35:12-12:39 in C-G's favor.
Seaburg had his first state title in his third trip to the championship game. Fullback Blake Skol ran for 123 yards, McDonald ran for 113 and Daigle had 71.