Cary-Grove's Jameson Sheehan was a freshman on the sideline at the University of Illinois' Memorial Stadium in Champaign the last time the Trojans played for a state championship in 2018.
Now the team's starting quarterback, Sheehan still can recall the moment he became a state champion.
"I remember Coach [Brad] Seaburg getting the Gatorade shower. I was right there," Sheehan said. "I got my left arm soaked. I was so [mad] because it was freezing. I remember how excited our fans were and how we outnumbered Crete-Monee's student section.
"Raising that trophy in the end, there was no better feeling."
Sheehan and his teammates will try and lift the program's third state championship trophy when the No. 1-seeded Trojans face No. 4-seeded East St. Louis at 1 p.m. Saturday at NIU's Huskie Stadium in DeKalb.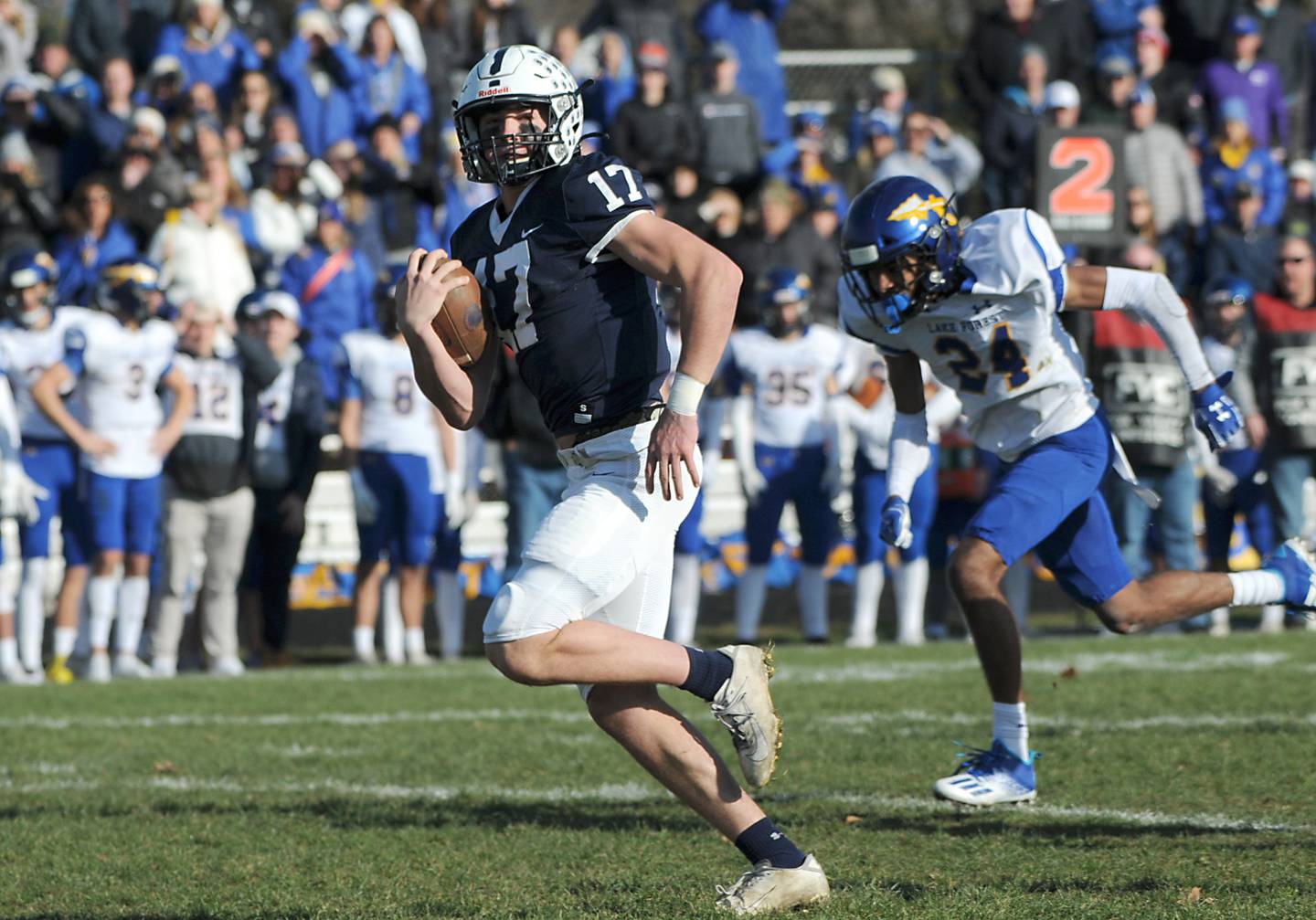 The Trojans (13-0) are making their first state appearance at NIU after their past five trips ended in Champaign: winning the state title in 2009 (6A) and 2018 (6A) and getting runner-up in 2004 (7A), 2012 (6A) and 2014 (7A).
This year's team has been steadfast in its commitment to play state championship weekend.
"From Day 1, our kids expected to be in this position," said Seaburg, who is 109-20 in his 11th year at C-G. "It's not like other years where maybe you have a couple of wins during the season and say, 'Hey, maybe we have a chance.' Our kids felt from the start that this was happening.
"You can say that, but you have to do it. Our kids have been consistent all year, had great effort."
East St. Louis (11-2) has had a long history of postseason success of its own, appearing in 12 state championships and winning nine, including the last 6A title in 2019 (a 43-21 win over Prairie Ridge).
Slowing down the Flyers' quick-score offense will be a difficult test. Sophomore quarterback Robert Battle has thrown for 2,662 yards, 28 touchdowns and seven interceptions. As a team, East St. Louis has averaged more than 48 points a game.
Missouri commit Luther Burden III enters Saturday's state title game with 1,174 receiving yards and 32 total touchdowns. He has racked up more than 800 yards as a punt returner and scored on returns of 91 and 75 yards in a 54-13 semifinal win over Crete-Monee.
Seaburg compared Burden to Crete-Monee graduate Laquon Treadwell, who played collegiately at Mississippi and was selected No. 23 overall by the Minnesota Vikings in the 2016 NFL Draft.
"I think you would be blind to not see a key as keeping the ball out of No. 3′s [Burden's] hands," Seaburg said. "You just watch him make kids look ridiculous on the field. The way they want to run the ball might be like a Jacobs or a [Prairie Ridge], but they also have the ability to throw the ball.
"And we haven't even talked about their offensive line. It's an NFL-sized offensive line."
Seaburg said the Trojans, whose four postseason games have all ended with a running clock, know they have to control time of possession against the Flyers. East St. Louis hasn't faced the triple-option since their 2019 state championship win over Prairie Ridge.
C-G's starting offense has scored a touchdown on each possession in the playoffs but one, while the defensive starters have allowed only one touchdown in four games. Colin Desmet leads the defense with 140 tackles and four interceptions.
Senior fullback Nick Hissong is the focal point of the Trojans offense and has piled up 1,489 rushing yards with 27 touchdowns, including 10 in the playoffs.
Sheehan (47-of-76 passing, 907 yards, 13 TDs, 1 INT) has 821 rushing yards and 14 TDs, Drew Magel has 931 yards and 13 scores, and Wade Abrams has 696 yards and eight TDs. Tight end Noah Riley has 32 catches for 620 yards and eight touchdowns. Magel and Abrams also have two receiving scores.
East St. Louis coach Darren Sunkett said stopping Hissong is the first priority on defense. The Flyers also have to be aware of Riley, he said.
"The first thing we have to do is stop the fullback," Sunkett said. "That's what the option's built off of. Stop the dive and move on to the quarterback and the pitch. We have 2 1/2 days to prepare for an option that we haven't seen since the 2019 state game. So we definitely have our hands full. Defensively, we're going to have to play a very disciplined game."
A handful of players on the last C-G team to win a state title will appear in their second state championship. As freshmen in 2018, they dreamed of putting themselves in a position to get another.
Now, they get their chance.
"These past four years, we've just been trying to get to DeKalb," senior offensive lineman/linebacker Zach Petko said. "State was always the goal. If we play our best and we prepare this week, I definitely think we can win another state championship."