WILMINGTON — The Wilmington football program puts on quite a theatrical performance for its home games.
And it pulls out all the stops for playoff games: fireworks, a band of motorcycles and smoke machines are all a part of the pageantry which is all designed to possibly throw the opposition, even just a little bit off of their games.
Although it can be hard to quantify if there's truly an impact to such things, there's little doubt that the visitors from Tri-Valley didn't put its best foot forward in its Class 2A semifinal game on Saturday night.
Four plays into the contest, Tri-Valley botched a snap which flew through the back of the end zone for a safety. Six plays later, the Vikings surrendered a long touchdown to the Wildcats. There was plenty of time left for the Vikings to regroup, but it never really seemed to happen as Wilmington coasted to a 42-14 win.
The victory lifts Wilmington (13-0) into Friday's Class 2A State Championship game where it will face Nashville (12-1) at 1 p.m. Nashville defeated Decatur St. Teresa 37-35 in its semifinal matchup.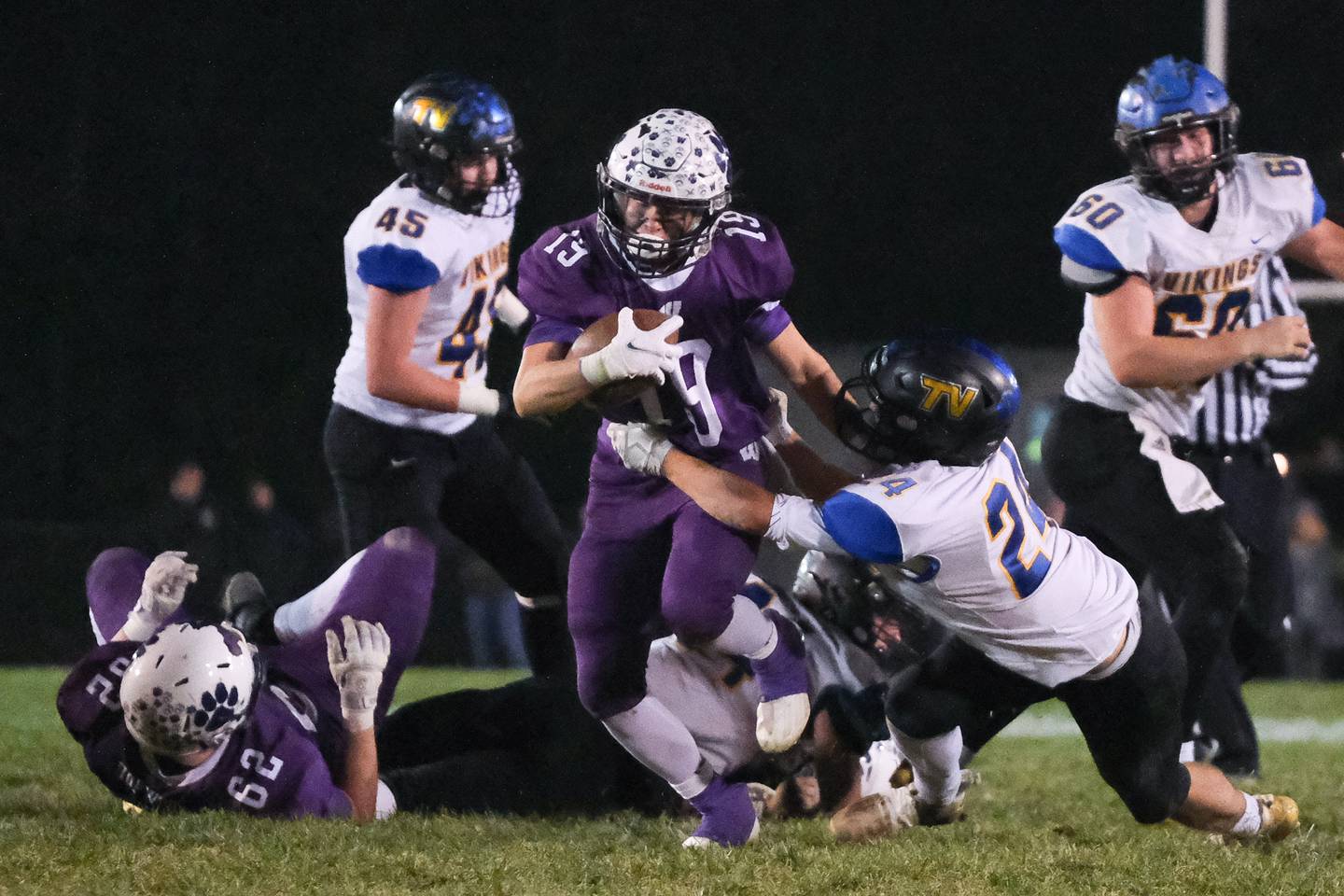 Wilmington has received rave reviews for its offensive performance over the last few weeks, and deservedly so, but it was the Wildcats defense that set the tone.
Tri-Valley, an offense that was averaging well over 40 points per game this season, was caught in something of a haze in the first quarter. They had three possessions, all of which ended in three-and-outs (one with a safety) and six of its nine plays from scrimmage went for negative yardage.
"We were able to answer the great team speed that they have," Wilmington coach Jeff Reents said. "We were flying around to the ball and we got to the quarterback early and I thought that was big."
And while the defense was deflating the morale of Tri-Valley's offense, the Wildcats made sure that effort didn't go for naught. Jacob Friddle scored on a 43-yard touchdown run on Wilmington's inaugural possession and Collin James added a 47-yard run for a score the next time Wilmington touched the ball.
James would add another tally from 10 yards out to make it 22-0 and then the defense not wanting to feel overshadowed made another big play as Wilmington perfectly covered a Tri-Valley pass play which allowed Karsen Hansen to track an errantly thrown ball, pluck it out of the air and score on a 27 yard interception return.
"We don't get on each other and we just fix problems," Hansen said. "We trust each other that's the biggest thing. On the interception, Friddle had the wide receiver and the quarterback overthrew it and I was just there. I scored, but that was a team interception."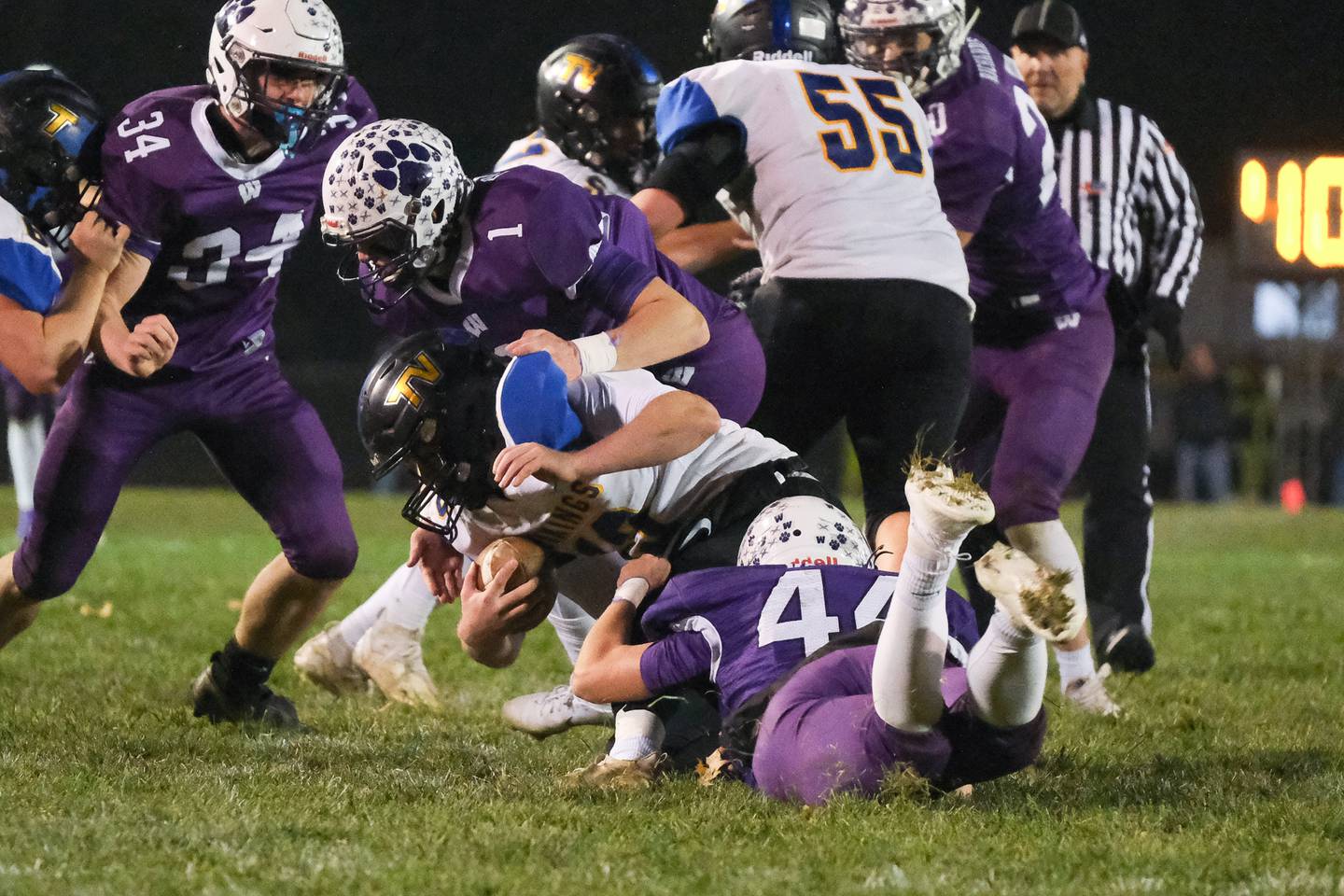 Tri-Valley finally stopped the Wilmington freight train with a touchdown pass just before the halftime break, but the Wildcats put together a long punishing drive to start the third quarter that finished with Friddle plunging in from 1-yard that basically started the countdown towards Wilmington's third appearance in a state championship game.
Wilmington ran the ball for 324 yards, with James finishing with 155 yards and Friddle gaining 117. As its custom, Wilmington had no passing yards, although it did attempt its first pass of the postseason, which fell incomplete.
"We've got another big one left, but I'm really happy for our kids and our school," Reents said. "I'm happy for our program. I think a lot of people put a lot of time and effort into this, I think right now I have to get my hands around it and soak it in a little bit."