WHEATON – Party like it's 1986, Wheaton North.
Mark Forcucci was lost in the sea of people. Cameras and smiles flashed all around him.
The reality was just appearing to truly settle in. Wheaton North had handed Brother Rice a 45-27 defeat in the Class 7A state semifinals to advance to the program's first state championship game since 1986.
"Last night, [Wheaton North coach Joe Wardynski] told us: 'Think positive thoughts. Envision yourself making the play in the big moment," said Forcucci, the Falcons' third-year starting quarterback amid the fracas. "That's what we did. From the time we went to bed to the time we woke up, envisioning us making the play when it's there, thinking positive thoughts and coming out with a victory.'"
Brother Rice (10-3) entered Saturday having scored over 40 points in all but one game.
But the Falcons (12-1) held them to what their crosstown counterpart, Wheaton Warrenville South, did during the first round of the playoffs: 27 points.
That helped earn them a right to battle for the Class 7A state title game in DeKalb next Saturday against St. Rita.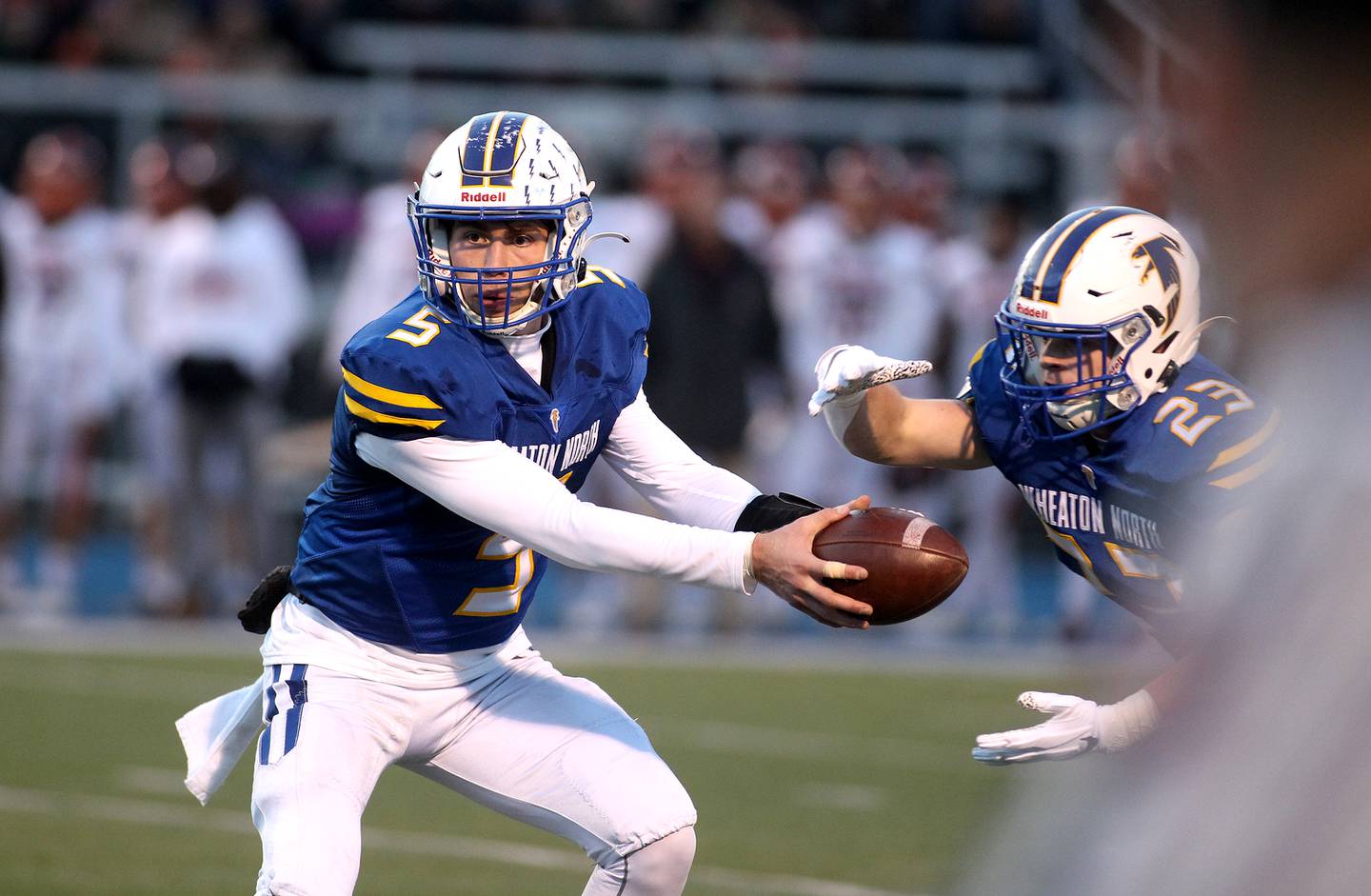 "Obviously, that's a powerhouse of a team and they're very, very explosive on offense," said Forcucci, who was 12-of-16 for 170 yards and two touchdowns. "We knew going into this week, it was going to be imperative for us to put up points and make sure we sustain drives to keep our defense off the field. It was complimentary football tonight: We picked up our defense, our defense picked us up."
Minutes earlier, Falcons senior running back Brayton Maske was posing for picture with teammates. Maske, also a three-year starter, made his emotional return to the field after suffering an MCL injury in Week 6.
Despite leaving in the middle of the third quarter with an apparent left leg injury, Maske's return seemingly provided as much of an emotional lift as he did with his 67-yard, one-touchdown evening on the ground.
"…Just having him back in the backfield was such a special moment for us," Forcucci said. "Having that comfort of having my guy who has been by my side the past three years, it's a great feeling, it truly us."
"I don't plan on playing in college," Maske said. "I was just like: 'Alright, if I hurt it, I hurt it.' I don't play any other sports so I have nothing to lose. I'm just going to give it my all. If I hurt it, I hurt it."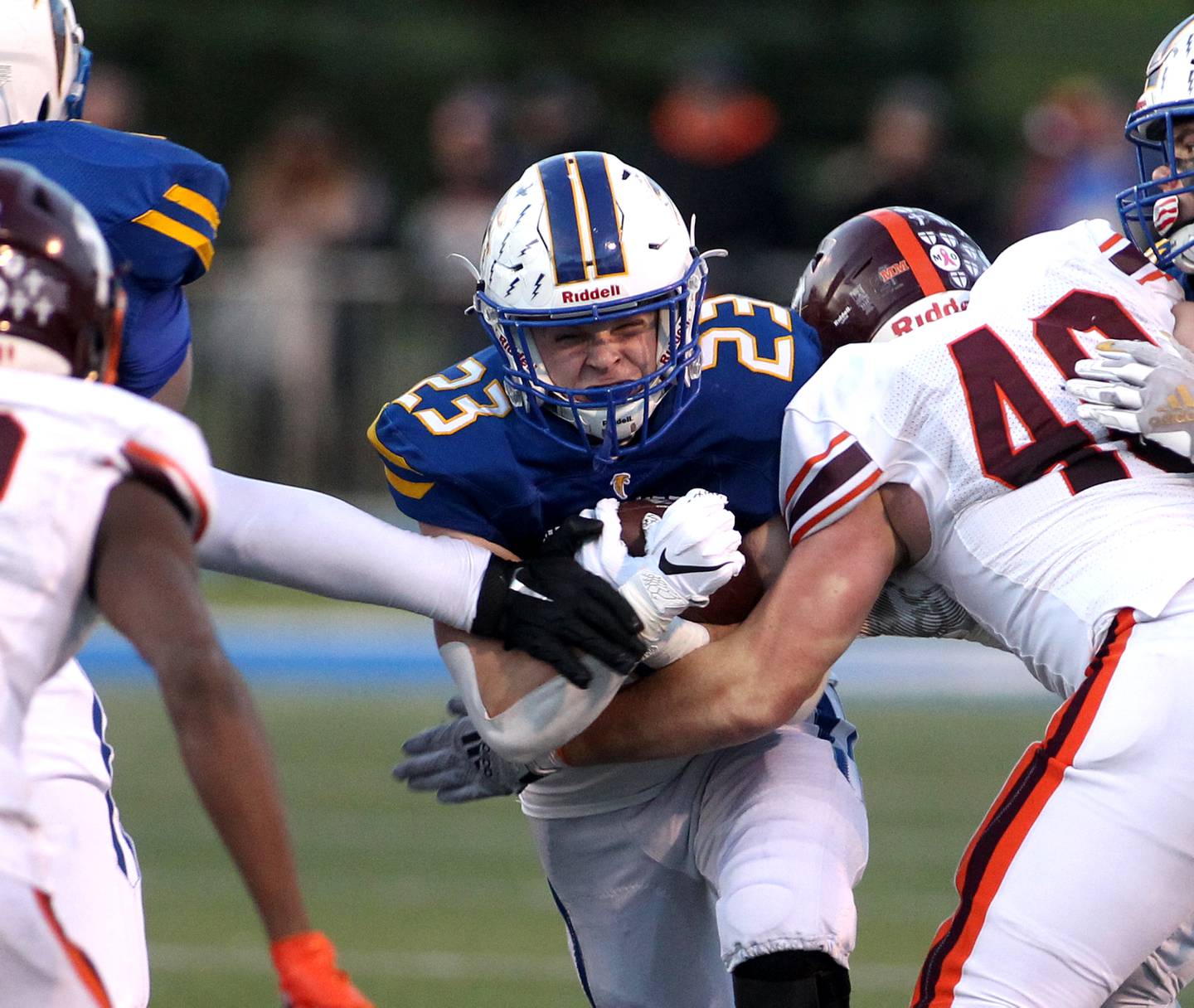 Wheaton North took a 21-14 halftime lead on Brother Rice.
Brother Rice scored first in the game on Aaron Vaughn's 14-yard TD, but the Falcons responded with a nifty reverse pass that began with Forcucci holding the ball before handing it off to Tyler O'Connor, who lobbed it to Casey Morrison for the 44-yard score the next possession to tie it.
Maske added a 3-yard score and Forcucci later found Rex Kroger for a 3-yard passing score to make it 21-7 Falcons with 3:12 remaining in the half. But Crusaders quarterback Jack Lausch engineered a 12-play drive that ended with a TD pass to Da'Kobie Wordlaw with 18 seconds in the half.
Wheaton North added a 30-yard field goal from O'Connor on the Falcons' second possession of the second half to go up 24-14, but Vaughn responded for the Crusaders with a 6-yard score the next drive.
The next Falcons possession, Forcucci found wideout Seth Kortenhoeven (seven catches, 92 yards) for a 35-yard pass that set up a 24-yard touchdown from Forcucci to Morrison to take the 31-21 lead with 11:52 left in the fourth quarter.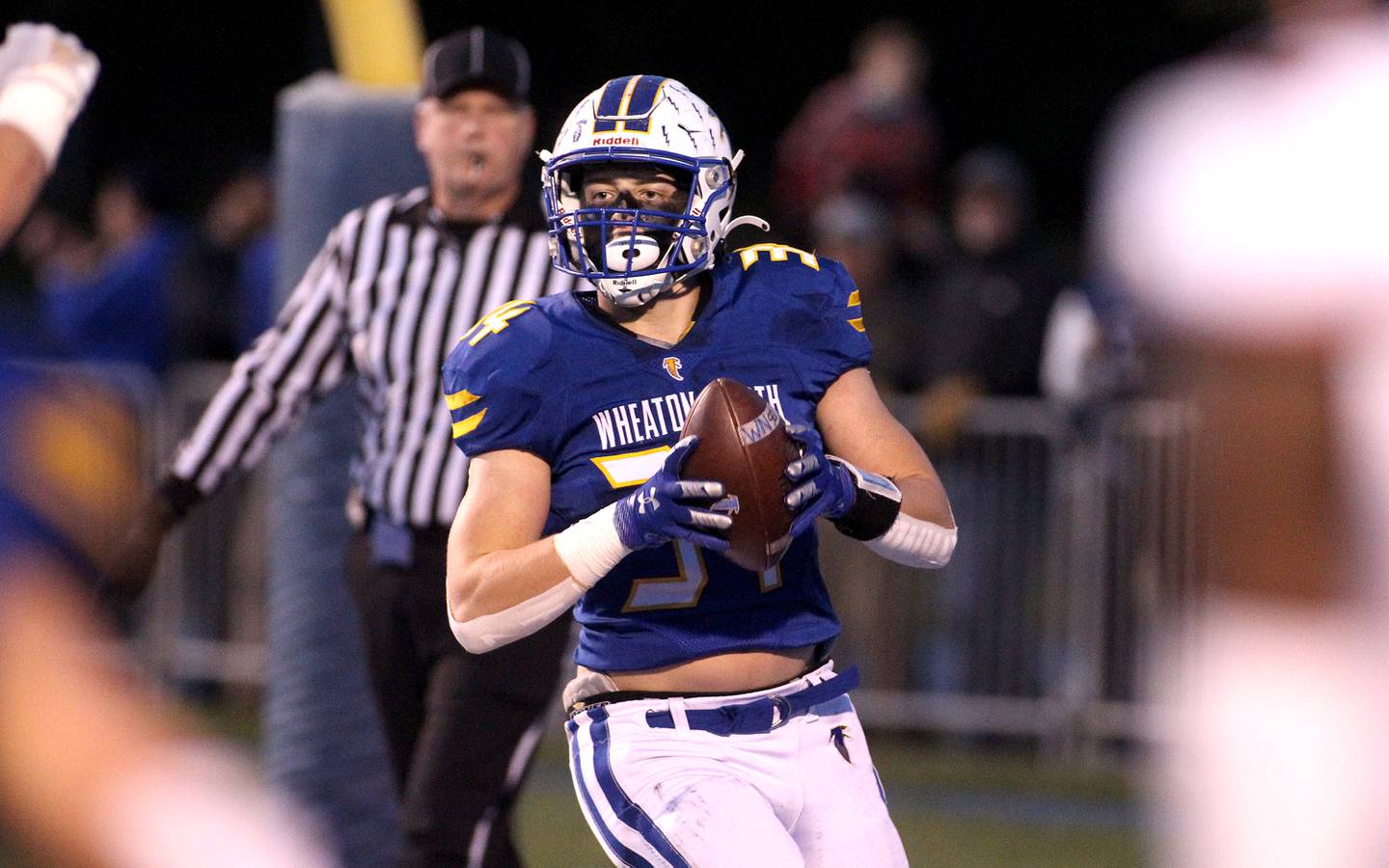 The Falcons defense forced an ensuing turnover-on-downs and Luke Beedle capped off the following offensive drive with a 41-yard score to make it 38-21 Falcons with 7:12 left.
Three plays later, Falcons senior defensive back Jackson Moore intercepted Lausch to precede Beedle's 30-yard insurance rushing score five plays later.
Vaughn (87 rushing yards, three touchdowns) finished his senior season with a 1-yard touchdown with 13 seconds left, but the Falcons negated the two-point conversion try and sealed the victory by recovering the onsides kick attempt.
"…They're a confident group," Wardynski said. "They knew that they were playing a really good team today…just going to focus on the positive things we did. Offensively, we did a nice job of putting points on the board and keeping them at bay."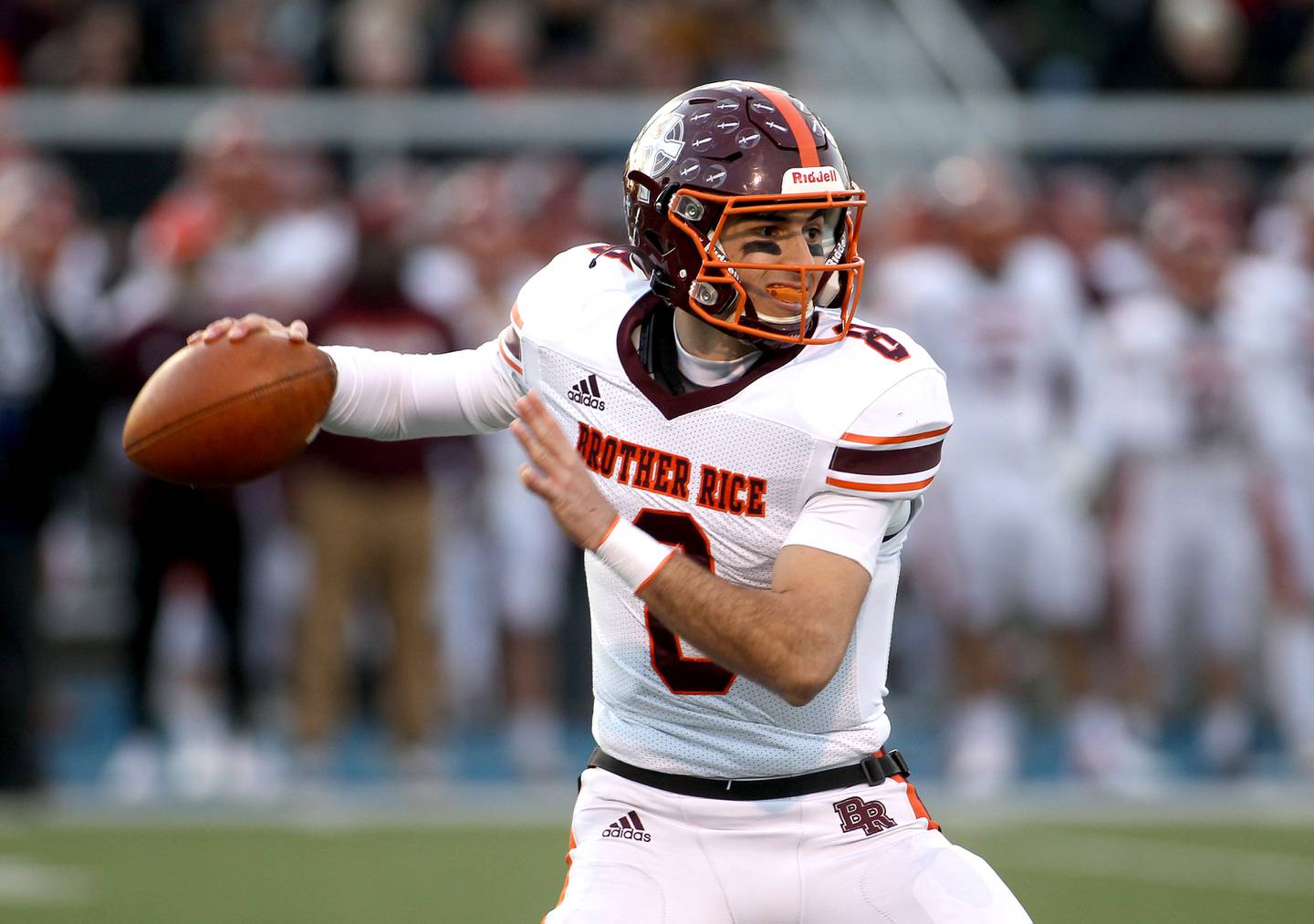 Lausch, Notre Dame baseball commit who also plans to play football in college, was visibly limited physically. Lausch, one of the top dual threats in the state, did not have a rushing attempt after an electric season running the football.
Lausch was 24-of-42 for 269 passing yards.
"…I got hit pretty bad last week. So, [dealt] with treatment all week. Felt good to play; [I] wanted to be out there with my guys," Lausch said. "It felt great during the game…Leg is just injured. A week [return] is pretty early for this, so with the amount of progress we've done – great job by our trainers, I can't thank them enough – the progress we made in a week is pretty good."
"I thought [Wheaton North] played a good game defensively," Lausch continued. "I thought we had opportunities. We just got to execute. so, I thought defensively, they stopped the run pretty well and we just didn't execute."