ELMHURST – Chandler Binkley relayed the message to Byron quarterback Braden Smith as he ran to get the play from the sidelines – "tell coach to call 126 counter."
Or, in layman's terms, a simple demand.
"Feed it to me," Binkley said. "I want it."
Binkley got it, and delivered – twice. Byron's All-State running back took in a 3-yard touchdown run on fourth down with five seconds left. Then he converted "126 counter" again, a second-effort run for the go-ahead two-point conversion.
It sent Byron to its third straight state championship game in stunning fashion, as the Tigers scored two touchdowns in the final four minutes to beat IC Catholic Prep 15-14 at Plunkett Park in Elmhurst.
For the second straight week, Byron (13-0) moved on with a dramatic finish. In the quarterfinals Binkley caught a TD pass from Smith with 9.2 seconds left to beat Reed-Custer 28-24. The Tigers, state runners-up in 2018 and 2019, will play Tolono Unity in Friday's 4 p.m. Class 3A final.
"I tell you what it is, is the heart that these kids have," said Byron coach Jeff Boyer, the starting quarterback of the program's 1999 and only state championship team. "So proud of these guys. They never quit and showed that again tonight."
It was a crushing loss for IC Catholic (11-2), which was seeking its fourth championship game appearance since 2016 with Class 3A titles in 2016 and 2017 and a Class 4A title in 2018.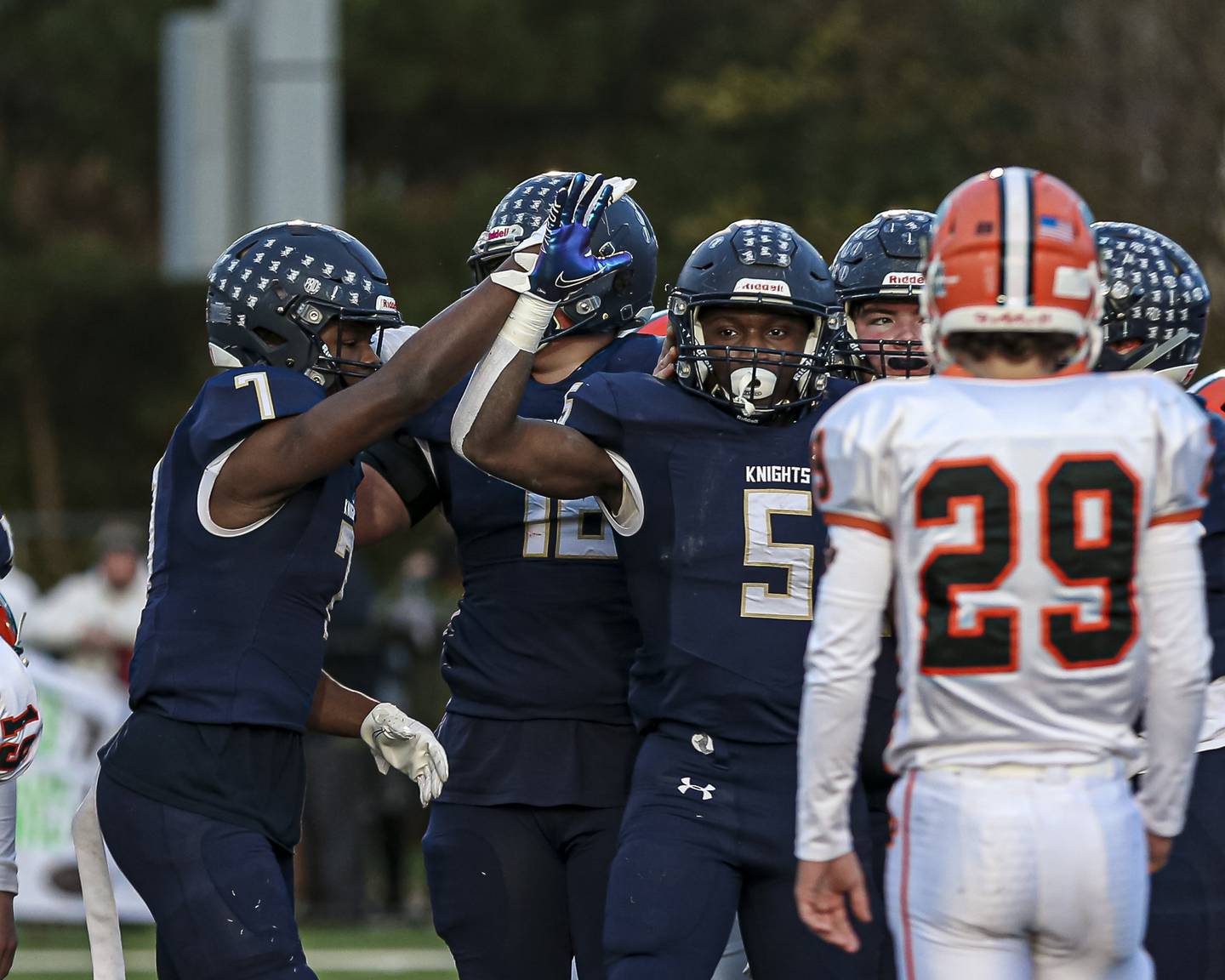 The Knights led 14-0 at the half and deep into the fourth quarter, and twice turned away Byron on fourth down – the second time, Deontae Oatman's break up of a fourth-down pass in the end zone on the first play of the fourth quarter.
But Byron, hardly a team constructed for comebacks with its methodical wing-T offense or familiar with needing them, finally broke through with Smith's 5-yard TD pass to Max Connell with 3:45 left, setting the stage for the big finish.
"They had that one extra push," Knights senior linebacker Jadon Mims said. "I felt like we could have played a better game, could have stopped them a few times, we could have put it in the end zone a few times. That was a great team we played."
After Byron's first TD, Boyer rolled the dice, calling for an onside kick that the Tigers pounced on at midfield.
"We are not built to score in one minute, so we wanted to get the ball with a little time left on the clock," Boyer said, "and give ourselves a chance."
The bold move paid off, not that it caught IC Catholic off guard.
"We knew it was coming," Knights coach Bill Krefft said. "We were in hands team. We needed to get that one. That was important."
Fourteen plays later, Boyer faced a decision in the final seconds, with no timeouts and fourth down after two incompletions. It wasn't a hard decision to put in the hands of Binkley.
"Give it to your seniors," Boyer said. "That kid is an All-State running back. He deserved to get the ball there."
Going for two wasn't much of a coach's choice either, apparently.
Binkley was hit first short of the goal line, but kept the legs moving and fell backward into the end zone.
"He asked us seniors what we wanted to do, and we said go for two. We wanted to put it on the line," Binkley said. "It came down to us."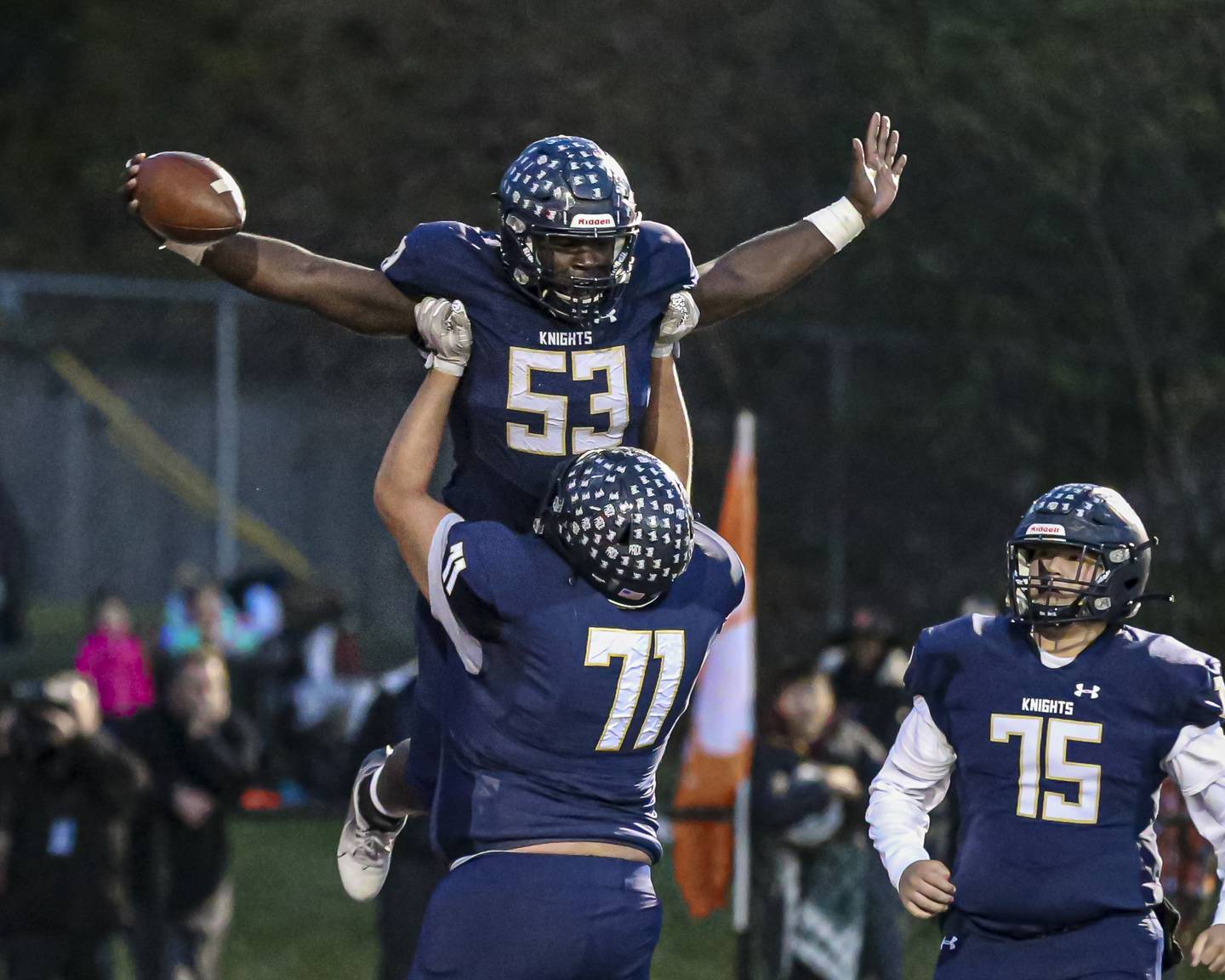 IC Catholic, which beat Byron 7-0 in another classic semifinal in 2017, controlled the first half in staking a two-score lead.
The Knights scored touchdowns on both first-half possessions. Malik Gray's 1-yard TD run capped off a 15-play, 73-yard drive. After IC Catholic stuffed Binkley on a fourth-and-short in the red zone, the Knights went ahead 14-0 on Mims' 2-yard TD run with 19.3 seconds left in the half.
But the Knights, who out-gained Byron 153-85 in the first half, only managed to run 13 plays in the second half for 81 yards, with three first downs. Byron, conversely, ran 47 plays for 177 yards, and the disparity seemed to wear down the Knights.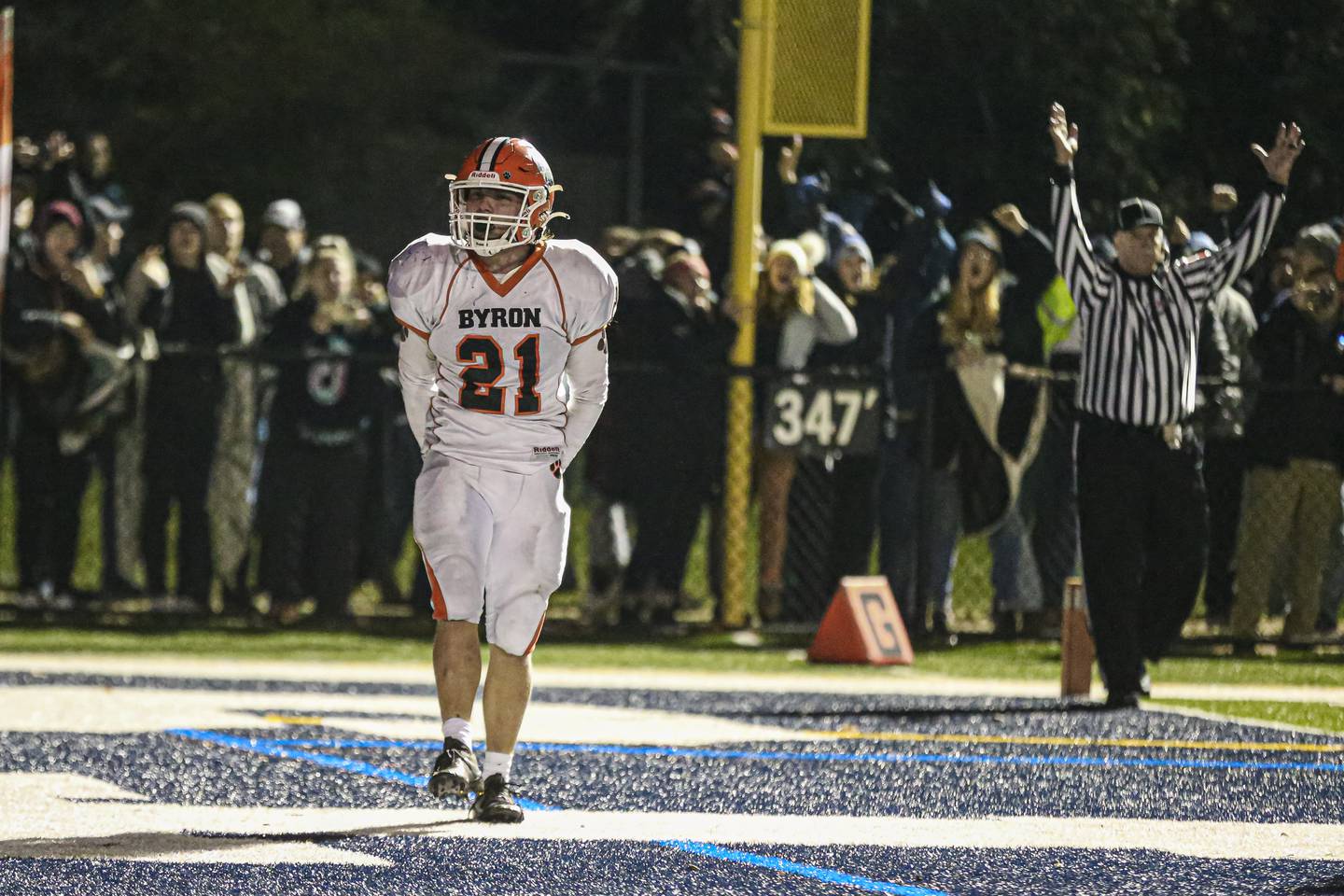 "They played a great second half of football," Krefft said. "All credit in the world to them. They are a great football team. They took it to us in the second half, really got downhill and executed."
Binkley ran for 86 yards on 23 carries for Byron, which ran for 215 yards as a team. IC Catholic sophomore QB Dennis Mandala was 7-for-12 for 124 yards.
"It was a great game," Mims said. "I told the underclassmen coming up, be better leaders, be ready to go. They got to use this as fuel."