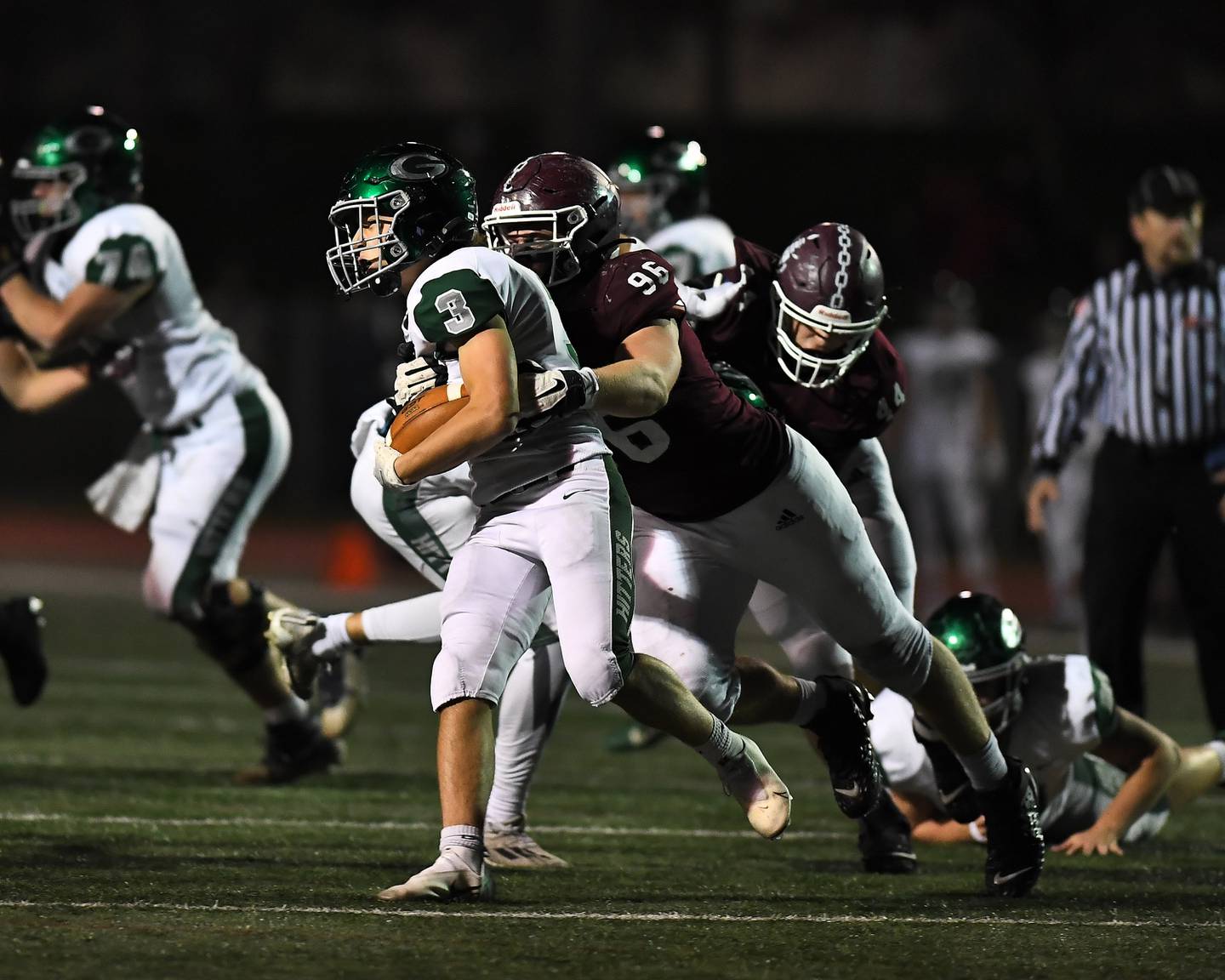 Class 8A
Lockport (11-1) at Loyola (12-0)
When: 1 p.m. Saturday
Last matchup: First meeting
About the Porters: Lockport's offense continues to surge and in the quarterfinal got a mammoth performance from running back Ty Schultz. He netted four touchdowns and helped do what team's love to do during the playoffs: keep the ball away from the opponent. The offense has also thrown the ball pretty effectively as of late and is definitely pulling its weight. But Lockport continues to be anchored by its defense, and despite the fact that Glenbard North tacked on a few scores later in the game, Lockport's defense continues to set the tone. Defensive lineman Cody Silzer did leave the Glenbard North game early on with an injury and he's a big piece of that unit.
About the Ramblers: Loyola seems to be morphing from week to week into whatever the Ramblers need to be in order to survive and advance. In the quarterfinals, they leaned heavily on the defense to figure out a way to get through, shutting out Lincoln-Way East. It was the first time the Griffins had been held off the scoreboard since 2011. The defense has been up-and-down at times this season, but has barely taken any dents to its armor in the postseason, surrendering just a solitary touchdown through three rounds. But the defense has had to be excellent. While Loyola did shutout Lincoln-Way East, its offense managed just a field goal. A Week 4 injury has sidelined RB Marco Maldonado since and has severely hampered Loyola's ability to be dynamic. Maldonado's status has been up in the air for several weeks and if he's available for this game, he'll give the Ramblers a needed infusion of skill. Linebacker James Kreutz has been performing double duty in Maldonado's stead. QB Jake Stearney has been rock solid all season.
Friday Night Drive pick: Loyola
Class 4A
Joliet Catholic (12-0) at Richmond-Burton (12-0)
When: 2 p.m. Saturday
Last matchup: First meeting
About the Hilltoppers: Joliet Catholic has remained dominant in the first three rounds of the Class 4A playoffs. The Hilltoppers have forced the running clock on each of its opponents thus far and are scoring at a rapid rate. There are just far too many weapons for opponents to slow down, and while you might guess right a few times, odds are more often that not that variety of weapons will leave someone in a mismatch for the Hilltoppers can exploit. At its best, Joliet Catholic can both run and pass, with QB Aidan Voss causing all kinds of problems with his abilities to run the football and willingness to try and thread the needle through the air, where he succeeds more often than he fails. The defense has had a few moments where it has bent, but it doesn't break often enough to give most opponents even a remote chance of trading scores with this offense, which typically doesn't give its punter many opportunities to participate.
About the Rockets: Richmond-Burton owns the state's longest consecutive win streak at 32 games, but it had to really sweat one out against Phillips, 27-26, in the quarterfinal round. The Rockets are consistent and sturdy. R-B rarely makes big mistakes and controls the tempo behind RB Brock Wood, who has hammered his way to 1,500-plus rushing yards and 25 touchdowns. And while the defense is only surrendering about 10 points per game to opponents, it has seen nothing remotely like Joliet Catholic's offensive firepower all season long. R-B will likely have to follow the blueprint that other teams have tried and failed with, playing keep away from the Hilltoppers, but unlike previous opponents that have tried it, R-B may have the discipline and skill to make this a good fight.
FND pick: Joliet Catholic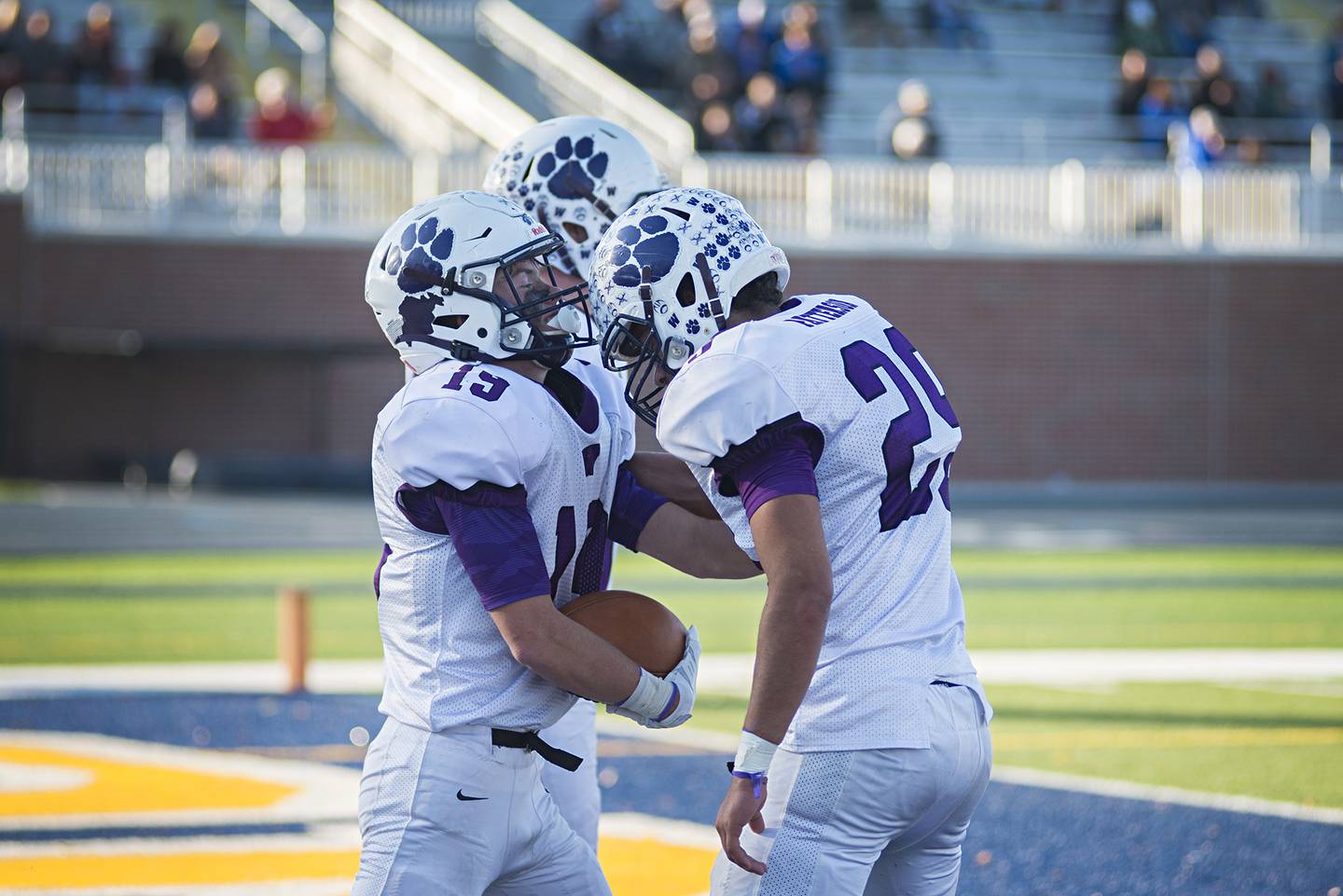 Class 2A
Tri-Valley (12-0) at Wilmington (12-0)
When: 5 p.m. Saturday
Last matchup: First meeting
About the Vikings: Tri-Valley has put together a really solid offense this season, scoring at least 29 points in every game and 40-plus in seven games. But where the Vikings really shine is on defense, where the unit has allowed just 81 points in the 11 other games of the season with the exception of Tri-Valley's wild 47-42 win over Rockridge in the opening round. Tri-Valley's defensive dominance was on full display in a 34-12 win over Farmington in the quarterfinals. Farmington entered the game as one of the few teams in the state with more than 450 points scored, but left with negative rushing yardage and a lopsided loss. QB Andrew Petrelli is a very strong run-pass threat. He rushed for nearly 200 yards in the win over Farmington. Tri-Valley's balanced offense gives many opponents trouble.
About the Wildcats: Wilmington is cruising its way through the playoffs to this point as the quarterfinal win over Bishop McNamara didn't feel as close as the 45-25 score might indicate. The Wildcats have been extremely one-dimensional offensively, but Wilmington is so good at running the football that it hasn't needed to do anything else. RBs Colin James and Jacob Friddle take the lion's share of the work out of the backfield, but the X-factor might be Karsen Hansen, who not only gets gritty interior rushing yards, but carves a path in opposing defenses as a lead blocker. The defense is usually the staple for the Wildcats, but it has taken a rare back seat to the wildly productive offense. The Wildcats can still get after it though, but might need to tighten up some things in the secondary moving forward.
FND pick: Wilmington