LEMONT – East St. Louis is not a one-man team, the one man being Luther Burden III.
But, as Lemont coach Bret Kooi put it, "you take No. 3 away from them and they're a different team. That kid's really, really special."
Lemont couldn't do that on Saturday. Nor could they stop him consistently. His three touchdown receptions were a large part of East St. Louis' 42-21 victory in the Class 6A quarterfinal contest.
For Lemont (11-1), it was a bitter pill to lose at home, given the winning streak the squad had strung together. It hit home after the game, where the players gathered on the field one more time, a half-hour after the final horn for one last group hug, and for more than a few tears for the only Illinois-based team to score offensive points on East St. Louis this year.
"We've been going home at 9 every night, and now we'll be going home at 3," said senior Albert Kunickis, whose 22 carries for 155 yards included a 57-yard touchdown run in the fourth quarter that set the final score. "It sucks."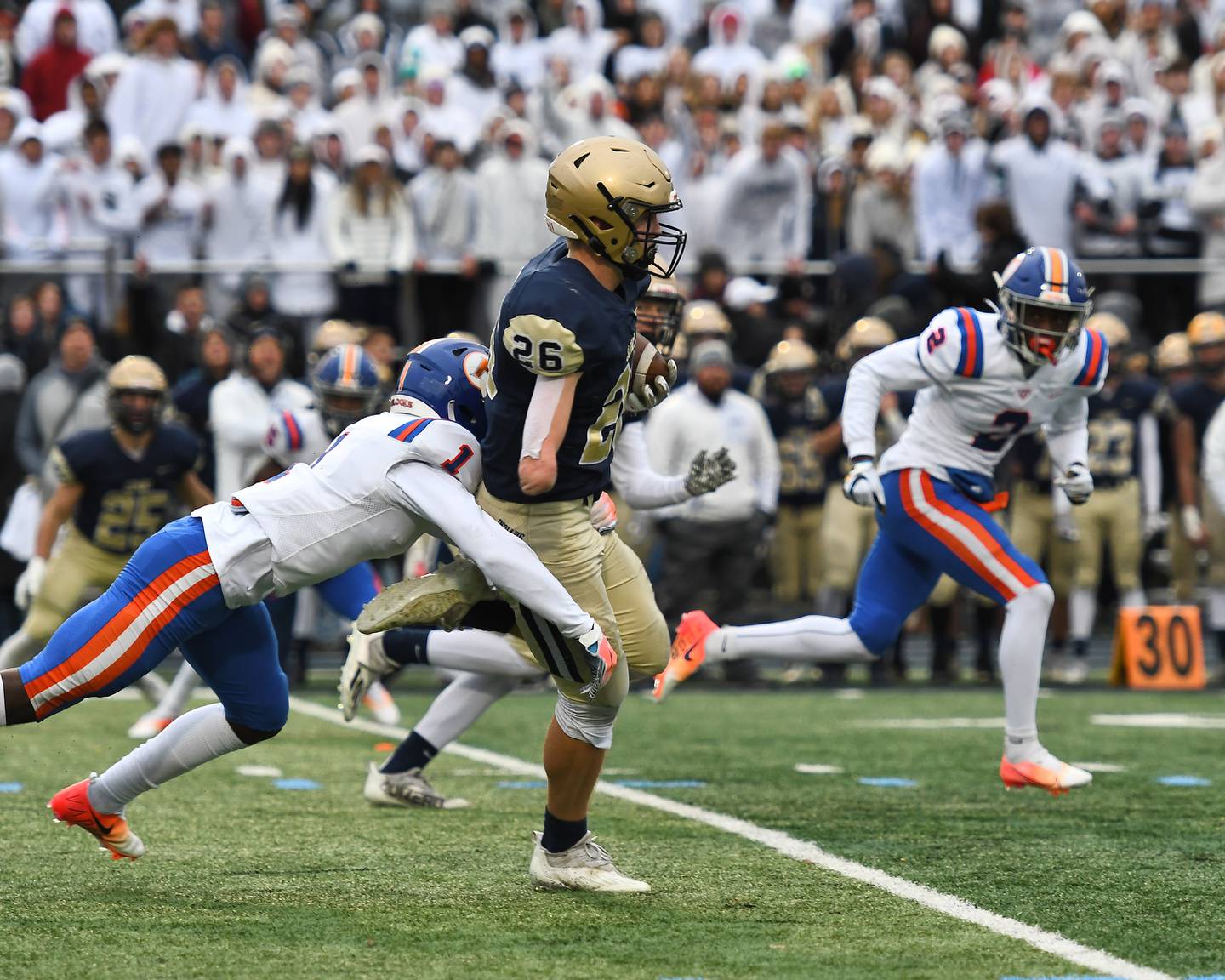 Stopping Kunickis and Lemont's running game to at least some degree allowed the Flyers (10-2) to tee off on quarterback Payton Salomon. He was sacked five times, and of Lemont's 35 rushes, 11 went for no yards or lost yardage.
"We stuck to our defensive keys," said Flyers lineman Miles Mcvay. "On offense, we came out and were physical."
Mcvay, 6-foot-7 and 345 pounds, was a formidable blocker on offense and a terror on defense. And he had company both on the line and in the backfield.
The exploits of Burden, a Missouri-committed senior, more than made up for the 17 penalties for 187 yards the Flyers incurred for various trangressions, including a pair of personal foul penalties that will keep Ahmad Robinson out of next week's semifinal game against Crete-Monee.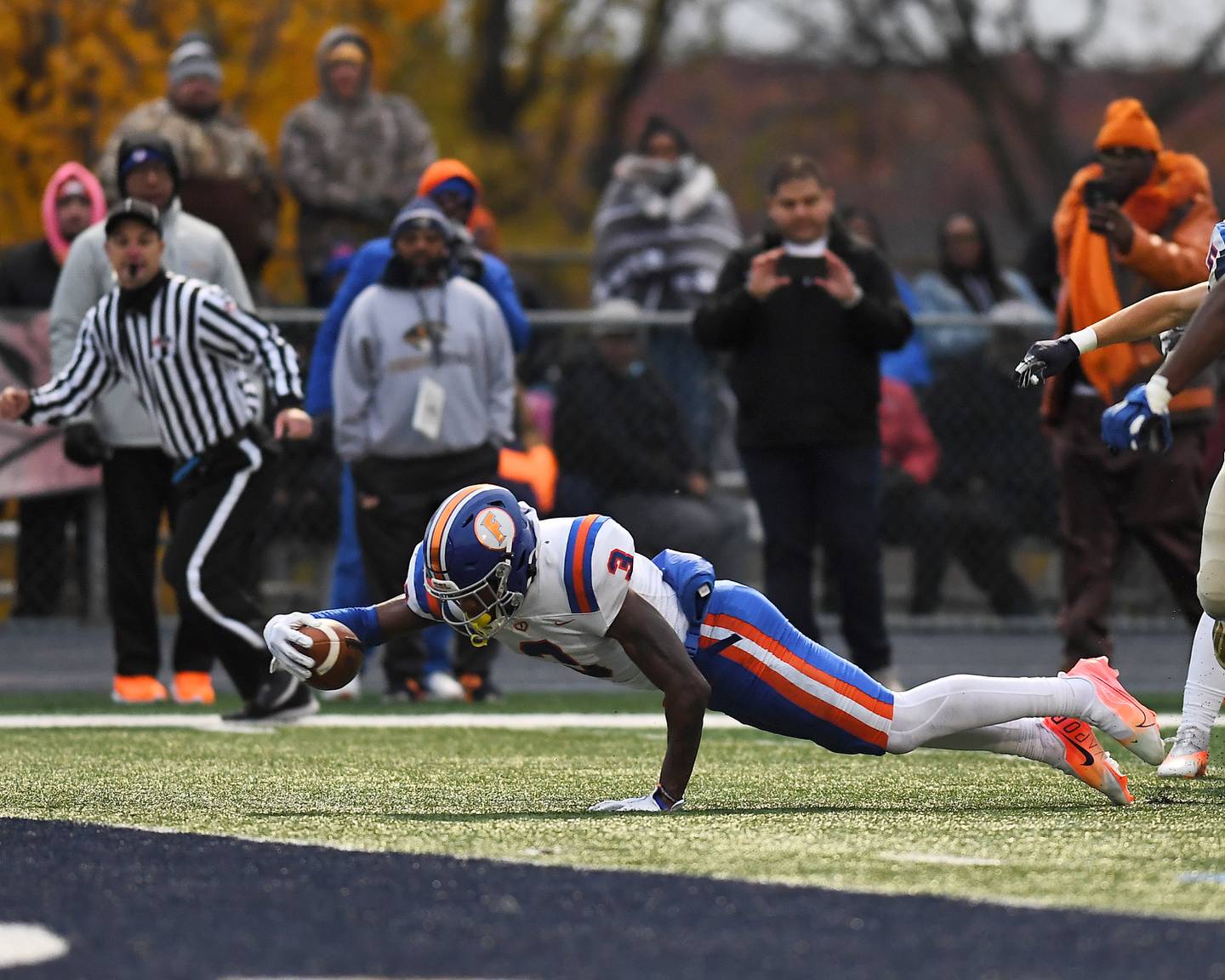 Burden's touchdown receptions were from 29, 39 and 59 yards distant, the latter a cross-country jaunt in which he tiptoed down the left sideline to stay inbounds, dodged a tackler, and cut back to midfield before crashing into the end zone. Southeastern Conference foes who see him wearing Mizzou colors next year will have a handful to deal with.
So will Crete-Monee next week, even if the game's played on the Warriors' grass field.
The Flyers scored four times through the air, the first an 85-yard touchdown from quarterback Robert "Pops" Battle to Jesse Watson. Two series after freshman Tyron Morton ran for the two-point conversion, Lemont drew within 8-7 on Salomon's 35-yard pass to Sam Andreotti.
But East St. Louis' speed killed. Battle hit Burden for a 29-yard score midway through the second quarter, used a pair of completions to Ryan Boyd to set up a 2-yard Morton plunge for a 20-7 lead in the last minute of the half, and handed off to Marquise Palmer for a 1-yard score on the first series of the second half. That was set up by Morton's 58-yard run on the first play of the series.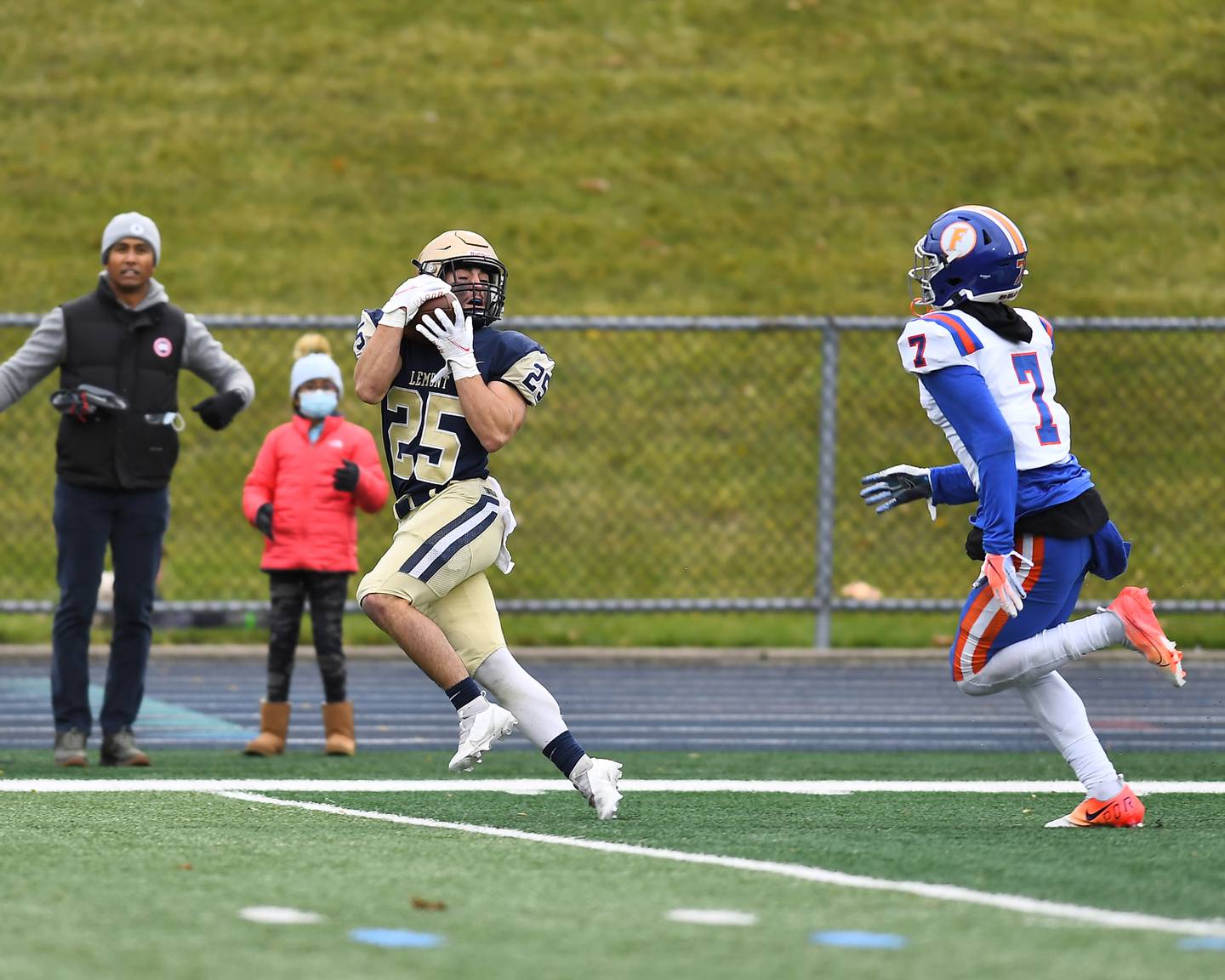 Morton, proving the Flyers aren't a one-man team, finished with 15 carries for 154 yards.
Lemont played hard to the finish, even knowing with 12 minutes left the season was ending.
"Our kids always do," Kooi said. "It stinks we're done with a group like this, because they're an awesome group. There are so many things these kids did at this age that don't typically happen with kids 15-16-17. So many selfless acts. That's what makes it so difficult for us to be done."
On the other side, Flyers coach Darren Sunkett could look ahead.
"Let's get this thing done," he told his players before the five-hour ride home on chilly school buses. "One win to get there, two to win."
Sounds like a plan.