Familiarity might not play a factor when two CCL/ESCC Blue division rivals play each other in the Class 7A quarterfinals Saturday.
The coaches and players at Mount Carmel and Brother Rice know each other very well and the schemes each team likes to play, but both teams are playing differently compared to their game at the beginning of October that the Crusaders won 43-36.
Brother Rice has gotten healthier while Mount Carmel players have grown closer together as a team in the five games since they met, setting up another classic between the two teams with high stakes.
"I think going into it, you make adjustments from before, what would've worked and what could've worked and you go and make adjustments from there," Mount Carmel coach Jordan Lynch said. "They're a bit of a different team from the last time we played them. It should be another great matchup."
Saturday's game will be Mount Carmel's fourth straight quarterfinals appearance, the third under Lynch. The Caravan's lone loss since falling to Brother Rice came in a 21-19 battle against Loyola in Week 9 where they couldn't tie the game on a two-point conversion late.
Mount Carmel shut out Thornwood, 20-0, in the first round of the playoffs before escaping in the second round by upsetting top-ranked Batavia on the last play of the game.
Lynch has watched his players build off of the momentum from the second-round thriller, with his players knowing how close they came to not being in the quarterfinals.
"Our kids are amped up, they're juiced," Lynch said. "They had a great week of practice so far and I think they got the taste a little bit in round two, there was a possibility most of the game that we weren't going to move on to round three. Our kids got a taste of what that's like and have been stressing all week that they don't want that taste again in their mouths."
Brother Rice lost to Joliet Catholic in Week 7, a week after taking down the Caravan, before closing out the regular season with back-to-back wins. The Crusaders qualified for their third straight quarterfinals, but it didn't come easily.
The team took down Wheaton-Warrenville South, 27-26, in the first round thanks to a failed two-point conversion toward the end of the game. Brother Rice beat Yorkville, 45-7, in the next round to qualify for the quarterfinals.
Brother Rice coach Brian Badke has watched his players respond throughout the season and survive some scares, which is why he approaches every week the same, no matter how familiar the opponent is.
"Our guys have been battle-tested, they have the confidence and they're humble," Badke said. "They know it could be taken away from us, let's just do what we need to do. Let's just worry about us. Don't worry about all the other distractions, just worry about what we need to do."
Mount Carmel will need to worry about Brother Rice quarterback Jack Lausch. Lynch said he doesn't think Brother Rice does anything too complicated, but the Crusaders do everything well and at a fast speed.
Lausch, a Notre Dame commit, won the CCL/ESCC Blue Tony Lawless Player of the Year award and has created issues for defenses ever since he took over at the starting quarterback midway through his sophomore season.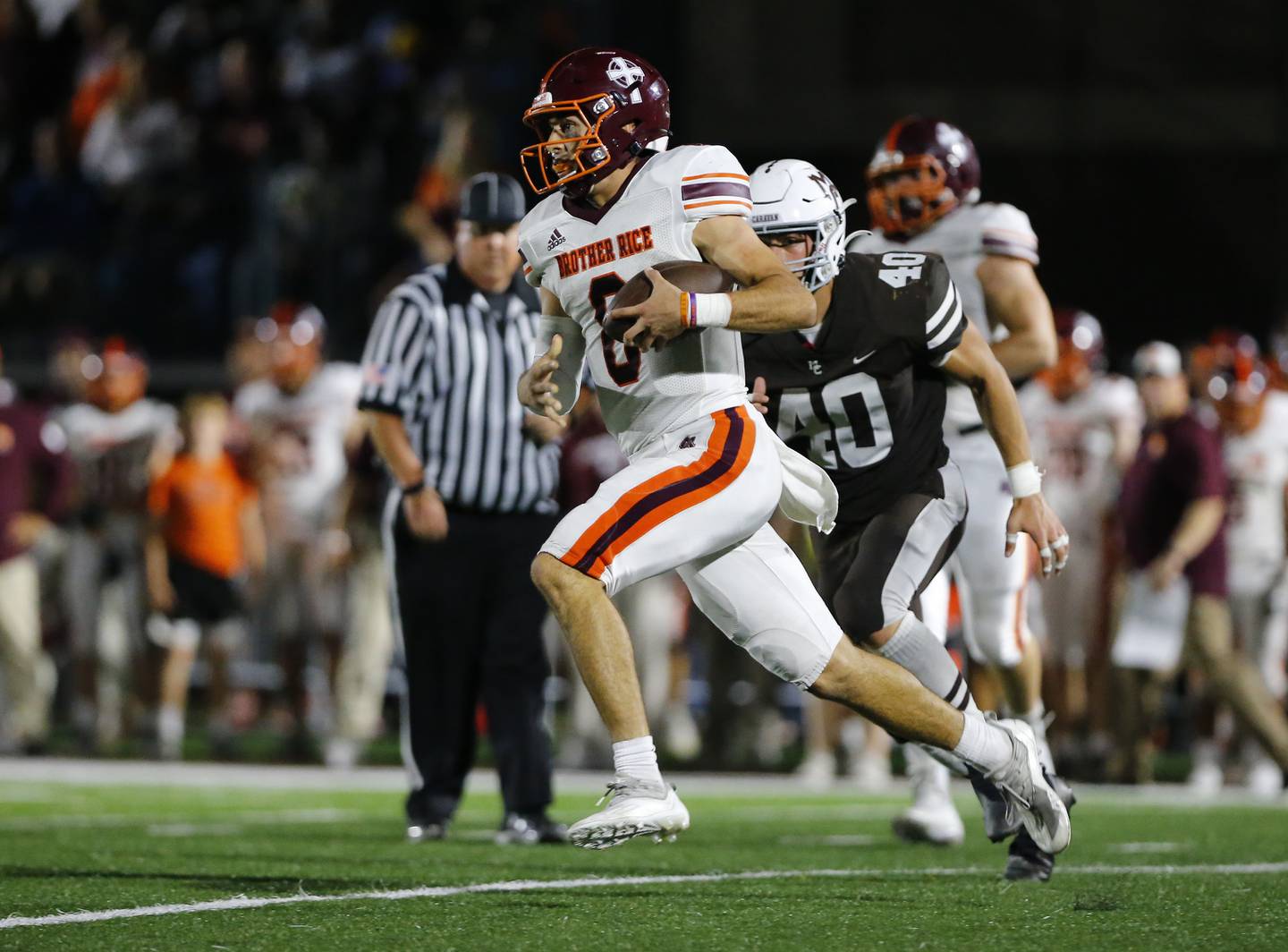 Lynch will look for his own quarterback to continue the improvements he's made throughout the season. Blainey Dowling has grown each week since the junior took over as the starting quarterback at the beginning of the season. He helped lead a comeback effort against Loyola at the end of the regular season and helped orchestrate the team's game-winning drive over Batavia in the second round.
Badke knows the key to stop Mount Carmel will be to stop the run and make the Caravan one dimensional. If it can limit the ground game, Brother Rice can focus on the pass game, which Dowling has shown he can excel in.
Players like Dowling, running back Darrion Dupree, wide receiver Denny Furlong and others have grown closer together every week. They've developed a chemistry and realized that if they play together as a team, there's no opponent they can't beat.
"They've shown that we've been up and we've been down," Lynch said. "Our team never flinches. They're always ready to go. We may be down, but don't count us out. They play best when their backs are against the wall."
Both coaches agreed that it doesn't matter if two of the better teams in Class 7A are playing each other in the quarterfinals. If their teams want to win a state championship, it doesn't really matter when or where they play each other.
And between these two division rivals, familiarity always makes it more special.
"Round three against the Catholic League Blue on the road," Lynch said. "It doesn't get better than this."