Class 7A
No. 4 Wheaton North (10-1) at No. 21 Willowbrook (8-3)
When: 8 p.m. Friday
About Wheaton North: The Falcons have had little trouble navigating the first two rounds of the playoffs, with a 38-8 win over Hoffman Estates last Friday. Wheaton North's defense has surrendered no more than one score in eight of its 11 games, and its stingy nature was evident in grounding a high-flying Hoffman Estates' offense. Senior defensive ends Chuck Neidballa and Devon Neal had two of the Falcons' six sacks in that game. That kind of defense helps on the road in the playoffs, as does the steady hand of third-year starting QB and DuKane Conference Offensive Player of the Year Mark Forcucci, who completed his first 10 passes last Friday and threw for 190 yards in the first half alone. Sophomomore Walker Owens and junior Luke Beedle have carried the load on the ground for the Falcons in the playoffs; both went over 100 yards in the first-round win over Larkin and each scored two TDs against Hoffman Estates. Wheaton North is seeking the program's first semifinal appearance since 2002.
About Willowbrook: If there were any doubts how this Warriors' club measured up after an 0-2 start, they've provided answers – Willowbrook is back in a familiar position with its fifth straight quarterfinal appearance. Willowbrook shut out Moline in the second half last Friday, rallying from a nine-point halftime deficit for a 30-26 win. Junior Joe Tumilty, younger brother of ex-Willowbrook stars Sam and Scotty, is carrying on the family tradition of good football. He caught a 40-yard TD, intercepted a pass and tossed the winning TD against Moline. Nick Mabutas had five catches for 153 yards and two TDs and Jaylon White ran for 102 yards and a TD. Wheaton North and Willowbrook have one common opponent, Providence. Providence beat Willowbrook 10-0 in Week 1 and lost to Wheaton North 30-7 in Week 2. Willowbrook seeks its second straight semifinal appearance.
Friday Night Drive pick: Wheaton North.
Class 6A
East St. Louis (9-2) at Lemont (11-0)
When: 2:30 p.m. Saturday
Last matchup: First meeting
About Lemont: Lemont's strong half second half effort pushed them past Springfield 72-36 in the second round and showed how potentially explosive its offense can be. RB Albert Kunickis had another huge game, at one point scoring five consecutive touchdowns to allow Lemont to get substantial separation. That offensive momentum will need to keep coming at an even faster rate if Lemont has a chance at continuing its march. But the biggest challenge falls on the defensive unit, which until the Springfield game, hadn't been sternly tested in awhile. The defensive unit eventually solidified in the second half and held Springfield down, but East St. Louis isn't likely going to afford the unit an opportunity to settle in before getting down to work.
About the Flyers: By record alone, East St. Louis doesn't look like the heavy favorite to win 6A that it is. But it has to be taken into consideration that those two losses came at the hands of teams ranked in the Top 5 of most national polls. The Flyers have been nothing short of stunningly good when grappling with Illinois teams this year as in seven contests they have outscored the opposition 418-2. In two playoff wins, East St. Louis holds a 120-0 margin of victory over opponents. Wide receiver Luther Burden, a Missouri commit, is the team's top weapon, having scored four touchdowns in the win over Richards. But Burden is far from the only dangerous offensive weapon that the Flyers possess.
FND pick: East St. Louis
-- Steve Soucie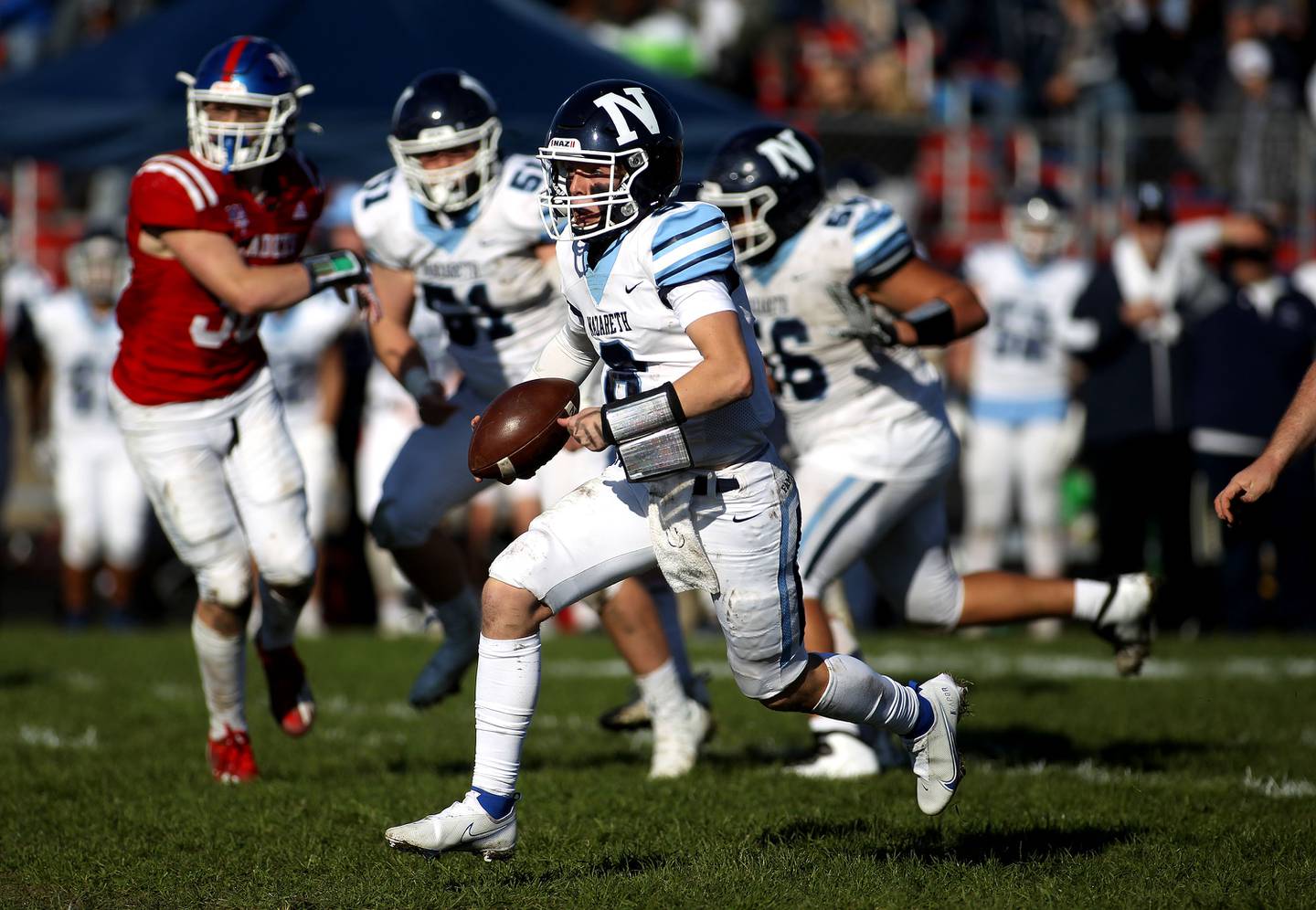 Class 5A
No. 2 Fenwick (9-2) at No. 14 Nazareth (7-4)
When: 1 p.m. Saturday
About Fenwick: The Friars, on the short list of favorites in Class 5A, got pushed some on the road last Friday at Rockford Boylan before ultimately prevailing 24-14. Jacque Walls ran for two TDs, including a 73-yarder, and Ball State recruit Kaden Cobb threw an 18-yard TD to Eastern Michigan commit Max Reese. Fenwick is in the quarterfinals for the first time since 2017, seeking its first semifinal appearance since 2016. Cobb, Reese and Illinois recruit Eian Pugh are the headliners on an offense that averages over 35 points per game. There is some recent history between these two programs – a Nazareth 31-6 win in 2019 – although the shoe appears to be on the other foot this time with Fenwick coming in as the experienced favorite.
About Nazareth: The Roadrunners got through one tough playoff game against a fellow CCL/ESCC opponent, going on the road to beat Marmion 23-14. Can they do it again in their first home playoff game? Nazareth has certainly puts its 0-3 start to the season well in the rearview mirror. Quentrell Harris, who scored a TD, had an interception and key pass breakup late last week, continues to be a playmaker for the Roadrunners in all three phases of the game. Freshman QB Logan Malachuk, 11-for-17 for 140 yards at Marmion, has completed 61.6% of his passes for 1,583 yards and 16 TDs on the season and pilots an offense that has averaged 37.5 points the last eight games. Kaleb Miller is another two-way threat for Nazareth as its leading rusher (601 yards, nine TDs) and tackler (85) and freshman defensive end Gabe Kaminski has had a huge first high school season with 64 tackles, 13 tackles for loss and five sacks.
FND pick: Fenwick
Class 3A
No. 2 Princeton (10-1) at No. 6 IC Catholic Prep (10-1)
When: 3 p.m. Saturday
About Princeton: The Tigers, a 2019 Class 3A semifinalist, are back in the quarterfinals for the second consecutive time under fifth-year coach Ryan Pearson. Princeton is 16-1 this calendar year, with a 6-0 spring season and its only loss this fall a 49-21 setback to Kewanee in Week 5. Princeton lost to IC Catholic 37-12 in the 2015 Class 3A quarterfinals. Junior QB Teegan Davis has thrown for 1,694 yards and 19 TDs and run for 1,052 yards and 18 TDs. Junior RB Augie Christiansen has run for 920 yards and 13 TDs and senior Logan Glancy 544 and six TDs. Davis' top two targets is senior Bennet Sierens, who has 29 catches for 549 yards and four TDs, and senior Matt Lucas, who has 27 catches for 462 yards and five TDs. Senior linebacker Drew Harp anchors the Tigers' defense that comes in off a 40-0 shutout of Prairie Central.
About IC Catholic Prep: The Knights are making their sixth consecutive quarterfinal appearance after taking care of business last Saturday, beating Durand-Pecatonica 35-12. IC Catholic came into the playoffs as a favorite in Class 3A and has done nothing to dispel that notion. Sophomore QB Dennis Mandala threw for 303 yards and three TDs last week, KJ Parker had five catches for 130 yards and one TD and Denzel Gibson had five catches for 104 yards and two TDs. Defensively, Connor McCoy had 15 tackles and Jadon Mims 12.
FND pick: IC Catholic Prep