CRYSTAL LAKE – Prairie Ridge junior Tyler Vasey called the five weeks he missed this football season after fracturing a bone in his right elbow "the longest five weeks of my life."
The six weeks since that time, however, have been some pretty long nights for Wolves' opponents.
Vasey returned in Week 6 to assume one of Prairie Ridge's wingback positions in its triple-option, and the offense, which had previously been productive, has since become almost unstoppable.
The No. 7-seeded Wolves (9-2) are averaging 52.5 points a game since Vasey's return and ride a five-game winning streak into Saturday's 1 p.m. Class 6A quarterfinal playoff game at No. 6 Lake Forest (9-2).
This is Prairie Ridge's fifth trip to the quarterfinals in six seasons. The Wolves won the other four quarterfinals they played in during that span.
"It's just fun, the offense now, [the defenses] don't really know where the ball's going," Vasey said. "It's going left, it's going right. The game against Wauconda [a 49-20 second-round victory], all of us touched the ball, they didn't really know where the ball was going. That's a big part of it."
Vasey has carried 40 times for 673 yards and nine touchdowns. His yards put him 18th on the area list while many players ahead of him had five more games. He adds a deep threat as a receiver, where he has two touchdowns, and he also has a kickoff return touchdown.
Vasey was supposed to be the Wolves quarterback this season but suffered the injury about 10 days before the season opener. Defensive back Mason Loucks took over at quarterback and ran the option well with wingback Zach Bentsen and fullback Nathan Greetham.
Wolves coach Chris Schremp was thrilled that Vasey could return. He played only two of the six games in the 2021 spring season, putting up huge numbers, before he was knocked out with a broken collarbone.
"He's just a great all-around athlete," Schremp said. "He has that enthusiasm for the game, and he's a real likable kid. The team got a big uplift all around with Tyler coming back and being in pads and playing. It's one thing to be standing around and clapping, but when you're on the field making plays, and that enthusiasm means a lot."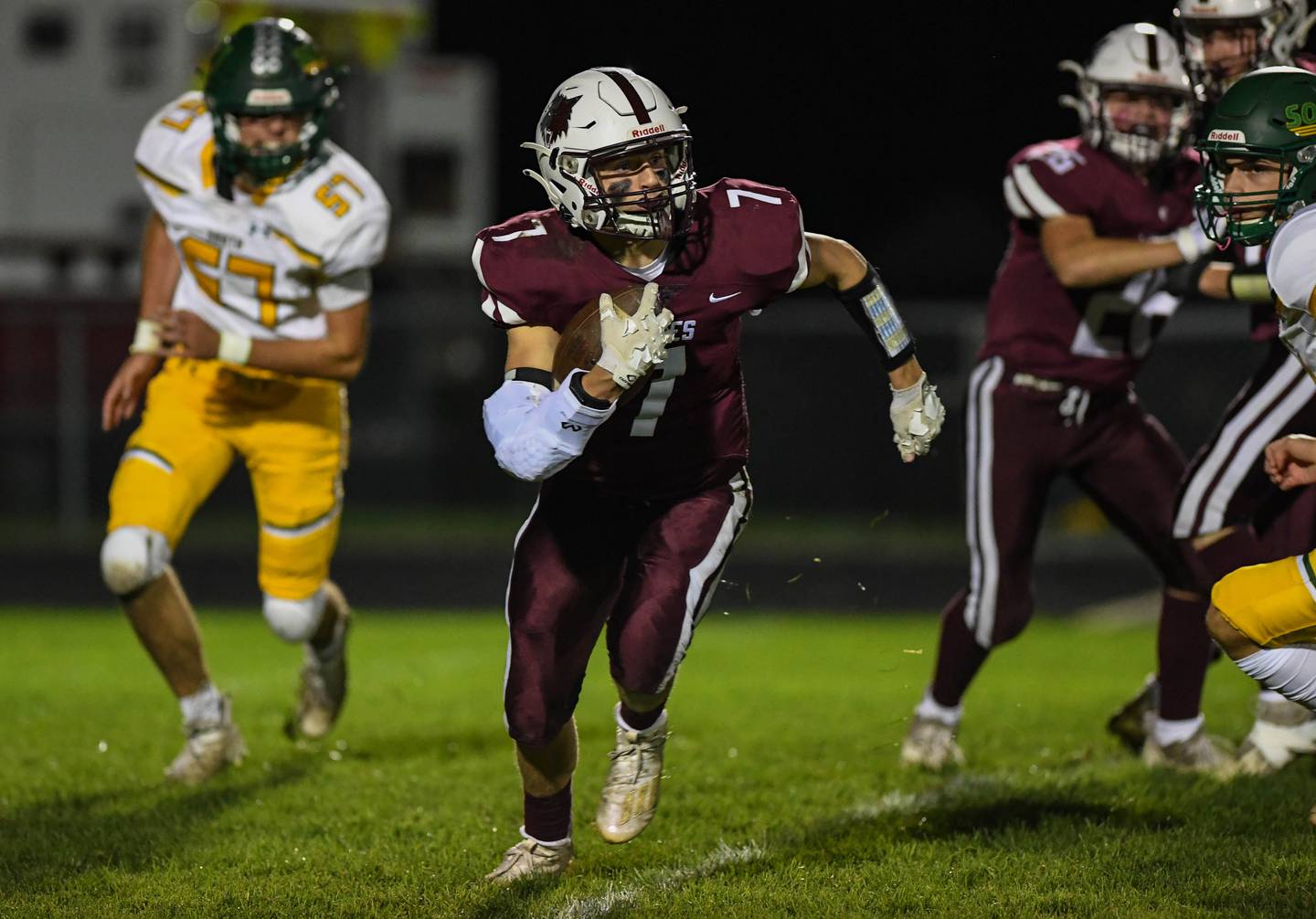 Schremp said Vasey is the Wolves' fastest player. He gives them a similar element that Taidhgin Trost brought for the 2019 Class 6A state runner-up team at wingback and in the spring as quarterback.
"It gives us a balanced offense, we're a threat from both sides," Loucks said. "Tyler typically leads by example and now seeing him back in action and confident gets the rest of the team confident too. He helps me out with some things I need to learn at QB."
With Vasey joining Greetham (1,197 yards), Bentsen (1,023) and Loucks (822), the Wolves can hit opposing defenses from all angles.
"He certainly brings an energy," Prairie Ridge center Henrik Nystrom said. "He played a little bit last year. To be back, he's leading the team and making sure we all do our jobs and keep going. He's pretty fast, he opens up the passing game a little more. He's great. He's fun. We're getting back an experienced guy."
Vasey actually practiced after injuring the elbow, not realizing for three more days how badly it was hurt. When he couldn't pitch or throw, he went to see a doctor.
Now, he plays with a sleeve pad on the joint and feels much better. He is grateful to be on the field making a difference with his team.
"It's not just about me, it's about how defenses can't key on key players," Vasey said. "They can't key on Bentsen or Mason or Nate. If I go in motion, they have to follow me. Someone's going to have to creep this way, and it's going to open a hole for Greetham or Zach.
"It's a great feeling being back and being with the boys. It's just fun."
Loucks enjoys having an option as fast as Vasey to give the ball to as he surveys the defense before a snap.
"I'll look at the defense and decide where we want to go with it," Loucks said. "If they're giving us the same look and we feel there's a play where Tyler will have a shot, we'll give him the ball. He's a really good threat."
The Wolves practiced on the turf field at the MAC Athletic Complex this week, preparing for their second consecutive turf game, which is fine with Vasey.
"I really enjoy it," Vasey said. "Our practice field and our field are usually always sloppy. It's wet. It's hard to get footing. Now, we're going to feel faster. We may not look fast, but we'll feel faster."