Class 8A
Lincoln-Way East (9-2) at Loyola (11-0)
When: Noon Saturday
Last matchup: Loyola 24, Lincoln-Way East 16 (2018 8A playoffs)
About the Griffins: Lincoln-Way East makes its fifth consecutive quarterfinal playoff appearance and are making the march in the midst of a bit of a youth movement. A largely junior class has had a lot to do with Lincoln-Way East's success this season, but it has played in the postseason as if it is a seasoned group. The Griffins have been particularly strong on defense and they turned back Minooka at almost every turn in their second-round win. Running back Trey Johnson has been a beast since his conversion to fulltime backfield work in the middle of the season. Loyola brings a different level of challenge to East but the Griffins have done little to believe they won't give themselves a chance here. Loyola is responsible for Lincoln-Way East's last loss in the postseason as the Griffins were edged out in the 2018 Class 8A semifinals.
About the Ramblers: Loyola has been a run away freight train for much of the season, particularly in the postseason where it has won its two games by a combined score of 80-7. The Ramblers have really only been pushed in one game this season, when it required a last-second field goal to fend off Fenwick. Other than that, Loyola's ability to run and pass has been extremely problematic for opponents. QB Jake Stearney has been a very efficient and effective quarterback as demonstrated by a string of 12 consecutive completions to start Loyola's second-round win over Naperville Central. Loyola has been without RB Marco Maldonado because of a collarbone injury, but others such as Mike Regan have filled in admirably. Linebacker Josh Kreutz, son of former Bear Olin Kreutz, also got into the act against Naperville Central scoring two touchdowns, but his key role for Loyola is anchoring a fantastic Rambler defense as a playmaker.
Friday Night Drive pick: Loyola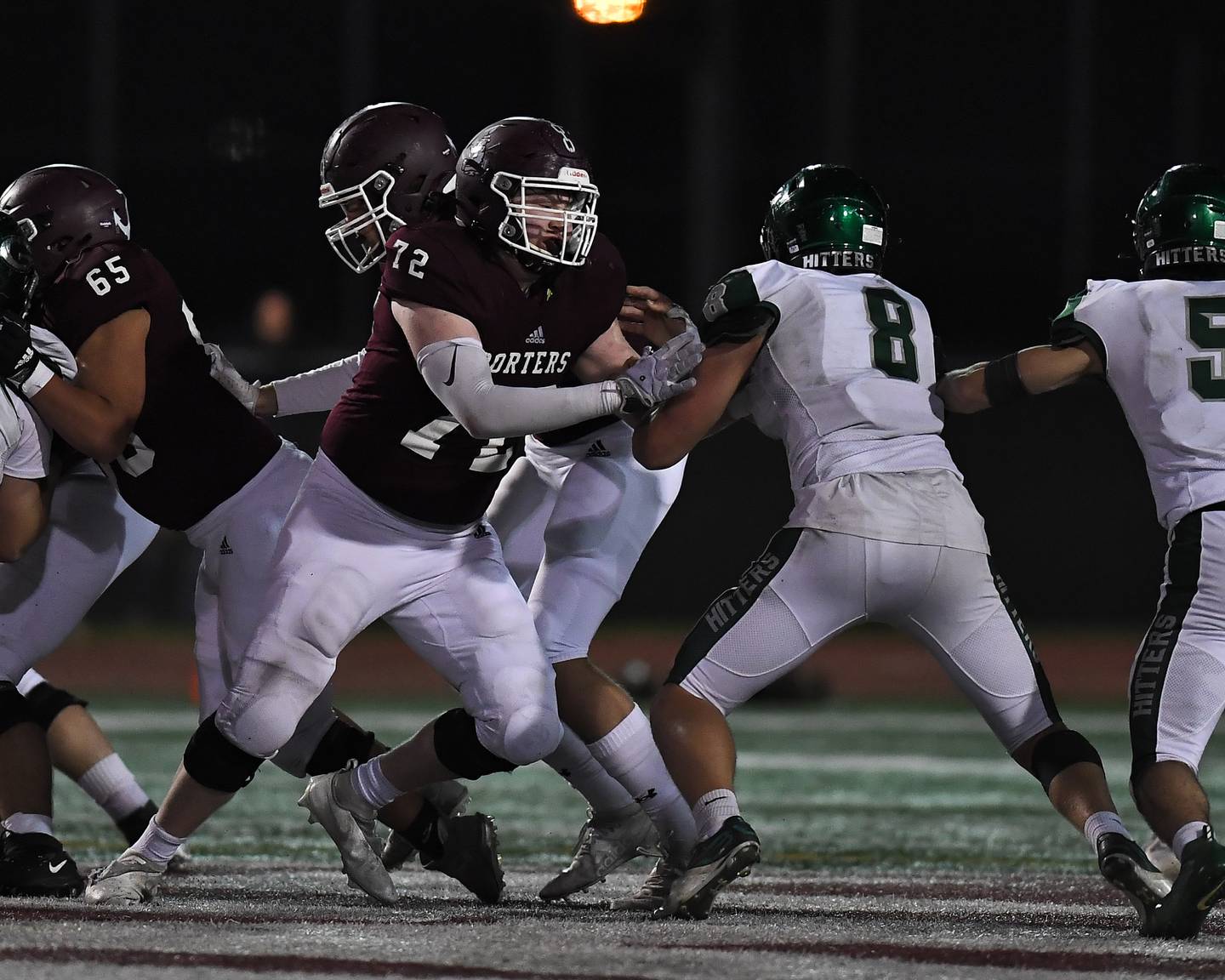 Lockport (10-1) at Glenbard North (8-3)
When: 1 p.m. Saturday
Last matchup: First meeting
About the Porters: Lockport's defense continues to shine and likely turned the tide with a big first-half stop against Glenbard West in the second round, but the continued development of the offense has been hard to ignore as well. Quarterback Hayden Timosciek had three passing touchdowns for the Porters in the second-round win and it now looks like Lockport's offense has found a way to contribute to the overall cause. Lockport's defense has been good enough to provide a bedrock for the Porters to be competitive against almost anyone they are likely to run into into, but if the offense can give them some breathing room it will only make Lockport more difficult to get past.
About the Panthers: Don't let Glenbard North's three losses fool you. This is a really good football team. The Panthers lost two games back-to-back by one point in the middle of the season, and the three losses were by a total of only seven points. They easily could have had a much better mark entering the postseason. Glenbard North's defense has been spectacular in the postseason, and despite not receiving a lot of acclaim looks capable of making things difficult for a Lockport offensive attack that has surged as of late. Glenbard North held Vanderbilt bound RB Maurice Edwards to only 67 yards and Warren's lone touchdown in its narrow second-round win over the Blue Devils. Offensively, Glenbard North leans heavily on running back Sam Palmer.
FND pick: Lockport
Class 6A
East St. Louis (9-2) at Lemont (11-0)
When: 2:30 p.m. Saturday
Last matchup: First meeting
About Lemont: Lemont's strong half second-half effort pushed them past Springfield in the second round and showed how potentially explosive its offense can be. RB Albert Kunickis had another huge game, at one point scoring five consecutive touchdowns to allow Lemont to get separation. That offensive momentum will need to keep coming at an even faster rate if Lemont has a chance at continuing its season. But the biggest challenge falls on the defense, which until the Springfield game, hadn't been tested in a while. The defense eventually tightened in the second half and held Springfield down, but East St. Louis isn't likely going to give the Lemont defense an opportunity to settle in before getting to work.
About the Flyers: By record alone, East St. Louis doesn't look like the heavy favorite to win Class 6A that it is. But you have to remember that those two losses came against teams ranked in the Top 5 of most national polls. The Flyers have been nothing short of amazing when grappling with Illinois teams this season, and have outscored the in-state opposition 418-2. In two playoff wins, East St. Louis holds a 120-0 margin of victory over its opponents. Wide receiver Luther Burden, a Missouri commit, is the team's top weapon, having scoring four touchdowns in the win over Richards. But Burden is far from the only dangerous offensive weapon that the Flyers can turn to.
FND pick: East St. Louis
Class 4A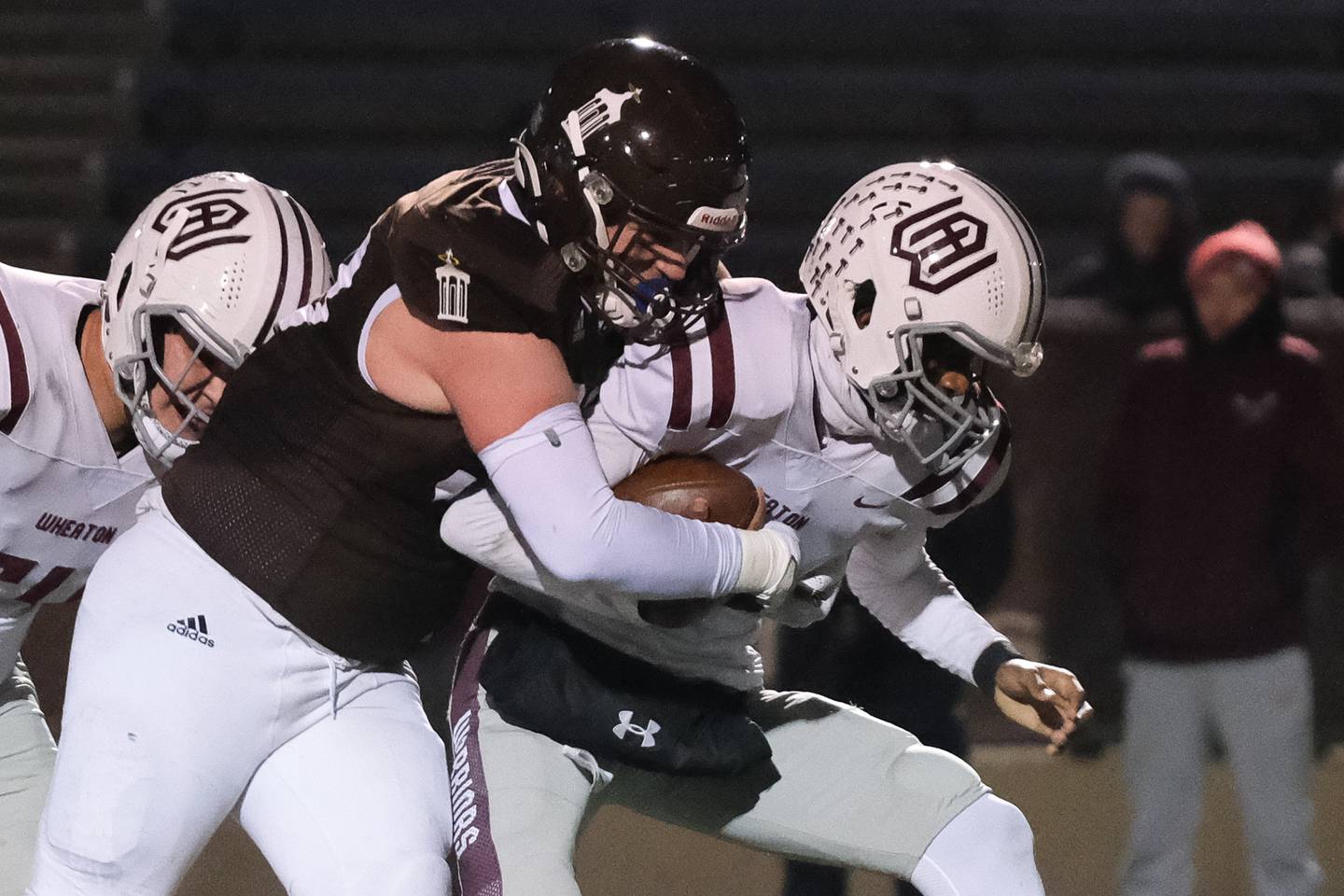 Genoa-Kingston (10-1) at Joliet Catholic (11-0)
When: 7 p.m. Saturday
Last matchup: First meeting
About the Cogs: The first thing that stands out about Genoa-Kingston is the incredible defensive effort it has put forth. The Cogs have had five shutouts this season and only allowed two opponents more than one touchdown. The G-K defense has allowed only 52 points all season. The defense was in great form, shutting down anything Wheaton St. Francis tried to do in the second-round win and limiting them to a field goal well after the outcome was in hand. They also forced five turnovers, which is a skill that should continue come in handy for the Cogs in their playoff run.
About the Hilltoppers: Joliet Catholic's offense is running like a well-oiled machine and is very close to having a pair of 1,000-yard rushers in Vinny Iannantone and Jordan Anderson. Iannantone is well past the barrier, while injuries have limited Anderson's workload a bit as he's averaging more than 10 yards a carry and has scored 22 touchdowns in limited work. JCA's rushing attack has scored 53 touchdowns this season. Often overshadowed by the offense is the impressive work done by the defense. The defense doesn't rely on one or two individuals to lead the way and has done a nice job filling the void left with defensive end Robby Purchase's season-ending injury. Linebackers Jeremy Johnson and Dillon Johnson have combined for 16 sacks, leading the way for a defense that has 31 sacks on the year.
FND pick: Joliet Catholic
Class 3A
Reed-Custer (10-1) at Byron (11-0)
When: 2 p.m. Saturday
Last matchup: First meeting
About the Comets: Reed-Custer continues to buck previous trends and now has advanced to the quarterfinal round for the first time in school history. In order for the Comets to keep this postseason run going, they likely will need to play their best game of the season. Reed-Custer might be primed to do just that if the weather cooperates, as its varied offensive attack led by RB Elliot Cassem and QB Jake McPherson is capable of moving the football in a variety of ways. And while Reed-Custer doesn't have massive size in the trenches, the Comets do have something that might be even more important, a feistiness and an aggressive nature that helps offset whatever size disadvantage they may face.
About the Tigers: Byron is doing what they tend to do this time of year, dominating opponents with its ground-focused offense. RB Chandler Binkley leads the rushing attack, but this season the Tigers can throw effectively if they need to as well. Byron's offense has posted huge numbers in about every game this season, except for a 7-3 victory over Genoa-Kingston, a team still alive in the Class 4A bracket. Byron's playoff pedigree is hard to argue with, and the Tigers infrequently struggle to take over games when protecting their home turf as they are here.
FND pick: Byron
Class 2A
Bishop McNamara (7-4) at Wilmington (11-0)
When: 5 p.m. Saturday
Last matchup: First meeting
About the Fightin' Irish: Bishop McNamara's last postseason run with veteran coach Rich Zinanni, who has been the head coach of the program since 1975, almost came to an abrupt end in Round 2. The Fightin' Irish had a number of what appeared to be costly turnovers in their matchup against Erie only to get a number of big plays before the half that carried them to a win. Sophomore RB Tony Phillips is an explosive runner already garnering Division I interest, and he ran for 215 yards and three scores in the win over Erie. RB/DE Jadon Wright is also capable of making big plays.
About the Wildcats: It's been business as usual for Wilmington in the first two rounds of the playoffs in wins over Julian and Sterling Newman Central Catholic. The win over Newman Central Catholic wasn't that surprising, but the ease of it was. Wilmington put the running clock in motion to start the second half. Wilmington ran for 480 yards in the game and a 12 yards a carry average. It was yet another game where Wilmington didn't even have a reason to attempt to throw the football. Wilmington will continue running the ball with authority until someone stops them. If anyone actually can.
FND pick: Wilmington