POLO – In a rematch of opponents from the 2019 state championship game in 8-man football, it was Polo surviving adversity around every corner to defeat Milford-Cissna Park 62-52 in their second-round playoff game Saturday afternoon.
"It was an emotional game with wild swings," said an exhausted Marco coach Ted Alston, who looked like he had just gotten off a 3-hour roller coaster ride.
How wild of an afternoon was it?
In the first half, M-CP scored four straight times on their first play from scrimmage in a series, on runs of 57, 64 and 51 yards by Angel Salinas and 53 yards by quarterback Sawyer Laffoon.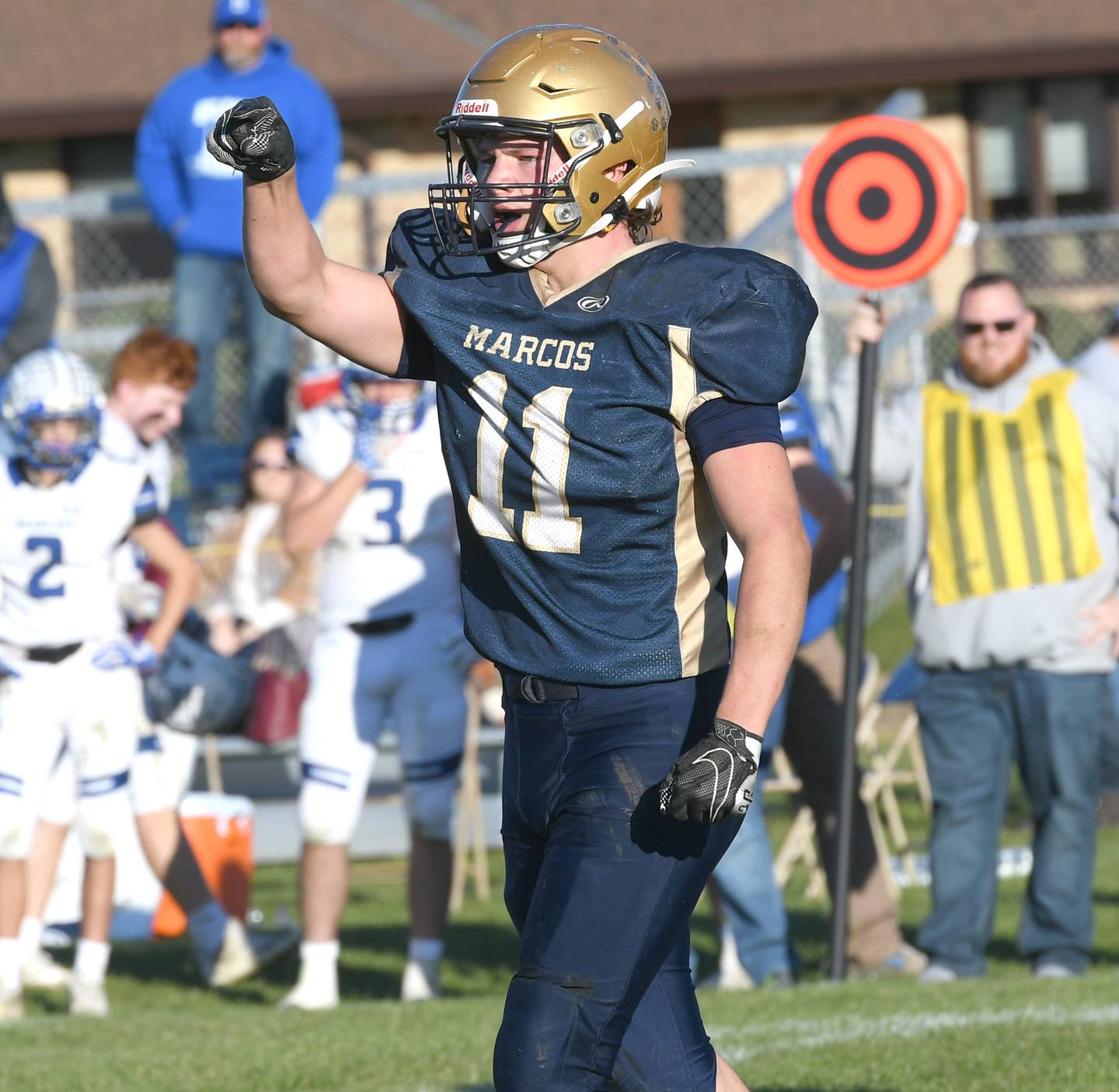 "They slapped us in the mouth. It was strange situation to be in," Polo's Wyatt Queckboerner said.
One of those scores came after the Bearcats recovered an onside to take a 20-8 lead, stunning and silencing the large crowd of Polo fans.
"We were shocked," Alston said. "A lot of teams would have folded. Credit to our kids for not doing that."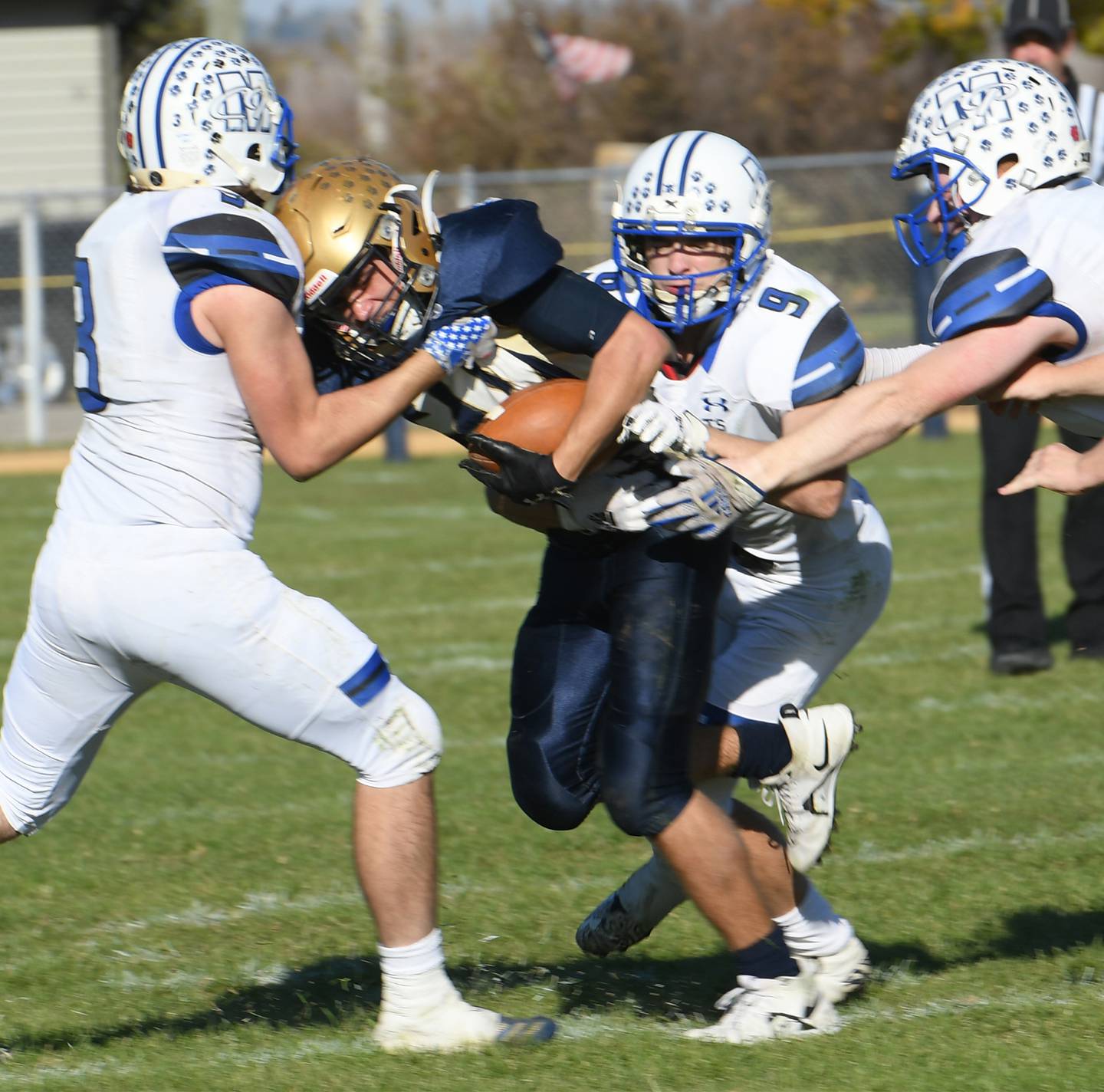 Behind the running of Brock Soltow (134 yards) and Avery Grenoble (189 yards), the Marcos clawed their way back. Grenoble started the rally with a spin move on a would-be tackler for an 18-yard score. Soltow tacked on two more scores to cut the deficit to 26-24, though M-CP would then increase it to 32-24.
Late in the second quarter, Grenoble tied the game for Polo with a 31-yard touchdown, following lineman Blake Diehl, who took out two Bearcats with one vicious block.
A key for Polo was making extra points, as they had four first-half TDs to five for M-CP, but were knotted at 32-32. In all they made their first seven PATs, outscoring M-CP 14-4 in that category, which ended up being the final margin.
"That kept us in the game," said Alston, whose team had three fewer possessions than their opponent.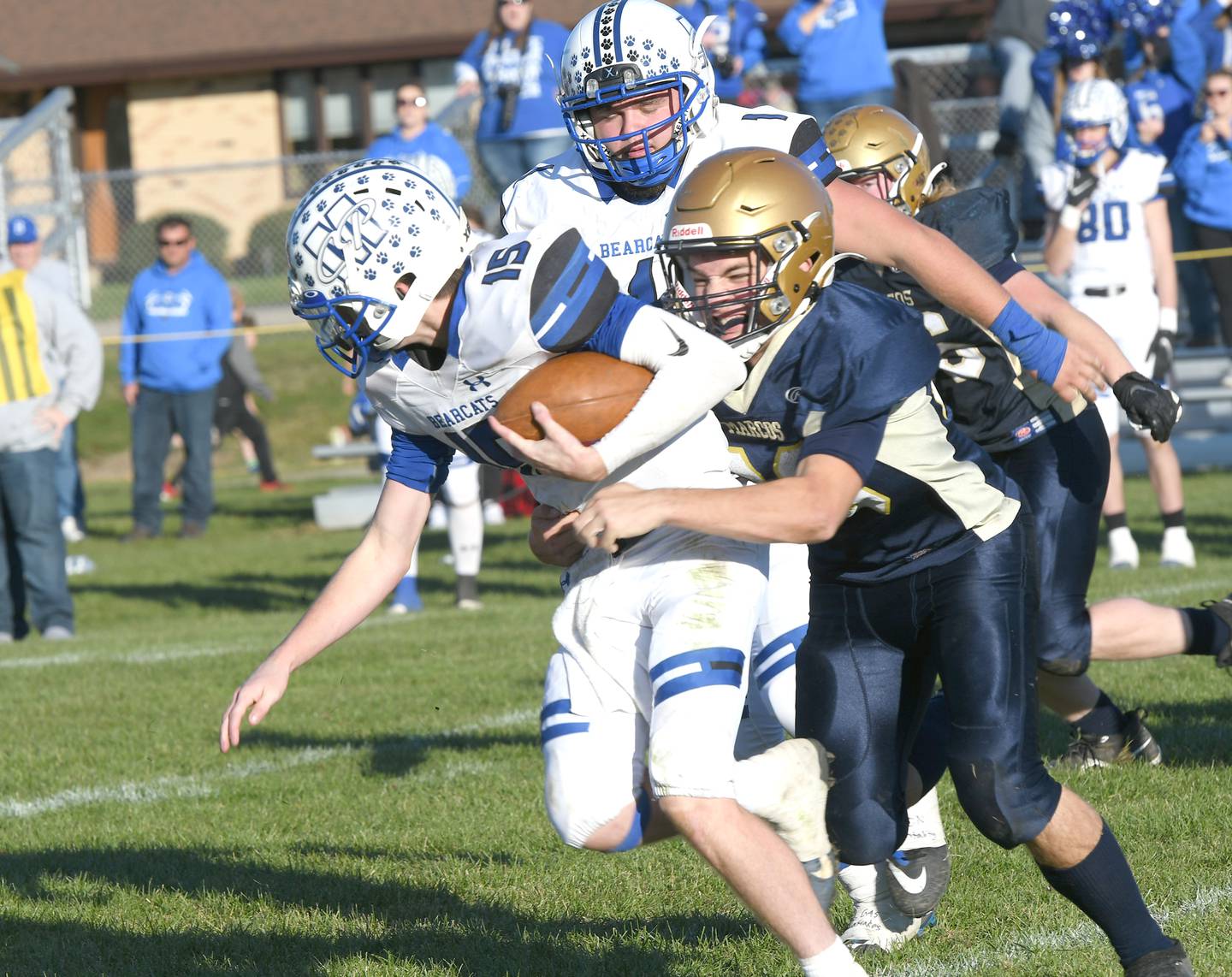 Coming out in the second half with momentum and receiving the kickoff, Polo failed to cover the onside kick for the second time. Three plays later, the Bearcats were in the end zone. Salinas, who torched Polo for 257 yards, went 34 yards to make it 38-32.
"We worked on onside kicks all week," Alston said. "They just did a good job of executing them."
Polo finally took its first lead of the game (40-38) on the ensuing possession with an 11-play, 60-yard drive. It was Grenoble following the frame of 250-pound converted lineman/fullback Daniel Engel on every carry, culminating with a fourth-down score.
"He did a great job at fullback, but it starts with the offensive line," said QB Tyler Merdian, who was masterful in directing the offense.
That line of Kahlil Sankey, Cooper Blake, Waylon Harris, Queckboerner and Diehl dominated the Bearcat defense from start to finish, as the Marcos scored eight of the nine times they had the ball. The only time they didn't was when they went to the passing game just before the half.
"I don't know if I have ever been as proud of an offensive line as I was today. And the backs ran hard after contact," Alston said.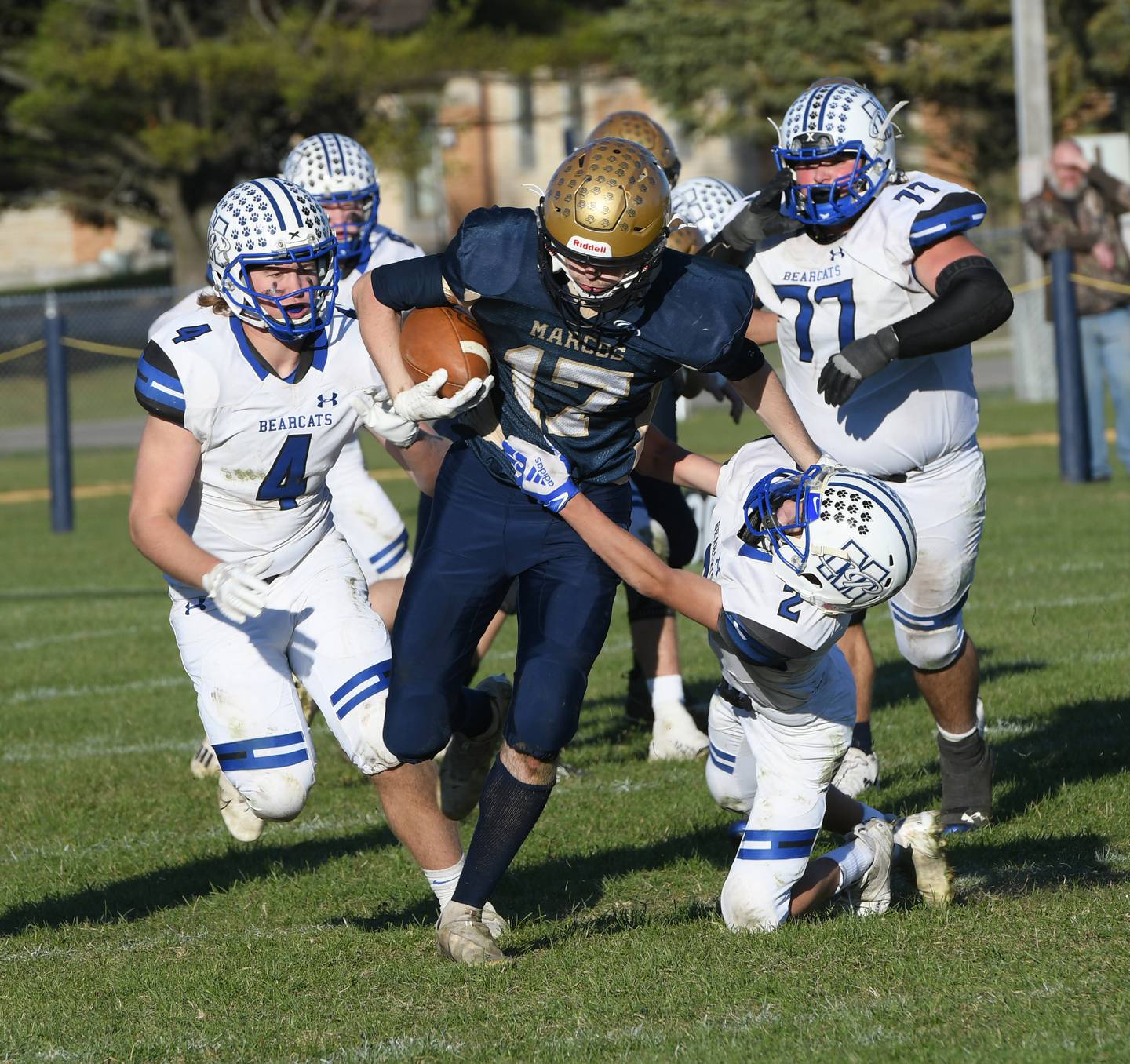 M-CP took the lead back 44-40 on an unusually long 14-play, 87-yard drive. On fourth-and-8, Laffoon found Salinas at the pylon for a 31-yard touchdown.
"There was no fear in our kids," M-CP coach Clint Schwartz said. "They didn't care that Polo was 10-0 and seeded No. 1. Anyone that thinks 8-man is inferior to 11-man needed to see this game. It was great football."
The Marcos came right back, with Soltow rambling 46 yards for a touchdown on Polo's longest gain of the day. Merdian escaped a tackle by two defenders and passed to Sankey for the pair's second PAT connection, and the Marcos led 48-44.
Queckboerner and Cayden Webster then came up with back-to-back TFLs and an M-CP fourth-down pass was incomplete, giving Polo the ball at the visitor's 21-yard line midway through the fourth quarter. Soltow added his fifth score for a two-possession lead at 56-44.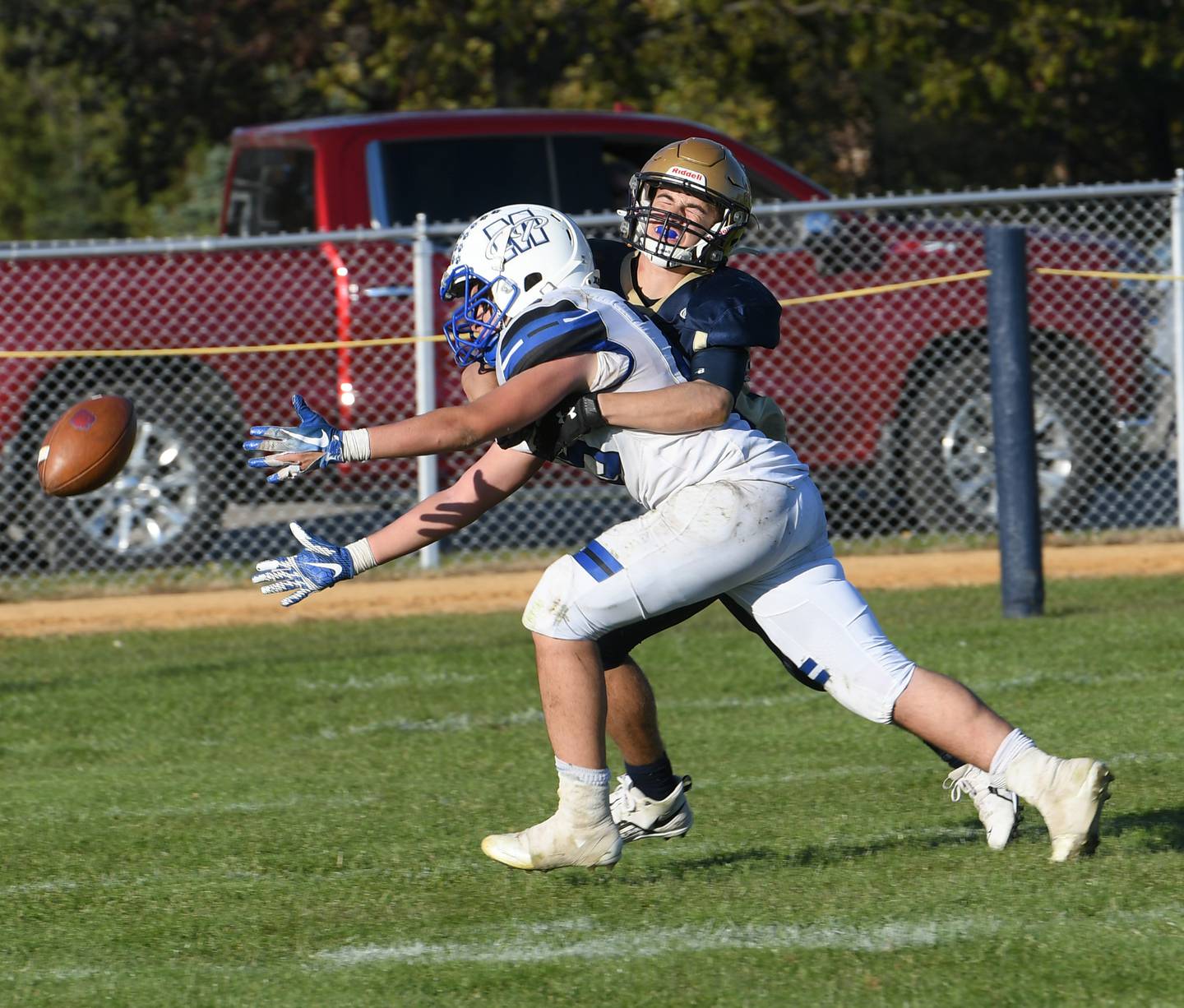 The Bearcats weren't done though.
With four minutes left, M-CP pulled within 56-52 and attempted another onside kick, only to see the sure-handed Webster return it to the 35-yard line.
Helped by a late-hit penalty, one of 12 flags for 94 yards on M-CP, Polo soon found itself inside the 2-yard line. That's when the strangest play of the game occurred.
Merdian took the snap and realized the defense was purposely backing away from him. Meanwhile, the Polo coaches told him not to score, so there was a brief standoff with neither team making a move. Finally, Merdian fell down at the 1-yard line after letting a few seconds run off the clock.
He did tack on a score with 40 seconds left on a fourth-down play to make it 62-52.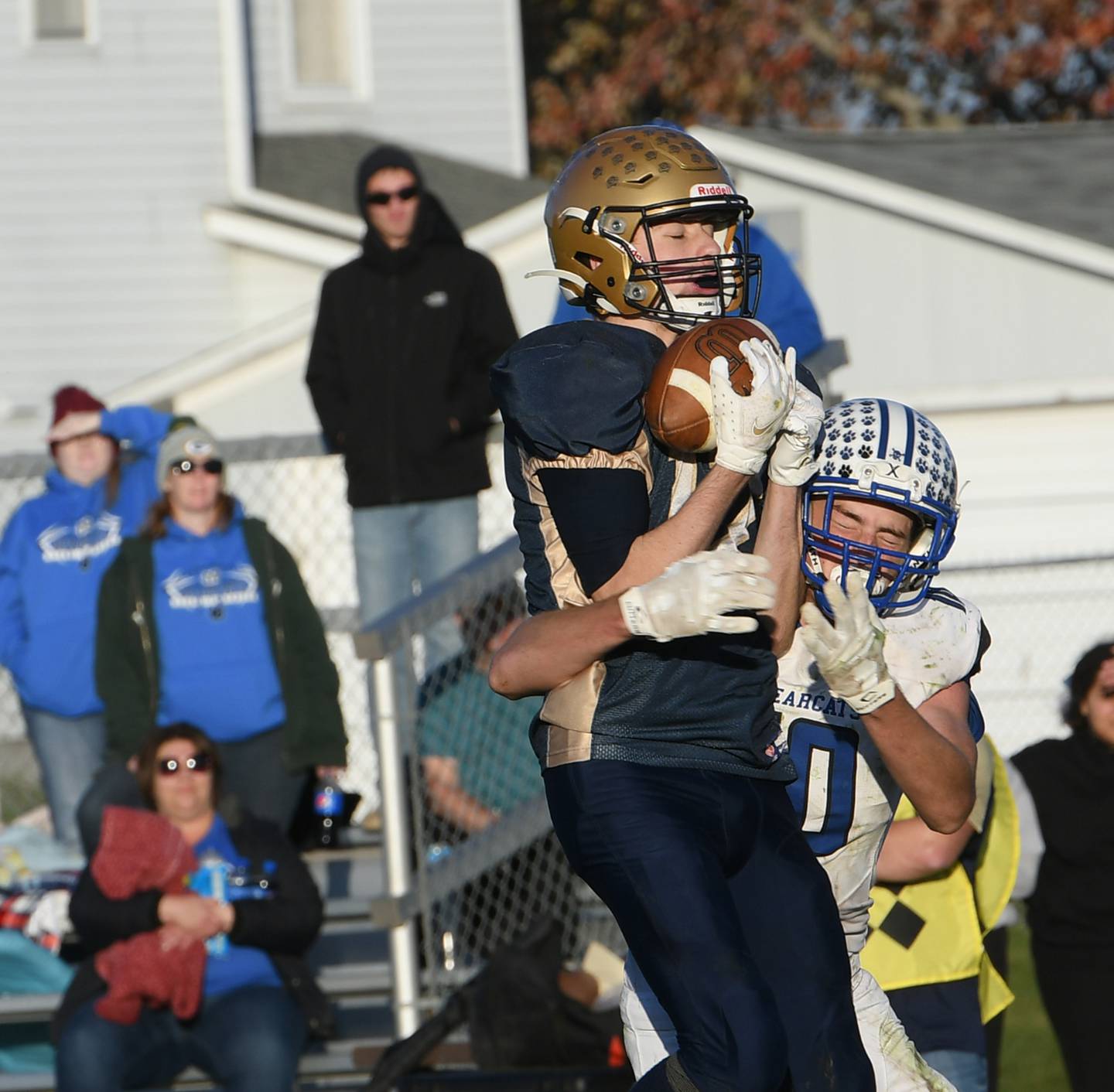 Soltow closed out the game with an interception, making up for intentionally dropping one earlier thinking it was fourth down instead of third.
"When we got behind, nothing changed," Merdian said. "We just kept on fighting."
Polo (11-0) will travel to Biggsville next week to take on West Central (9-2), with the winner advancing to Monmouth College for the 8-man state championship game on Friday, Nov. 19.