OTTAWA – The Fulton Steamers didn't actually have 12 men on the field for their Class 1A second-round playoff game with Marquette. It only seemed like it.
Spurred to emotion by the recent passing of player parent, statistician and program benefactor Larry Jones, the Steamers came out of the gate on fire, exploding for 20 points in the first quarter and rolling to a 55-14 running-clock victory over the Crusaders on Saturday afternoon at Gould Stadium.
Jacob Jones, the Fulton senior whose father passed away suddenly Thursday, led the inspired effort with 12 carries for 84 yards and two touchdowns, plus a remarkable 27-yard receiving score in that opening period.
He also chipped in a fumble recovery for a Steamers defense that intercepted quarterback Alex Graham three times and held MA to just 137 total yards on the day, a figure that's just over a third of the 406.1 yards the Cru have averaged on offense the first 10 games this season.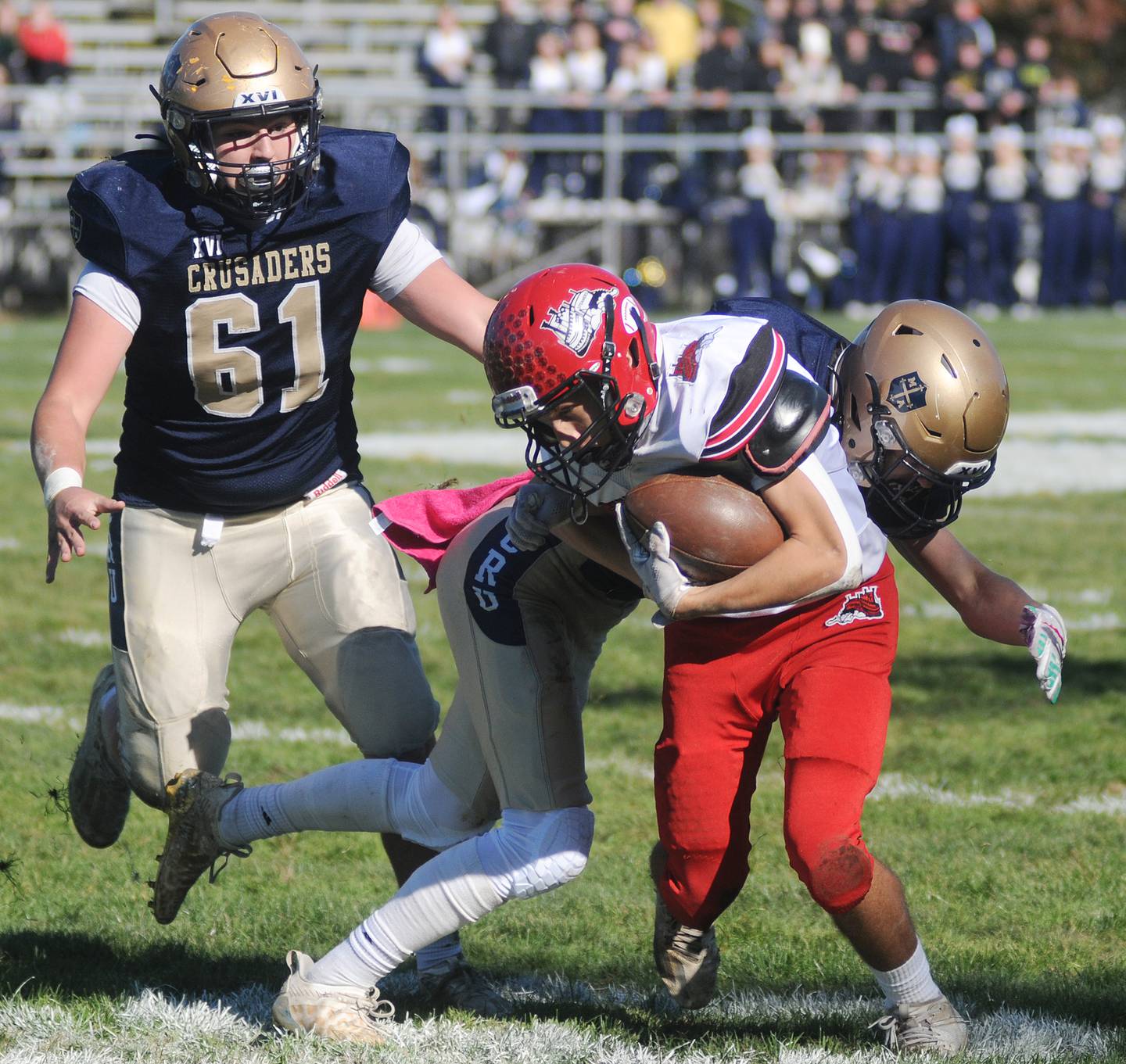 "The emotion played a big role today," Fulton coach Patrick Lower said. "Jake is an emotional kid, and he had a great relationship with his father, and his father had a great relationship with everybody on this team and our community. Everyone was touched by Larry Jones at some point, and for Jake to have the kind of game he did today, it's poetic justice. He fought through some real-life adversity, and I was proud of the way our kids handled their off-the-field business the last three days and on the field today."
Those efforts, which send No. 7 seed Fulton (9-2) into a quarterfinal matchup with fellow Northwest Upstate Illini Conference member No. 6 seed Lena-Winslow – a 38-8 winner over No. 3 seed Forreston – were were key in No. 2 seed Marquette's ending up 9-2 and on the short end of a running clock for the first time since Oct. 7, 2011, when it fell to Riverdale 45-0 in a Big Rivers Conference game.
"They're a very good team, and you can't give a good team an inch. They got after us, and that's all she wrote. It happens to the best of us," said Marquette coach Tom Jobst. "We knew they'd come out strong with everything going on with their program, but we thought if we could just hang with them – the second quarter was good – but they came out and took charge and just didn't let up. We couldn't do anything.
"I'm proud of our kids. We're young and they've worked hard to get here. In my opinion, [Fulton] is in the top three in the state. I'm sorry to all the others. I don't want to hurt their feelings, but I feel one of the other three teams in this half of the bracket will win it all."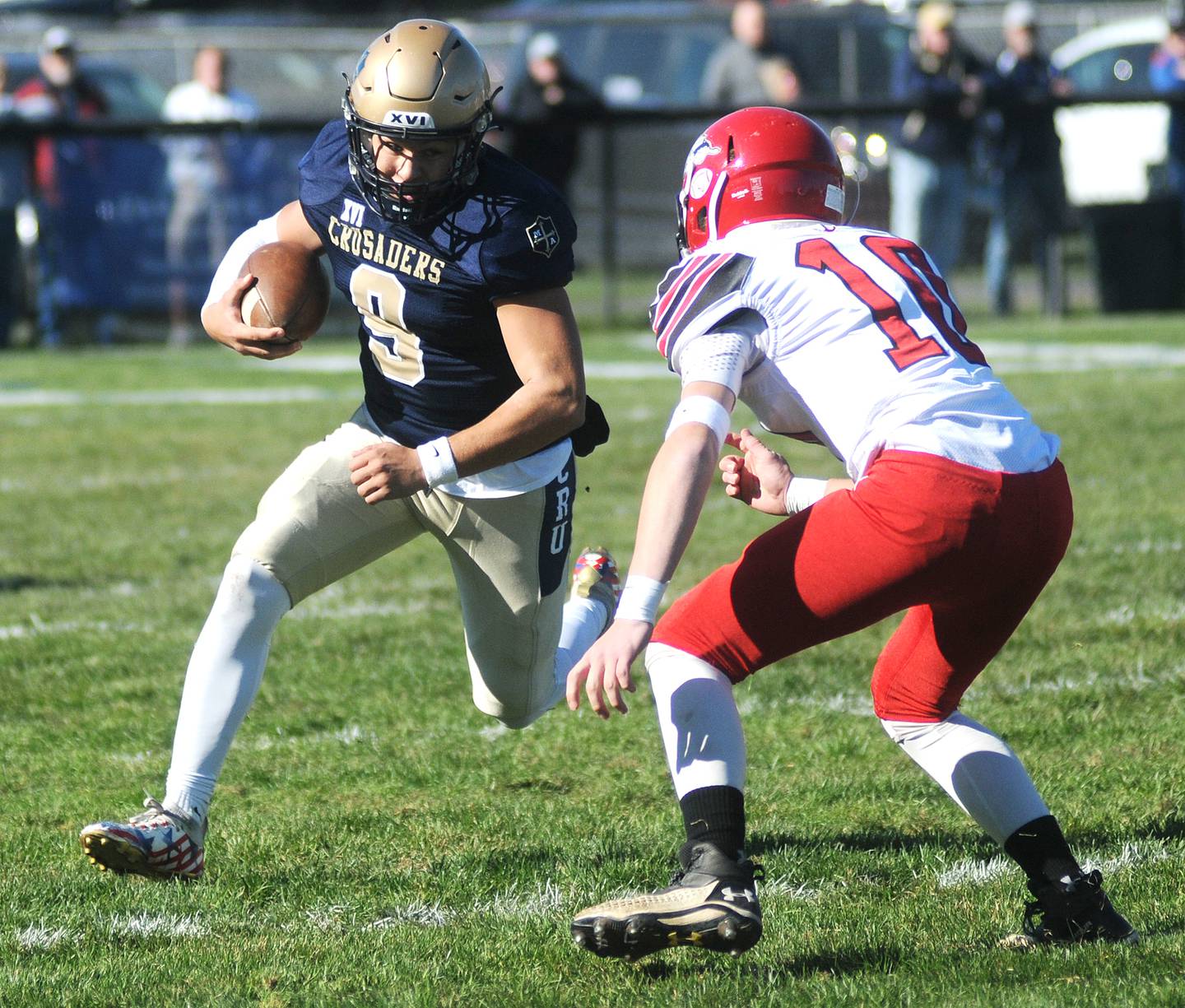 The first series for each club set the tone for the entire game. After the opening kickoff, Fulton went 54 yards to the game's first score, a 28-yard run up the left sideline by fullback Keegan VanKampen.
Then on MA's first series, the Crusaders' Graham was picked off by Brock Mason – one of Mason's two interceptions in the game – to set up Jones' miraculous reception.
After taking Patrick Lower's 10-yard pass in the right flat, Jones was held up by one MA defender as three more closed in. Somehow, he managed to break free from all of them and scamper 25 yards to paydirt.
Next, a short Marquette punt put the Steamers back in business at the Cru 37, and four plays later, Lower hit Mason with a 25-yard score and, with the second PAT kick from Endi Qunaj, it was a shocking 20-0 Fulton lead.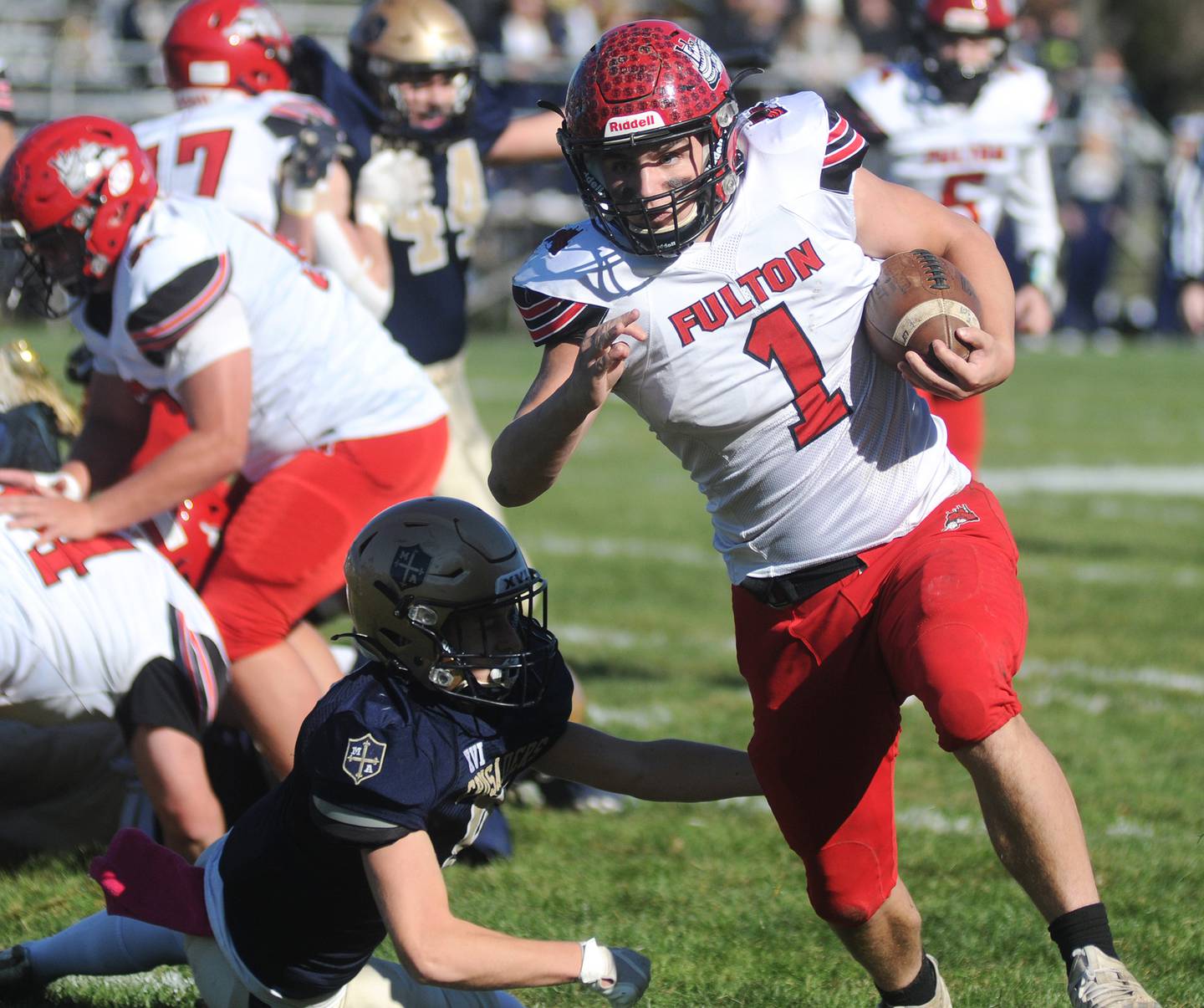 Lower hit Mason with a 27-yard TD pass in the second quarter before the Crusaders woke up. Between forcing two Fulton punts, Marquette got on the board with a Graham rollout pass that Jurnee Reed turned into a 48-yard touchdown that, with Sam Mitre's kick, made it 27-7 at the half.
But in the third quarter, it was again all Steamers. Touchdown runs of 2 and 12 yards by Jones and a 5-yard scoring burst from VanKampen created the running clock with 4:18 showing. Adding insult to injury, two plays later was a 9-yard interception return to the end zone by defensive lineman Robert Sheckler, making it 55-7.
Fulton, led by VanKampen's 101 yards on 15 carries and Lower's 6-for-9 passing for 118 yards, finished with 344 yards for the afternoon.
The Crusaders got on the board one last time in the fourth period on a 15-yard TD run by Tom Durdan, which accounted for over half of the team-best 27 yards the Cru's 1,200-yard rusher had on the day. Graham, who had thrown for over 1,200 yards and 16 touchdowns with only two interceptions coming into the game, finished 5-for-14 for 74 yards, most of it on the TD pass to Reed.
"We were very concerned with [Durdan]. On tape, he's unbelievable, but we were able to contain him," said coach Lower, the quarterback's father.