COLFAX - To open both the first half and the second, the St. Bede Bruins dominated the first five minutes or so of game clock, resulting in taking leads over the host Ridgeview-Lexington Mustangs.
And in both those halves, things tilted decidedly the Mustangs' way from there on out.
Ridgeview-Lexington barely made the playoffs after a 5-4 regular season in the brutal Heart of Illinois Conference, but now they've made Class 1A's Elite Eight after recording a surprisingly decisive, 47-20 victory Saturday afternoon over the visiting Bedans.
The Mustangs (7-4) head on to the quarterfinals, where they will host top-seeded Abingdon-Avon (10-1).
St. Bede (8-3) sees its season come to a close despite leading 6-0 after the game's opening drive and 20-19 after following up a late second-quarter touchdown with another score on its first possession of the second half.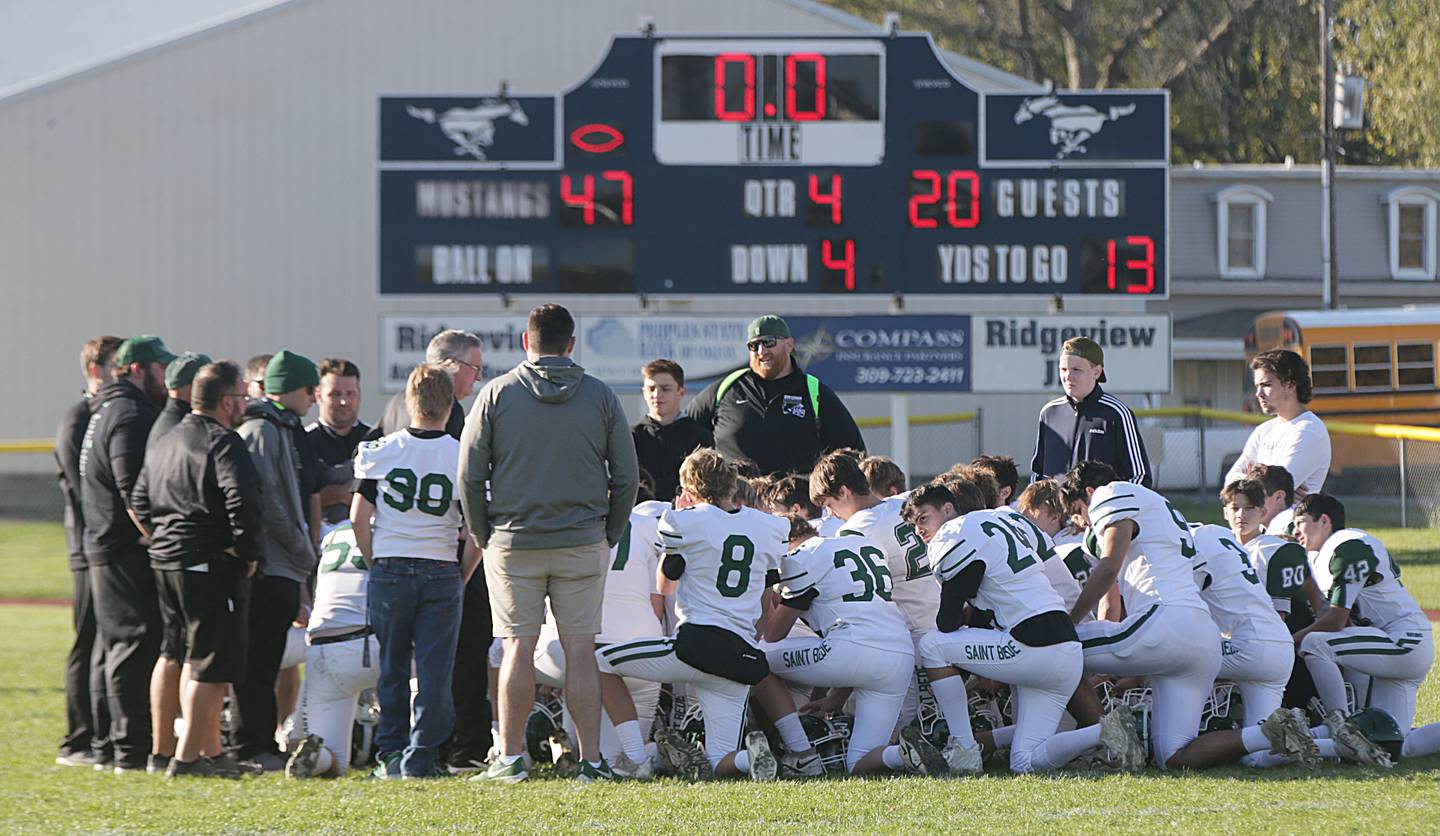 "(Ridgeview-Lexington is) big, and they're physical," St. Bede coach Jim Eustice said. "Usually we're the better second-half team. We have been all year, but it just didn't happen today, and when they got the lead, we just started making some mistakes ... and they just sort of wore us down. ...
"It sucks right now, but our guys are going to look back on this forever, when they come back for homecoming games and whatnot. It's a special group. I'm going to miss them."
Despite the successful starts to halves — the game-starting, 70-yard touchdown drive that ended with senior RB Luke Story standing in the end zone after a 1-yard plunge and a 62-yard series which culminated in QB John Brady's second rushing touchdown of the day, this one from 12 yards out on fourth-and-4 — the Bedans were outgained 377-280 in yards from scrimmage, 304 of those 377 coming on the ground.
A big part of that was Ridgeview-Lexington's physical bellcow running back, Kaden Farrell, who carried the ball 36 times for 184 yards and three touchdowns. He also added a touchdown on what may have been the tipping point of the ballgame, a 48-yard wheel-route reception and sprint up the north sideline into the end zone from quarterback Carter Coffman (2-for-3, 63 yards, two TDs passing; one rushing TD) that turned St. Bede's 20-19 advantage into a 26-20 deficit midway through the third quarter.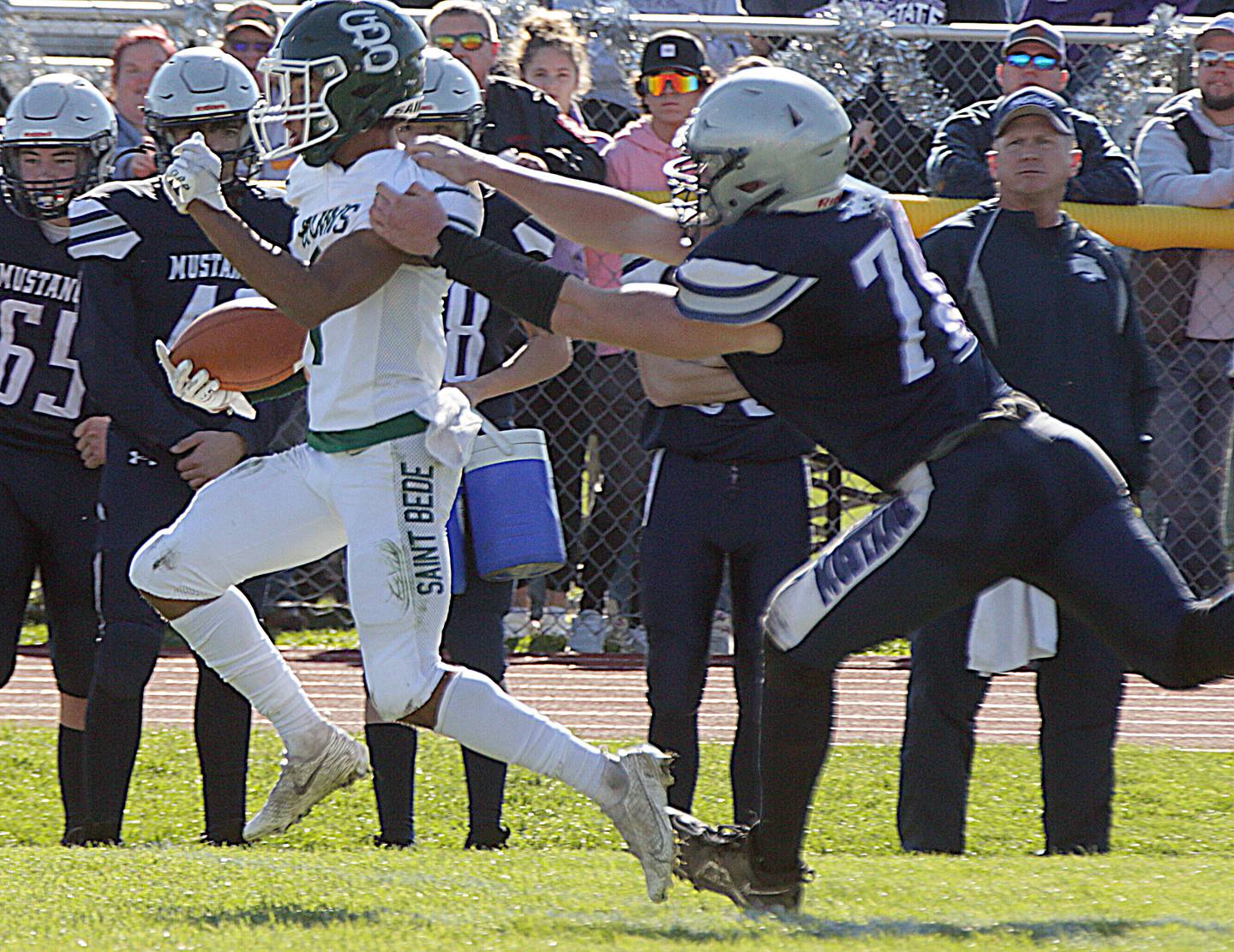 St. Bede's remaining four possessions ended in two interceptions, a turnover on downs and a lost fumble while he Mustangs kept galloping into the end zone.
"I say this, and I know every team wants to get better every week, but we keep getting better every week," Mustangs coach Hal Chiodo said. "(St. Bede) is a great team we just played ... and we took it to them. I'm just really pleased with our effort."
Brady (11-of-22 for 176 yards and three INTs passing; 67 yards and two TDs rushing), Tyreke Fortney (four receptions for 26 yards; 35 yards rushing), Anton Cain (four catches for 135 yards) and Story (20 yards from scrimmage including the game's first touchdown) led the St. Bede attack.
"We had a lot of confidence coming in," Story said of the Bruins' quick start that included his 1-yard touchdown run, "and we played really hard and executed well."
As play continued, though, the Bruins were repeatedly frustrated by both penalties (10 for 92 yards) and a Mustangs defense/special teams unit led by Evan Antonio (quarterback sack, tackle for loss, 21-yard fake punt run to set up the hosts' first score), Cody Sutter (tackle for a safety on an errant St. Bede punt snap) and Connor Feit (four TFLs, interception).
Ben Burke and Ben Koyak recorded tackles for loss for the St. Bede defense, with Anton Cain notching a QB sack. It wasn't enough, however, to prevent Ridgeview-Lexington from scoring on seven of its 10 non-half-ending possessions, closing the careers of St. Bede's dozen seniors who went a combined 13-4 in 2021′s unusual two football seasons.
"We're very, very, very proud of that," senior captain Jayve Ladzinski said. "Ever since the new weight room got put in, we've been working our butts off, lifting, and becoming a brotherhood.
"This sucks, man. We kept on fighting, came out the second half and thought we could get them. It just wasn't good enough."