Class 8A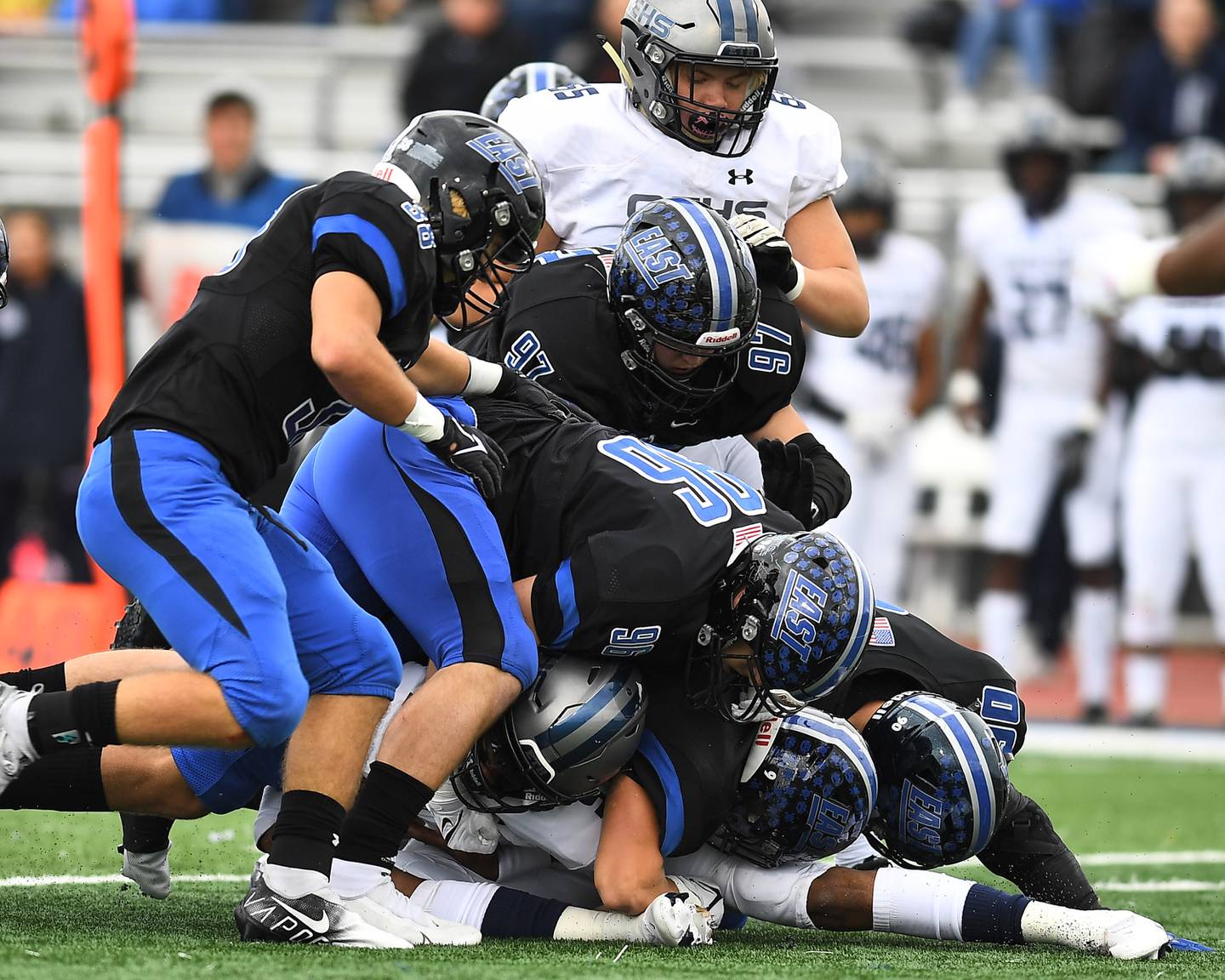 Lincoln-Way East (8-2) at Minooka (6-4)
When: 6 p.m. Saturday
Last matchup: First meeting
About the Griffins: This is one of the least experienced Lincoln-Way East teams in quite some time, but they approached their playoff opener like savvy veterans. Combining staunch defense with the power running of RB Trey Johnson, and despite only possessing a comfortable cushion late in the game, Lincoln-Way East played like a team that had been there and done it before. As the postseason goes on, the Griffins may have to expand the expectations on quarterback Chase Arthur who took over for Brennan Stolarek when he suffered a broken ankle in the regular season game against Lockport.
About the Indians: Minooka is looking to make another run as a lower seed after topping No. 8 seed York in Round 1. In 2017, Minooka made a run into the quarterfinals as a No. 15 seed. Minooka has developed an impressive utility player in Trevor Hudak, who in that win over York scored a rushing touchdown, kicked a field goal and had two interceptions on defense. Minooka likely will need several standout performances in order to slay one of the postseason giants in Class 8A.
Friday Night Drive pick: Lincoln-Way East
Glenbard West (8-2) at Lockport (9-1)
When: 6:30 p.m. Saturday
Last matchup: First meeting
About the Hilltoppers: There have been some relative rarities for Glenbard West this season, including two losses in West Suburban Silver Conference play. But one thing hasn't changed for the Hilltoppers, a stellar defense still resides in Glen Ellyn. The "Hitters" have allowed six points or fewer in half of their games this season and have allowed only 81 points all season. Glenbard West's offense may have taken a hit, as 1,000-yard rusher Joey Pope left the Round 1 playoff win over Oswego early with an injury and did not return. RB Jason Thomas did well in his sted scoring three rushing touchdowns.
About the Porters: Lockport has leaned on its excellent defense for the majority of the season, but the offense appears ready to start contributing to the overall equation based on some current developments. RB Ty Schultz had his biggest effort of the season in the opening round playoff win over Lyons, amassing 200-plus rushing yards. QB Hayden Timosciek had about 200 passing yards as Lockport posted about 500 total yards of offense. If that production even remotely holds when coupled with the Lockport defense, the Porters are going to be a difficult team to dispatch from the postseason.
FND pick: Lockport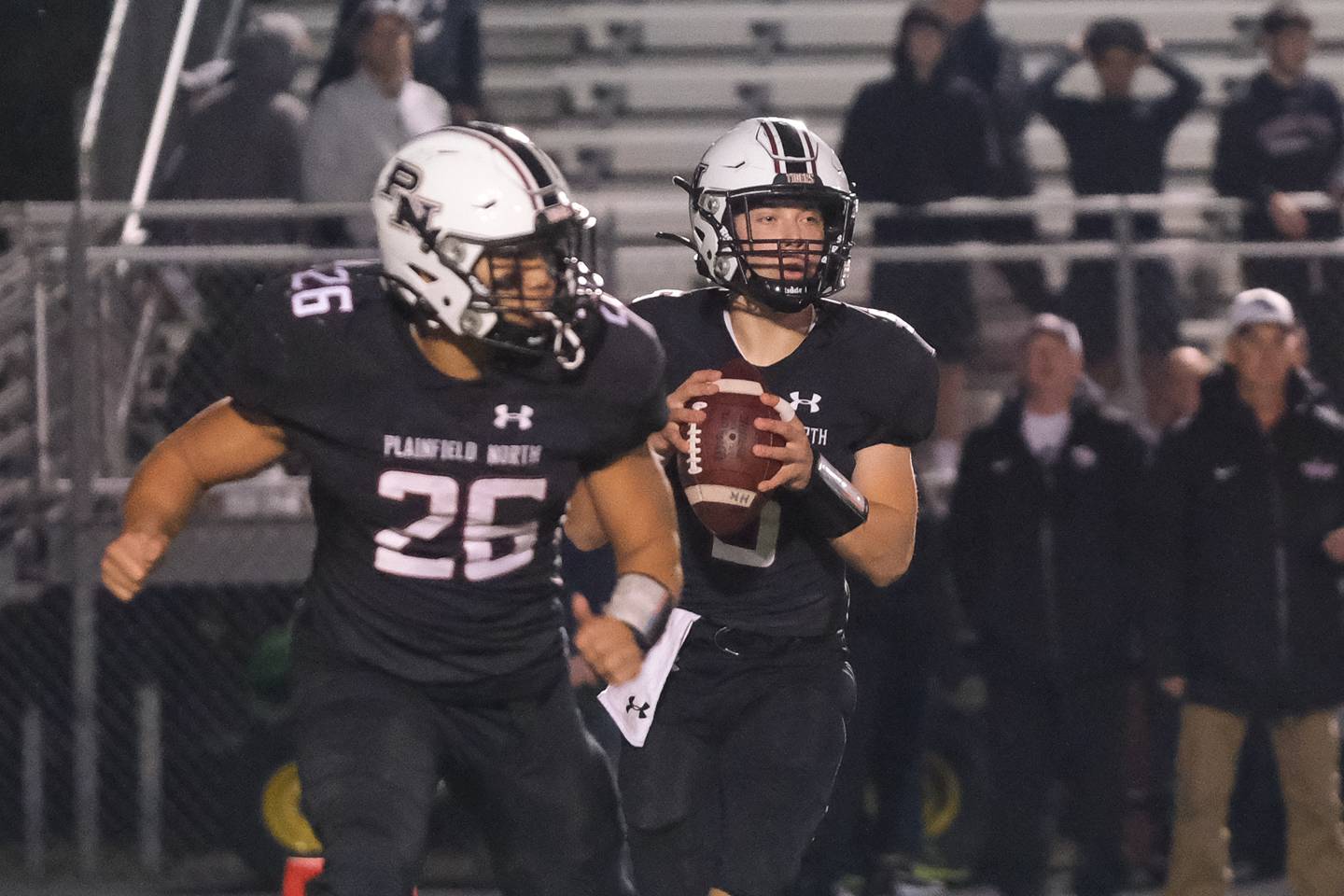 Plainfield North (8-2) at Maine South (9-1)
When: TBD
Last matchup: Maine South 35, Plainfield North 20 (2015)
About the Tigers: Opponents may have a pretty good idea of what Plainfield North wants to do in games, and they might even feel like they have a good handle on it. But the Tigers wear on you on both sides of the football, and when they need a play, particularly on defense, they seem to have a way of getting it done. The Tigers' offensive attack is about as lunch bucket as it gets with Plainfield North running the ball as much as possible to control tempo and wear on the opposition's will. But if you key too much on the Plainfield North ground game QB Harrison Klein can and will throw the football, and with so much attention usually focused on Plainfield North's running attack, the lanes are usually there for him to throw.
About the Hawks: Maine South is about as good as any team at flipping the switch and getting into playoff mode. The Hawks pummeled New Trier, 51-7, in the first round leaning heavily on a huge performance from Mike Sajenko (270 rush yards, six touchdowns). That was only a week removed from a 49-42 win over New Trier, so consider adjustments made. Comparative results suggest these two teams might be on fairly equal footing. Maine South edged Evanston, 31-23, in Week 8, while Plainfield North had a 23-13 win in the first round of the playoffs.
FND pick: Maine South
Class 6A
Lemont (10-0) at Springfield (7-3)
When: 7:30 p.m. Friday
Last matchup: Lemont 52, Springfield 14 (2019)
About Lemont: Lemont certainly was OK with breezing into the second round of the playoffs after routing Kennedy. The game was over at the end of the first quarter, and it was yet another example of Lemont's ability to put an opponent away early. That's pretty much been the story of the entire second half of Lemont's season. They will have to be prepared this week though, particularly on defense. They should be up for the task and likely will provide opportunities for RB Albert Kunickis, who recently agreed to a preferred walk-on arrangement at Northwestern, to shoulder much of the offensive load.
About the Senators: Springfield was involved in the wildest game of the first round as it defeated Rock Island, 94-72. No, that's not a misprint. QB Rashad Rochelle, a Rutgers commit, had nine touchdowns for the Senators (6 passing, 3 rushing) and will lead Springfield. He must do it against a Lemont defense that has been very sturdy this season. While the 92-point outburst certainly isn't normal, the Senators want to take the tempo to an area opponents aren't typically comfortable at. Springfield has eclipsed the 50-point mark three other times this season.
FND pick: Lemont
Class 5A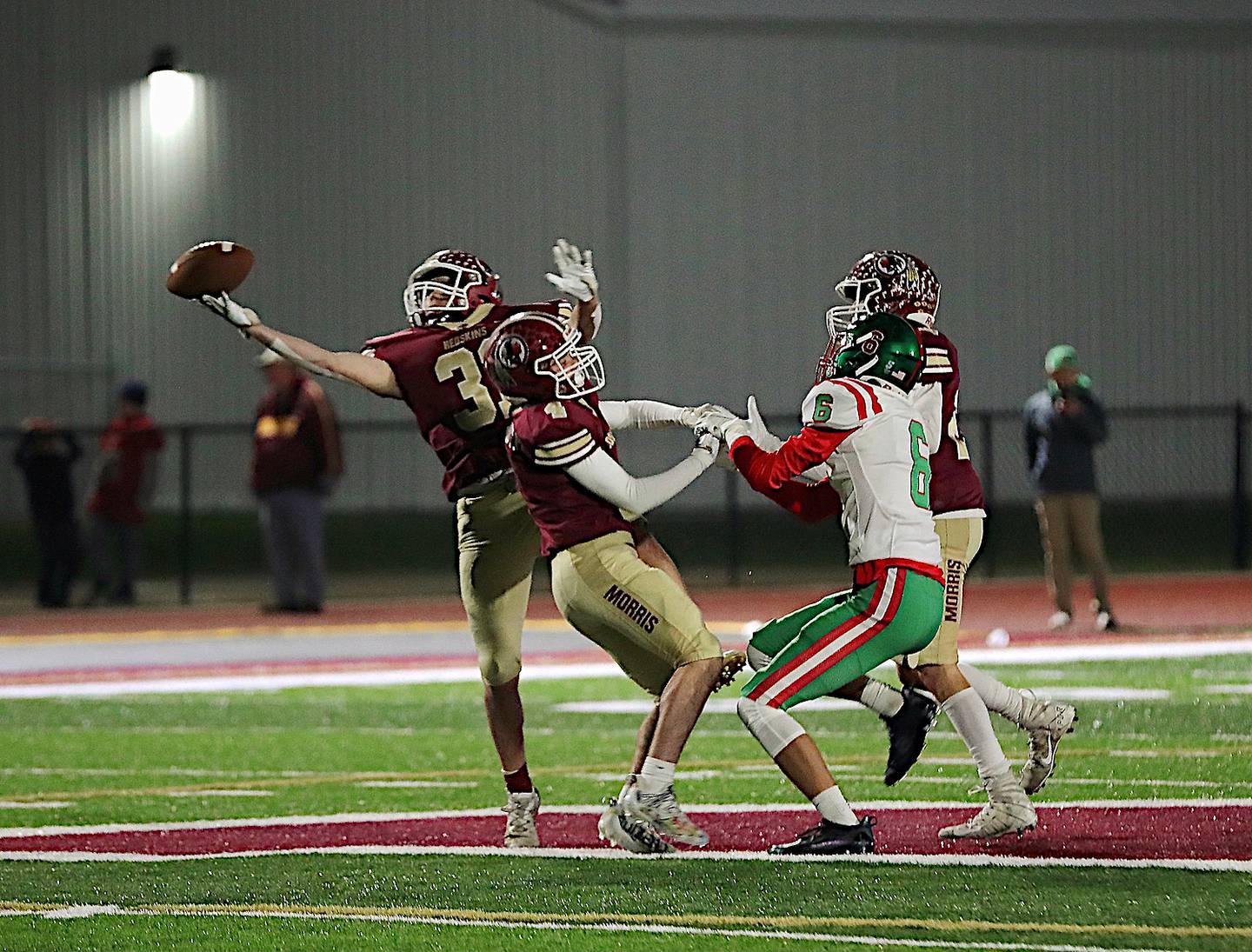 Morton (8-2) at Morris (10-0)
When: 1 p.m. Saturday
Last matchup: Morris 35, Morton 24 (2011)
About the Potters: Want to know the key to slowing down Morton? You stop Seth Glatz. But knowing it doesn't make it easier to stop him. Glatz has powered his way to 2,422 yards and 36 touchdowns rushing for the Potters this season. Morton's offense has appeared to really find its groove of late, surpassing 40 points in each of its past five games, including a 56-33 victory over Highland in Week 1.
About Morris: Morris has been making it look easy the past couple of weeks, dissecting opponents with ease, including last weekend's second dismantling of La Salle-Peru. The defense has been exceptional, and will get an interesting challenge this week from Morton's Glatz. While Morton might think it's to its advantage to get Morris trading scores, the Morris offense has been so proficient and so varied that it's probably not the best idea.
FND pick: Morris
Class 4A
Wheaton Academy (8-2) at Joliet Catholic (10-0)
When: 7 p.m. Friday
Last matchup: First meeting
About the Warriors: Wheaton Academy has had a pretty sound season coming out of the Metro Suburban Conference, but the Warriors likely will have to crank it up a few notches if they hope to have any chance of springing an upset. Wheaton passes rather effectively, which can give the Hilltoppers problems, but the offensive line will be giving up a lot of size. And that might make it difficult to give junior quarterback Belay Brummel enough time to be effective. Brummel did toss four touchdown passes in the first-round win over Coal City.
About the Hilltoppers: Joliet Catholic has shown it will be a problem for pretty much everyone in Class 4A, and are coming off an easy win over Marengo in the first round. The Hilltoppers have played teams from much larger classes and still match up well physically. Now, in a lower classification they have a size, strength and speed advantage against every team they will line up against the rest of the way. Joliet Catholic's running game has been almost impossible to stop, and it seems unlikely that anyone is going to suddenly figure it out.
FND pick: Joliet Catholic
Class 3A
Clark (9-1) at Reed-Custer (9-1)
When: 1 p.m. Saturday
Last matchup: First meeting
About the Eagles: Clark is a very interesting story out of the Chicago Public League that seemingly evolved into a quality team over night. Clark earned the school's first ever playoff win beating Elmwood-Brimfield in Round 1 after failing to win in five previous playoff appearances. Clark possesses an unusually large and physical offensive line and wants to control tempo and ball possession by running the ball. If healthy, RB Quadrell Hill is a dangerous game-breaking player for the Eagles.
About the Comets: Reed-Custer's high-octane offense was slowed a bit by the conditions in its first-round playoff win over Peotone. But the Comets showed they can do things effectively in other ways by going smash mouth and using a solid offensive line to open up holes for hard-running RB Elliot Cassem. The Comets likely will go back to a more varied attack, but it looks like they don't necessarily have too.
FND pick: Reed-Custer
Class 2A
Wilmington (10-0) at Sterling Newman (7-3)
When: 3 p.m. Saturday
Last matchup: Sterling Newman 28, Wilmington 26 (2012)
About the Wildcats: Wilmington had no problem hammering Julian in the first round of the playoffs, holding the Jaguars to negative yardage most of the game. The Wildcats are content to do the things they do well, run the football and rely its defense. Over the years, the Wildcats and Sterling Newman have played a few times with neither program really getting the true upper hand.
About the Comets: Sterling Newman appeared to be in danger of even getting into the playoffs when it was picked off by Princeton in a lopsided loss in Week 6 that dropped them to 3-3. Sterling Newman still had to deal with two strong opponents over the last third of its schedule but it promptly beat them both, including then undefeated Kewanee to lock in yet another postseason berth. Now the Comets look more like the machine that most are accustomed to as RB's Marcus Williams and Ethan Van Landuit lead Sterling Newman's vaunted running attack.
FND pick: Wilmington