Class 8A
No. 10 Glenbrook South (8-2) at No. 7 Hinsdale Central (9-1)
When: 2 p.m. Saturday
About Glenbrook South: Glenbrook South beat O'Fallon 34-6 in the first round, the program's first playoff win since 2011. Matt Burda ran for 119 yards and two touchdowns and Will Collins 98 yards and three TDs. The Titans finished third in the Central Suburban South, their lone losses 32-17 to Maine South in Week 6 and 35-14 to Evanston in Week 9. Glenbrook South's last quarterfinal appearance came in 2009.
About Hinsdale Central: The Red Devils appear to be picking up steam at the right time. A week after shutting out Glenbard West to clinch the West Suburban Silver title, Sean Allison and the Hinsdale Central defense recorded seven sacks and held Sandburg to minus 57 yards rushing in a 41-15 first-round win, the Red Devils' 10th straight win this season. Allison recovered a fumble, one of two turnovers forced. Billy Cernugel threw for 183 yards and three TDs and also ran for 55 yards for Hinsdale Central, who played without big-play threat Thomas Skokna, sidelined with an apparent broken collarbone suffered in Week 9. Hinsdale Central is aiming for its first quarterfinal appearance since 2008.
FND pick: Hinsdale Central
No. 13 Glenbard West (8-2) No. 4 at Lockport (9-1)
When: 6:30 p.m. Saturday
Last matchup: First meeting
About Glenbard West: The Hilltoppers bounced back from a Week 9 loss in impressive fashion, beating Oswego 38-10 last Saturday. To no surprise, Glenbard West's defense led the way, forcing three turnovers and shutting out Oswego in the second half. Glenbard West's offense, though, also had its best day since Week 5, with Jason Thomas rushing for three TDs. Even more impressive, the Hilltoppers did it for the most part without 1,000-yard rusher Joey Pope, who hurt his hand in the first quarter and didn't return. Pope's status for this week is uncertain – without him, Glenbard West figures to go more with a backfield by committee. To keep moving forward the Hilltoppers will lean on their defense and need to limit penalties and other mistakes with an offense that is predicated on ball control rather than the big play.
About the Porters: Lockport has leaned on its excellent defense for the majority of the season, but the offensive attack appears to be ready to start lending to the overall equation based on some current developments. RB Ty Schultz put together his biggest effort of the season in the opening round playoff win over Lyons, amassing 200-plus rushing yards. QB Hayden Timosciek also accounted for nearly 200 passing yards as Lockport posted in the neighborhood of 500 total yards of offense. If that even remotely holds when coupled with the Lockport defense's propensity to keep the opposition in check, the Porters are going to be a very difficult team to dispatch from the postseason.
FND pick: Lockport
Class 7A
No. 13 Hoffman Estates (8-2) at No. 4 Wheaton North (9-1)
When: 7 p.m. Friday
About Hoffman Estates: The Hawks beat T.F. South 34-26 in the first round, as Hoffman Estates continues its rebound from two straight losing seasons. Hoffman Estates took second place in the Mid-Suburban West, its lone losses 34-21 to Downers Grove North in Week 1 and 43-13 to Palatine in Week 9. A 33-28 win over Barrington in Week 5 was notable. Junior QB Aiden Cyr through eight games had completed 70.4% of his passes for 2,226 yards and 28 TDs with just four interceptions. His top target, and the headliner for the Hawks' offense, is Western Michigan recruit Jashawn Johnson, who through eight games had 56 catches for 1,113 yards and 18 TDs. Running back Yashawn Taylor was over 1,000 yards rushing through eight games. Hoffman Estates, needless to say, is used to playing in its fair of high-scoring affairs with a defense that gives up almost 30 points per game but an offense that is closing in on 400 points this season.
About Wheaton North: The Falcons had little trouble taking care of business in round one, a 42-0 win over Larkin. Luke Beedle ran for 145 yards and four TDs and Walker Owens 116 yards. Wheaton North could have its hands full with a high-flying Hoffman Estates offense, but Ross Dansdill, Kaiden Libby and Co. have been up to the challenge so far this season with just 89 points allowed. Senior QB Mark Forcucci had a quiet first-round game because of poor conditions, but figures to be heard from this week. Wheaton North seeks its first quarterfinal appearance since back-to-back appearances in 2012 and 2013.
FND pick: Wheaton North
No. 5 Moline (9-1) at No. 21 Willowbrook (7-3)
When: 7 p.m. Friday
About Moline: The Maroons, Western Big Six champs, won a 48-42 first-round shootout with Hampshire, nearly blowing a 27-0 lead. Junior running back Riley Fuller ran for 172 yards on 29 carries for Moline in the win. Moline QB Alec Ponder threw for 1,358 yards and 14 TDs during the regular season with 140 yards and two TDs against Hampshire. Moline, whose only loss was 23-21 to Benet in Week 2, was similar to Willowbrook rarely challenged in conference games, outscoring opponents 301-55 with four shutouts. Moline has never reached the state quarterfinals.
About Willowbrook: The Warriors easily took care of Whitney Young in round one, 44-0. Joey Tumilty ran for 236 yards and three TDs on 21 carries. Willowbrook's defense held Young to 71 yards of offense and Nick Matubas had a 20-yard interception return for a TD. While the Warriors have had their share of ups and downs this season outside of the West Suburban Gold, the program clearly knows a thing or two about getting it done in the postseason – four straight quarterfinal appearances from 2016-2019.
FND pick: Willowbrook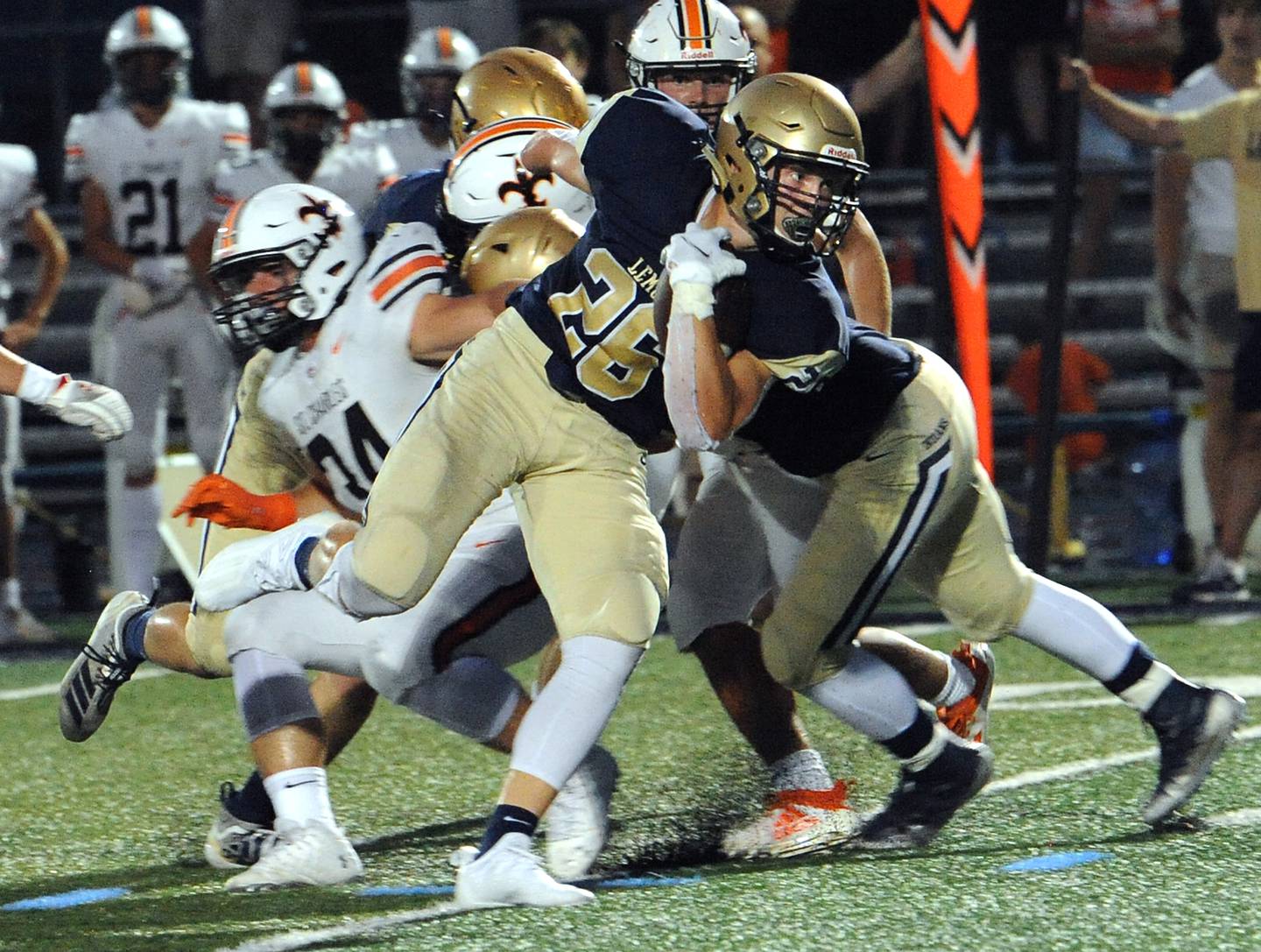 Class 6A
Lemont (10-0) at Springfield (7-3)
When: 7:30 p.m. Friday
Last matchup: Lemont 52, Springfield 14 (2019)
About Lemont: Lemont was certainly OK with breezing into the second round of the playoffs after routing Kennedy. The game was effectively over at the end of the first quarter and it was yet another example of Lemont's ability to put an opponent away early and coast home from a win. That's pretty much been the story of the entire second half of Lemont's season. They will have to flip the switch back to on this week though, particularly on the defensive side of the football. They are probably up for the task and will provide opportunities for RB Albert Kunickis, who recently agreed to a preferred walk-on arrangement at Northwestern, to shoulder much of the offensive load.
About the Senators: Springfield was involved in the wildest game of the first round as it defeated Rock Island 94-72. No, that's not a misprint. QB Rashad Rochelle, a Rutgers commit, was involved in nine touchdowns for the Senators (6 passing, 3 rushing) and will lead whatever damage Springfield can inflict on a Lemont defense that has been very sturdy this year. While the 92 point outburst certainly isn't a usual circumstance, the Senators want to crank up the tempo to an area opponents aren't typically comfortable at. Springfield has eclipsed the 50-point barrier three other times besides the Rock Island scoring bonanza.
FND pick: Lemont
-- Steve Soucie
Class 5A
No. 1 Glenbard South (9-1) at No. 9 Sycamore (7-3)
When: 2 p.m. Saturday
Last matchup: Glenbard South 32, Sycamore 20 (2009)
About the Raiders: Glenbard South comes in off a 41-14 win over Chicago Noble/Bulls, the program's first playoff win since 2017. It was the fifth time this season Glenbard South has topped 40 points in a game. Trevor Burnett ran for 188 yards on 26 carries with two TDs and also caught three passes for 45 yards and two TDs. The Upstate Eight Conference Offensive Player of the Year, who also ran for 243 yards and three TDs against Glenbard East in Week 8, holds five scholarship offers including Air Force and Eastern Illinois. Beyond Burnett the Raiders are steeped with young skill-position talent including sophomore QB Michael Champagne, who threw for four TDs last week, and sophomore receiver Cam Williams, who holds five scholarship offers including Illinois, Iowa and NIU. Receiver/outside linebacker Dominic D'Ambra is another player to watch. Glenbard South weeks its first quarterfinal appearance since 2009.
About the Spartans: The Spartans rolled into the second round with a 48-21 win at Evergreen Park, scoring on six straight drives at one point and triggering the running clock before two late EP touchdowns.
The starters surrendered one touchdown, the fifth time in the last seven games the Spartan starters have allowed seven points or fewer. Despite missing three games, Kiefer Tarnoki leads the Spartans with 15 tackles for a loss and four sacks. His seven pass breakups are second to Brody Armstrong, who is second on the team with two interceptions. Eight different Sycamore players have an INT this year, and the Spartans intercepted Evergreen park three times last week.
Sam Carlson leads the Spartans in both aspects of the offense - he has 500 rushing yards and 413 receiving yards. He has four TDs on the ground and five through the air. While Carlson leads in receiving yards and touchdowns, Kayden Galto has a team-best 19 catches for 327 yards. Quarterback Eli Meier is not only third on the team with 493 rushing yards (Nathaniel Altepeter leads with 657), he has completed 65% of his passes for 1,459 yards, 15 touchdowns and five interceptions.
FND pick: Sycamore
No. 2 Fenwick (8-2) at No. 10 Rockford Boylan (7-3)
When: 6 p.m. Saturday
About Fenwick: The Friars had little trouble with Kaneland in a 50-14 first-round win. Kaden Cobb ran for 77 yards and three TDs and also threw for 126 yards with a TD pass to Eian Pugh. Jacque Walls ran for 110 yards and a TD on 12 carries in the absence of starting running back Danny Kent. The Friars forced three turnovers in the first half, with Conor Paris recovering two fumbles. It was a season-high point total for Fenwick, which has topped 40 points on five occasions.
About Boylan: The Titans, who took fourth place in a competitive NIC-10 conference with five playoff teams, handled Chicago Brooks 41-8 in the first round. Boylan QB Connor Dennis has thrown for 1,112 yards and 12 TDs. His top targets are Mark Harris, with 22 catches for 462 yards and five TDs, and Joe Appino, with 33 catches for 336 yards and three TDs. Rasheed Johnson has rushed for 403 yards and six TDs. Boylan has won four straight games since back-to-back losses to Hononegah and Harlem at midseason. The Titans are going for their third straight quarterfinal appearance.
FND pick: Fenwick
No. 14 Nazareth (6-4) at No. 11 Marmion (7-3)
When: 1 p.m. Saturday
About Nazareth: The Roadrunners made quick work of Chicago Goode, rolling up a 42-0 halftime lead en route to a 54-6 win. Kaleb Miller ran for four TDs and Benjamin Michel had a kickoff return for a TD and a pick-six. Nazareth has put its 0-3 start to the season well in the rearview mirror and is playing its best football of the season at the right time, but a visit to another CCL/ESCC team does present a significant challenge physically. Nazareth freshman QB Logan Malachuk has completed 61% of his passes on the season for 1,443 yards and 15 TDs, with Quentrell Harris (47 catches, 793 yards, nine TDs) his top target. Justin Taylor has 36 catches for 578 yards and four TDs. Miller leads the defense with 78 tackles.
About the Cadets: The Cadets have run the football with supreme success all season long and average nearly 200 per game. Tyler Bradshaw leads the way with 470 rushing yards and three touchdowns, but don't forget about Josh Lim or Jacob Bottarini, either. Defensively, Bottarini is a star with 63 tackles, two forced fumbles and three sacks.
FND pick: Nazareth
Class 4A
No. 8 Wheaton Academy (8-2) at No. 1 Joliet Catholic (10-0)
When: 7 p.m. Friday
Last matchup: First meeting
About the Warriors: Wheaton Academy has had a historic season – most wins in program history since 1957 – but the Warriors will likely have to crank up their levels quite a few notches in this one if they hope to have any chance of springing a big upset. Wheaton Academy does do something that has given the Hilltoppers a few problems this season as it puts the ball in the air rather effectively, but the offensive line will be giving up a lot of size and it will be a difficult task to give junior quarterback Belay Brummel enough time to be effective. Brummel, who has shared time with senior David Dorn at quarterback this season, threw for 277 yards and four TDs and ran for a fifth TD in a 36-3 win over Coal City. Sophomore receiver Liam White had six catches for 114 yards and a pair of touchdowns. Defensively, the Warriors held the Coalers to just 82 yards of offense.
About the Hilltoppers: Joliet Catholic demonstrated what is likely going to be a problem for pretty much everyone in Class 4A in its easy win over Marengo in the opening round. The Hilltoppers have played a schedule loaded with teams from much larger classifications where they match up well physically. Now, in a lower classification they have a size, strength and speed advantage against every team they will line up against the rest of the way. Joliet Catholic's running game has been almost impossible to stop against larger competition and it seems almost completely implausible that anyone is going to suddenly figure out how to do it now.
FND pick: Joliet Catholic
No. 5 St. Francis (8-2) at No. 4 Genoa-Kingston (9-1)
When: 2 p.m. Saturday
Last matchup: St. Francis 21, Genoa-Kingston 12 (2019 playoffs)
About the Spartans: St. Francis survived a fairly significant challenge in round one, holding off Peoria Notre Dame 41-31. Adam Criter, forced to switch from wide receiver to quarterback to run the Wildcat formation when sophomore QB Alessio Milivojevic hurt his shoulder in the second quarter, ran for 208 yards with a game-clinching 36-yard score. The status of Milivojevic going forward is uncertain; his absence would seem to change the complexion of the Spartans' offense that has averaged close to 35 points per game. Junior running back Blake Lawson also left the Notre Dame game with an injury. If St. Francis' offense is limited it could fall on Sammy Atkins and a St. Francis defense that has given up seven points or fewer in three games, but has also given up 26 or more points in six games. St. Francis, in the postseason's second round for the third straight time, now seeks its second consecutive quarterfinal appearance.
About the Cogs: The Cogs rolled Bogan at home last week, 59-0, holding the Bengals to less than 30 yards of total offense for their fifth shutout in the last six games.
Ten different Cogs have a rushing touchdown this year. Chase Engel leads the team with 86 carries for 687 yards, but nine other backs have between 14 and 44 carries this year. Ethan Wilnau is second on the team with 44 carries, 601 yards and nine touchdowns. Brody Engel has a team-best 10 rushing touchdowns on just 40 carries.
Defensively, Colin Nesler leads the Cogs with 77 tackles. He also is tied with Nolan Perry with 10 tackles for losses and his three sacks are tied for second with Declan Creadon behind Connor Grimm (7.5).
FND pick: St. Francis
Class 3A
No. 6 IC Catholic Prep (9-1) at No. 3 Durand-Pecatonica
When: 3:30 p.m. Saturday
About IC Catholic Prep: The Knights had little trouble taking care of Monmouth-Roseville in a 55-8 first-round win. Brendan Bigane returned an interception for a TD, one of two pick-sixes and the Knights also recovered two fumbles as ICCP took a shutout into the final minutes. Sophomore QB Dennis Mandala has thrown for 1,228 yards and 18 TDs on the season. Malik Gray has rushed for 900 yards and five TDs and KJ Parker has 19 catches for 292 yards and three TDs. The Knights seek their sixth consecutive quarterfinal appearance.
About Durand-Pecatonica: Pecatonica, from a town half hour west of Rockford, rolled to a 44-0 win over Mendota in round one. The Rivermen amassed 367 yards of total offense behind senior running back Trenton Taylor and QB Hunter Hoffman and defensively limited Mendota to 91 yards with two interceptions. Taylor rushed for 1,078 yards and 11 TDs during the regular season while Hoffman threw for 1,186 yards and 19 TDs. Pecatonica went unbeaten in winning the Northwest Upstate Illini Conference, its lone loss a Week 2 non-conference game with Decatur St. Theresa in Week 5. The team's 4-4 defense is anchored by 6-foot-6, 240-pound Illinois State recruit Jake Anderson.
FND pick: IC Catholic Prep
Steve Soucie and Eddie Carifio contributed to these previews