The top-seeded Polo Marcos pulled away early and never looked back Saturday afternoon, defeating Sciota West Prairie/Southeastern 66-16 in the first round of the 8-man football playoffs in Polo.
Brock Soltow opened the scoring with a 3-yard touchdown run, then West Prairie returned the ensuing kickoff 75 yards for a score to tie the game 8-8.
But the Marcos answered with the next 58 points to advance to the second round. They will host Milford-Cissna Park at 2 p.m. Saturday in a rematch of the 2019 8-man state championship game.
"We were just hoping our offensive and defensive lines would show up and play well, and they really did," Polo coach Ted Alston said. "When we control the line of scrimmage, pretty good things happen for us."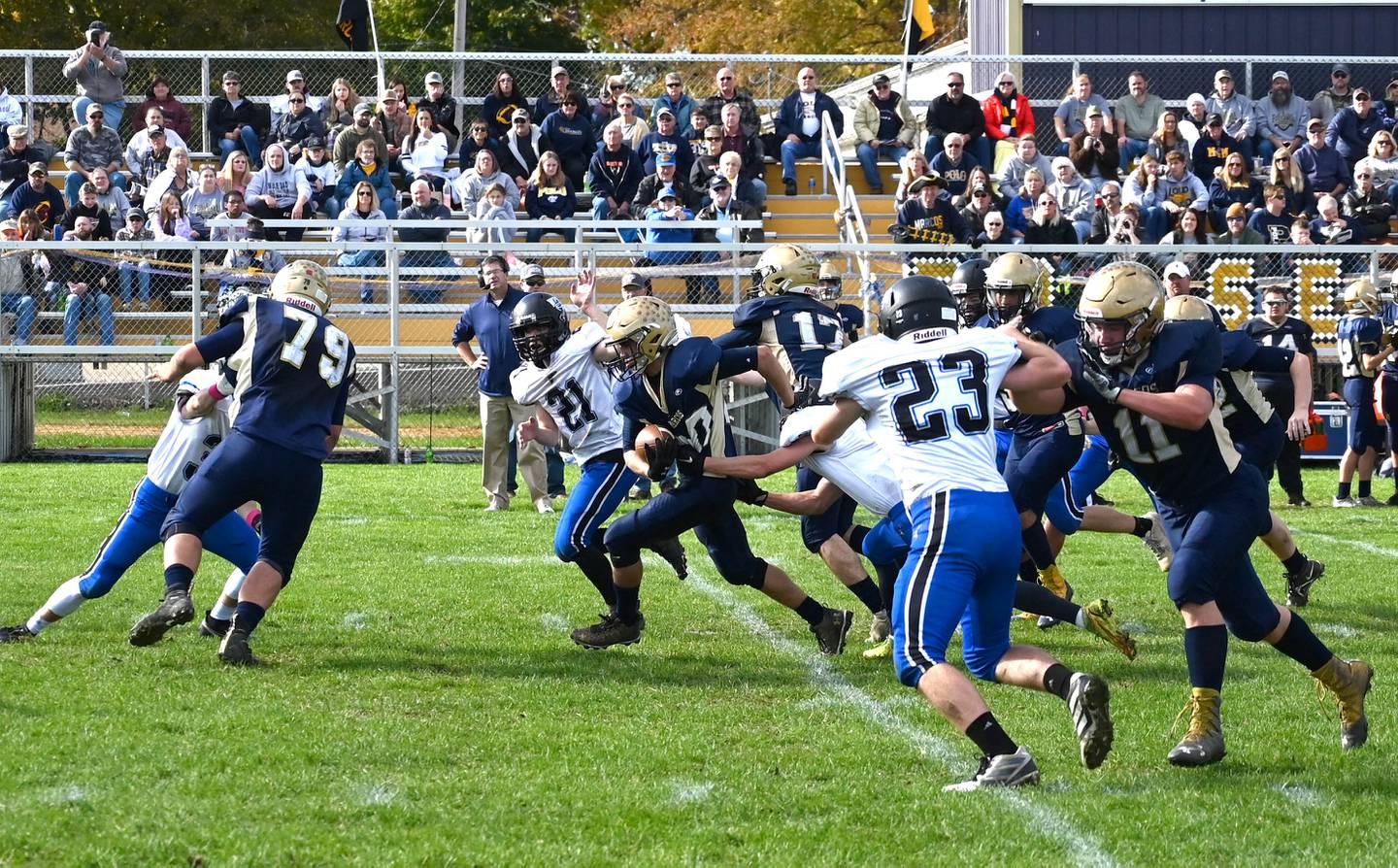 Soltow ran for 171 yards and three touchdowns on 13 carries, and Avery Grenoble added 89 yards and two scores on 12 rushes. Noah Dewey ran for 54 yards and a touchdown, and Tyler Merdian was 6-for-7 passing for 64 yards and a pair of TDs. Khalil Sankey had four catches for 45 yards and a score, and Wyatt Queckboerner caught a 16-yard touchdown pass.
Polo (10-0) wowed the excited home fans from the start. After West Prairie (4-6) tied the score, Merdian threw the TD pass to Queckboerner, then Soltow added a 48-yard scoring scamper.
In the second quarter, Grenoble had a 1-yard plunge, then Merdian hit Sankey with a scoring strike from 22 yards out. Soltow added a 24-yard touchdown run, then Cayden Webster returned a fumble 33 yards for a score. Grenoble's 29-yard TD run capped the scoring in the first half and gave the Marcos a 60-8 lead at the break.
"With the year off last year, obviously being able to bring playoff football back was exciting, and our fans were great," Alston said. "A lot of these kids have never been through that before, and it was a neat experience in a great atmosphere on a beautiful afternoon. It was a lot of fun."
Dewey ran in from 5 yards out for the lone touchdown in the third quarter, and West Prairie added a fourth-quarter touchdown pass to cap the scoring.
Polo outgained West Prairie 449-112 in total yards, including 371-89 on the ground.
Next up is another home playoff game, this time against the only other team to win an Illinois 8-Man Football Association state title; Milford-Cissna Park won the inaugural state title in 2018, before Polo won in 2019.
MCP defeated Pawnee 38-20 in their first-round matchup.
"Obviously there are things we need to work on, improvements we need to make, but hopefully we'll keep running the ball well and controlling the clock; that's our recipe for success," Alston said.