PERU – As the St. Bede football team turned away from the post-game handshake line and huddled up, the Bruins were met by the student section running onto the slippery, muddy field.
There's been plenty to celebrate at the Academy.
The No. 5-seeded Bruins pulled away in the second half to beat No. 12 Hope, 30-19, in the first round of the Class 1A playoffs for their first postseason victory in five years.
A day earlier, the St. Bede volleyball team ended a 20-year regional championship drought.
"It feels great," St. Bede quarterback John Brady said. "We've been working for it all year. We're happy to have gotten this, but we want to keep going.
"There's a big buzz all around the halls (at school). Everyone is happy. Volleyball is winning. Football is winning. We want to keep making runs in sports. The Bruin programs are on the way up."
St. Bede (8-2) advances to play the winner of Saturday's game between No. 4 Rushville (7-2) and No. 13 Ridgeview (5-4). The Bruins will be on the road.
"It's exciting," St. Bede coach Jim Eustice said. "We're 8-2 and 13-3 this calendar year. You can tell the school is excited. It's just a lot of run. I'm so happy to see all the smiles. Our kids deserve this. They work their butts off, and this is a great team.
"These kids aren't going to be satisfied. We want to keep going. We're looking forward to next week. We're going to enjoy this. We'll get together in the morning (Saturday), have a team breakfast, get in the pool and get all the kinks out and then a couple coaches and I will head down to Rushville to watch that game. We have another week. We're going to keep working hard."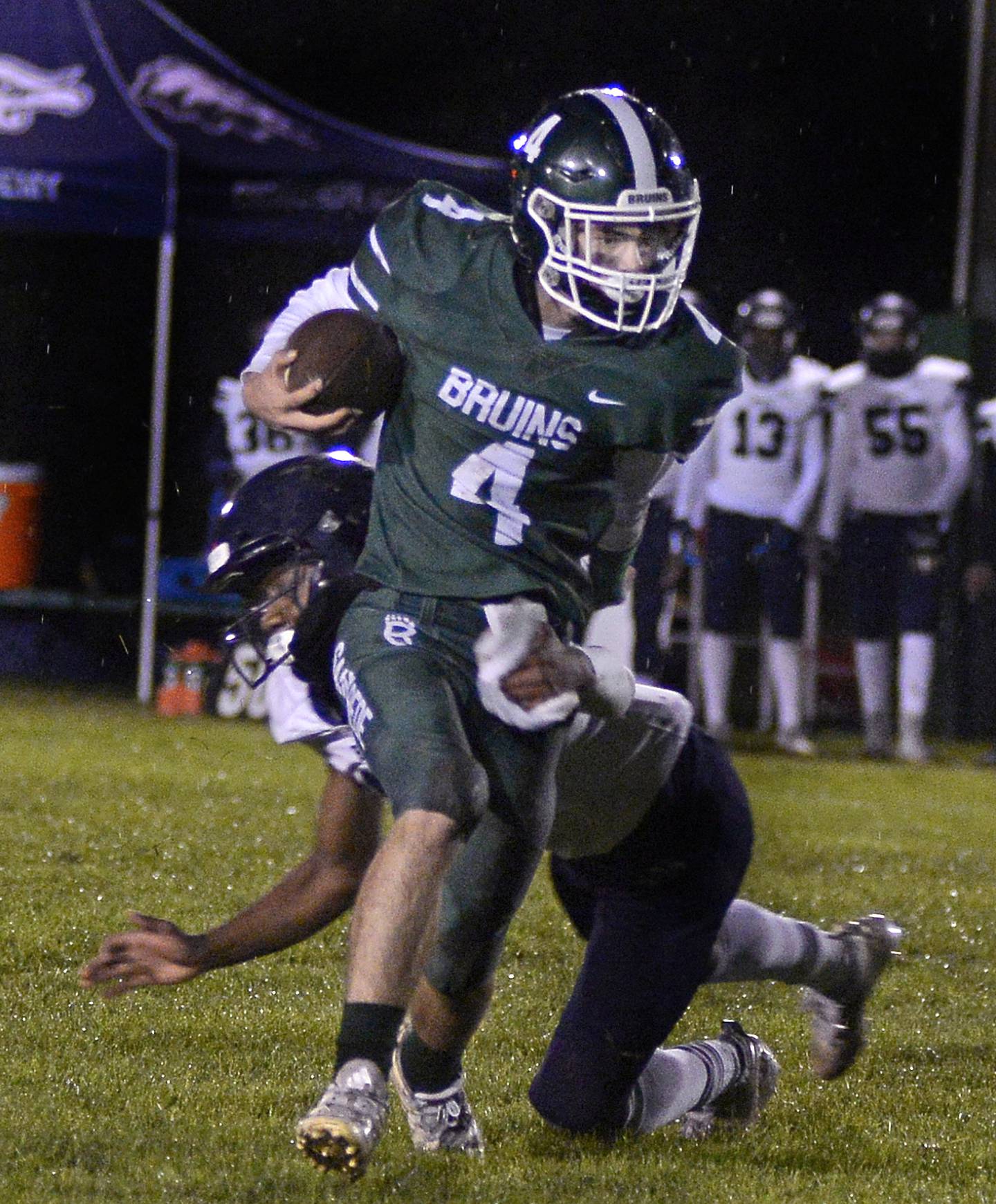 The Bruins earned another week by responding whenever the Eagles made plays.
Hope's Ryan Williams returned the opening kickoff 80 yards for a touchdown to give the Eagles a 6-0 lead just seven seconds in before Hope recovered an onside kick.
But St. Bede stopped the Eagles on fourth down then marched 60 yards on 10 plays – all runs by Brady or running back Luke Story – with Brady scoring on a 3-yard run with 5:15 left in the first quarter.
The Bruins had two more fourth-down stops in the first half and added a 27-yard field goal by Stephen Shaver with 19.3 seconds left to take a 9-6 halftime lead.
"It was just a weird start to the game, but we rebounded," Eustice said. "We knew with their athleticism they were going to punch us in the mouth, and the first play the kid takes it back. Then they did the onside kick.
"Our defense held and we responded. With the field conditions, it was just a dogfight. They played hard. We played hard. It was just a real nice high school football game. I'm proud of our guys."
The Bruins made several game-changing plays in the second half.
Callan Hueneburg pounced on a fumble to end Hope's first drive, then Brady hooked up with Tyreke Fortney for a 78-yard TD on the Bruins' first play to push their lead to 16-6.
After the Eagles put together an 18-play, 86-yard scoring drive to pull within 16-13 with 9:15 left, the Bruins responded again.
On third-and-6, Brady faked a handoff to Story then weaved through the Hope defense and ran for a 48-yard touchdown to go up 23-13.
St. Bede's Ryan Brady broke up a pass on fourth down to give the ball back to the Bruins, and Story ran for a 17-yard TD to extend St. Bede's lead to 30-13 with 3:27 left.
Brady finished with 148 rushing yards and two touchdowns on 16 carries while throwing for 156 yards and a TD.
Story finished with 84 yards and a TD on 16 attempts.
"The running game was all the offensive line," John Brady said. "We were doing a lot of guards pulling and they were hitting linebackers and making holes. We could bounce outside, get some lanes and get the running game going. The line gave me plenty of time to throw to get the ball to Ty so he can make his plays. We were able to score when we needed to and the defense made key stops."
The Bruins limited the Eagles to 184 yards on 39 carries and 129 yards on 10-of-27 passing.
"We made some adjustments," Eustice said. "Sometimes we moved another lineman down depending on their formation. We felt if they had two backs with the quarterback, we needed to put another guy down and make it a little harder for them to blocking. Our linebackers were running into piles a little bit the first half. We put them back a little bit then they were able to read more, and that helped a lot."