FRANKFORT – It isn't always easy to make the transition in the level of play required to succeed in the postseason.
Lincoln-Way East certainly makes it look like it can be.
The Griffins won their 15th consecutive opening-round playoff game Saturday afternoon, utilizing the power running of Trey Johnson and a stifling defensive effort to earn a 23-6 victory over Oswego East.
The win advances Lincoln-Way East (8-2) to the second round of the playoffs where it will travel to Minooka, who was a 17-14 winner over York on Friday. The Griffins are 16-2 in opening-round playoff matchups, and haven't missed the postseason since the school opened in the fall of 2001.
"I told this team we have to play different. We can't play the way we did in the regular season or we are going to be out in the first round," Johnson said. "We played different today, and that's going to keep us going for sure."
Johnson was a big part of assuring that an early Lincoln-Way exit was not in the cards. He took a heavy workload early, finishing with 196 yards rushing on 38 carries.
"I've been doing that for the past two or three games, so I've gotten used to it," Johnson said.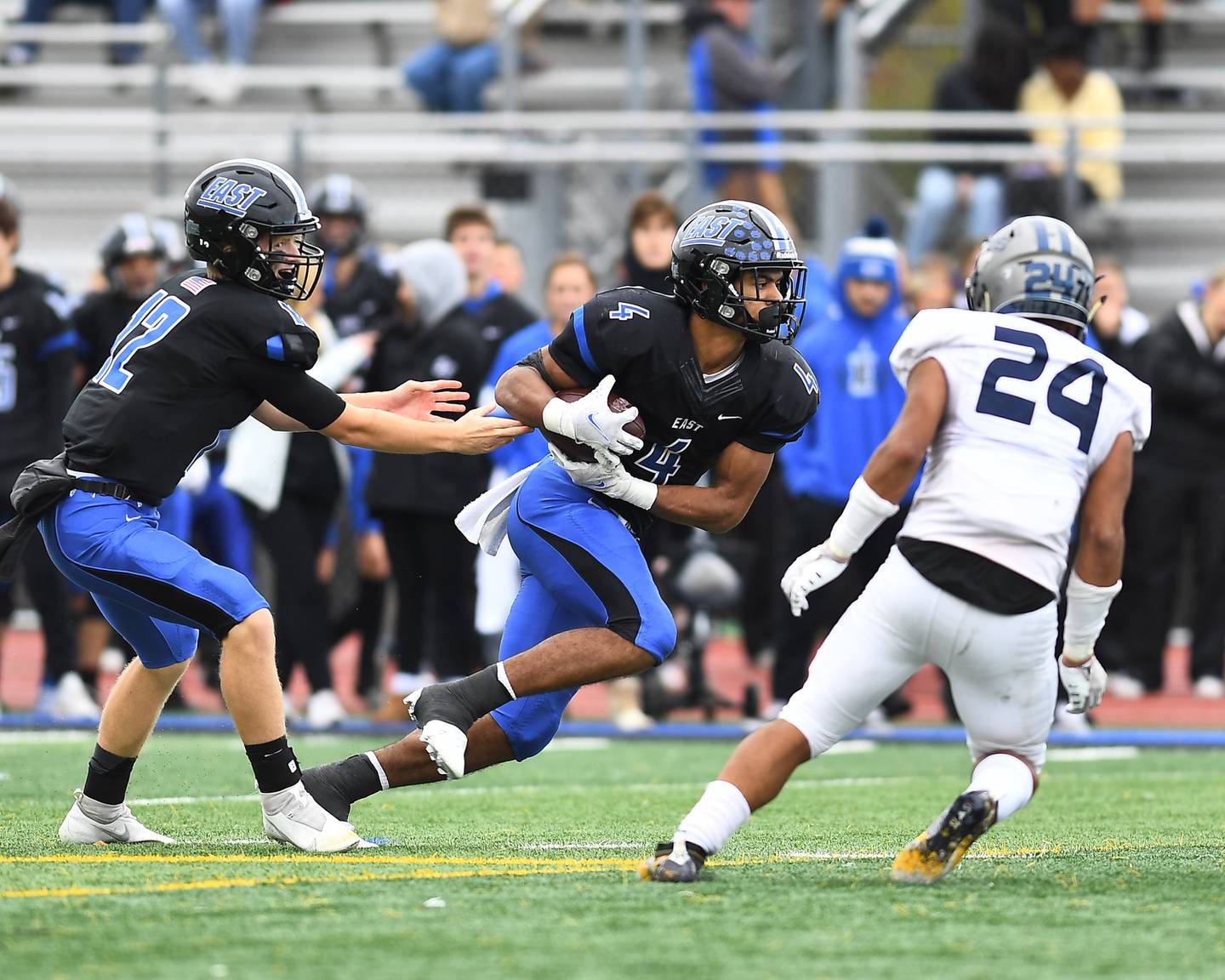 Neither team could get much of a foothold early in the game and a bizarre play set the stage for breaking the scoreless tie early in the second quarter.
Lincoln-Way East had a 32-yard field goal blocked and it fluttered toward but not across the goal line and one of the Oswego East players elected to try to return the block. He was stacked up at the 1-yard line. On the next play, Lincoln-Way East engulfed Darquel Sanders for a safety.
A short kick into the wind allowed Jayden Cook to return it deep into Oswego East territory, and four plays later, Johnson was in the end zone for a 1-yard touchdown run and a 9-0 Lincoln-Way East lead.
"Something positive turned into a negative there," Oswego East coach Tyson LeBlanc said. "I don't know if we reiterated throughout the course of the week with all the stuff that we had going on if a kick gets blocked and goes beyond the line of scrimmage we should just let it be."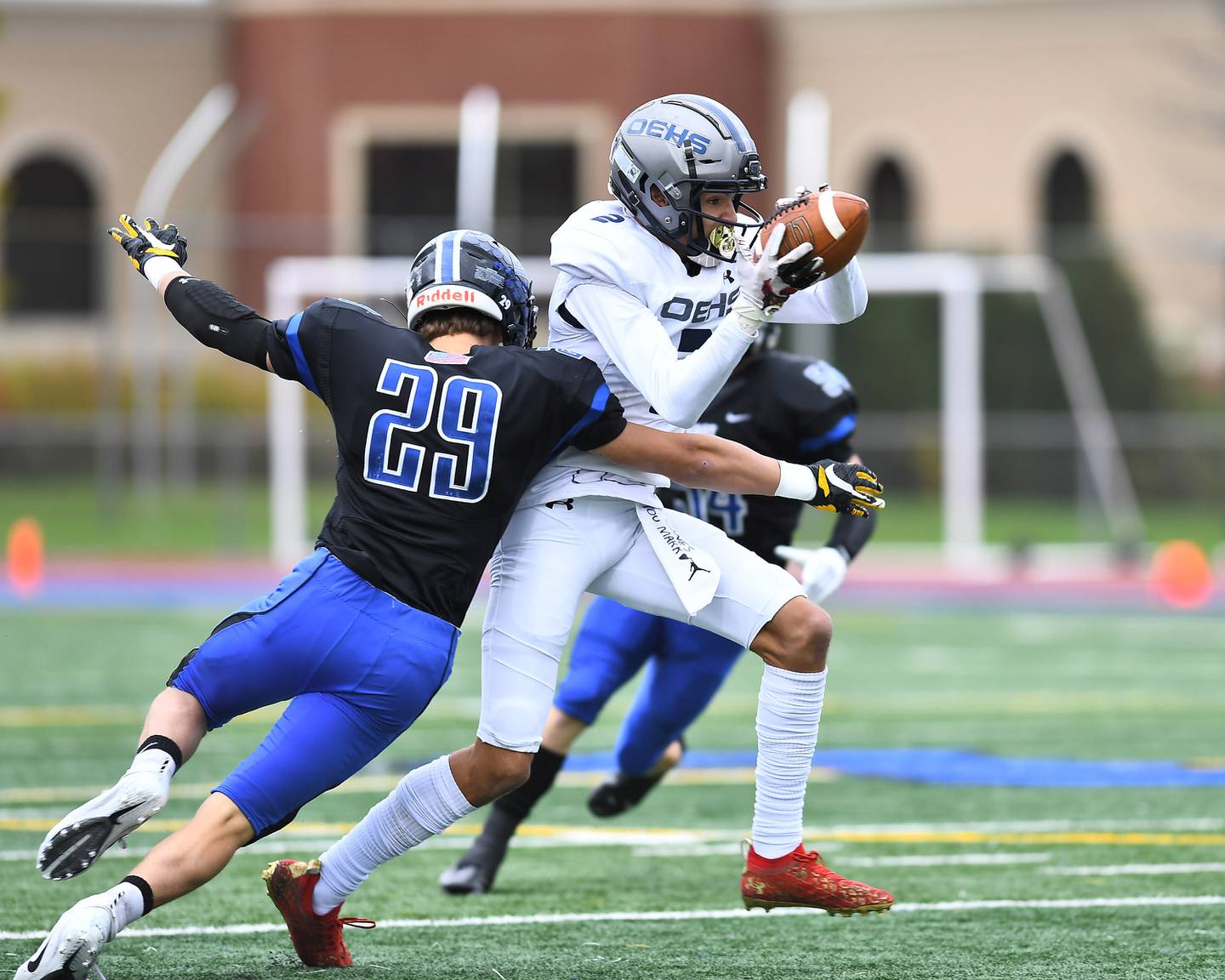 And with the play of the Lincoln-Way East defense to that point, it looked like that 9-0 advantage might be more than enough to fend off the Wolves.
The Griffins held Oswego East to 64 yards in the first half and forced a three-and-out to start the second half. Lincoln-Way East then pieced together a long drive that ended with Chase Arthur finding Jack Tremblay for a 15-yard score as Lincoln-Way East stretched its lead to 16-0.
Oswego East showed its lone offensive burst on a trick play early in the fourth quarter. Wide receiver Josh Polubinski slipped into the backfield and took a handoff from Tre Jones. It initially appeared to be a reverse, but Polubinski planted his feet and lofted a 78-yard touchdown pass to Ty Carlson to bust up the shutout.
Lincoln-Way East immediately answered to snuff any thoughts Oswego East had of mounting a late rally, piecing together a six-play run-oriented drive that ended with Arthur diving in from the 1-yard line to cement the win for the Griffins with 8:39 to play.
"I'm proud of our seniors for their leadership, and I'm proud of our younger kids for coming through when we needed some plays," Lincoln-Way East coach Rob Zvonar said.
Oswego East concluded its season with a 6-4 record with the loss, but put forth a valiant effort considering all the program has gone through in the past few weeks. Oswego East senior football player Mark Chapas died Oct. 22 of an apparent suicide.
"With the stuff we've been through, especially over the last week, I'm proud of our guys" LeBlanc said. "Yesterday at this time, we were getting ready to go to a funeral service for a teammate."