RURAL STREATOR – The South Beloit Sobos took the 117-mile bus ride down to Woodland School with one thing on their minds: vengeance from a Week 3 loss handed to them on their home field by the Flanagan-Cornell/Woodland Falcons.
Friday night in the opening round of the Illinois 8-Man Football Association playoffs, the Sobos got it.
South Beloit defeated host FCW, 20-8, limiting the Falcons' powerful offense to 125 yards from scrimmage and one scoring drive. On offense, the Sobos churned up 223 rushing yards and 250 yards overall, led by 109 yards and two touchdowns from bruising fullback Fernando Balderas.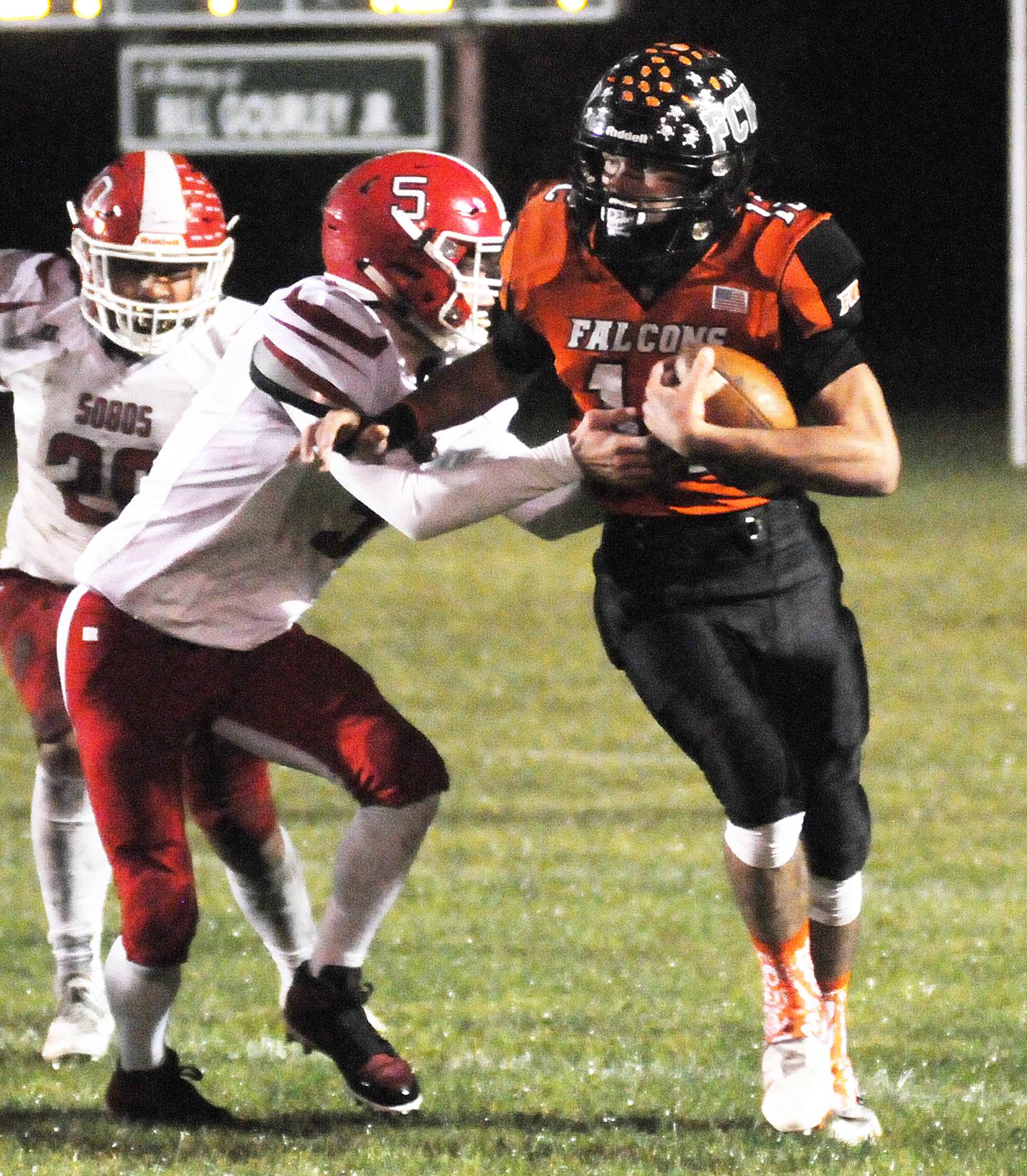 The Sobos (6-4) advance to face West Central (8-2), a 38-28 victor in its first-round game against Decatur Lutheran.
The Falcons (7-3) see their season come to an abrupt end.
"We knew coming in that they were going to be hungry and this was going to be a revenge game for them," FCW coach Todd Reed said, "and hats off to them. That long bus ride we had up there, we came out on top, and them coming down here, they sure didn't come out flat.
"They came out ready to rock and roll, and they got the job done."
With a light rain and strong wind peppering the Wood Shed field, neither offense could do much of anything its first two turns with the football. FCW's second possession, however, ended with a fumbled snap on an attempted punt and a South Beloit recovery, setting up the Sobos at the home team's 25-yard line.
Seven plays later it was 6-0 South Beloit on a 1-yard Balderas touchdown.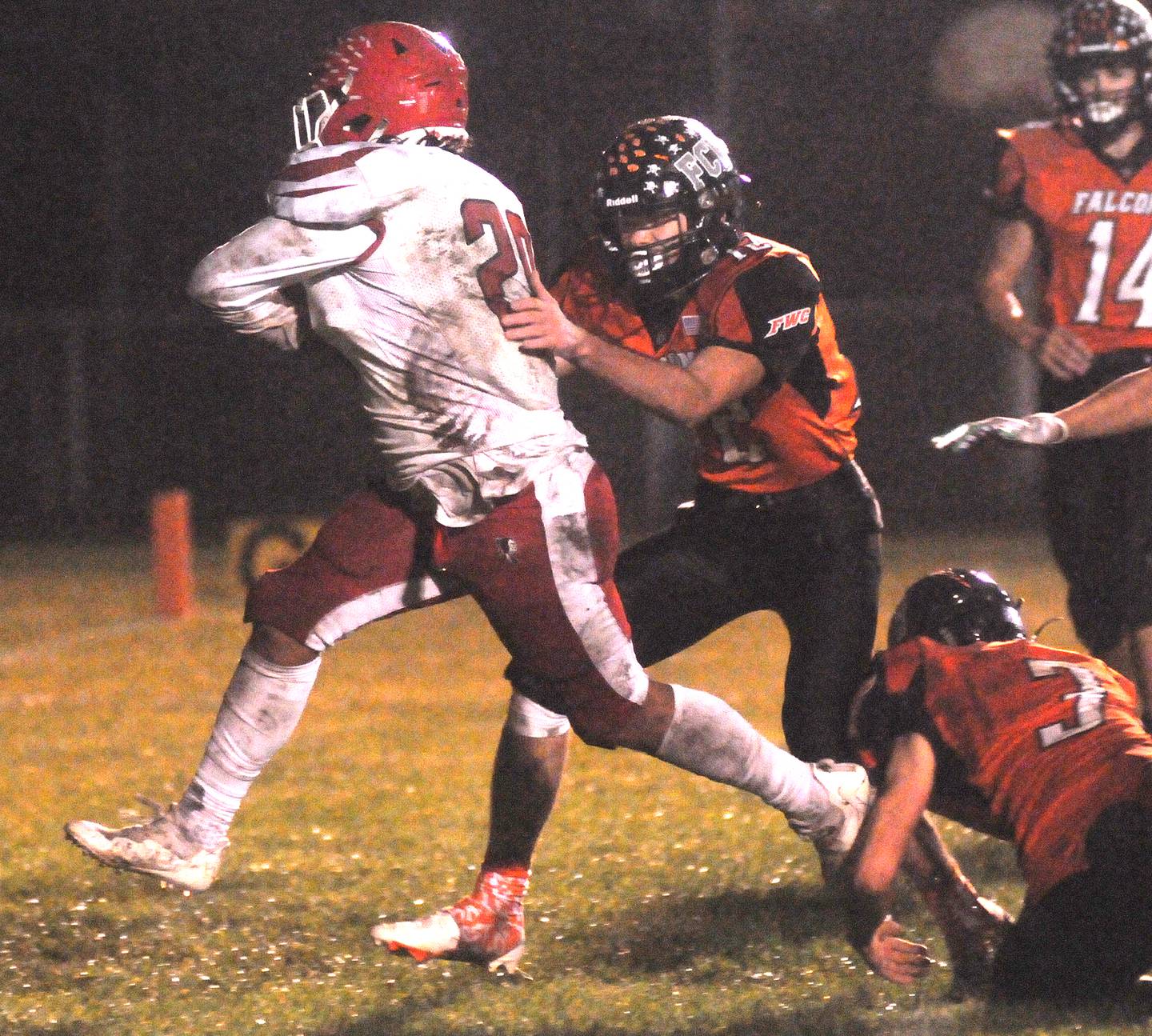 FCW turned it over on downs at midfield on its next possession, and the Sobos again took advantage with a 53-yard drive culminating in another Banderas touchdown run, this one from 12 yards out. Like the first, the 2-point conversion failed, but it was still 12-0 South Beloit heading into halftime.
"I think [FCW] had great intensity, as well," Sobos coach Jim Morrow said. "It was just a great high school football game. Our guys were focused, the best week of practice we've had so far, and came in with a great mindset.
"We were just really hungry. It's the first time the school has gotten into the playoffs in 19 years. The hunger, the desire in the community, there's a lot of great energy right now."
The halftime break sparked something in the FCW offense, as the Falcons received the ball first and cobbled together a 14-play, 69-yard drive ending with featured runner J.D. Ruddy standing in the end zone after breaking in from 6 yards out. William Weber powered in the 2-point conversion with some help in a scrum from his lineman, and the Falcons cut their deficit to 12-8 with 4:18 remaining in the third quarter.
The Flanagan-Cornell/Woodland defense forced a South Beloit punt, but then had to boot it back and came out worse for the exchange due to the wind. The Sobos' offense again took advantage of the short field, needing to travel only 32 yards – six Balderas runs followed by a fake to Balderas/Leorence Kostka 10-yard sweep – to rebuild their two-score advantage.
FCW turned it over on downs, and South Beloit ran out the clock and celebrated the victory.
Tanner Joiner threw for 27 yards and ran for 67 more for South Beloit, with Kostka adding 47 rushing yards to Balderas' 109 behind an offensive line led by 6-foot-3, 315-pound center Bradley Knepper flanked by sophomore guards Chase Richards and Arron Likins.
FCW was led by Ruddy's 40 yards on the ground, Chris Stasko's 27, and quarterback Dallas Hamilton's 21 yards rushing and 27 more on 5-of-7 passing. Weber recorded two tackles for loss, with Joey Jones adding 1 1/2 TFLs.
"It's a hard one to swallow, and it starts at the top with me trying to have these guys prepared," Reed said. "We just couldn't get anything going momentum-wise except for that second-half drive. We just couldn't put anything together.
"But you know, we thought we had to get to five [wins] this season with the tough schedule we had, and we got to seven. I couldn't be prouder of how our kids played this year and grouped together as a program."