OTTAWA – Stopping the Marquette Academy football team from running the ball can be pretty close to impossible, but even when the opposition does contain it to a certain extent, the Crusaders can find another way to put up a few extra points – through the air.
With the Princeville defense selling out against the run, it held MA to its third-lowest rushing total of the season, 227 yards. However, the usually consistent play of quarterback Alex Graham and the MA defense helped the Cru best the Princes, 32-7, in the first round of the IHSA Class 1A playoffs Friday night at a muddy Gould Stadium.
Against one of the toughest defenses seen in weeks, Graham connected on 4 of 6 passes for 118 yards and two touchdowns, both to back Tom Durdan, for 84 yards in the second quarter and 6 yards in the third. Graham also added a 1-yard QB sneak score, and Jurnee Reed and Vinnie Battestelli – the latter in his first game back since a shoulder injury in Week 1 – each added another as Marquette managed to roll up 345 yards of total offense.
The MA defense, meanwhile, registered three takeaways and one turnover on downs and held Princeville to 135 total yards, all of it on the ground as it didn't have a pass completion in four attempts.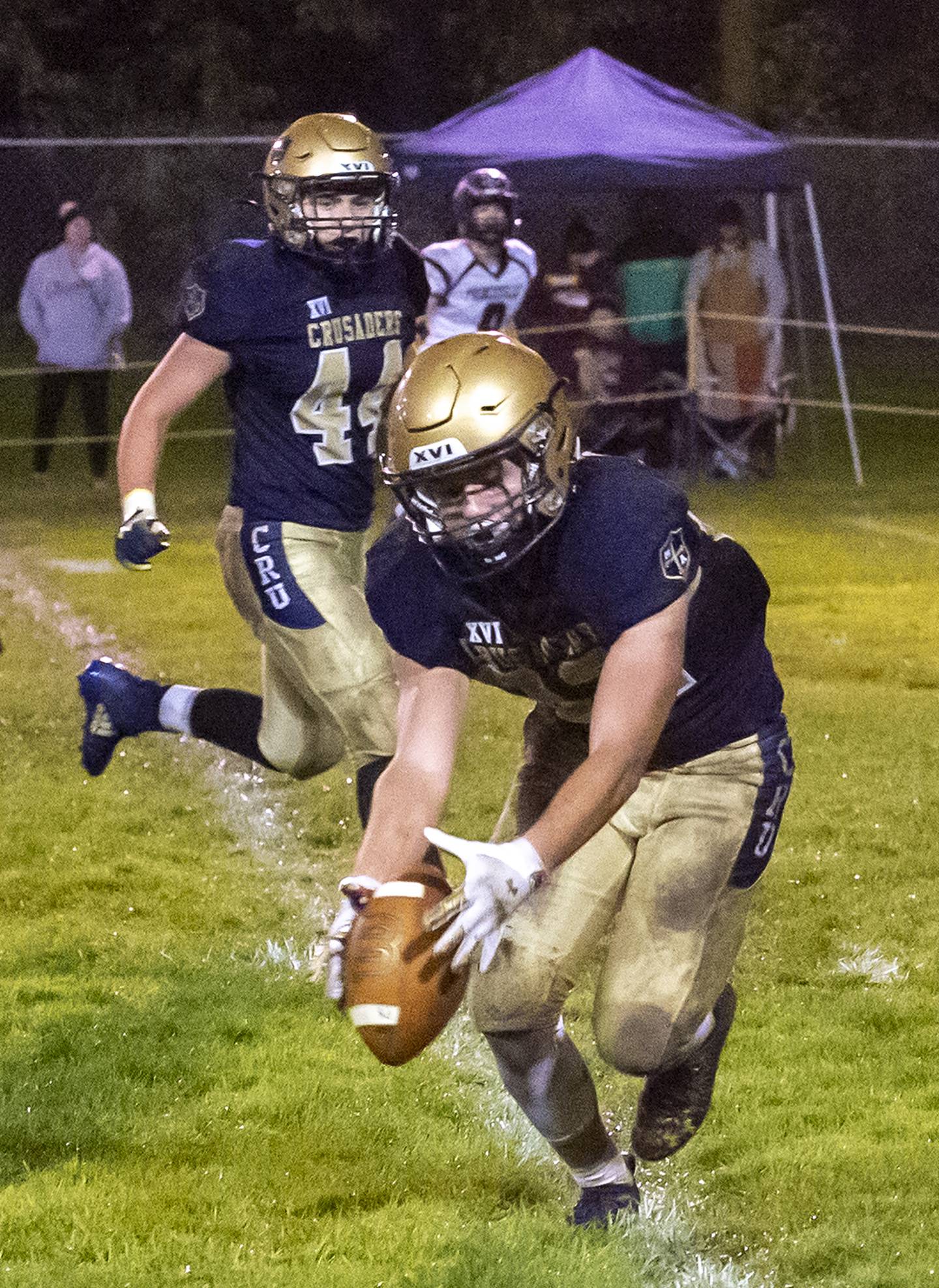 The win may have been costly because freshman back Julian Alexander was injured by a vicious tackle in the fourth quarter and was taken by ambulance to receive medical care. His status was unclear as of press time.
However, the verdict means that the Cru (9-1) will face the winner of Saturday's 2 p.m. matchup between No. 10 seed Chicago Raby (6-3) and No. 7 Fulton (7-2).
"We don't know what Julian's situation is right now, but we'll be keeping him in our prayers and hope he's OK," said MA coach Tom Jobst. "The kids all did a nice job tonight, and it was good to have Vinnie back, too. His presence gives us fresh legs late in the game, and that means a little more with every passing game at this time of year.
"Princeville made us earn this one. They play good, hard defense, that's for sure. They didn't do anything we didn't expect. They just played hard, man on man, and they did a nice job … but once the weather settled down, so did we.
"The kids did a nice job."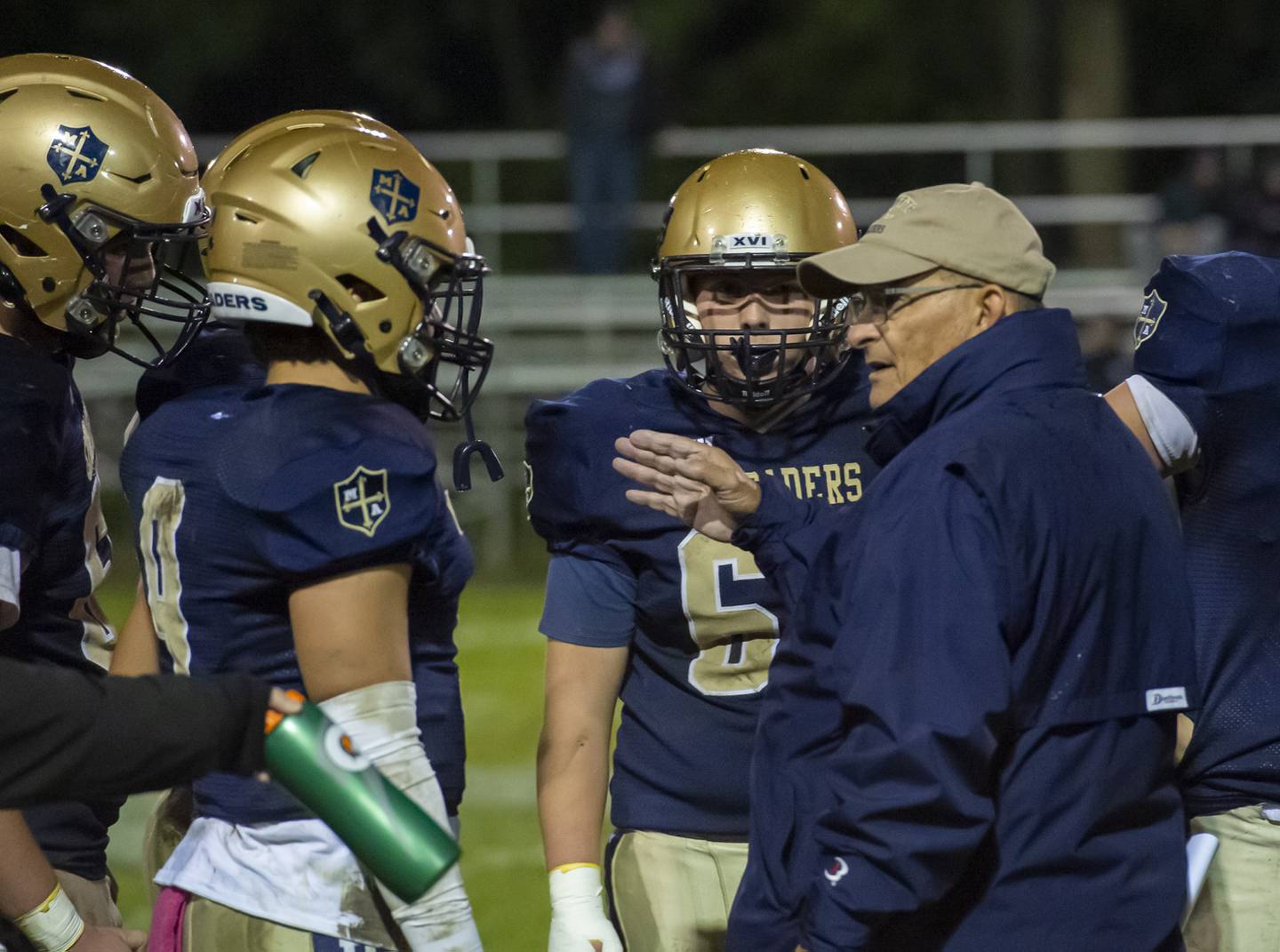 It wasn't that the Crusaders were devoid of a running game. Reed rushed 13 times for 75 yards, Logan Nelson five for 62, Durdan 12 for 36 and Battestelli eight for 48 for much of their 227 rushing yards. Still, it took an interception and a 34-yard return by Nelson to set up a 2-yard drive by Reed on the very next play. A fumble recovery by Beau Ewers ended the Princes' next possession.
First downs by Reed and Charlie Mullen on a sliding catch from Graham led to Graham's 1-yard sneak and a 13-0 lead early in the second period. After an interception by Reed, Graham connected with Durdan for 84 yards on a skinny post route to stun the visitors and widen the halftime gap to 20-0.
As if that wasn't enough, on the first series of the third stanza, a 49-yard burst by Reed led to the second Graham-to-Durdan connection for 6 yards.
Battestelli capped the scoring in the fourth period with consecutive runs of 11 and 10 yards, the second to pay dirt.
Of the Princeville yards, 50 came on 10 carries by Denver Hoerr and 37 on eight tries by Grant Hunt. Quarterback Jordan Johnson misfired on all four of his passes, but he and Jake Williams each chipped in 22 yards on the ground.
"Turnovers did it to us. We had to play a clean game, and we didn't play a clean game," said Princeville coach Jon Carruthers. "We showed later in the fourth quarter when we played clean that we could move the ball, and our offense looked good. Unfortunately, it took until the fourth quarter for that to happen.
"Hats off to Marquette. They had a great game plan; they're very talented, solid and strong up front, and they're very well-coached. They were the better team tonight."