Class 8A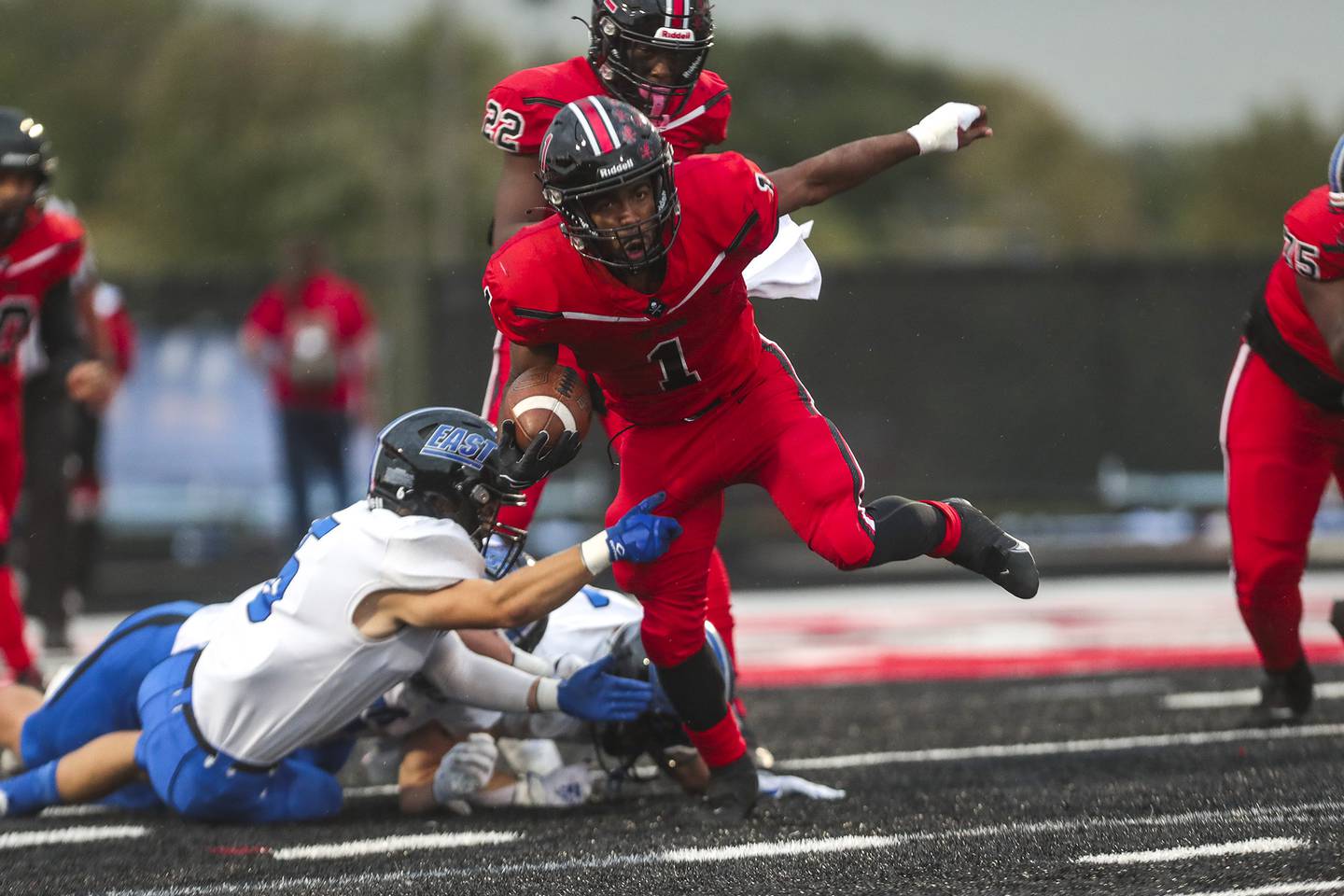 Glenbard North (6-3) at Bolingbrook (7-2)
When: 6 p.m. Saturday
Last matchup: First meeting
About the Panthers: Do not let Glenbard North's rather pedestrian record fool you. The Panthers' three losses have come by a combined five points. Losses in Weeks 5 and 6 were by identical 21-20 scores and came at the hands of Batavia and Wheaton North, teams that have a combined 17-1 record. Glenbard North and Bolingbrook have a lot of similarities, leaning on sturdy defenses and preferring to move the chains by running the ball. The offense leans heavily on RB Sam Palmer.
About the Raiders: Bolingbrook has found a nice groove over the final two weeks of the season, building huge leads early and rolling to comfortable wins. The Raiders are at their best when they can get all elements of their offense going. Finding ways to get standout WR I'Marion Stewart the football is always a good idea. But the real tone setter seems to be the defense. The Raiders have allowed 28 points to an opponent only once this season (vs. Minooka in Week 1) and have allowed 14 points or less in six of their nine games.
Friday Night Drive pick: Bolingbrook
Oswego East (6-3) at Lincoln-Way East (7-2)
When: 1 p.m. Saturday
Last matchup: Lincoln-Way East 57, Oswego East 40 (2013)
About the Wolves: Oswego East started 5-0, but the second half of the season hasn't gone as well. That said, this is a team that can be problematic for opponents. Its defense features several elite players, most notably linebacker Jared Badie and defensive back Kacey Battle. The defense has the capability to turn contests into nip-and-tuck battles. Offensively, Oswego East isn't all that explosive, but does have pass-run threat Tre Jones under center, so the Wolves can break the occasional big play.
About the Griffins: As is its custom, Lincoln-Way East is rounding into form at exactly the right time. Although the Griffins struggled to put away a Bradley-Bourbonnais team that was fighting for its playoff life in Week 9, Lincoln-Way East's young team has matured nicely down the stretch. RB Trey Johnson has really grown into the role after getting a late start on the position. The defense seems to have a knack of making the plays in critical situations.
FND pick: Lincoln-Way East
Lyons (5-4) at Lockport (8-1)
When: 6:30 p.m. Saturday
Last matchup: First meeting
About the Lions: Lyons punched its way into the playoffs by winning one of the seven games across the state that pitted a pair of 4-4 teams against one another. As expected, for a team just above .500, it has been a series of ups and downs, but a position switch that moved QB Joey Antonietti to other skill positions while turning the reins of the offense over to sophomore Ryan Jackson seems to have sparked something. Jackson was 14 for 17 with a pair of touchdown tosses in the Lyons' pivotal win over Downers Grove North in Week 9.
About the Porters: Lockport has been riding its exceptional defense the entire season. While that has rarely wavered, the offense, particularly the aerial attack, has shown signs of giving the Porters more balance. QB Hayden Timosciek and WR Ryan Little connected for three touchdowns in a Week 9 win over an Andrew team that was trying to force its way into the playoff field. If that kind of productivity continues, with an added sprinkle of Lockport's power running game, the Porters are going to be extremely difficult to contend with.
FND pick: Lockport
Minooka (5-4) at York (8-1)
When: 7 p.m. Friday
Last matchup: First meeting
About the Indians: Minooka flirted with disaster in terms of its playoff status, winning in overtime against Yorkville in Week 8 before fending off a pesky West Aurora team in Week 9. Despite entering the field 5-4, there's some dangerous components on this roster. Northern Illinois-recruit Malik Armstrong has thrived in his move to the backfield, and WR Trevor Hudak has a knack for making big plays when the Indians need them most. How far the Indians might go in the postseason hinges on the play of the defense, which has played better of late but struggled at times.
About the Dukes: York is back in the playoffs for the first time since 2011 and just missed running the table in the deep West Suburban Silver Conference. The Dukes' resurgence has revolved around a very capable defense. York has allowed 10 points or less in seven games. York's offense has been largely paced by QB Matt Vezza, who after being installed in Week 4, has become a run-pass threat. He tossed four touchdown passes in York's win over Oak Park-River Forest in Week 9.
FND pick: York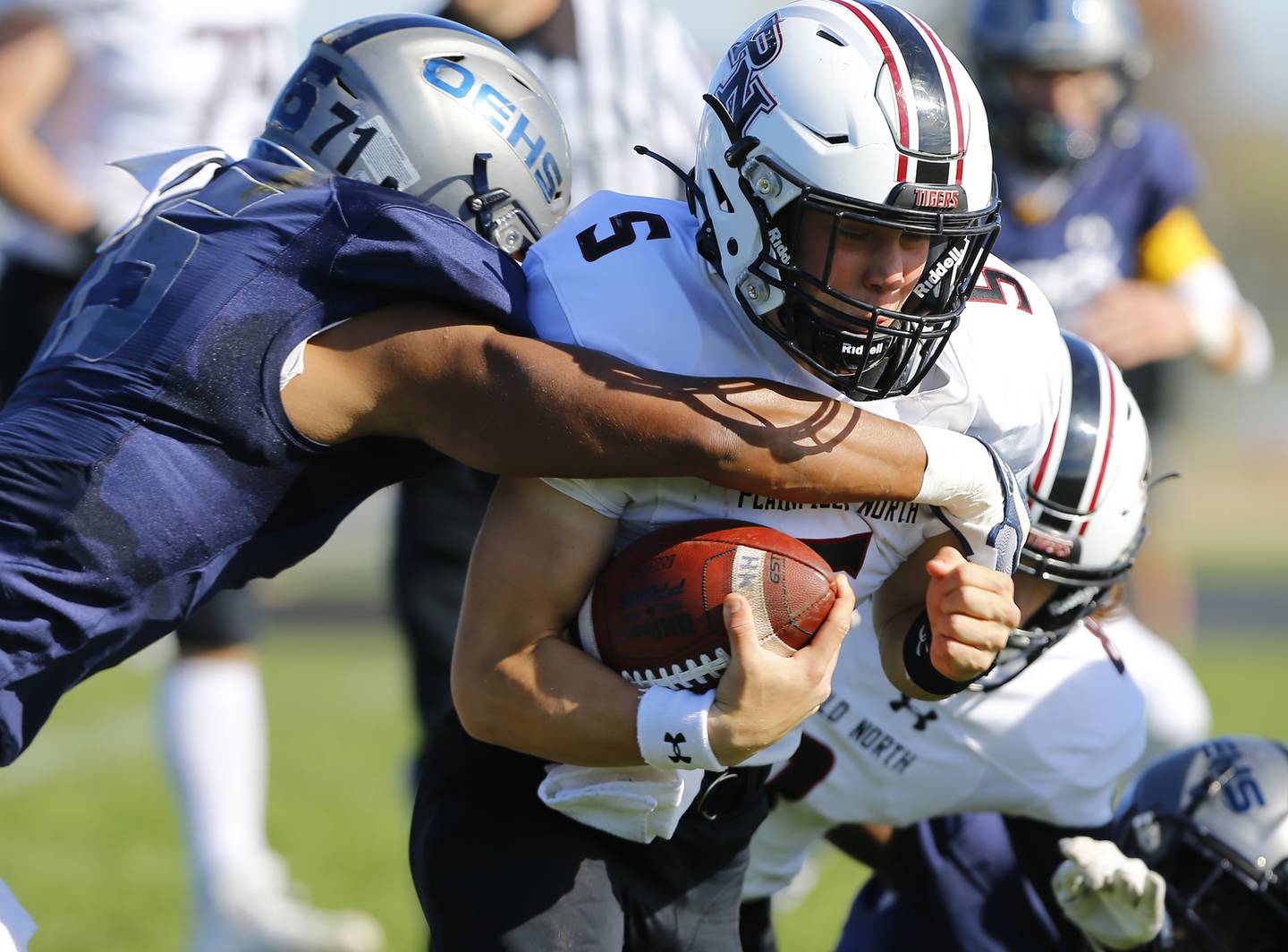 Evanston (6-3) at Plainfield North (7-2)
When: 6:30 p.m. Saturday
Last matchup: First meeting
About the Wildkits: Evanston is trending up at the right time but still needs to buck an unfortunate postseason trend in which it has lost eight consecutive opening-round games. The Wildkits struggled out of the box this season, dropping two of their first three games. Evanston has played strong football since, winning five of six with the only loss being a narrow one to stronghold Maine South. Evanston leans heavily on North Carolina-bound Sebastian Cheeks, who makes his presence felt on both sides of the football.
About the Tigers: Plainfield North has stuck to its very effective blueprint. The Tigers put the game in the hands of their capable defense, which allows a scant amount of yards and even fewer point. They tend to take things a step further with an offense that leans heavily on its ground game and keeping the football away from opponents.
FND pick: Evanston
Class 7A
Lincoln-Way West (5-4) at Buffalo Grove (8-1)
When: 7 p.m. Saturday
Last matchup: First meeting
About the Warriors: Lincoln-Way West started the season with an 0-3 record against some very strong competition. It looks like the schedule prepared the Warriors well for the stretch drive, where they finished off the season with a pivotal win over Homewood-Flossmoor to secure a playoff bid. Justin Harris has emerged as the key cog in the offense, which has wisely concerned itself with ball control to allow its defense, which has really put the clamps down on opponents during the second half of the season, to set the pace.
About the Bison: Although Lincoln-Way West's defense has been excellent for much of the season, it may face its toughest challenge with Buffalo Grove's option offense. The Bison have run for about 3,000 yards. QB Michael Cervantes engineers the deceptive attack and doles out the rushing attempts to a talented stable of running backs led by Scott Murray.
FND pick: Buffalo Grove
Yorkville (5-4) at Plainfield Central (8-1)
When: 7 p.m. Friday
Last matchup: Plainfield Central 28, Yorkville 13 (Fall 2021)
About the Foxes: Yorkville was in serious danger of not making the playoffs in Week 9, needing to figure out how to topple SPC stronghold Oswego to get into the five-win group. But the Foxes put on an impressive offensive display, seemingly scoring on every possession in posting 48 points, a program high since 2018. Perhaps more impressively, it was the most points an Oswego team had allowed since 2012. RB Geo Zeman and QB Nate Kraus have the offense clicking. Yorkville appears to be a dangerous 5-4 team that doesn't resemble the one that lost to Plainfield Central in Week 2.
About the Wildcats: Plainfield Central is trying to add to its breakout season, aiming to capture the program's first playoff win since 2000 (when it was known as Plainfield High School). The Wildcats have caught a groove over the second half of the season. They have been particularly staunch on defense. Linebackers Phillip Carlton and Ethan Obeng have played a big part in Plainfield Central's lockdown efforts. The Wildcats have allowed only 40 points over the final five games of the season.
FND pick: Yorkville
Plainfield East (5-4) at Hononegah (9-0)
When: 2 p.m. Saturday
Last matchup: First meeting
About the Bengals: Plainfield East's drive to the playoffs, which was keyed by the Bengals winning four of their past five games, has been spurned along by some of the veteran players on the Plainfield East roster, most notably WR/DB Michael Morgan. But the long-term effects of getting into the postseason, regardless of the outcome, might ultimately pay long-term dividends with several underclassmen getting more repetitions at the varsity level.
About the Indians: On paper, Hononegah's offensive stats certainly don't jump off the page, but the biggest thing that the Indians bring to the table is an excellent defense. The defense allowed 14 points or less in eight of its nine games. The only time the defense even remotely wilted was when it surrendered 24 points to Freeport in Week 3, but it still won the game by 25 points.
FND pick: Hononegah
Class 6A
Kennedy (5-3) at Lemont (9-0)
When: 7 p.m. Friday
Last matchup: First meeting
About the Crusaders: Kennedy is one of five schools making their postseason debut. The Crusaders face an uphill climb to compete in the Class 6A field as they've only recently been elevated into a CPL division that's eligible to participate in the playoffs. Kennedy scored no points in three games against the other CPL playoff qualifiers on its schedule.
About Lemont: Lemont has gone seven consecutive weeks since facing a real challenge when it beat Nazareth in the waning seconds. RB Albert Kunickis continues to be a wrecking ball that removes anything that gets in his path. Kunickis scored four touchdowns in a little over two quarters in Lemont's Week 9 win over Oak Forest.
FND pick: Lemont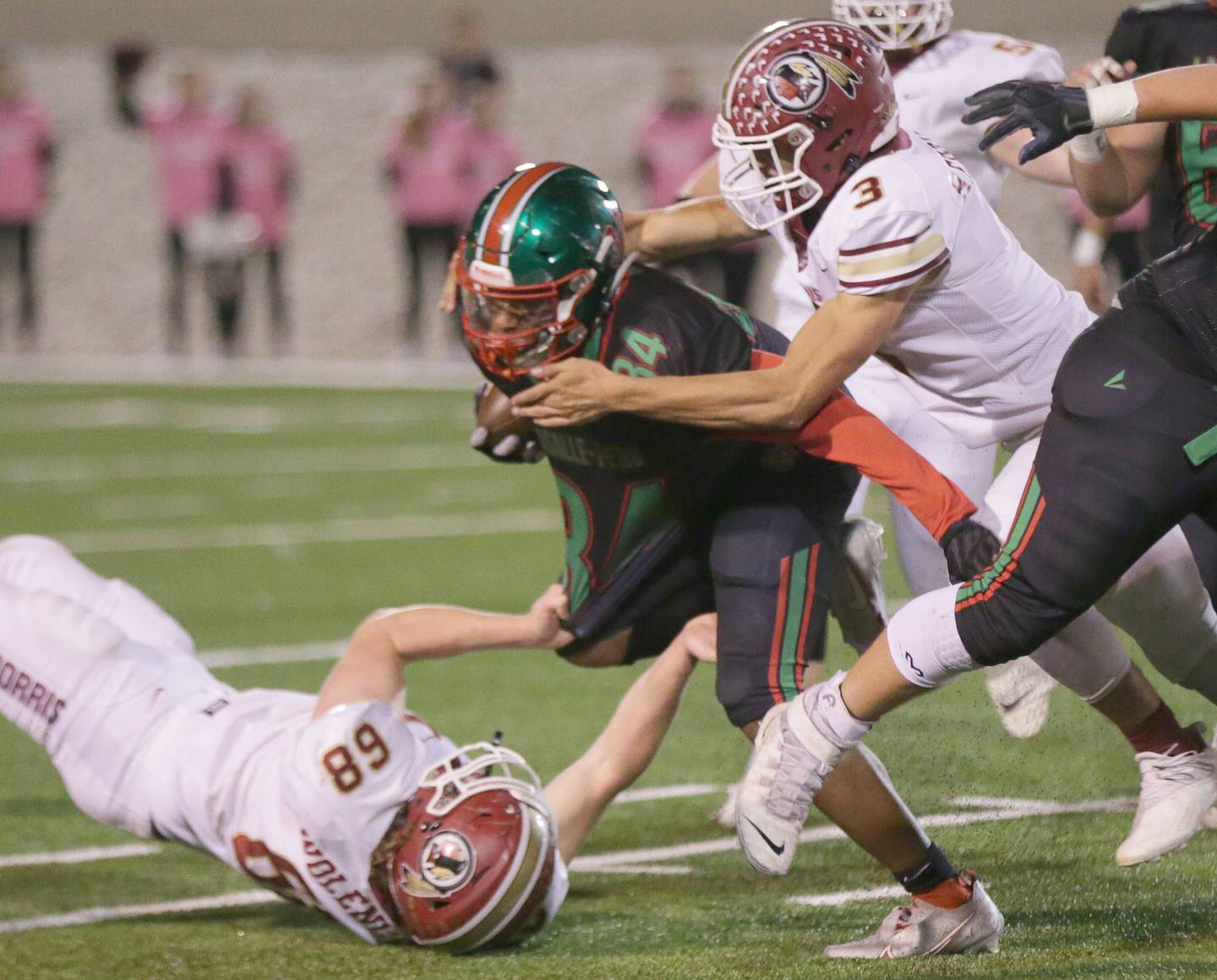 Class 5A
La Salle-Peru (5-4) at Morris (9-0)
When: 7 p.m. Friday
Last matchup: Morris 31, La Salle-Peru 7 (Fall 2021)
About the Cavaliers: La Salle-Peru likely wants nothing to do with a rematch with Morris as it was overwhelmed in their regular season matchup. The Cavaliers will have to use their Wing-T attack to control the clock and keep Morris off the field as much as possible. Without doing that, the Cavaliers will likely suffer the same fate as they did in Week 7.
About Morris: Morris completed its first undefeated regular season since 2005 by upending Sycamore in Week 9 with another great demonstration from the defense. The defense has pretty much been a constant all season. Morris has had great success offensively as well with a number of ball carriers routinely getting in on the act.
FND pick: Morris
Class 4A
Marengo (5-4) at Joliet Catholic (9-0)
When: 7 p.m. Friday
Last matchup: First meeting
About the Indians: Marengo's path to the playoffs was a little crooked and required big effort in the second half of the season. Now that the Indians are in, they will likely lean heavily on QB Josh Holst, who has accounted for about 2,000 passing yards and another 400 yards running.
About the Hilltoppers: Joliet Catholic has bullied most of its opponents this season, and many of those came from the larger classifications. Now that the Hilltoppers have moved to Class 4A for the postseason, they will have a personnel advantage on almost every team they face. RB Jordan Anderson is a punishing runner when he plays, but backfield mate Vinny Iannantone has had a monster season for the Hilltoppers and earned MVP honors in the CCL/ESCC Orange Division.
FND pick: Joliet Catholic
Coal City (6-3) at Wheaton Academy (7-2)
When: 7:30 p.m. Friday
Last matchup: Coal City 37, Wheaton Academy 0 (2018)
About the Coalers: Coal City has done an excellent job keeping itself in games this season by leaning on the play of a staunch defense. That's likely to still be there, but a serious injury to Ashton Harvey, a two-way player, in Coal City's Week 9 game will almost certainly leave the Coalers needing some untested players to step up.
About the Warriors: Wheaton Academy has quietly put together a strong season out of the Metro Suburban Conference. The two teams actually have a common opponent in Bishop McNamara. Both beat the Fightin' Irish, but the Warriors seemed to do it in much easier fashion.
FND pick: Wheaton Academy
Class 3A
Peotone (5-4) at Reed-Custer (8-1)
When: 7 p.m. Friday
Last matchup: Reed-Custer 42, Peotone 6 (Fall 2021)
About the Blue Devils: Peotone still is looking for its first win this season over a team with a winning record . The Blue Devils will have to make up a lot of ground to make that a reality here. Peotone was overwhelmed in the regular-season matchup between these two teams. Reed-Custer's offense took over in the second half.
About the Comets: Reed-Custer is hosting a playoff game for the first time in over a decade and is hoping to protect its turf against a team that it took apart during the regular season. QB Jake McPherson was a particular problem for Peotone. He has become a more than viable run-pass threat.
FND pick: Reed-Custer
Class 2A
Julian (5-4) at Wilmington (9-0)
When: 6 p.m. Saturday
Last matchup: First meeting
About the Jaguars: Julian qualified for the playoffs as a five-win team, but only actually had three victories on the field. CPL teams typically struggle in the playoffs and Julian has a track record that indicates it isn't likely to break that trend here. In 13 postseason appearances, Julian has one victory, over another CPL program.
About the Wildcats: The Wildcats powered through the regular season undefeated for the 11th time under the leadership of coach Jeff Reents. The blueprint of the program, running the ball on offense and developing a defense that doesn't tolerate opponents gaining much of anything, never seems to waver.
FND pick: Wilmington