Class 8A
No. 32 Downers Grove South (5-4) at No. 1 Loyola (9-0)
When: Noon Saturday.
About Downers Grove South: Quite a turnaround in Downers Grove. A Mustangs' team with 16 sophomores up on varsity started the season 0-4 – and was held scoreless the first three weeks in a brutal early schedule that included Glenbard West, Wheaton North and Willowbrook – but rallied with five consecutive wins to earn a playoff berth capped off by a 28-15 win over Leyden in Week 9. NIU recruit Eli Reed, a senior wide receiver, is a playmaker catching passes, running the ball, playing defense and on returns. Sophomore running back Deon Davis has been coming on of late with 185 yards rushing against Addison Trail and 194 against Morton. A trip to Wilmette is clearly a tough draw but a good learning experience for a young team.
About Loyola: Loyola, Class 8A champs in 2015 and 2018 and runner-ups in 2016 and 2017, has another dominant team that is coming off its closest game, a 21-19 win over Mount Carmel. Loyola has also had close calls against Brother Rice and Fenwick playing in the vaunted CCL/ESCC Blue. Steady junior QB Jake Stearney totaled 203 yards rushing and passing against Mount Carmel. Loyola has won 15 consecutive games, its last loss coming to Marist in the 2019 Class 8A quarterfinals.
Friday Night Drive pick: Loyola
No. 25 Minooka (5-4) at No. 8 York (8-1)
When: 7 p.m. Friday
About Minooka: Minooka flirted with disaster in terms of its playoff status, winning in overtime against Yorkville in Week 8 before fending off a pesky West Aurora team in Week 9 to secure a bid. Despite entering the field with a 5-4 record, there's some dangerous components on this roster that are capable of breaking out at a moment's notice. Northern Illinois recruit Malik Armstrong has thrived in his move to the backfield and WR Trevor Hudak seems to have a knack for making big plays when the Indians need them most. But however far the Indians may go in the postseason seems to hinge on the play of the defensive unit, who while having played better as of late, has been prone to struggles at times.
About York: The Dukes, under fourth-year coach Mike Fitzgerald, are back in the playoffs for the first time since 2011 with the most wins since 2010. A 12-10 Week 6 win at Glenbard West, York's first win over the Hilltoppers since 2007, is the Dukes' marquee win. Their only loss came in Week 7 against Hinsdale Central, a game in which York led by 16 points in the fourth quarter. Junior QB Matt Vezza, who took over as starter in Week 4, has emerged as a dynamic threat who can beat teams with his arm and legs. He threw for 245 yards and four TDs and led a two-minute drive to beat Oak Park-River Forest 36-33 in Week 9. Jack Wagner had seven catches for 84 yards and two TDs in that win. Mntesi Mndzebele had seven tackles and an interception. A Dukes' defense led by Jeffrey Coglianese and David Loch, besides Week 7 and Week 9 hiccups, has allowed just 44 points in the other seven games.
FND pick: York
No. 29 Lyons (5-4) at No. 4 Lockport (8-1)
When: 6:30 p.m. Saturday
Last matchup: First Matchup
About Lyons: Lyons punched its way into the field by winning one of the seven Week 9 games across the state that pitted a pair of 4-4 teams against one another. As to be expected, for a team just above .500 on the season, it has been a series of ups and downs for Lyons this year – but a position switch that moved quarterback Joey Antonietti from under center to other skill positions while turning the reins of the offense over to sophomore Ryan Jackson seems to have sparked something. Jackson was 14-for-17 for 165 yards with a pair of touchdown tosses in the Lyons' pivotal win over Downers Grove North in Week 9. He alternated at QB in the game with senior Aiden Sullivan, who started at QB against Proviso West, and Antonietti. Jackson was 8-for-8 in the second half for 109 yards. Antonietti scored TDs at both running back and receiver in the win over Downers North. Sophomore lineman Eddie Tuerk received an offer from Minnesota earlier this week.
About Lockport: Lockport has been riding its exceptional defense for the entire season and while that has rarely wavered, the offense, particularly the aerial attack, has shown signs of giving the Porters more of a balanced look. QB Hayden Timosciek and wide receiver Ryan Little connected for three touchdowns in a Week 9 win over an Andrew team that was trying to force its way into the playoff field. If that kind of productivity continues with an added sprinkle of Lockport's power running game the Porters are going to be extremely difficult to contend with.
FND pick: Lockport
No. 18 Marist (6-3) at No. 15 Glenbard East (7-2)
When: 7 p.m. Friday
Last matchup: Marist 49, Glenbard East 7 (2019 first-round playoff game)
About Marist: Glenbard East knows well not to be fooled by the RedHawks' low seed. In 2019, as a No. 23 seed, Marist beat higher-seeded teams Glenbard East, Huntley and Loyola en route to the Class 8A semifinals. The RedHawks were also an 8A semifinalist in 2018. This Marist edition went 6-3 in the vaunted CCL/ESCC Blue, with losses to powerhouses Mount Carmel, Loyola and Brother Rice, the latter 40-21 in Week 9. An offense led by senior QB Dontrell Jackson, a Coastal Carolina recruit, is averaging nearly 34 points per game. Tackle Danny McGuire is committed to Northwestern. Marist linebacker Jimmy Rolder is one of the state's hottest recruits of late. Wisconsin and Florida this week became the ninth and 10th schools to offer him this month, joining Illinois, Ohio State, Iowa, Minnesota, Michigan, Purdue, Cincinnati and TCU.
About Glenbard East: The Rams are making their third consecutive playoff appearance after what was a huge breakthrough season in 2018 that ended a two-decade postseason drought. Marist was clearly a tough draw, but also another opportunity for Glenbard East to show it can play with a program from a conference with quite a pedigree. Glenbard East's losses came to South Elgin and Glenbard South, who both broke 40 points against the Rams' defense. Tyrese Buffkin is a player to watch offensively. Matt Schager and Demontay Mack are among the ringleaders for the Rams' defense.
FND pick: Marist
No. 26 Sandburg (5-4) at No. 7 Hinsdale Central (8-1)
When: 2 p.m. Saturday
About Sandburg: After five straight losing seasons, once powerhouse Sandburg is back in the playoffs for the first time since 2015 under first-year coach Troy McAllister, who previously won two state titles in 11 seasons at Phillips. It's been a tale of two seasons for the Eagles, who took fourth in the competitive Southwest Suburban Blue. Sandburg sat at 1-4 after a 42-0 loss to Lockport in Week 5. But the Eagles stunned Lincoln-Way East 30-27 the next week, fueling a four-game winning streak to end the season and surge into the playoffs as one of the area's hottest teams with a 59-17 win over Lincoln-Way Central in Week 9. Junior QB Christian Evans threw for 306 yards and three TDs in the win over Lincoln-Way East. Nathan Gibbons, a 6-foot-3, 245-pound senior, is a player to watch defensively.
About Hinsdale Central: The Red Devils wrapped up their second consecutive West Suburban Silver title Saturday with a 6-0 win at Glenbard West last Saturday. Hinsdale Central, making its 10th consecutive playoff appearance, has won eight games in a row since a Week 1 loss to Naperville Central. The Red Devils have been a model of consistency in the last decade, with seven or more wins in seven consecutive nine-win seasons and the 6-0 mark in the spring. That spring team was led by a dominant defense, but this group has proven to be pretty darn good too with four shutouts. Linebackers Sean Allison and JT Pyle lead a Red Devils' defense that rose to the occasion late in a Week 7 win at York and was dominant at Glenbard West. Allison, a hybrid linebacker/safety, has also contributed offensively at running back. Thomas Skokna is the big-play threat for an offense piloted by QB Billy Cernugel, who was impressive in leading the Red Devils back at York.
FND pick: Hinsdale Central
No. 20 Oswego (6-3) at No. 13 Glenbard West (7-2)
When: 1 p.m. Saturday
Last matchup: Oswego 24, Glenbard West 20 (2017 playoffs)
About Oswego: Oswego this fall won a share of its 10th Southwest Prairie Conference championship in 11 seasons, although the Panthers need to quickly put behind them a jarring 48-26 loss at Yorkville in Week 9 – the most points an Oswego defense has given up since 2012. Speedy senior Mark Melton has rushed for close to 1,000 yards on the season – around 800 of that total during a spectacular four-week stretch run in the SPC West. Oswego, though, will likely need a consistent effort from junior QB Cruz Ibarra throwing to Deakon Tonielli and Co. to soften up a stingy Glenbard West defense. Oswego linebackers Braedon Hellinger, Nate Perry and A.J. Johnson figure to be busy against an offense that likes to establish the run.
About Glenbard West: Glenbard West, like Oswego, needs to regroup after a tough 6-0 loss to Hinsdale Central at Duchon Field in Week 9. The Hilltoppers are making their 14th consecutive playoff appearance under head coach Chad Hetlet. Pat Shadid and Phillip Dozier are notables on a Glenbard West defense that's allowed just 71 points this season, and only 31 in a four-week stretch run against playoff teams York, Downers Grove North, Lyons and Hinsdale Central. Joey Pope is over 1,000 yards rushing and 17 TDs in a breakout season. The Hilltoppers are young on offense with Pope, junior QB Korey Tai and sophomore receiver Julius Ellens and have had their share of struggles scoring against quality defenses.
FND pick: Glenbard West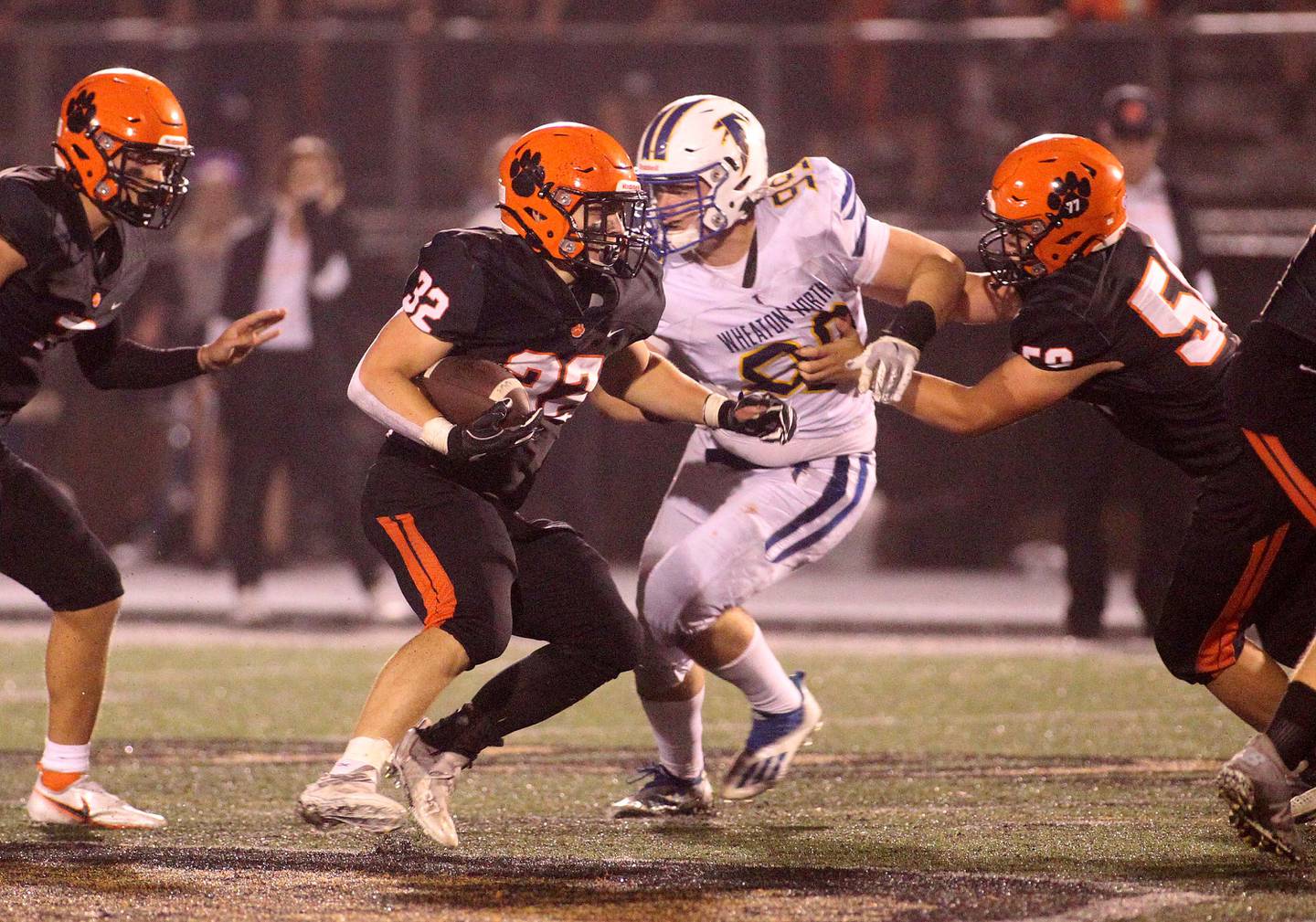 Class 7A
No. 24 Wheaton Warrenville South (5-4) at No. 9 Brother Rice (7-2)
When: 6 p.m. Saturday
About Wheaton Warrenville South: The Tigers earned a playoff bid under first-year head coach Sean Norris by virtue of their 10-7 win over Glenbard North in Week 9. WW South's defense has been a strength, allowing greater than 13 points only once since Week 2. But can the Tigers score enough to hang with a high-powered Brother Rice offense? The Tigers finished fourth in the tough DuKane Conference and played Wheaton North to the wire, so they are battle tested and proven they can be competitive against the elite of the 7A bracket. Starting QB Matt Sommerdyke was injured in Week 9, but backup QB Kellen Brown threw a game-winning TD pass to Lance Kottke in the final minutes.
About Brother Rice: The Crusaders, No. 1 in the latest Class 7A Associated Press poll, took second in the grind that is the CCL/ESCC Blue, their only losses high-scoring close calls against Loyola (46-43) and Joliet Catholic (56-49), both unbeaten teams. An offense led by QB Jack Lausch, a state Player of the Year candidate who is going to Notre Dame to play both baseball and football – the latter as a preferred walk-on – is averaging just a tick under 40 points per game. Lausch threw for 289 yards and three TDs and ran for 137 yards and three TDs against Loyola. The Crusaders were the 2018 Class 8A runner-up and a 2019 semifinalist. Brother Rice is one of a loaded upper half of the Class 7A bracket that includes Batavia, Mount Carmel and Wheaton North.
FND pick: Brother Rice
No. 29 Larkin (5-4) at No. 4 Wheaton North (8-1)
When: 7 p.m. Friday
About Larkin: The Royals, winless in the abridged spring season and just 1-8 in 2019, are back in the playoffs for the first time since 2006. Larkin did it with three straight wins from Weeks 6-8, the big one a 30-28 win over rival Elgin in which the Royals rallied from 14 points down in the fourth quarter. A 28-21 win over Bartlett, Larkin's first win over Bartlett since 2008, was another notable win. Jamarion Stubbs, a 5-foot-9 senior wide receiver/defensive back and also an All-State hurdler, is the man to watch for the Royals.
About Wheaton North: The Falcons built on a stellar 5-1 spring season and came within an overtime loss to Batavia in Week 3 – a game in which Wheaton North led by double digits in the fourth quarter – of an unbeaten season. Third-year starting QB Mark Forcucci, a Holy Cross recruit, running back Brayton Maske and Seth Kortenhoeven lead the offense and bring a ton of experience to the table. Wheaton North's defense led by Ross Dansdill and Kaiden Libby has allowed eight or fewer points in six games. Wheaton North's eight regular-season wins was its most since 2012. Wheaton North, ranked No. 3 in Class 7A, has one playoff win since 2013, but this team appears to have all the tools to play deep into November.
FND pick: Wheaton North
No. 21 Willowbrook (6-3) at No. 12 Whitney Young (7-2)
When: 7 p.m. Friday
About Willowbrook: The Warriors are making their fifth straight playoff appearance, overcoming an 0-2 start to the season and winning their fifth consecutive West Suburban Gold title. In the process the Warriors ran their win streak in the division to 28 straight. The last time playoffs were held, in 2019, Suburban Life Player of the Year Sam Tumilty led Willowbrook to its first state semifinals appearance since 1975. The Warriors, in fact, have made four straight quarterfinal appearances from 2016-2019, although this is obviously an entirely different group. Josh Brown, who had a huge spring season, Nick Mabutas and Jaylon White are among the players to watch offensively.
About Whitney Young: The Dolphins are back in the playoffs for the first time since 2015, one of a record 24 Chicago Public League teams to qualify for the IHSA postseason. Young has come a long way since low numbers forced the suspension of the program in 2017 and a restart the following year in a lower division. The Dolphins this season joined CPL powers Phillips and Taft in the Illini Land of Lincoln division, and started their season 5-0. Young has allowed 38 points in its seven wins and 66 in losses to Phillips in Week 6 and Taft to Week 8. The Dolphins' defense has held its opponent without a score on five different occasions. Young comes into the playoffs off a 10-6 win over Brooks in the CPL Playoffs. Frank Schotanus had a 4-yard TD in the game. Senior QB Pat McHale is one of the city's top players.
FND pick: Willowbrook
Class 6A
No. 16 Kennedy (5-3) at No. 1 Lemont (9-0)
When: 7 p.m. Friday
Last matchup: First meeting
About the Crusaders: Kennedy is one of the five schools that are making their IHSA postseason debut. The Crusaders face an uphill climb in being prepared to compete at the level required to compete in the Class 6A field as they've only recently been elevated into a CPL division that's eligible to participate in the IHSA playoffs. Kennedy scored no points in three games against other CPL playoff qualifiers on its schedule.
About Lemont: Lemont has gone seven consecutive weeks since facing a real challenge in a game when they beat Nazareth in the waning seconds of its Week 2 matchup. They will likely not be pushed very hard in this playoff opener either and RB Albert Kunickis continues to be a wrecking ball that removes anything that gets in his path. Kunickis scored four touchdowns in a little over two quarters in Lemont's Week 9 win over Oak Forest.
FND pick: Lemont
No. 13 Riverside-Brookfield (5-4) at No. 4 East St. Louis (7-2)
When: 3 p.m. Saturday
About Riverside-Brookfield: The Bulldogs are back in the playoffs for the sixth time in seven seasons in which the playoffs were held, although the program's last postseason win came in 2015. A trip to East St. Louis isn't an ideal scenario to end that streak. Riverside-Brookfield started its season 5-1, its best win 26-14 over Aurora Christian in Week 4, but comes into the playoffs losers of three straight games to IC Catholic Prep, St. Francis and Bishop McNamara by an average 36-point margin. T.J. Sloan and sophomore Diego Gutierrez both threw TDs in the 54-14 loss to Bishop McNamara. The Bulldogs in that game lost running back/defensive back Vinnie Maietta to a shoulder injury and Brady Vaia was also dinged up for a team that has already been without wide receiver Matt Novak with a knee injury since Week 2.
About East St. Louis: The 2019 Class 6A champs and No. 1-ranked team in 6A by the Associated Press are again the team to beat in the bracket. East St. Louis' only losses are to out-of-state powerhouses Bellflower St. John Bosco (Calif.) and IMG Academy (Fla.) in a schedule that included four out of state teams. Missouri recruit Luther Burden, the No. 1 senior in Illinois and No. 5 player overall nationally, and cornerback Toriano Pride, a Clemson recruit and the state's No. 4 senior, headline the roster. East St. Louis is averaging 54 points per game in its wins with four shutouts.
FND pick: East St. Louis
Class 5A
No. 16 Noble/Bulls Prep (5-4) at No. 1 Glenbard South (8-1)
When: 6:30 p.m. Friday
About Noble/Bulls Prep: Noble/Bulls Prep is in the playoffs by virtue of its 58-28 Week 9 win over Chicago Noble/ITW Speer. The Bulls overcame an 0-3 start by winning four straight games, the best one a 16-13 win over Payton in Week 4. The program has won at least six games in each of the last six nine-win seasons.
About Glenbard South: The Raiders are making their 10th straight playoff appearance, as they took second in the Upstate Eight Conference with their lone loss to South Elgin. Trevor Burnett, who holds 10 scholarship offers and had a huge 243-yard game against Glenbard East in Week 8, is a player to watch out of the backfield. The Raiders also feature talented sophomore skill-position players in QB Michael Champagne and receiver Cam Williams, who holds offers from Illinois, Iowa and NIU. Senior outside linebacker/receiver Dominic D'Ambra is another player to watch. Glenbard South's eight regular-season wins is the program's most since 2013. Now the Raiders are after their first playoff win since 2017.
FND pick: Glenbard South
No. 15 Kaneland (5-4) at No. 2 Fenwick (7-2)
When: 7 p.m. Friday
About Kaneland: Kaneland surged into the postseason, winning its final two games against Ottawa (52-26) and LaSalle-Peru (55-13) to qualify.
The Knights have Kaneland surged into the postseason, winning its final two games against Ottawa (52-26) and La Salle-Peru (55-13) to qualify.eptions while completing 67.1% of his passes. Sam Gagne has 56 catches for 1,076 yards and 15 touchdowns, Aric Johnson has 35 catches, 682 yards and nine scores and Dom DeBlasion has 40 catches, 498 yards and five touchdowns.
The defense has struggled this year, giving up 30 or more points in four games this year, all losses. But coach Pat Ryan said the pass defense has been OK and the run defense stepped up against LaSalle-Peru, so he's optimistic against a spread team like the Friars that the Knights can have some success defensively to give the offense a chance.
About Fenwick: The Friars, under second-year coach Matt Battaglia, could be poised for their deepest run since reaching the Class 7A semifinals in 2016 and quarterfinals in 2017. It's a talented roster that's been tested in the crucible of the CCL/ESCC. Fenwick's record is perhaps more impressive than a surface glance; its only losses were by one point to Providence in Week 3 and on a last-second field against Loyola in Week 5. Fenwick is coming off its most impressive win of the season, 28-20 on the road in Week 9 against previously undefeated St. Ignatius. Senior QB Kaden Cobb, a Ball State recruit, leads an offense that averages a tick over 35 points per game. His top targets include Illinois commit Eian Pugh and Eastern Michigan recruit Max Reese. Purdue recruit Jimmy Liston, 6-foot-4 and 310 pounds, anchors Fenwick's line.
FND pick: Fenwick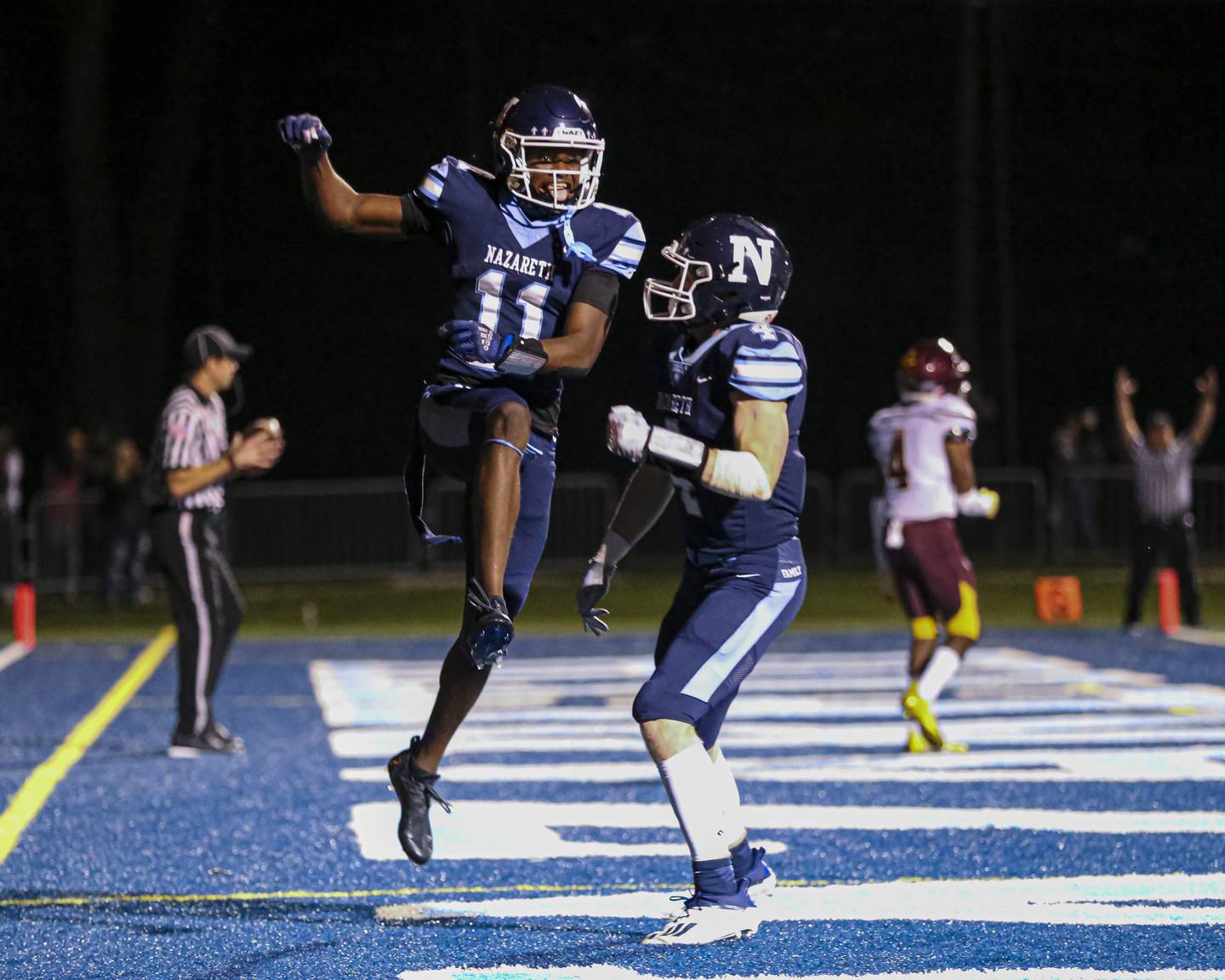 No. 14 Nazareth (5-4) at No. 3 Chicago Goode (7-2)
When: 4 p.m. Friday, at Gately Stadium
About Nazareth: The Roadrunners, who made five state championship game appearances between 2014 and 2019, are making their eighth straight playoff appearance – but needed to scramble to get here after an 0-3 start. The only loss since then was a high-scoring 42-39 affair with St. Rita in Week 6 as Nazareth appears to be playing its best football as the season has worn on. Freshman QB Logan Malachuk has completed 60% of his passes for 1,413 yards and 15 TDs in seven games. Quentrell Harris has caught 46 passes for 784 yards and nine TDs and Justin Taylor 35 catches for 557 yards and four TDs. Junior RB/LB Kaleb Miller is a dynamic two-way threat who started on the 2019 state team as a freshman; this season he has rushed for 446 yards and five TDs and has a team-high 76 tackles. Freshman defensive lineman Gabe Kaminski, offered by Iowa this month, 56 tackles, 10 tackles for loss and five sacks.
About Goode: Goode, one of five CPS Early College STEM schools located in the Ashburn neighborhood on Chicago's south side, won an Illini Big Shoulders conference title in the spring with a 4-1 record and followed that up by taking an Illini Great Lakes title this fall. This is the program's second time in the playoffs, and second time facing Nazareth. In 2016, the program's third year, Goode went 9-0 and lost to Nazareth 46-6 in the first round of the Class 5A playoffs. Senior Marquis Brown has split reps at QB with senior Jaheed Puckett, who also plays wingback and defensive back. Goode won six consecutive games after a Week 2 loss to Whitney Young, before losing to Taft 49-7 in Week 9. Goode averaged 33 points per game, with a season-high in a 65-6 win over Carver in Week 5 – the program's first time beatings its rival.
FND pick: Nazareth
Class 4A
No. 9 Coal City (6-3) at No. 8 Wheaton Academy (7-2)
Last matchup: Coal City 37, Wheaton Academy 0 (2018)
About the Coalers: Coal City has done an excellent job keeping itself right in the thick of most of its games this season by leaning heavily on the play of a staunch defense. That's likely to still be there, but a serious injury to Ashton Harvey, a two-way performer, in Coal City's Week 9 game will almost certainly leave them in a situation where the Coalers will need some largely untested players to step up big.
About the Warriors: The Warriors under second-year coach Jim Johanik have put together a stellar season out of the Metro Suburban Conference. Wheaton Academy is back in the playoffs for the first time since 2018 with the program's most wins since 1957. Senior QB David Dorn leads an offense that averages a tick under 40 points per game, and senior linebacker Peter Johanik is the ringleader of a defense that has given up just 93 points. Wheaton Academy comes off a solid 28-14 win over fellow playoff team Aurora Christian, the Warriors' third straight win since a loss to IC Catholic Prep. Wheaton Academy and Coal City actually have a common opponent in Bishop McNamara. Both beat the Fightin' Irish, but the Warriors seemed to do it in much easier fashion.
FND pick: Wheaton Academy
No. 12 Peoria Notre Dame (6-3) at No. 5 St. Francis (7-2)
When: 2 p.m. Saturday
About the Irish: Notre Dame had a four-game winning streak heading into week nine before Peoria handed them a close 40-35 loss. Coincidentally, Peoria also played St. Francis this season, a 51-26 St. Francis win in Week 2. Brady Osmulski, a Spoon River College baseball recruit, is one of the Irish's top playmakers, who had 108 yards on 12 carries with three touchdowns last week before leaving with a reported hamstring injury. Senior running back Will Ludolph ran for 147 yards and three TDs and caught a TD in Notre Dame's Week 8 win over Peoria Manual that clinched a playoff bid. This is Notre Dame's 10th consecutive playoff appearance, but the Irish have lost their last four playoff games with the most recent win 2015. Senior defensive back Alex Osmulski, whose twin brother Brady is Notre Dame's QB, had eight interceptions during the Irish's four-game winning streak.
About the Spartans: St. Francis ended the regular season in impressive fashion by handing IC Catholic its first loss of the season, the third straight season the Spartans have beaten their Metro Suburban Conference rivals. The Spartans had 295 yards rushing on Friday and was highlighted by conference Offensive Player of the Year Adam Criter's 92 yards rushing and two-touchdown night. Blake Lawson had 181 total yards. TJ McMillen is a two-way standout. Senior linebacker Sammy Atkins, just voted the conference's Defensive Player of the Year, had eight tackles, two hurries and one tackle for loss against ICCP. The Spartans have to be motivated for a deep playoff run after the opportunity was denied them during an unbeaten spring season.
FND pick: St. Francis
Class 3A
No. 11 Monmouth-Roseville (6-3) at No. 6 IC Catholic Prep (8-1)
When: 7:30 p.m. Friday
About Monmouth-Roseville: Monmouth-Roseville, out of the Three Rivers Rock Conference in western Illinois, is in the playoffs after an 0-5 spring season. It's the program's fifth playoff appearance since 2005. Monmouth, a 2018 Class 3A quarterfinalist in its last playoff appearance, dropped its last two games to Erie-Prophetstown and Princeton, giving up 55 points in the finale, after six straight wins. The Titans' offensively are led by junior QB Silas Braun, who has thrown for over 1,000 yards and rushed for over 500 yards, and senior running back Derek Chandler, who has rushed for over 1,000 yards. The Titans are 1-3 against teams with winning records, their lone win by three points over 5-4 Rockridge in Week 5.
About IC Catholic Prep: The Knights, the No. 1-ranked team in Class 3A entering the week, is coming off its first loss of the season, 19-7 to St. Francis on Friday night. Sophomore QB Dennis Mandala, sophomore KJ Parker and junior running back Malik Gray lead a talented group of young skill-position players. Mandala has completed 62.4% of his passes for 1,128 yards and seven TDs in eight games. Gray has rushed for 778 yards and seven TDs and Parker has caught 16 passes for 229 yards and three TDs. Defensively, senior defensive end Antonio Richardson has 40 tackles, 13 tackles for loss and 12 sacks. The program, of course, has a strong recent playoff history – three straight state titles from 2016-2018 and a quarterfinal appearance in Class 4A in 2019. The Knights appear to be set up for another deep run.
FND pick: IC Catholic Prep
Steve Soucie and Eddie Carifio contributed to these previews