Late in Friday's regular season finale, York football coach Mike Fitzgerald admitted to experiencing a wide range of emotions.
Seconds away from securing an emotional 36-33 victory over Oak Park-River Forest, Fitzgerald said he was comforted by a new milestone in York's long football history.
"I was looking forward to coaching for another week at least," Fitzgerald said. "I was standing on the field, just remembering all the pain from some tough losses and reflecting on past week nine games. I was very grateful to get another week."
The Dukes (8-1, 5-1 West Suburban Silver) won their first six games to notch the program's first playoff berth since 2011. The Dukes will host Minooka (5-4) on Friday in a Class 8A first-round playoff game.
In a milestone season, the Dukes recorded signature wins over Lyons and Glenbard West, with their only defeat to league champion Hinsdale Central in Week 7.
"Making the playoffs is something we've been shooting for since I've gotten here," Fitzgerald said. "We came so close in 2019. We lost a couple of heartbreakers, fell short and then didn't have any playoffs in the spring, so we had no opportunity to do it. I think our last class would've done it, so it's awesome to see all the hard work these kids have put in to get a playoff spot. The kids before them helped set the foundation."
The Dukes have been a sleeping giant for decades due to their success in several sports, a strong community, a good talent base to go with support from the athletic department and the community plus a strong alumni base yearning for success in football.
"Everybody is really excited about what's going on in the town about York football," Fitzgerald said. "There's a lot of positive energy, for a lot of people have commented about that when they come to play at our place. They can sense the environment and the good vibe around York football. The (local) kids want to be a part of it. We're close to running out of equipment. It's really special to be in the playoffs."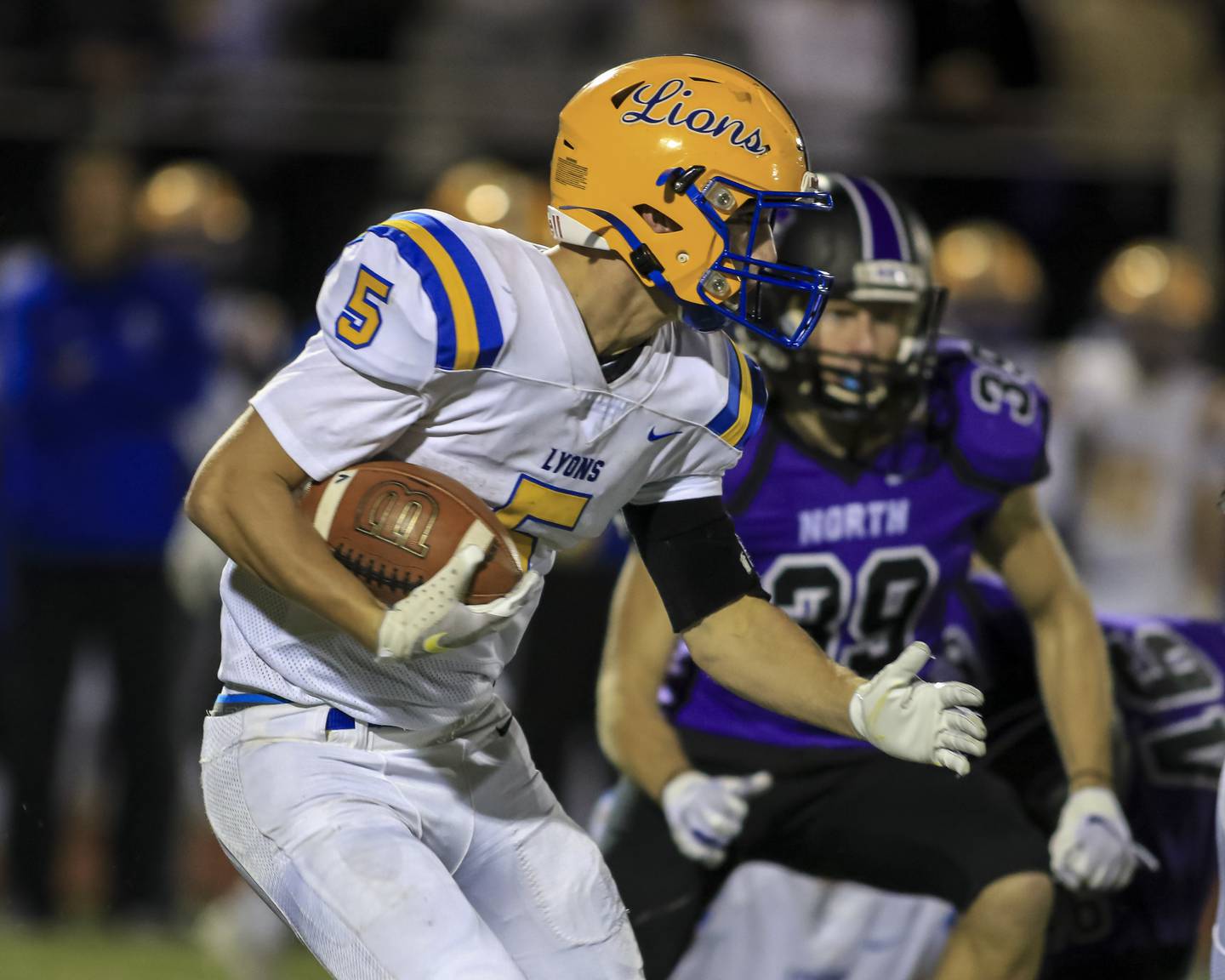 Lyons also back in the playoff hunt
Since last spring, senior Joey Antonietti had aspirations for leading Lyons back to the playoffs for the first since 2017 — from the quarterback spot.
But that changed after a Week 5 loss at York, when Lyons coach Jon Beutjer moved Antonietti to wide receiver and running back.
"Joey did a great job at quarterback, but I felt we could better utilize him at other positions in order to be more successful," Beutjer said. "He can run, pass and catch. We could play Joey at different positions and get him the ball more. He could attack the defense in so many more ways. It's hard for defensives when we move him around, especially when we use a no-huddle. It becomes very challenging to stop us."
The Lions (5-4) won three of their final four regular season games to earn a ticket to the 8A playoffs, where they will travel to Lockfort (8-1) on Saturday.
"After that York (loss), we woke up the next day and went to watch film and found out what we needed to fix," Antonietti said. "We put that loss behind us and kept moving forward with the goal of making the playoffs. It feels awesome to make the playoffs. That was our goal the whole year. It was fun to come down to that last game and win."
Antonietti said playing numerous positions, including quarterback, is far different than his past responsibilities. A captain, Antonietti said he focused on leading the team rather than his position change.
"It's fun moving around playing all three (positions)," he said. "I have a different role almost every play. I'm just trying to lead by example. It's definitely little less mental not playing quarterback."
Beutjer credited his senior class for setting the tone following the loss at York.
"The senior class worked really hard to achieve the goal of making the playoffs," Beutjer said, a former all-state quarterback at Wheaton Warrenville South. "It means a lot to them that they helped get the program in the right direction. We've playing good sound football."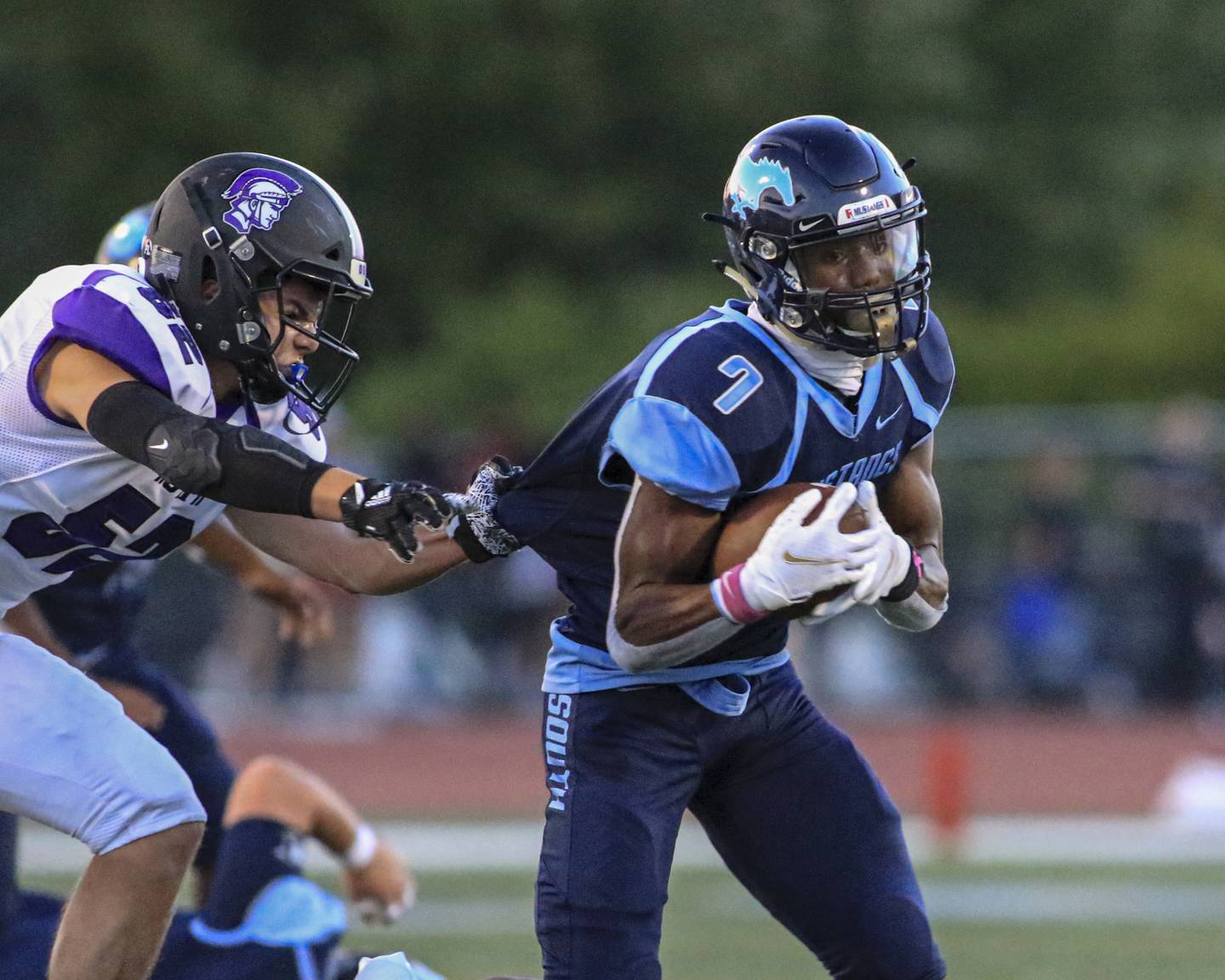 Downers Grove South update
In late September, Downers Grove South looked headed toward a season full of losses with an expiration date for Oct. 22. The Mustangs showed no signs of making the playoffs, losing their first four games by a combined margin of 140-7, including three straight shutouts to open the season.
But the Mustangs bounced back to win five straight to earn a playoff berth. The Mustangs' gift for making the playoffs?
They play undefeated state powerhouse Loyola in an 8A first-round playoff game. The Mustangs defeated Leyden 28-15 in Friday's regular-season finale to secure a playoff berth.
Senior wide receiver Eli Reed, a Northern Illinois recruit, said the senior class was motivated to make a run at the playoffs.
"It feels amazing to make the playoffs," Reed said. "The whole team came together and we bonded and never gave up on this program. The senior leaders all stepped up to the plate and it showed on the field. We took control of everything, and good things happened, in practice and in school. Loyola is a great team, but every team has weak spots. It's not an insurmountable game. We're going to take it step by step. We've done a good job scouting on them. We know areas we can attack. We have a good plan to beat them."