OTTAWA – If it was Marquette coach Tom Jobst's intention to have his Crusaders focus not on the IHSA playoff pairings that would be announced later in the day Saturday and instead concentrate just on the task at hand, their game with the Fisher Bunnies, he can consider that a chore well accomplished.
The Cru scored four touchdowns in their first six plays from scrimmage and posted a whopping 34 points in the first quarter alone of a 55-14 victory over the Bunnies in their Week 9 clash at bright, sunny Gould Stadium.
Jurnee Reed rushed 12 times for 112 yards and three touchdowns, while backfield mate Tom Durdan ran for just five times for the same 112 and one score – a 54-yard run on the second offensive snap of the opening period. Freshman Julian Alexander chipped in 73 yards and two TDs on just four tries, as the trio led a Marquette attack that piled up 343 ground yards and 420 total yards on the day.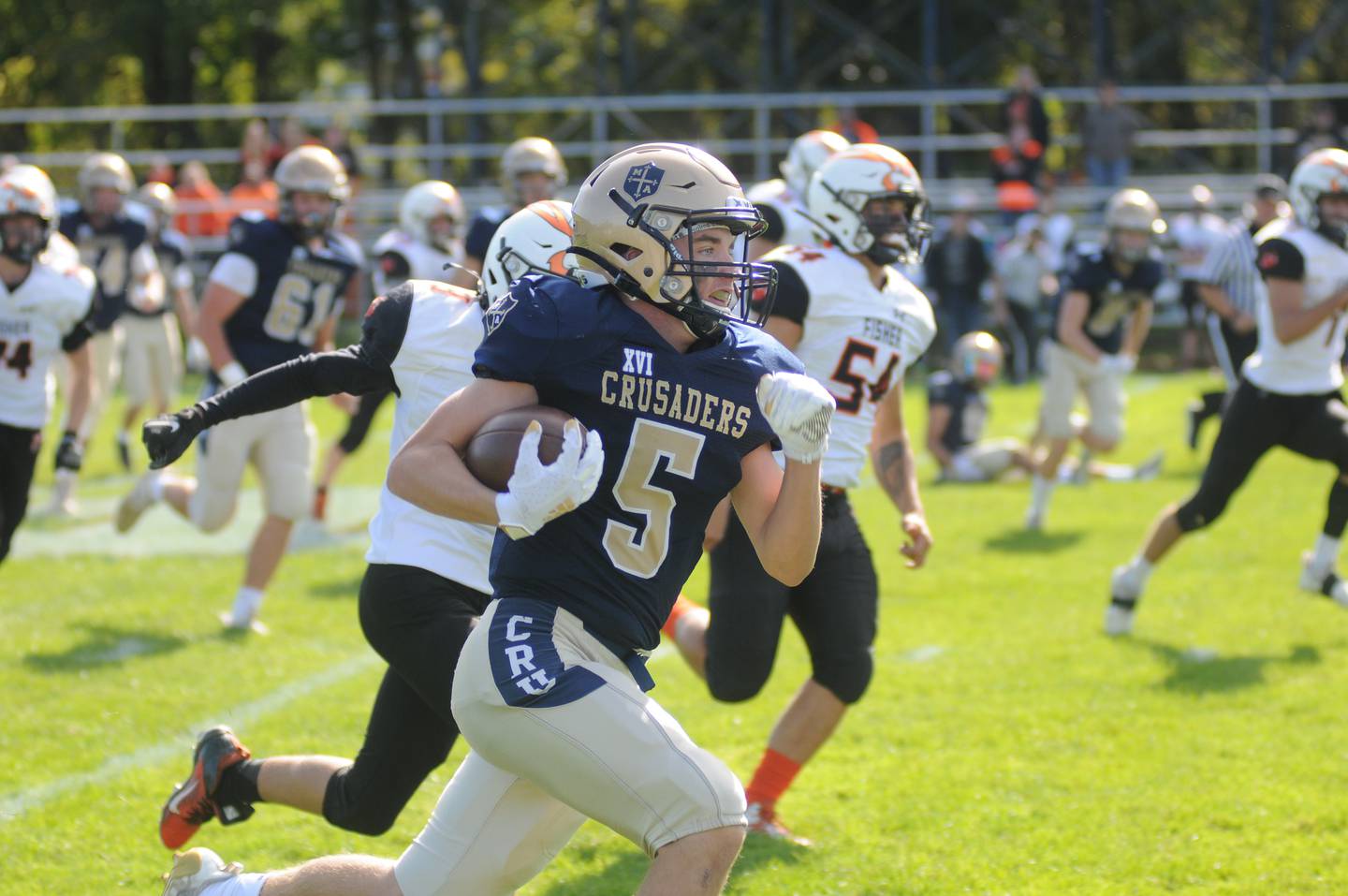 Defensively, the Crusaders gave up only two plays of more than nine yards all day, blocked two punts, intercepted three passes and held the Bunnies to just 2-of-12 passing for 24 yards.
In all, MA surrendered a mere 123 total yards as it lifted its record to 8-1 on the year.
"That was really a fast start. It was kind of hard to believe, but we certainly came out firing," Jobst said with a chuckle. "When you're going into the playoffs, you have to go in on the upswing, not tapering off, and the kids came ready to play. We've been working on cranking it up and the kids have responded really well."
No. 2 seed Marquette will host No. 15 Princeville (5-4) on Friday at 7 p.m.
The Crusaders left little doubt Saturday in the minds of the senior-day crowd who was the better team. After Reed ran for 6 yards, and Durdan took the next carry 54 yards for a 6-0 lead. Sam Mitre missed that first PAT, snapping a streak of 23 in a row made, but he finished the day a solid 7-for-8 on his boots.
After the Bunnies first possession ended on a blocked punt recovered at the Fisher 18, Julian Alexander ran it in on the first play to make it 13-0. Another tipped punt gave the Cru the ball at the FHS 48 and, again on the first play, Reed broke loose and it was 20-0 in the blink of an eye.
"It was important for us to come out strong," said Reed. "Coaches have been telling us all week how important this game was to our seed and how we needed to treat it like a playoff game. We all played well. I love it, and I can't wait to get to it next week, whoever we play."
After an unblocked punt, a Durdan 25-yard run led to a perfect 53-yard scoring pass lobbed from quarterback Alex Graham to end Griffin Walker to give MA four TDs in its first six plays. Graham attempted only two passes on the day, completing both to Walker for 75 yards.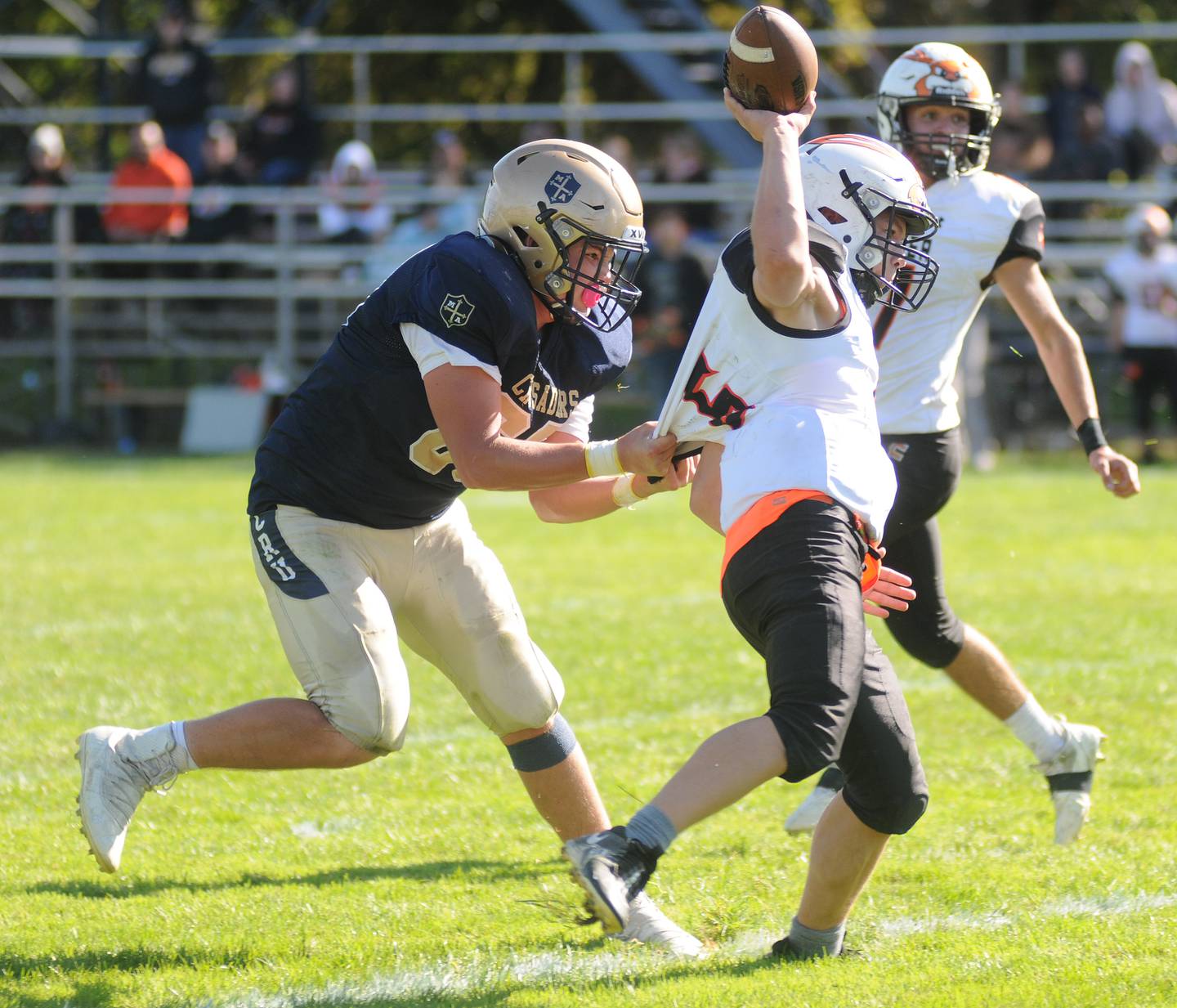 A pass interception by Charlie Mullen led to the last score of the period, a 1-yarder by Reed. In the second stanza, Reed added a 5-yard scoring scamper and Graham a 1-yard sneak to make it 48-6, setting up the running clock.
Alexander capped the Marquette scoring with a 40-yard run in the third. The Cru's Ryker Reynolds and Gabe Almeda had pass interceptions in the fourth quarter.
"We've played a pretty tough schedule this year, but Marquette is the best team we've seen," said Fisher coach Jake Palmer, his team 1-8. "We haven't seen skill kids like those (Durdan, Reed, Alexander and Graham). The backs all have speed on the perimeter, great vision with the ball. They turned 8- or 10-yard gains into 20-, 30-, 40-yard gains.
"And I was really impressed with them defensively up front in the box, especially No. 60 and 61 (Brady and Beau Ewers). We've played some pretty physical teams and were able to put together some drives, but today, with the exception of one, we weren't able to do that. They have a heck of a squad."