Here are the first-round matchups for each Record Newspapers area team. Dates and times will be updated when confirmed.
Class 8A
No. 20 Oswego (6-3) at No. 13 Glenbard West (7-2)
When: 1 p.m. Saturday
About Oswego: The Panthers are making their 10th consecutive playoff appearance, ninth straight under head coach Brian Cooney, after winning a share of their 10th Southwest Prairie Conference title in 11 seasons. Senior running back Mark Melton is closing in on 1,000 yards – and close to 800 of that total came during four SPC West games in a sensational stretch run. Junior tight end Deakon Tonielli holds offers from Michigan and Tennessee, among others. Junior linebacker Braedon Hellinger and senior linebacker A.J. Johnson are the leading tacklers for a defense that struggled in Week 1 and Week 9 losses to Neuqua Valley and Yorkville, but fared much better in between.
About Glenbard West: The Hilltoppers, a perennial powerhouse under head coach Chad Hetlet, finished third in a competitive West Suburban Silver. Their two losses came to York and Hinsdale Central, both at home at Duchon Field. Joey Pope is over 1,000 yards rushing with 17 TDs. A defense led by linebacker Pat Shadid has only given up 77 points. Glenbard West's young offense piloted by junior QB Korey Tai did struggle some in its toughest games down the stretch – scoring a combined 23 points against Downers Grove North, York and Hinsdale Central.
No. 24 Oswego East (6-3) at No. 9 Lincoln-Way East (7-2)
When: 1 p.m. Saturday
About Oswego East: Wolves are making their sixth straight playoff appearance, seventh in eight seasons. Oswego East started the season 5-0, but lost three of its last four games in the Southwest Prairie West. Illinois-bound outside linebacker Jared Badie leads an opportunistic Wolves' defense that has feasted off turnovers, particularly early in the season. Junior QB Tre Jones, in his first year back in his home district after transferring from Montini, is a threat passing and particularly running the football. Oswego East's offense has used the big play to be successful with talents like Jones, Ty Carlson and Darquel Sanders but has struggled to sustain drives with a young offensive line.
About Lincoln-Way East: The 2019 state champions return to the postseason with a 7-2 record. The Griffins lost to Naperville Central in Week 2 and unexpectedly lost to Sandburg. Lincoln-Way East rebounded with three straight wins to end the season and win the Southwest Suburban Blue. Quarterback Brennan Stolarek leads the way offensively for the Griffins.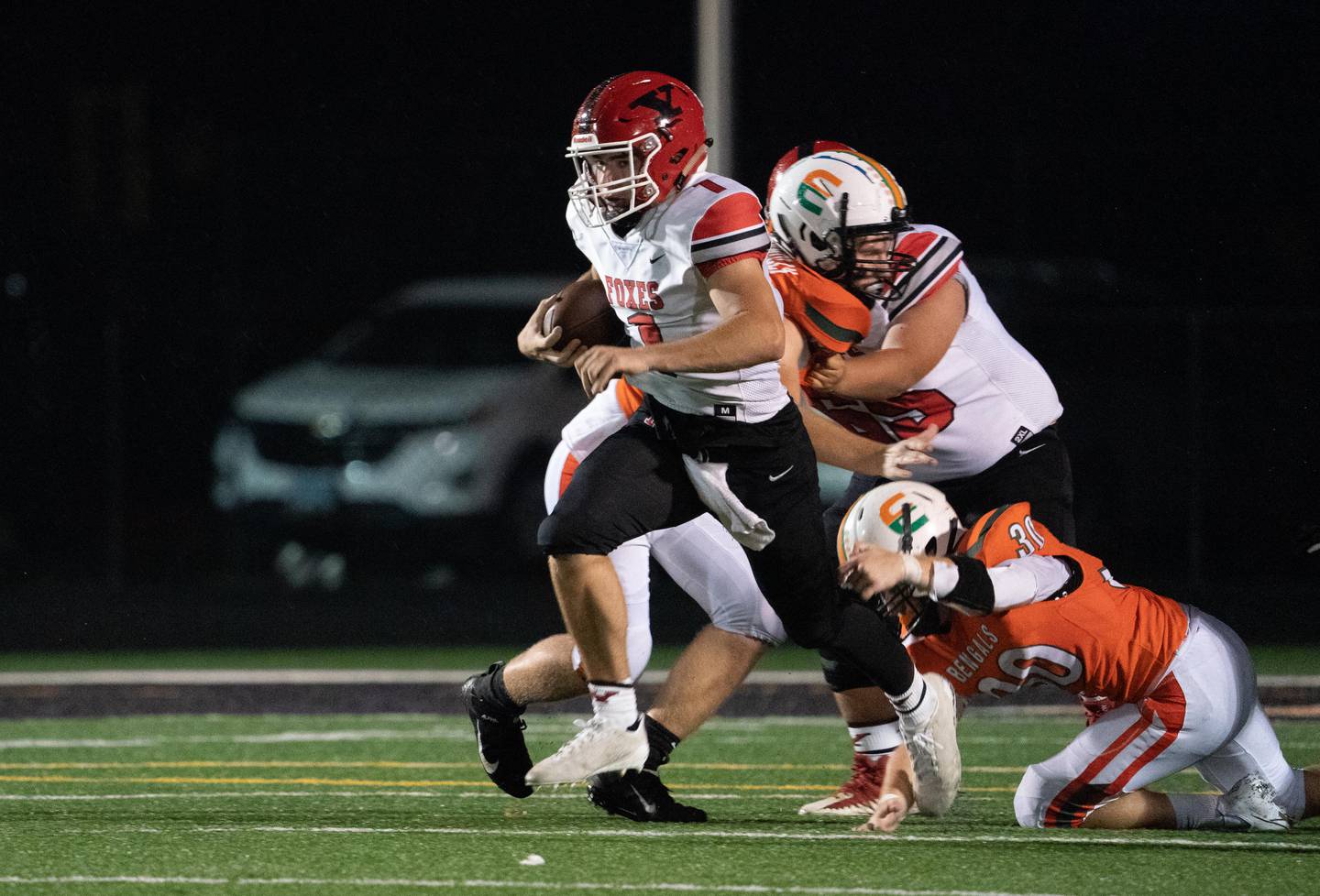 Class 7A
No. 25 Yorkville (5-4) at No. 8 Plainfield Central (8-1)
When: 7 p.m. Friday
About Yorkville: The 5-4 Foxes are making their third consecutive playoff appearance, a rousing 48-26 win over Southwest Prairie West co-champion Oswego in Week 9 sealing the postseason bid. Juniors Andrew Laurich and Jake Davies lead a strong defensive line, the best unit on the team. Junior defensive back Blake Kersting is another playmaker in a talented, young defense that starts half underclassmen. Senior QB Nate Kraus, a running threat, topped 200 yards passing for the first time in Week 9 as the Foxes scored their most points in a game since 2018. Yorkville lost to Plainfield Central 28-13.
About Plainfield Central: The Southwest Prairie East champions, whose last winning season and playoff appearance came in 2012, started the season strong with a 58-0 win over Addison Trail and gave a preview of how it would flex its muscle throughout the season. Plainfield Central's lone loss of the season came against West Aurora in a 28-21 loss in Week 3. The Wildcats scored 64 and 58, respectively, in its last two games of the season. Plainfield Central posted the most regular-season wins since the 2000 Class 6A quarterfinalist, as Plainfield High School. Running back Aaron Larkins is the man to watch.
Class 4A
No. 14 Plano (6-3) at No. 3 Kewanee (8-1)
When: 1 p.m. Saturday
About Plano: The Reapers under third-year coach Rick Ponx are back in the playoffs for the first time since 2018 with the program's most wins since 2016. Senior running back Ray Jones Jr. has had a breakout season with 1,014 yards and 13 touchdowns as the clear centerpiece of the offense. Speedy sophomore Waleed Johnson had three TDs, two on offense and one on defense, in a Week 9 win at Ottawa. The Plano defense led by Nemo Denton and Sean Earwood has three shutouts.
About Kewanee: The Boilermakers are coming off their only loss of the season, 20-17 to Sterling Newman, but have the program's most regular-season wins since 1999 with an offense that averages 38 points per game. The Three Rivers East co-champions entered last week ranked No. 4 in the AP Class 4A poll – two years after new head coach Brad Swanson started nine sophomores on offense. Senior QB Will Bruno has thrown for 23 TDs on the season.