Editor's note: This article discusses suicide. The National Suicide Prevention Lifeline is 1-800-273-8255.
***
OSWEGO – Alex Chapas held his older brother Mark's blue jersey No. 71 as he led a solemn, single-file line of Oswego East football players onto the field Saturday, Oct. 23, placing it near midfield before warmups.
The Wolves went forward without their teammate Saturday. His spirit was with them.
Thoughts of Oswego East senior Mark Chapas, found dead Friday morning, Oct. 23, in an apparent suicide, were on the minds of his teammates and their opponents from Plainfield North before, during and after the Tigers' 15-7 win over the Wolves in the regular-season finale.
The game, originally scheduled Friday, was postponed to Saturday. Silver balloons with the numbers 7 and 1 lined the entrance gate to the stadium. Oswego East football players wore black stickers with Chapas' number 71 on their silver helmets, a moment of silence was held before the game and the school student section held signs with No. 71 and #markstrong.
"It's definitely super emotional," Oswego East senior linebacker Jared Badie said. "We lost a brother. Nobody wants to go through that. But I think we really banded together as a team and as a brotherhood. Use that emotion, that anger, that hurt and try to channel it into the game today."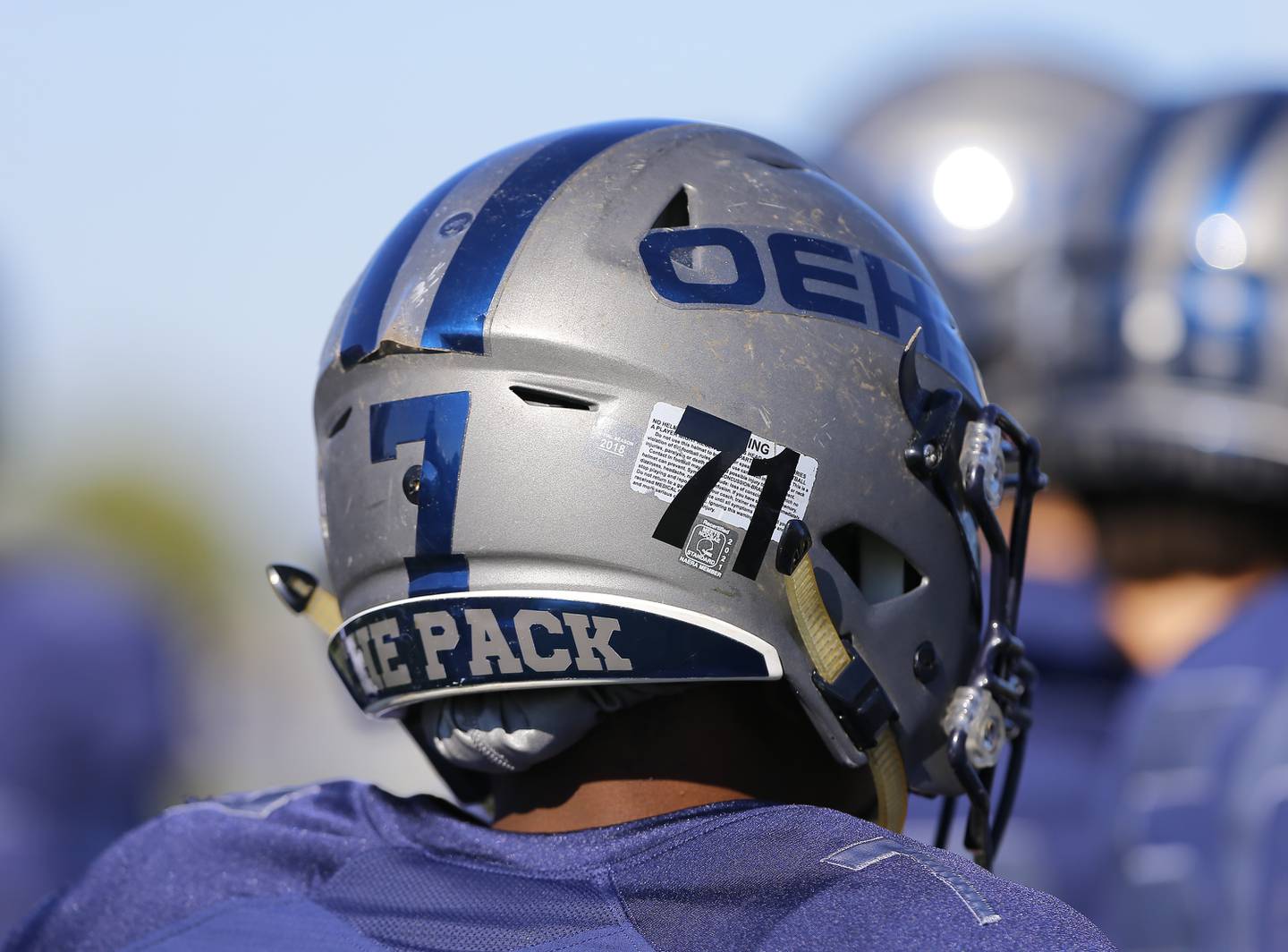 Both Plainfield North (7-2, 4-1), which clinched a share of the Southwest Prairie West title with the win, and Oswego East (6-3, 2-3), will be playing in the playoffs.
But for Oswego East, Oct. 23 could have been its final home game, senior day.
Senior day festivities, usually a joyous occasion, were held after the game. Chapas was the last senior introduced, his father, Mark Sr., and brothers coming out on the track carrying his jersey and helmet.
His dad held the helmet high before the Oswego East team surrounded him for a final huddle.
"I don't know, I don't know," Oswego East coach Tyson LeBlanc said when asked how his team played Saturday. "I think part of it is letting them see us as coaches be in vulnerable situations and show our emotions. Truth be told, now that the game is over with, I don't know if we were ready to play today, and that's understandable."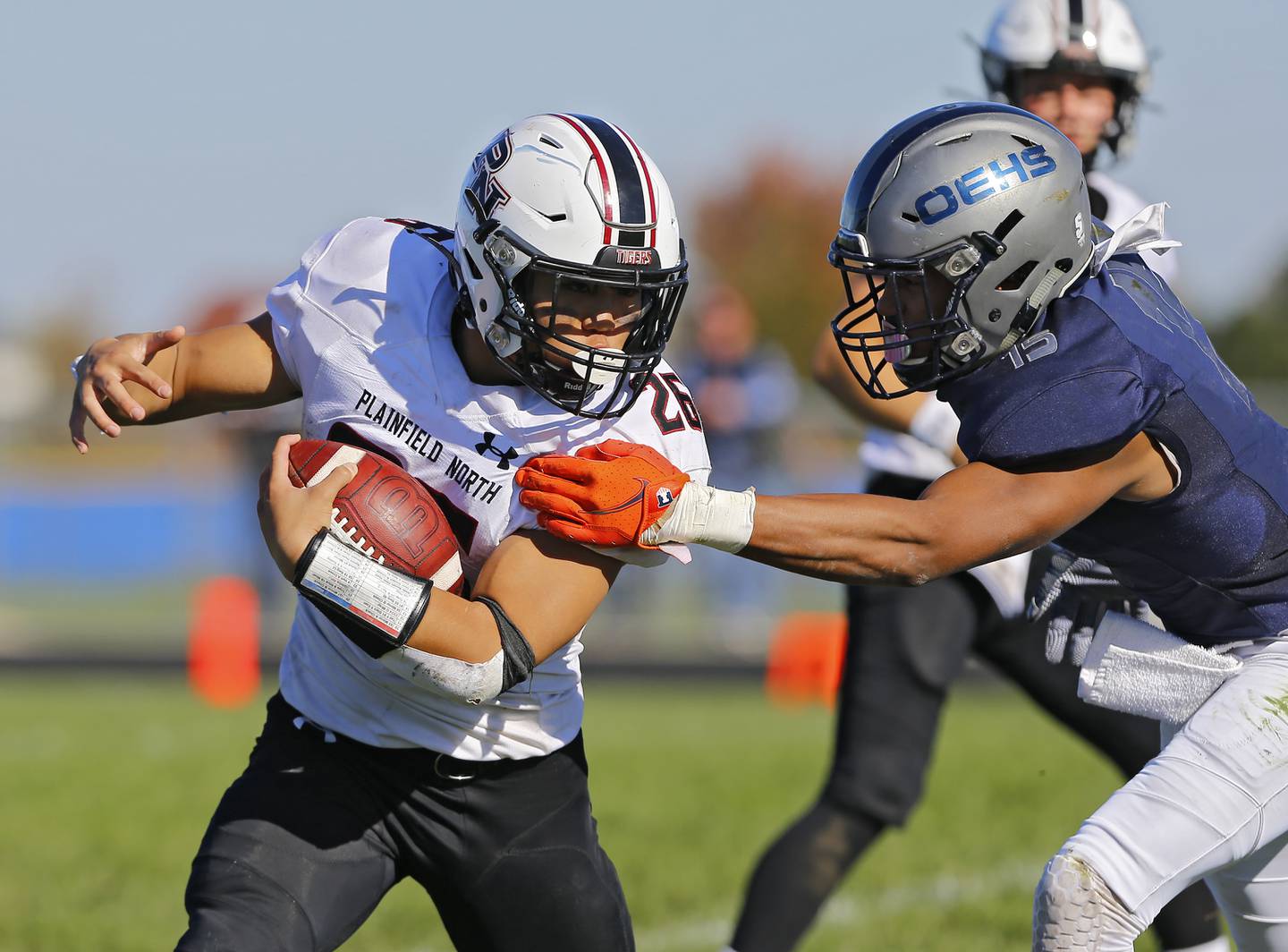 Chapas was a senior lineman, a team captain and three-sport athlete who also competed in wrestling and track and field.
Badie said he'd known Chapas since they were freshmen, talking every day in practice as fellow defensive players.
"He's one of those guys that just lit up a room," Badie said. "An amazing person, super nice, captain, he really embodies what you want in a person. When someone like that takes their life the whole community feels it. We're all hurt. We're all upset but we're trying to honor him in the best way we can."
Oswego East junior Oshobi Odior said the Wolves came together Friday night, Oct. 23, and grieved as a team in honor of Chapas, and reunited over breakfast Saturday morning.
Odior called Chapas an "amazing teammate" who always had a smile on his face.
"I'm proud of what we did today, competing the way we did," Odior said. "What happened yesterday, it's terrible, it was hard for all of us. We came out and played to the best of our abilities and put it all out there for [Chapas]."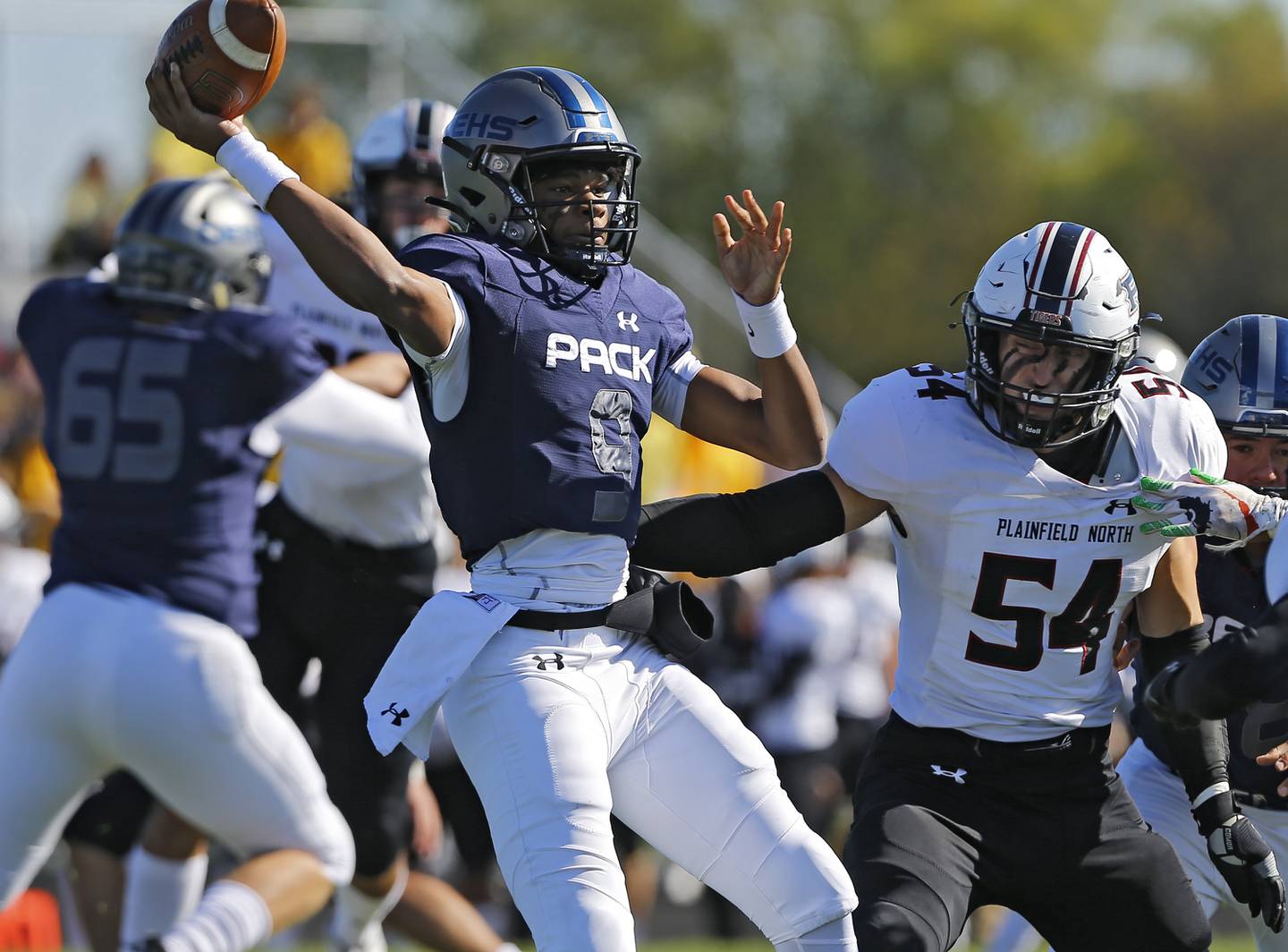 Plainfield North coach Anthony Imbordino said he found out around 3 p.m. Oct. 22 that the game would not be played that night because of the situation at Oswego East. He brought his players in, told them the news, and sent them home.
"Our hearts go out to OE, their staff, their athletes. We were thinking about them all night and today during the game," Imbordino said. "It's a bad situation and we wish them the best. Today we just came out here like they did, you mourn their loss, and then the whistle blows it's somewhat of a relief away from reality and then it's back to hugging and offering condolences."
On the field, Imbordino's Tigers continued to win the way they have all year, with dominant defense and a ball-control offense.
Plainfield North, which has allowed only 66 points all year and broken almost every school record defensively, came three minutes away from its fourth shutout. The Tigers held Oswego East to 143 yards of offense, 76 coming on Tre Jones' 76-yard pass to Darquel Sanders with 3:05 left, and forced two fumbles recovered by Nigel Green and Logan Rooney.
Harrison Klein threw for 155 yards and TD passes to Shaibu Mohammed and Jared Gumila, the latter coming with 9:05 left to make it 15-0.
"I'm pretty proud of our team," Tigers senior defensive end Evan Smith said. "People didn't think that we'd be that good and we're conference champs. Our defense is lights out. We just have really good chemistry."
LeBlanc was proud of his team, too.
Kacey Battle, another Oswego East senior, had two interceptions Saturday.
"At the end of the day, it's a game, and there are more important things than football. But this was an opportunity for us to get out there and forget about it for a couple hours," LeBlanc said. "Your heart hurts for the family, your heart hurts for the friends and those kids. As a coach you look back and think are there things I could have said or done or was I available when I needed to be available. I've spent a lot of time looking in the mirror and hugging the kids, that's for sure."