MENDOTA — The Newman football team got off to a disastrous start Saturday.
The Comets lost a fumble on the first offensive play of the game, and Mendota capitalized on the short field with a touchdown.
Newman absorbed the blow, tied the game late in the first quarter and pulled away in the third for a 24-7 victory in a Three Rivers Conference East Division game.
"We battled through adversity," Newman coach Brandon Kreczmer said. "We turned the ball over quick and got down 7-0, but we battled to a 7-7 tie at halftime. In the second half, we kicked it into gear and were able to beat a really good Mendota team."
The win made the Comets playoff eligible at 5-3 with a game against Kewanee (8-0) in Week 9.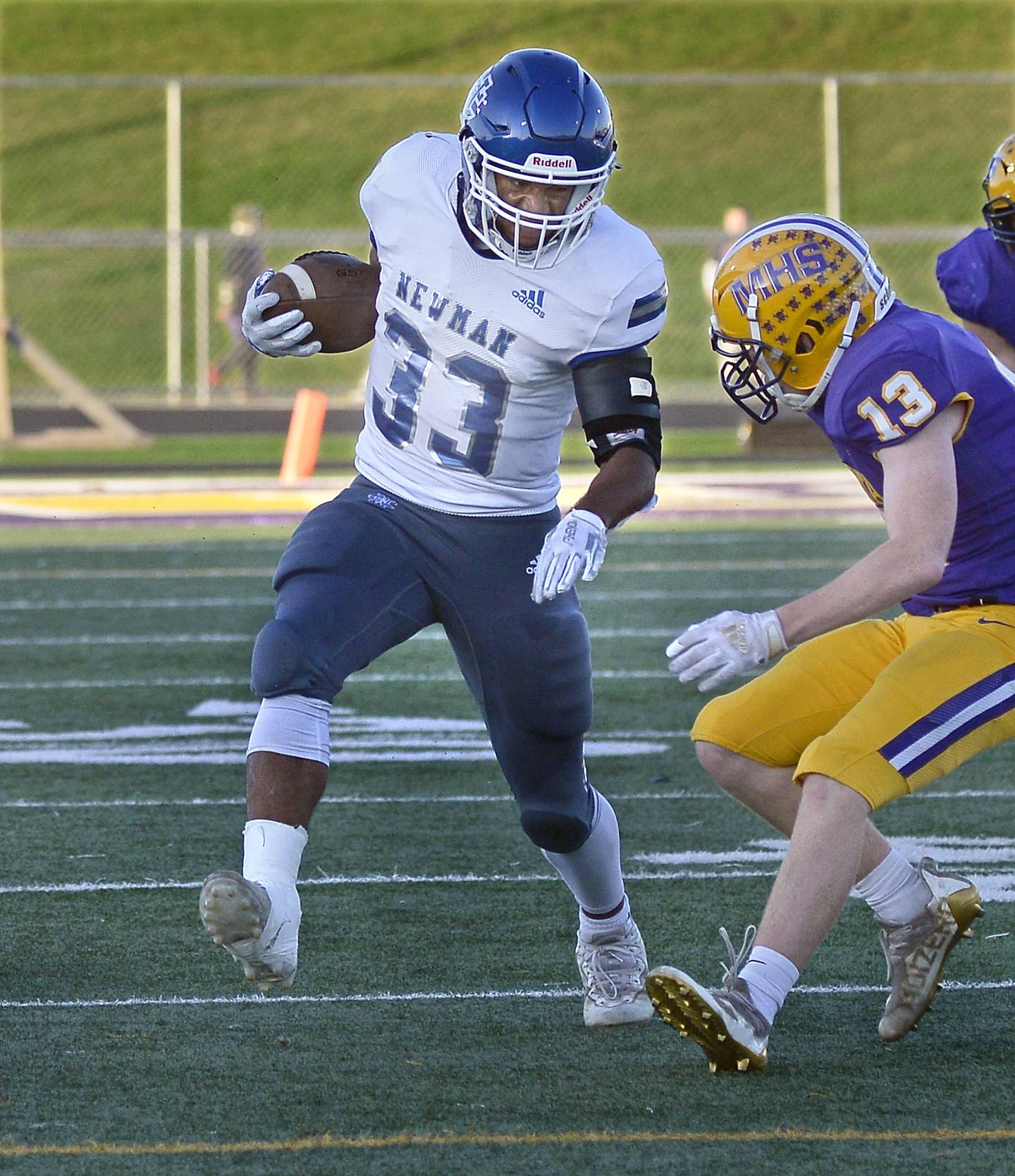 "It's huge," Newman senior Marcus Williams said. "It puts us in the playoffs potentially. We're not fully in, so it gives us a lot of motivation going into next week to really be keyed in at practice, have good walk throughs and be locked in against Kewanee."
After John Gonzalez recovered Newman's first play fumble, the Trojans took over at the Comet 32-yard line.
Mendota drove to the 13 where it faced fourth-and-1.
Anthony Childs ran for a 13-yard touchdown on a counter to put the Trojans ahead 7-0 with 7:43 left in the first.
"The kids came out ready to play," Mendota coach Keegan Hill said. "We weren't too amped. We came out with a couple good licks and set the tone real early."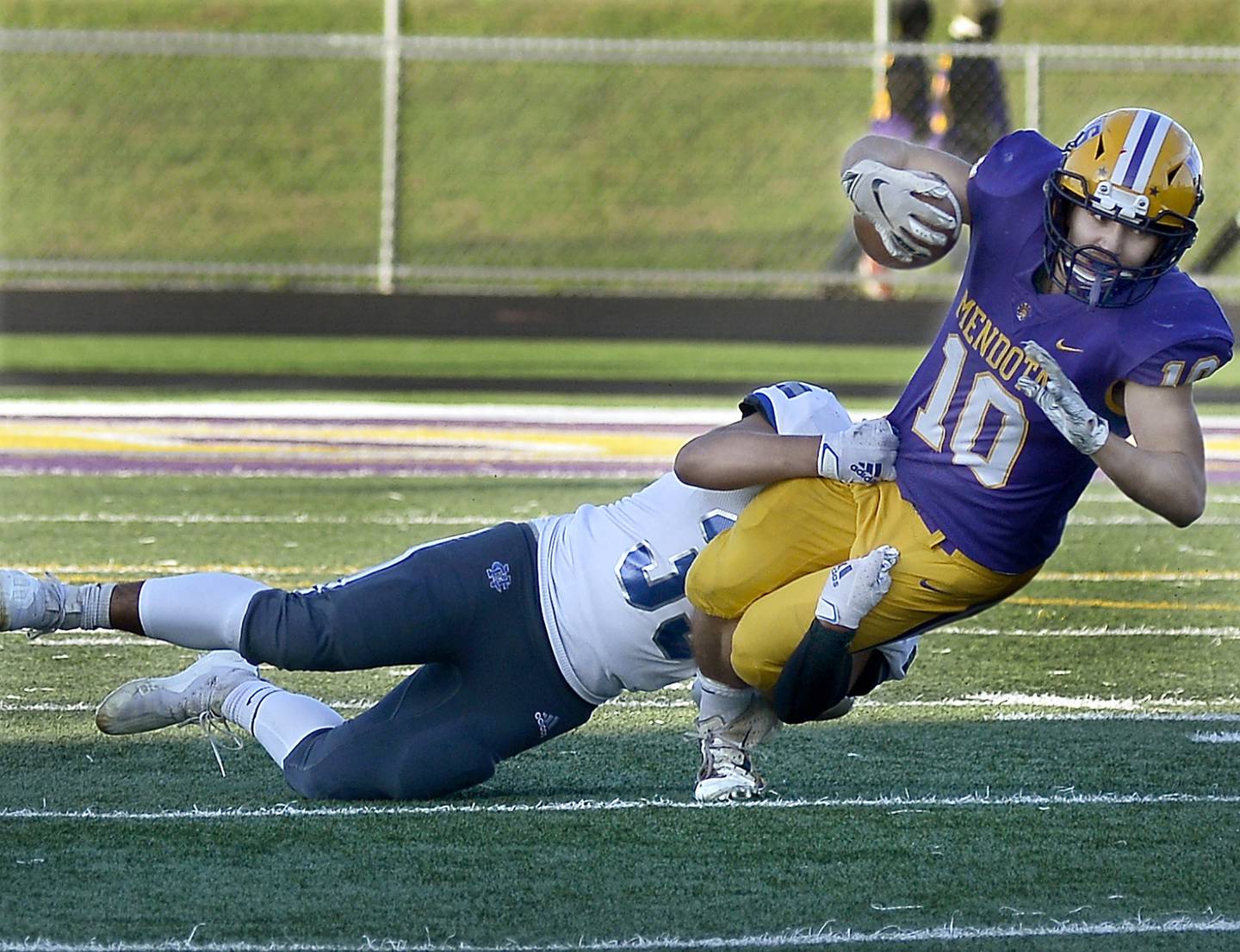 The teams traded three-and-outs with Mendota's punt pinning the Comets on their own 4-yard line.
After Newman was stopped for no game on its first play, Williams took a pitch to the right, turned the corner and raced 96 yards for a touchdown to tie the game with 2:56 left in the first.
"Mario Passini ended up hooking in the defensive end and I just read the block and was off to the races from there," Williams said. "His blocking was really key.
"I came back to the sidelines and everybody was hyped and full of energy."
The Trojans and Comets remained deadlocked until late in the third quarter.
Mendota quarterback Ted Landgraf left the game with an injury with a little more than six minutes left in the third.
On the first play of the Trojans' next drive, which started at their own 8, the snap was botched and Newman's Drew Scott jumped on it.
Hunter Luyando scored on a 7-yard run on Newman's first play to give the Comets' a 14-7 lead with 4:13 left in the third.
Newman forced a three-and-out and after a short punt took over at its own 46.
On the first play of the fourth quarter, Williams caught a pass from Cody Donna over a Mendota defender and took it 38 yards for a TD and a 21-7 lead.
"That was big," Kreczmer said. "Our offense fed off our defense and that was important. Any time you can get a takeaway and score the next play, that's a big momentum changer."
Newman added a 27-yard field goal by Jacob Donald with 2:50 left.
Williams finished with 118 rushing yards and a touchdown on nine carries while adding two receptions for 63 yards and a TD for the Comets, who finished with 220 rushing yards.
The Comets held Mendota to 152 offensive yards, including 113 on the ground.
"I thought our defense, for the most part, played really well again," Kreczmer said. "They had a short field that first drive and scored. Other than that, I thought we stymied them pretty good.
"We played hard nosed and got downhill. We saw on film they bring in these up backs and wherever the up back went, the ball went. We keyed on that and our linebackers just filled and trusted what they saw."
Landgraf, who returned to the game in the fourth quarter, led the Trojans (5-3) with 56 yards on 20 carries. He also completed 2-of-7 passes for 39 yards.
"We played really hard," said Hill, whose team has a short week with a Thursday game at St. Bede (6-2). "The kids were prepared. A couple breaks didn't go our way, and with their style of play those breaks were magnified. They played better than us in those couple spots and got the win."