Twenty-three years is a long time between games for rivals just 13 miles apart. The Princeton and Bureau Valley football teams made it worth the wait Friday night at Bryant Field.
The upstart Storm battled the Class 3A No. 6-ranked Tigers within 15 points by recovering an onside kick to open the second half and scoring a touchdown.
Princeton senior Matt Lucas, however, answered with a 70-yard kickoff return to regain momentum for the Tigers and added a 48-yard touchdown reception, his second of the night, to send the Tigers to a 49-20 Homecoming victory in Three Rivers East play.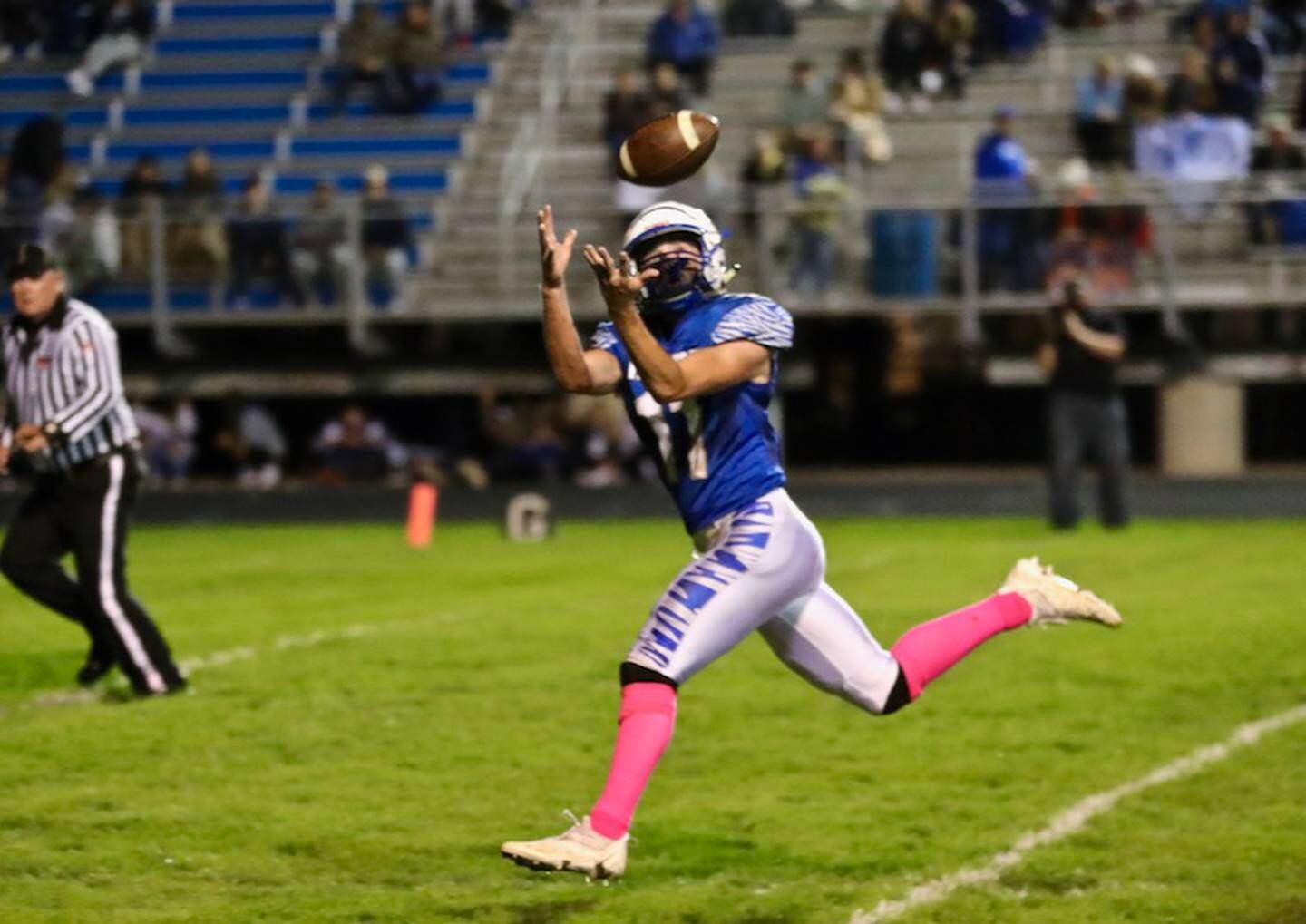 It didn't come as easy as the score indicated, however.
Bureau Valley held a time of possession of 33:16, including a seven-minute-plus scoring drive in the first half, with Princeton only at 14:44.
"Hats off to Bureau Valley. I don't know what the time of possession was. Their game plan was to keep our offense off the field, and I thought they did a good job of that," PHS coach Ryan Pearson said.
"Offensively, I thought we executed very well. I think we scored every time we touched the ball but once. But the same time, I felt like we didn't play our best game. I don't know if it was Homecoming festivities that go into it. Bureau Valley did a great job keeping our offense off the field. Credit to those guys. I thought BV played extremely hard tonight."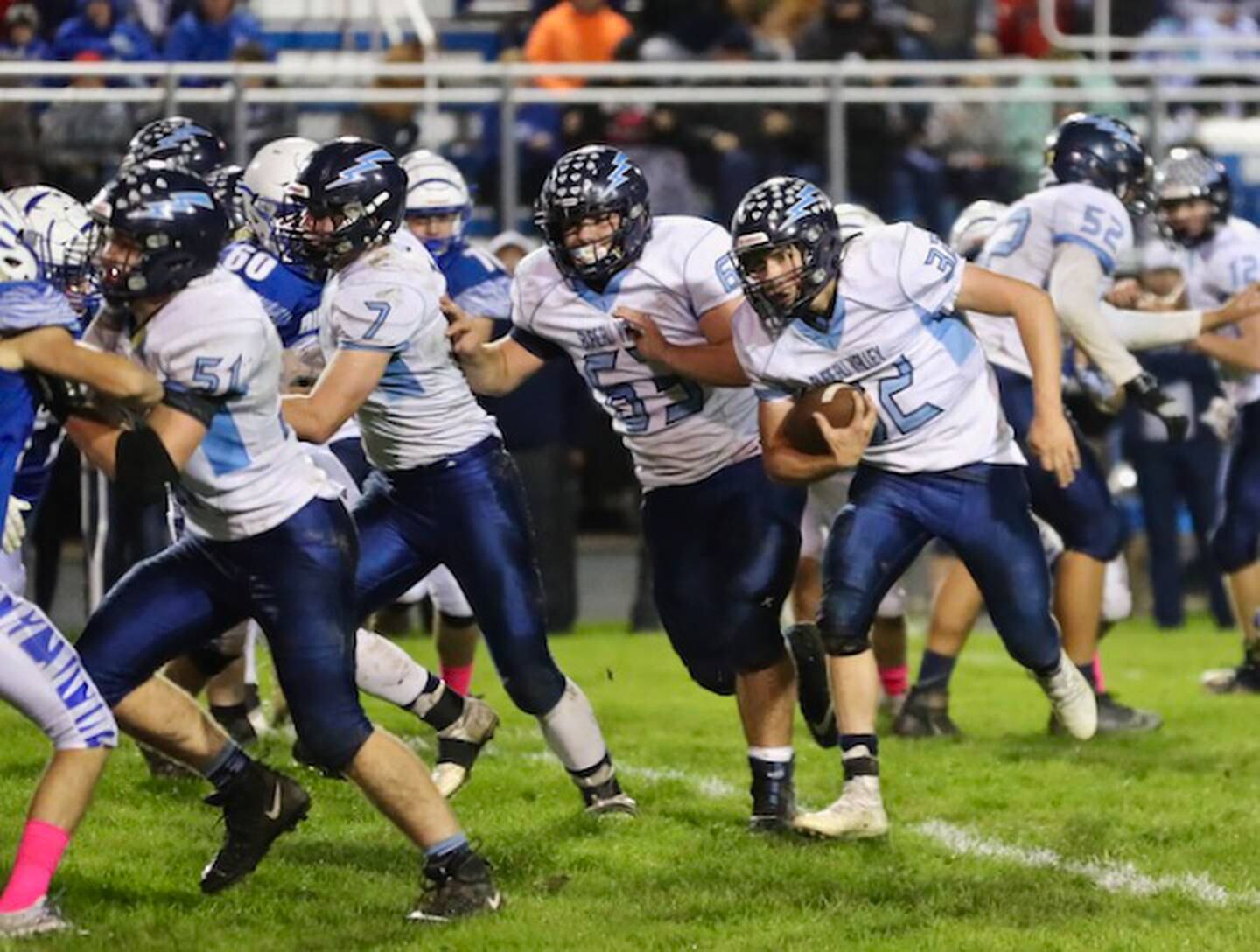 It looked early like there may be repeat of the last meetings between the Bureau County rivals labeled as the "Rumble and A Roar" when the Tigers outscored the Storm 93-16 (53-16, 40-0) in two games in the late 90s.
Princeton mounted a five-play, 53-yard scoring drive on its first possession, with quarterback Teegan Davis running in a 19-yard score.
Davis, who completed 6-of-11 passes for 122 yards, then passed for a 34-yard TD strike to Lucas to give the Tigers a 14-0 lead at the end of the first quarter.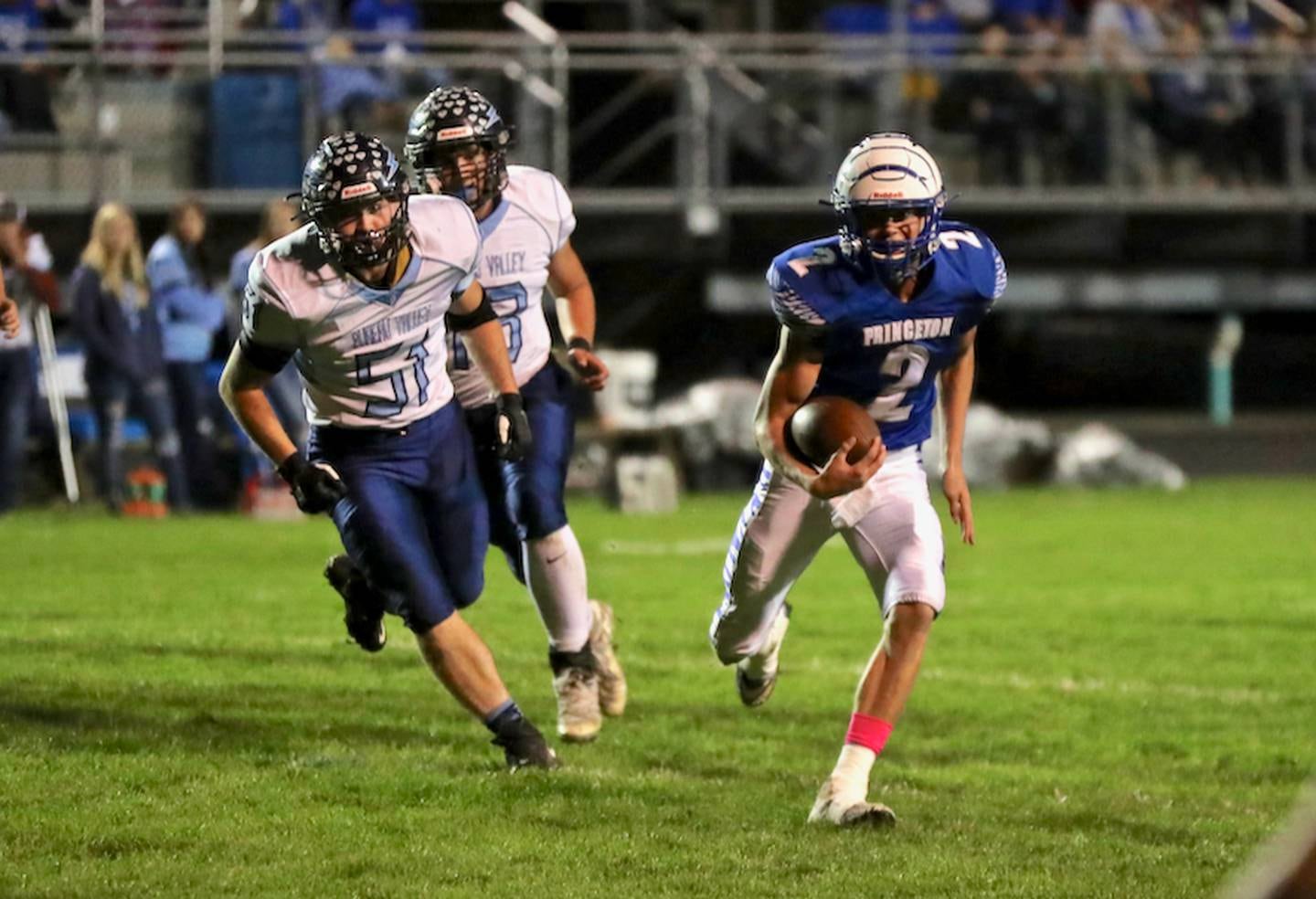 At the start of the second quarter, Davis struck again. He rolled to his left, then reversed course to find Danny Cihocki wide open in the right side of the end zone for a 7-yard scoring strike to make it 21-0 at the 11:07 mark.
The underdog Storm refused to give up. They mounted a 12-play drive, with quarterback Adam Johnson cashing in from 6 yards to get the Storm on the board with 4:33 left in the half.
Davis scored his second touchdown of the night with a 26-yard scamper to put the Tigers up 28-7 at the half.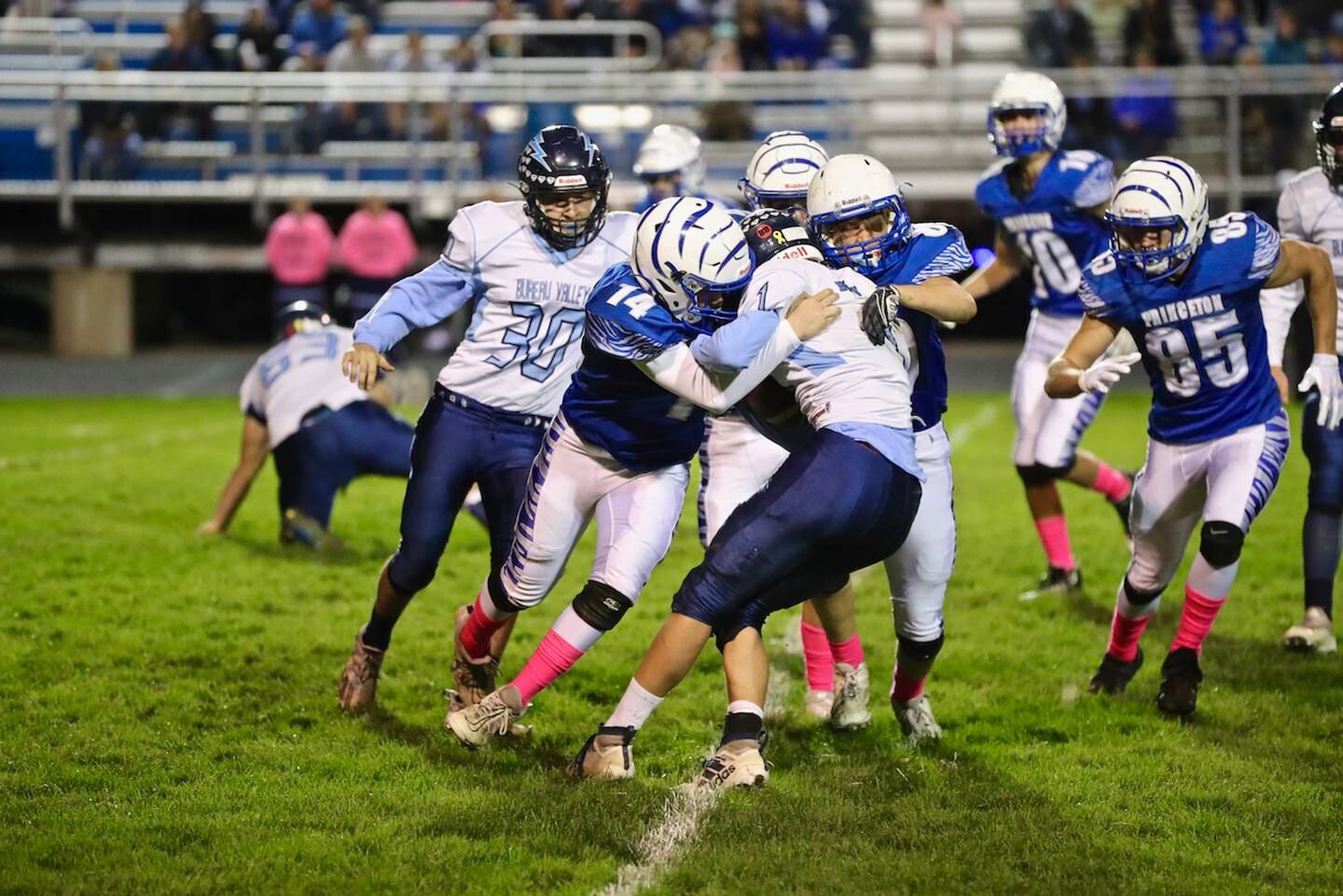 BV coach Mat Pistole called for an onside kick to start the second half, and Davey Dietz recovered for the Storm.
Six pays later, Johnson connected for a 24-yard scoring pass to Brock Foster to bring the Storm within 28-13 with 8:31 left in the third quarter.
The Storm cheers had hardly ceased when Lucas took the BV kickoff and raced 70 yards to pay dirt to give the Tigers a 35-13 lead just 11 seconds later. Pearson said that play really helped keep the Tigers on track.
"Matt played phenomenal tonight. They got the onside kick and went down and scored. Matt kind of gave us that spark that we needed to kind of ignite things. But you need that from your senior leaders. He did a great job," Pearson said.
Princeton went up 42-13 with 8:43 left in the third on an 18-yard run by Augie Christiansen.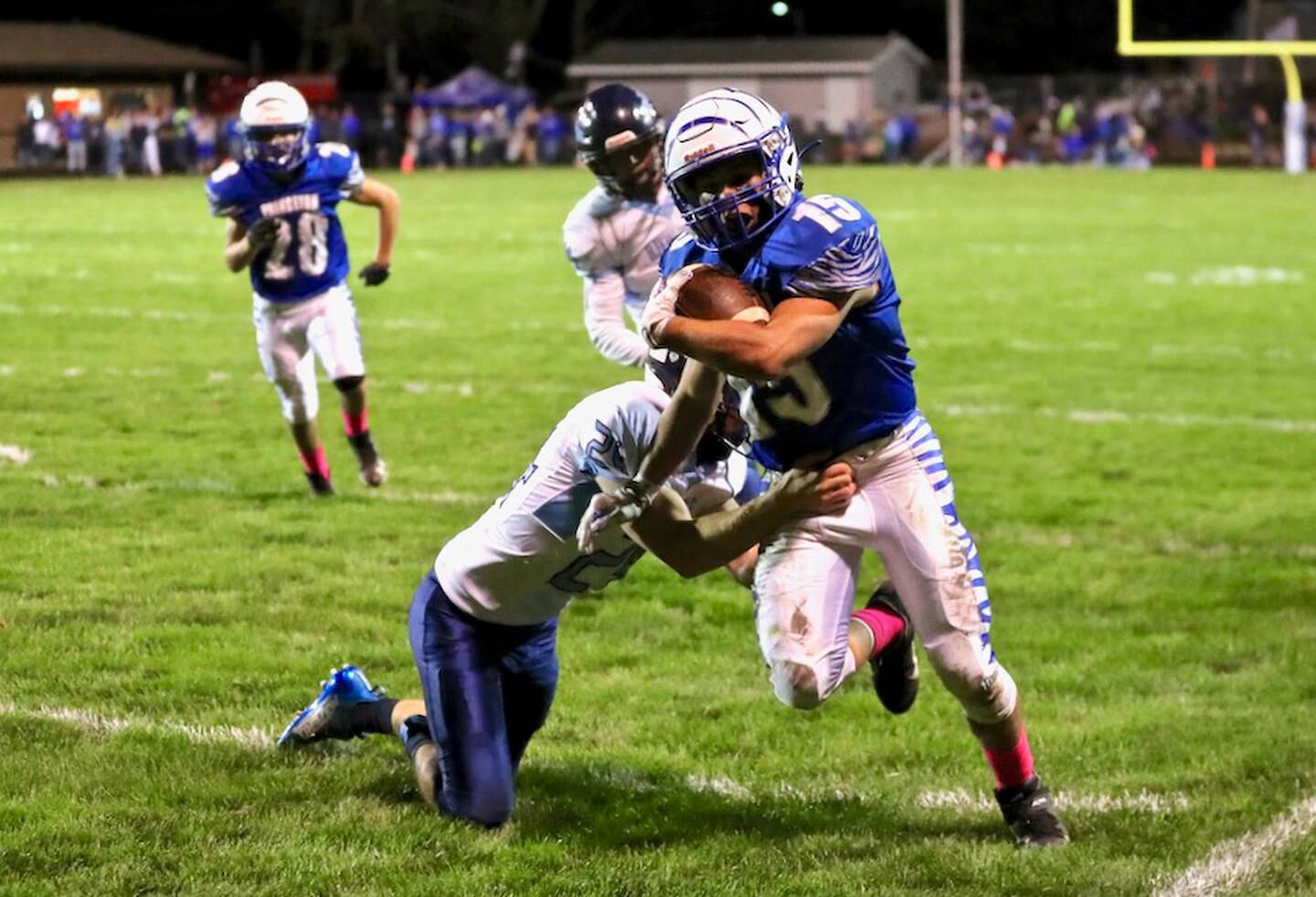 Bureau Valley got one last score from Jaden Michlig on a 9-yard run with 9:56 left to play to make it 42-20.
"I can't say enough about how proud of our kids I am," Pistole said. "They came out and give 110% in everything they do. They work their tails off, they never give up, and they don't let anything faze them and they continue to go after it.
"That's what great character kids do. They fight against adversity. When adversity strikes, they just keep going."
Pistole said the Storm had no fear playing a bigger school like Princeton, which is highly ranked and has been one of the top teams in the state the past three years.
"Our guys aren't afraid to play anybody. We'll play anybody any time, even teams that are 350 kids more than us in our school. We're going to show up and give it everything we had," he said.
"I think Coach Pistole is doing a fantastic job over there trying to build this thing up," Pearson said. "Their kids came over and battled us. That's a testament to what he's doing."