MELROSE PARK – Because of some technical problems the scoreboard clock at Ralph "Babe" Serpico Memorial Field was not functioning during the first half of Marquette Academy's game against Chicago Christ the King on Friday night. The information instead was held by a combination of the PA announcer and the officials down on the field.
Whoever kept it, it was what amounted to a running clock for all but the early half of the third quarter, when King agreed to let the clock run even though it was not down by the required 40 points.
Despite the shortened time, the Crusaders were as efficient as they have been all season on both sides of the ball, rolling up 381 yards of offense and limiting the Gladiators to minus-31 yards rushing and 117 total yards in a 49-6 road victory.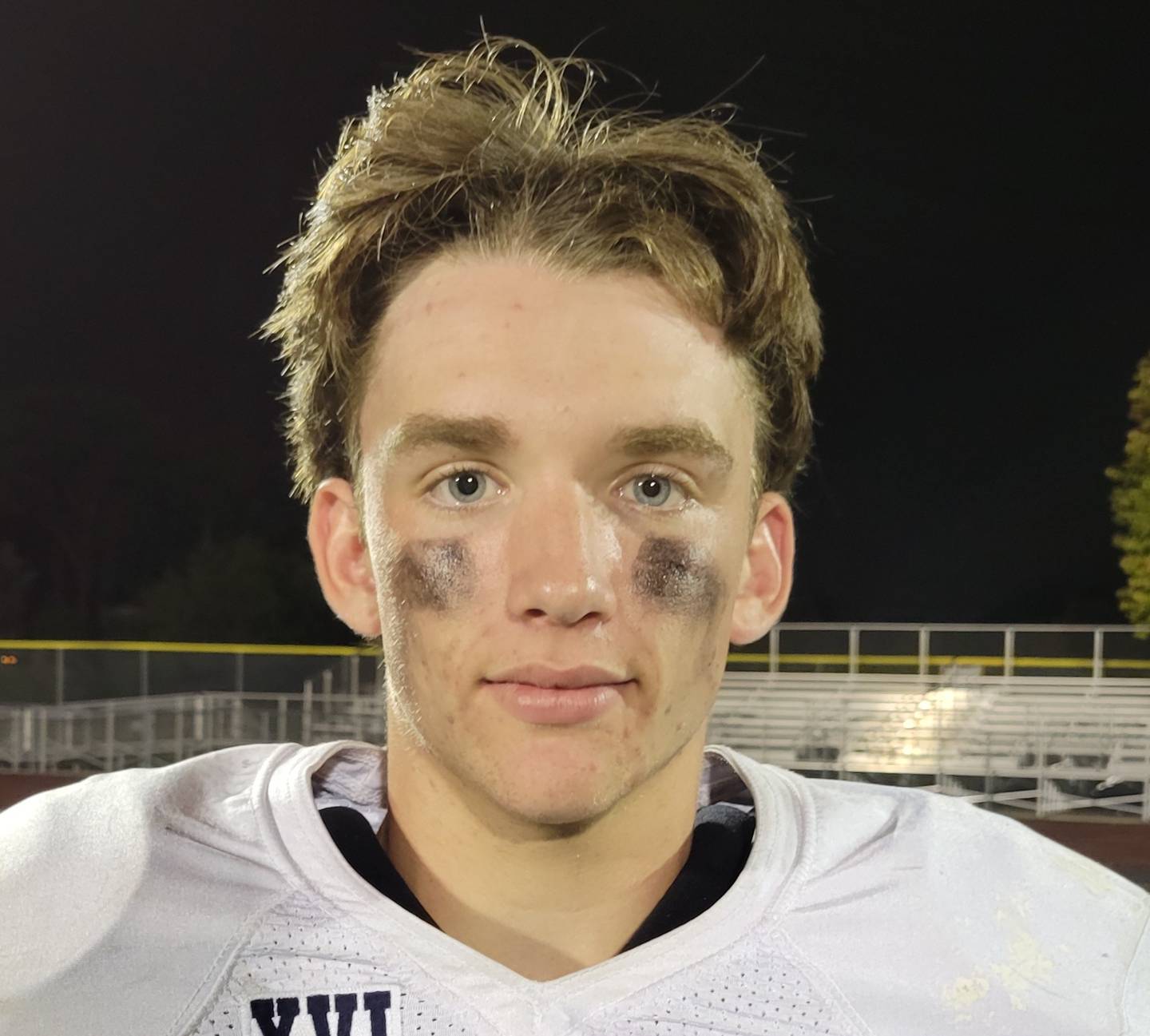 Tom Durdan led the MA ground game with 11 carries for 138 yards and four touchdowns. Backfield mates Jurnee Reed, eight attempts for 84 yards and a score, and Julian Alexander, four attempts for 43, also contributed to the running game. Quarterback Alex Graham was his capable self, completing 5 of 7 passes for 105 yards, 50 of those on a TD strike to Alexander in the second quarter.
Meanwhile, the Crusaders defense yielded King positive yardage on only eight of the 24 plays it ran. An 84-yard touchdown pass from Jalen Bea to Raphael Boyd on their second play from scrimmage accounted for the biggest chunk of those offensive yards.
"It's been a different week," said Marquette coach Tom Jobst, his team now 7-1 with only a home game against 1-7 Fisher remaining before the postseason. "It was a strange week of practice weather-wise, and there were a lot of things we wanted to work on and didn't get to, and tonight we had some strange circumstances, too. … That one play where they got a touchdown, I don't know how that guy got out of there, but he made a nice run after the catch, but these (King) kids are very physical and very athletic, and in time they're going to be a good team.
"Fortunately, the defense is playing the run very well right now, and that's what we want to do. The kids have been very focused, and we were again tonight. The line did a great job, the backs did, too. By and large, all the kids played very well tonight."
A 21-yard run by Reed set up the first MA score, a 5-yard burst by Durdan, on their very first possession. Sam Mitre added the PAT kick, one of seven he would contribute on the night.
But on King's first series, Bea lost a yard on first down, but on second found Boyd on a short swing pass that the senior turned into the lengthy score, breaking some tackles and outrunning the secondary to paydirt.
That was enough of a wakeup call for the Crusaders, who pieced together a nine-play, 65-yard drive to a 1-yard Durdan plunge to make it 14-6. They followed that in the second period with the 50-yard pass from Graham to Alexander and capped the half with a 34-yard scoring run by Durdan for a 28-6 lead.
Only the clock kept them from adding more.
In the third period, Reed broke a 29-yard run then followed it up with a 3-yard dive for the score. On the next Crusaders series, Durdan cracked a 23-yard run before taking it the last 10 to make it 42-6. That's when the real running clock started.
Payton Gutierrez wrapped up the one-sided victory with an 18-yard touchdown run to create the final.
MA finished with 26 rushes for 276 yards.
"The balance that we have between run and pass is great," Graham said. "Everybody thinks of us as a run-heavy team, and that's what we like to do, but when they key on the run by dropping another guy in the box, then we just throw it right over them. They can't predict what we're going to do.
"The hard work in the offseason is really paying off for us right now."
The Crusaders ended up with 22 first downs to only five for the Gladiators, for whom Bea finished 6 of 13 for 148 yards. He was sacked four times for minus-37 yards.