BRAIDWOOD — Before Friday night, it had been a long time since Reed-Custer had beaten Coal City in a varsity football game. The Comets' last victory over the Coalers came in 2008, when current coach Gavin Johnston was just two years out of high school. Johnston was the quarterback in 2005 when Reed-Custer also beat Coal City.
The Comets (7-1, 5-1 in the Illinois Central Eight) left little doubt Friday night, as they dominated from the start and amassed 334 rushing yards en route to a 33-9 win. Quarterback Jake McPherson did the most damage, running for 157 yards and two touchdowns and also completing 5 of 9 passes for 36 yards and another score.
"It was all the offensive line," McPherson said. "They just killed it tonight."
The line of Eric Housman, Gunnar Berg, Kody Marschner, Tyler Hart and Christopher Hill opened holes all night, including a gaping one late in the first quarter that saw McPherson take off for a 59-yard TD run. Earlier, he had capped Reed-Custer's first drive with an eight-yard scoring run.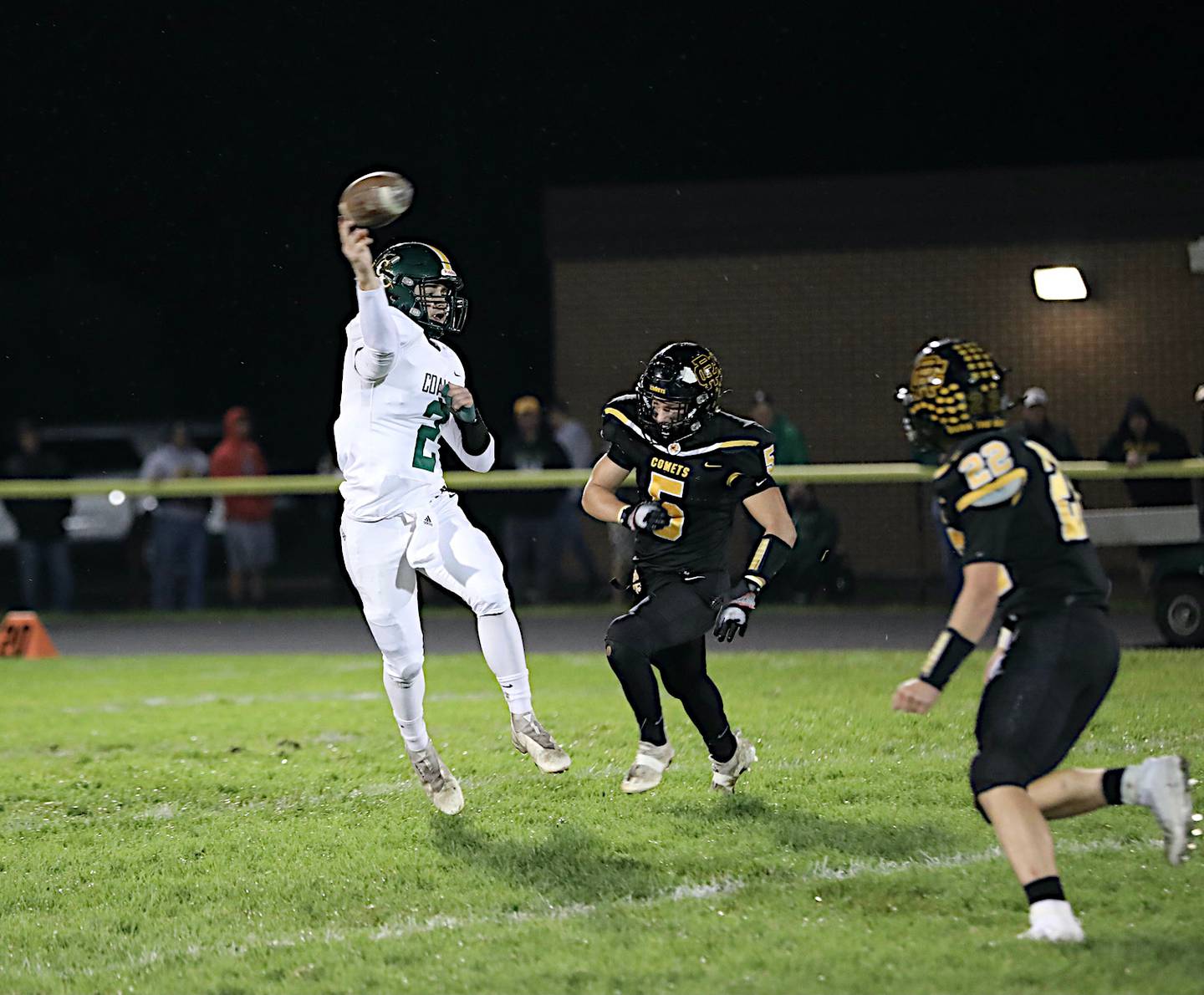 "This is a big win for our program," Johnston said. "We needed a signature win, and this was it. The offensive line was amazing tonight, and the defensive line was, too. Our offensive line was able to move their defensive line and our defensive line didn't get moved.
"After we lost to Wilmington, we had a bitter taste in our mouth, and there was some doubt - not among our kids, but from the outside - about what kind of team we had. The kids came out and answered any questions tonight."
After the Comets scored on their opening drive, Coal City (5-3, 4-2) countered with a long drive of its own, reaching the Reed-Custer 10 before settling for a 29-yard field goal by Aydan Murphey to make it 7-3.
Connor Esparza, who later had an interception, returned the ensuing kick 28 yards to the Comet' 33. After two runs by Jace Christian (15 carries, 65 yards) gained eight yards, McPherson broke loose for his 59-yard touchdown run.
"It was another huge hole," McPherson said. "This is a game we had circled on the schedule, for sure. They are a big rival and we haven't beaten them for a long time."
After forcing a Coal City punt, the Comet offense went back to work, driving 59 yards on 12 plays, with Elliot Cassem (15 carries, 77 yards) scoring from six yards out for a 20-3 lead, which the Comets took into halftime.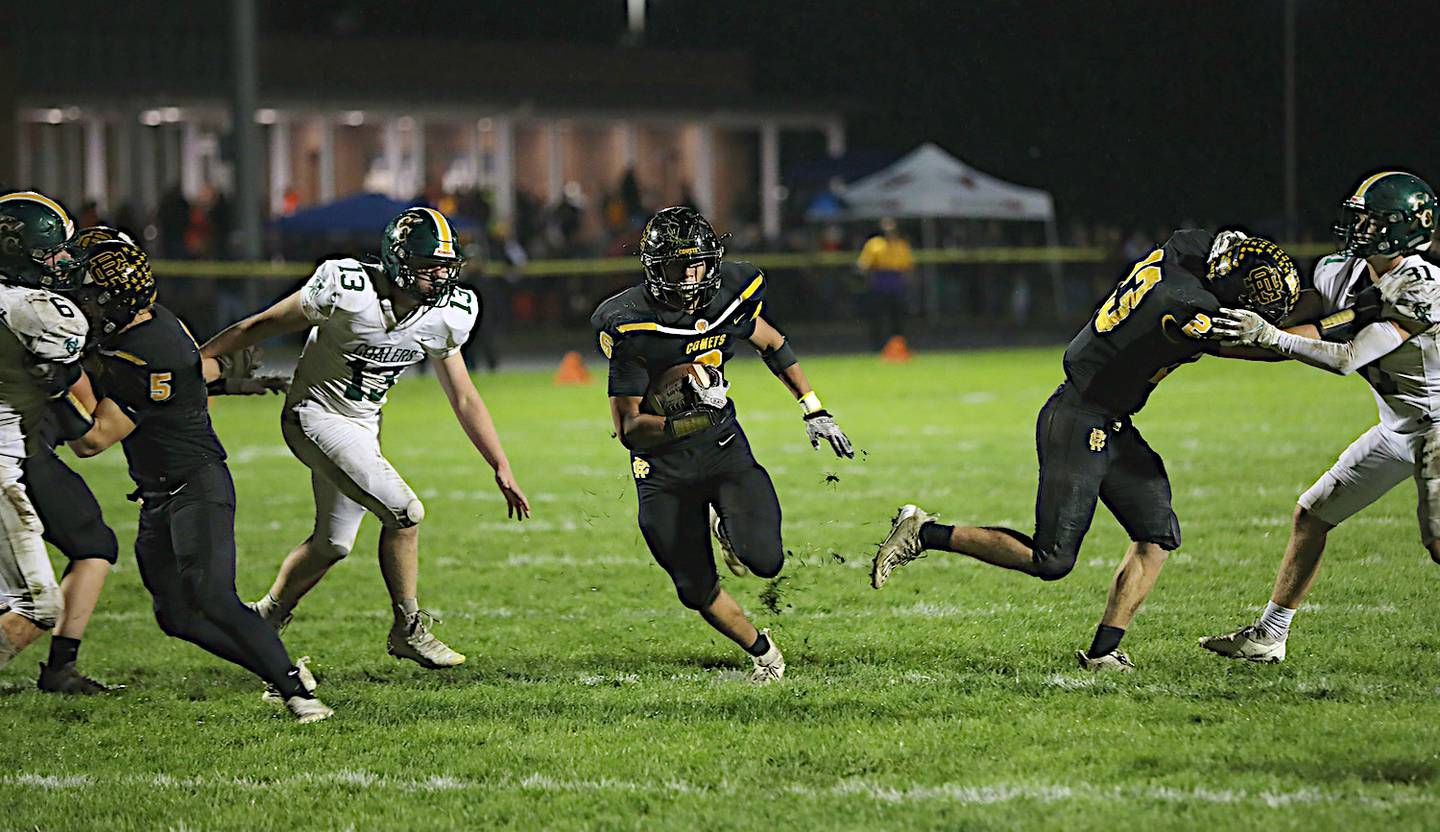 Coal City punted on the first drive of the second half, but Coaler defensive back Nolan Ness intercepted a McPherson pass to put the Coalers in good field position at the Reed-Custer 16. Esparza, however, returned the favor, picking off a Braden Reilly pass at the 10 and returning it to the 26.
Another long Comet drive ensued, with some help from Coal City. The Coalers were whistled for two personal fouls that extended the Reed-Custer drive and, on fourth and 4, McPherson hit Eddie Gad with a 14-yard touchdown pass and a 26-3 lead.
Next, it was Coal City's turn to take advantage of penalties, as the Comets were flagged for roughing the snapper on a punt, giving the Coalers a first down at the Comet 40. On the next play, Reed-Custer was called for pass interference, moving the ball to the 25. After a false start on Coal City, Reilly dropped back and, under pressure, launched a pass that teammate Jake Hutchings corralled at the 10 and went the rest of the way into the end zone to cut the lead to 26-9.
A 31-yard run by McPherson highlighted the next Comet drive, which ended on a one-yard scoring plunge by Christian to provide the final score.
"This is one the better all-around games we have played all year," Johnston said. "Jake did a good job, and all of our runners ran hard. The defense got us three turnovers and played very physical against a very physical team."
Coal City coach Francis Loughran tipped his cap to the Comets.
"We played a good team," he said. "But, our kids never gave up and it wasn't for lack of effort. It was the little things for us. We had some penalties, some missed tackles, some turnovers, and against a good team, you can't have that.
"Their offensive line had a nice night. They have a lot of talent at the skill positions, but their offensive and defensive lines were the difference tonight. They are a playoff team, and that's the type of team we will see in the playoffs. We have some things to clean up next week and prepare for the playoffs."
Ashton Harvey led Coal City with 26 rushing yards on seven carries, while Chase Adams carried four times for 20 yards. Reilly completed 6 of 14 for 85 yards.